This audio is created with AI assistance
Slovak Prime Minister Eduard Heger, Slovenian PM Robert Golob, and Croatian PM Andrej Plenkovic arrived in Ukraine on March 31 to take part in a summit marking the one-year anniversary of the liberation of Kyiv Oblast's Bucha.
According to the Croatian government, the meeting called "Bucha - Russia's responsibility for crimes in Ukraine" will also be attended by President Volodymyr Zelensky and Moldovan President Maia Sandu, whose arrival has not yet been reported.
The summit has not been officially announced by Ukrainian authorities as well as the European leaders' visits to Kyiv.
Zelensky, though, marked the first anniversary of Bucha's liberation by Ukraine's Armed Forces in his post on Telegram. Bucha, a small city near Kyiv, was occupied by Russian troops shortly after the full-scale invasion of Ukraine began.
"Bucha and Bucha's district. 33 days of occupation. More than 1,400 deaths, including 37 children. More than 175 people were found in mass graves and torture chambers. 9,000 Russian war crimes," Zelensky wrote. "365 days since this is a free Ukrainian city again. A symbol of the atrocities of the army of the occupying country. We will never forgive. We will punish all the guilty."
Plenkovic said on Twitter that he had already met with the Ukrainian PM Denys Shmyhal, adding that Croatia "advocates for Ukraine's European path, territorial integrity and reintegration of occupied territories." The Croatian PM is also scheduled to attend the commemoration of the victims of Russian aggression as well as the awarding of Ukrainian veterans.
Slovak media outlet Aktuality reported Heger's arrival in Ukraine together with the country's Defense Minister Jaroslav Nad. They are meeting top Ukrainian officials to discuss further military aid and Ukraine's integration with the European Union, the publication wrote.
Slovakia promised to provide Ukraine with 13 MiG-29 fighter jets and has already transferred four of them on March 23. Responding to Slovakia's assistance, Zelensky decided to invite its PM for an official visit, according to Aktuality.
Slovenian PM has also started his meetings with Ukraine's leadership, pledging his country would continue to provide Kyiv with humanitarian aid and contribute to the post-war recovery of Ukraine, in particular, the reconstruction of Kharkiv Oblast's city of Izium.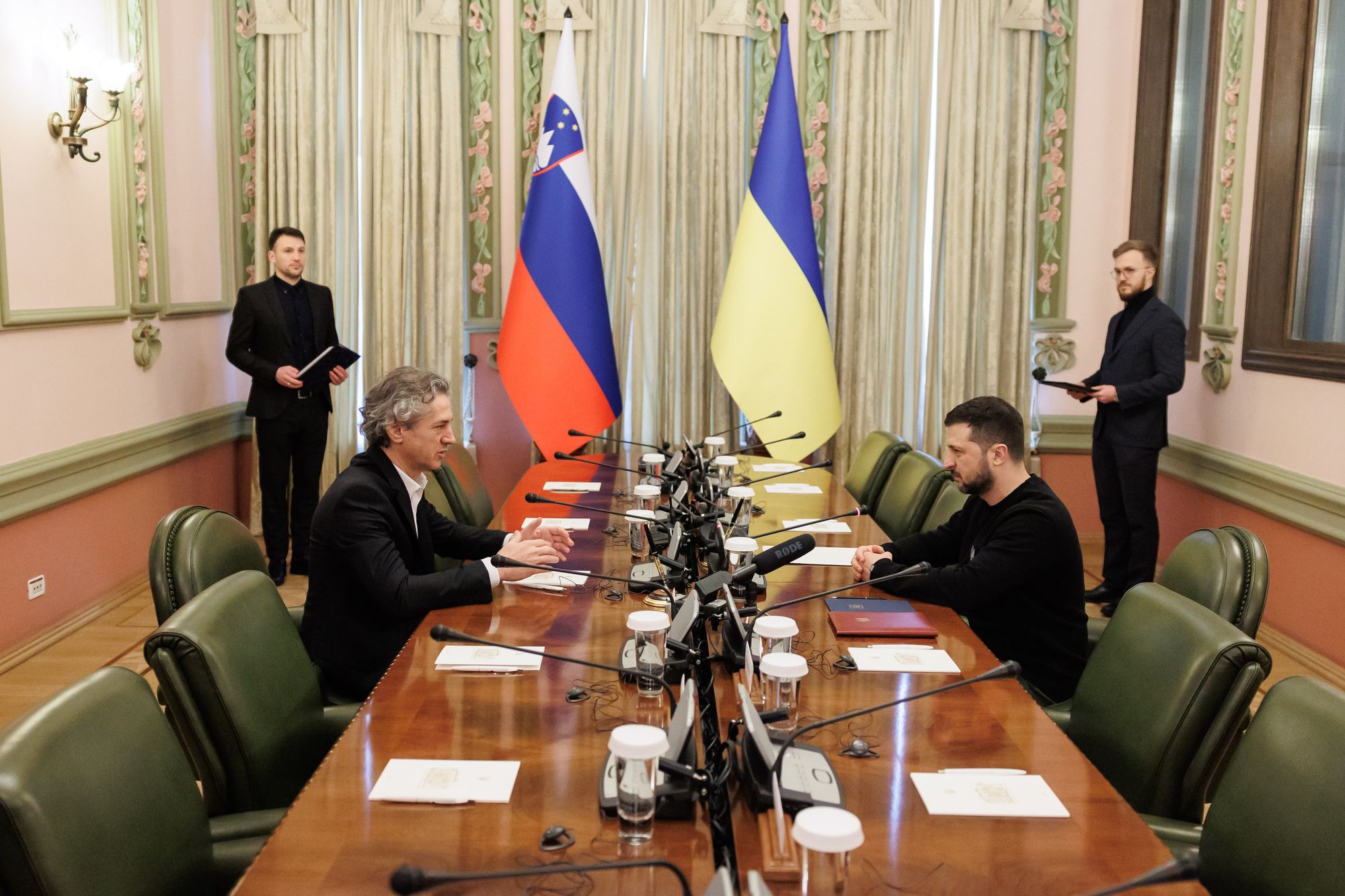 "We also wish to confirm our commitment to the territorial integrity of Ukraine within its internationally recognized borders," said Golob.