This audio is created with AI assistance
Key Developments on June 8:
UN agrees to conduct evacuations from flooded Russian-occupied areas
1 person killed, 10 injured by Russian shelling of Kherson Oblast during evacuation
More economic, environmental consequences of Kakhovka dam disaster revealed
Ukraine repels Russian attacks in Donetsk Oblast
Western media says Ukraine launches counteroffensive
President Volodymyr Zelensky met with regional authorities in Kherson Oblast on June 8 after Russia's destruction of the Kakhovka dam caused substantial flooding in the region and elsewhere in southern Ukraine.
According to Zelensky, they discussed several key issues, including an assessment of the operational situation in Kherson Oblast, the ongoing evacuation of civilians, providing the necessary assistance to residents affected by flooding, and exploring potential plans for the region's ecosystem restoration.
The President's Office wrote that Zelensky also instructed officials to develop a program to compensate local businesses impacted by the flooding or relocate them within Kherson Oblast.
Six hundred square kilometers of Kherson Oblast have been flooded since Russian forces blew up the Kakhovka dam on June 6, Governor Oleksandr Prokudin said on June 8. Sixty eight percent of that is located in Russian-occupied territory on the east bank of the Dnipro River, while 32% of it is in the Ukrainian-controlled west bank.
Flood levels have reached over 5.5 meters and continue to rise.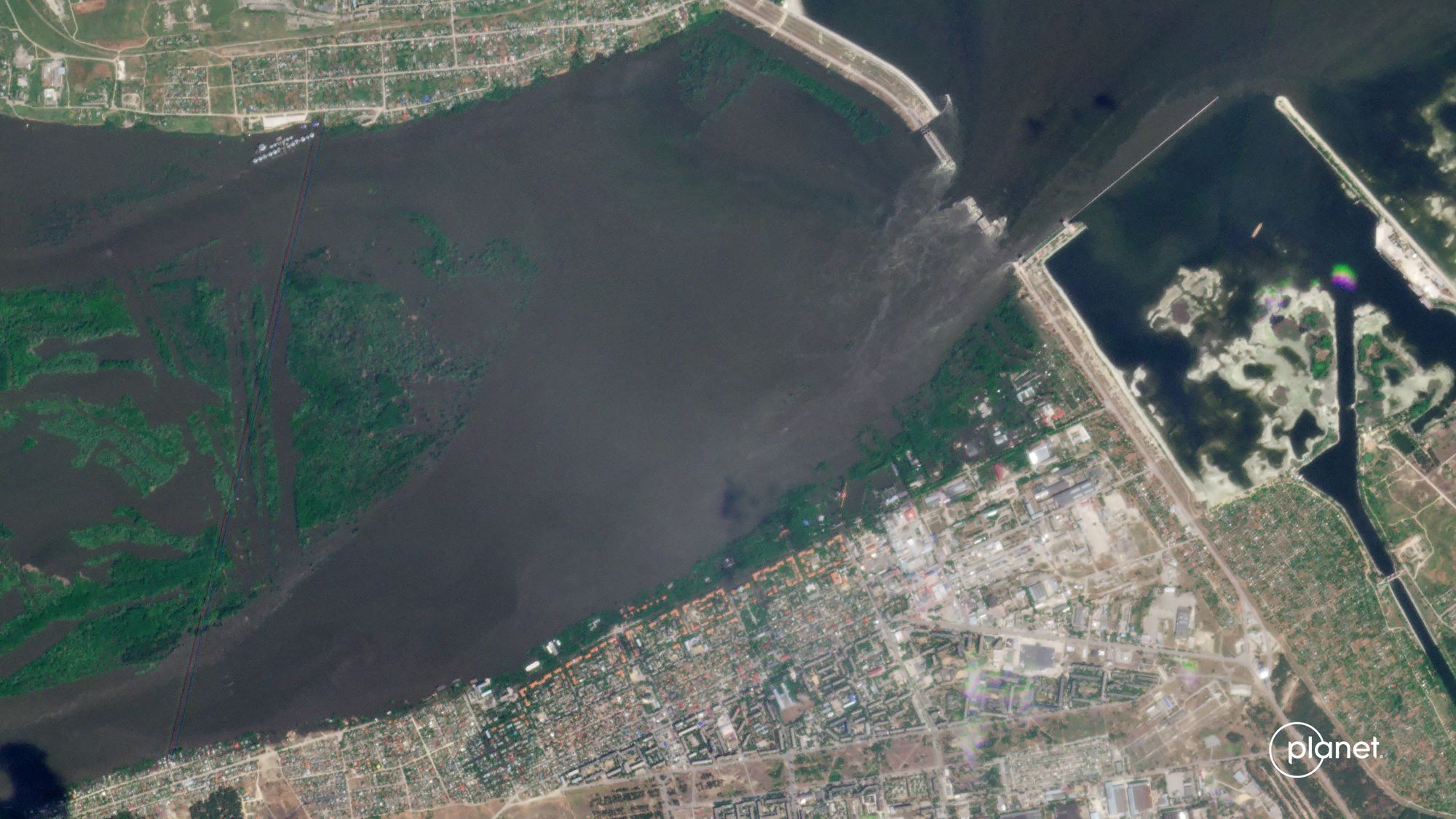 Russia shells flooded city during evacuation
Russian forces shelled the Ukrainian-controlled part of Kherson Oblast on June 8 amid relief efforts. Russia deliberately attacked evacuation points.
One attack injured nine people. Among the wounded are six civilians, including a volunteer from Germany. One police officer and two employees of the State Emergency Service were also injured, according to the Interior Ministry.
Another attack targeted the Berislav district of Kherson Oblast with guided bombs, killing one woman and injuring another individual.
The Kherson Oblast Prosecutor General reported that the woman died under the rubble.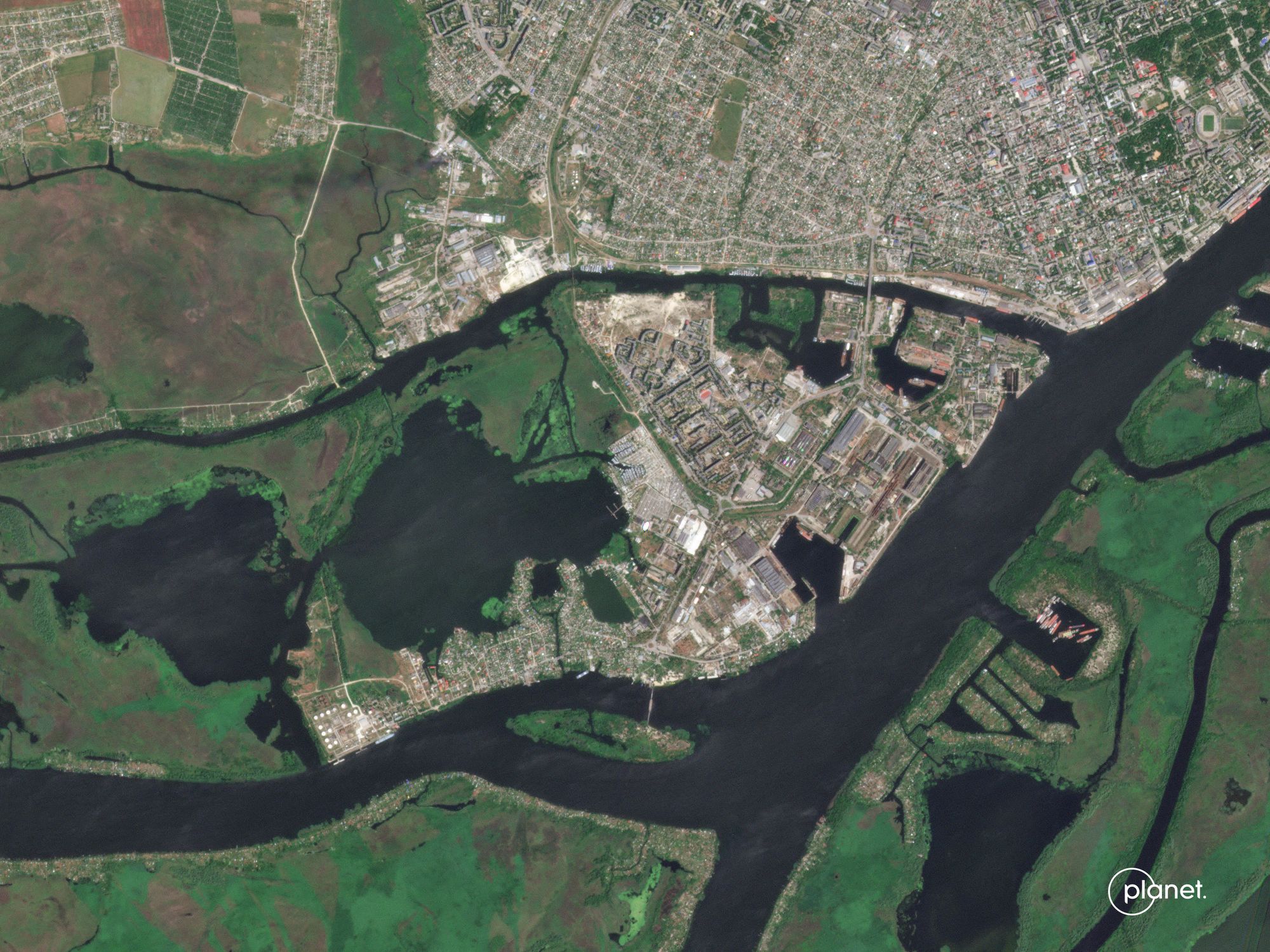 A total of 2,339 residents have been evacuated from Kherson Oblast since June 6, according to the State Emergency Service, and relief efforts are ongoing.
The Foreign Ministry announced on June 8 that the United Nations would dispatch personnel to provide assistance in the relief efforts within the Russian-occupied part of Kherson Oblast on the left bank of the Dnipro River, where an even bigger humanitarian disaster is unfolding.
UN aid workers would be provided safe passage into the occupied territories, Foreign Minister Dmytro Kuleba said. Once the same guarantee has been confirmed by the Russian side, the operation can begin. No such guarantee was given before publication.
Ukrainian officials reveal more economic, environmental consequences of Kakhovka dam breach
According to Yevhenii Ihnatenko, head of the shipping administration, Ukrainian exports downstream of the city of Zaporizhzhia through the Dnipro River will remain impossible "for a long time."
The river is navigable only up until the Dnipro Hydroelectric Power Plant in Zaporizhzhia.
"The Russian Federation's terrorist act will have catastrophic consequences for the whole region, and for the future restoration of shipping in particular," Ihnatenko wrote.
The Agriculture Ministry wrote on June 7 that at least 10,000 hectares of arable land in the region would likely be flooded, severely disrupting the biodiversity of the region. The destruction of the Kakhovka dam will also complicate the water supply to 31 irrigation systems in Dnipropetrovsk, Kherson, and Zaporizhzhia oblasts.
Ukraine's agricultural industry, which has already suffered massive setbacks because of Russia's all-out war, will now face ever bigger setbacks.
Western media says Ukraine launches counteroffensive
Intense battles are taking place between Ukrainian and Russian forces at various points throughout Donetsk Oblast according to Deputy Defense Minister Hanna Maliar's update on June 8, with Ukrainian forces on the offensive.
Maliar reported that Ukrainian forces successfully repelled multiple attacks in Marinka, inflicting significant losses on Russian forces. Additionally, Russian forces were unable to launch an offensive near Bakhmut, where fighting continues.
U.S. officials told CNN on June 8 that while Ukraine has made advances near Bakhmut it has suffered heavy losses of military personnel and heavy equipment as well, the latter of which includes U.S.-supplied MRAP armored personnel vehicles designed to take on mines and improvised explosive devices.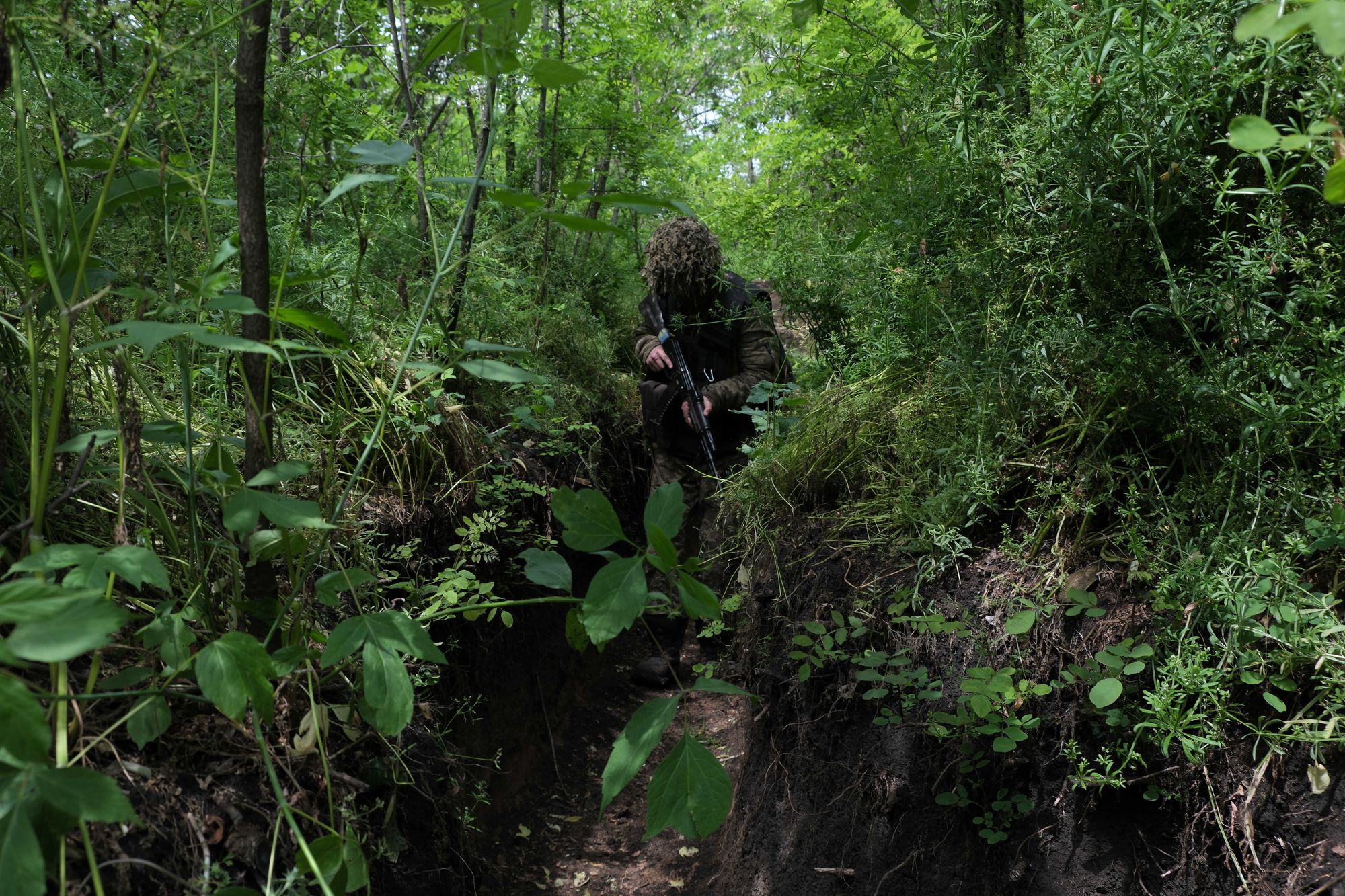 Meanwhile, Russian forces failed to advance near Avdiivka and Lyman, and a battle for control of Velyka Novosilka is underway. Russian forces are also conducting air strikes and shelling near Kupiansk and Shakhtarsk.
In Zaporizhzhia Oblast, Russian forces are on the defensive in the Orikhiv district, Maliar added.
Western media claimed that Ukraine finally initiated its long-awaited counteroffensive in Zaporizhzhia Oblast, quoting an unnamed source that is allegedly close to President Volodymyr Zelensky.
A successful Ukrainian advance in the south could potentially cut off the land corridor between mainland Russia and occupied Crimea, depriving Russian forces of vital supply lines.
Russia has enough missiles for key targets like Kyiv, intelligence says
Military intelligence spokesperson Andrii Yusov told Ukrainska Pravda in an interview on June 8 that Russia has enough missiles to continue targeting Ukraine.
Russia launched 17 attacks against Kyiv in May, with three attacks occurring in a 24-hour period on May 30. According to military intelligence, Russia's new strategy is to attack key targets of symbolic value.
Ukraine endured mass Russian missile and drone attacks throughout last fall and winter that targeted the country's energy infrastructure, resulting in massive damage, country-wide blackouts, and civilian casualties.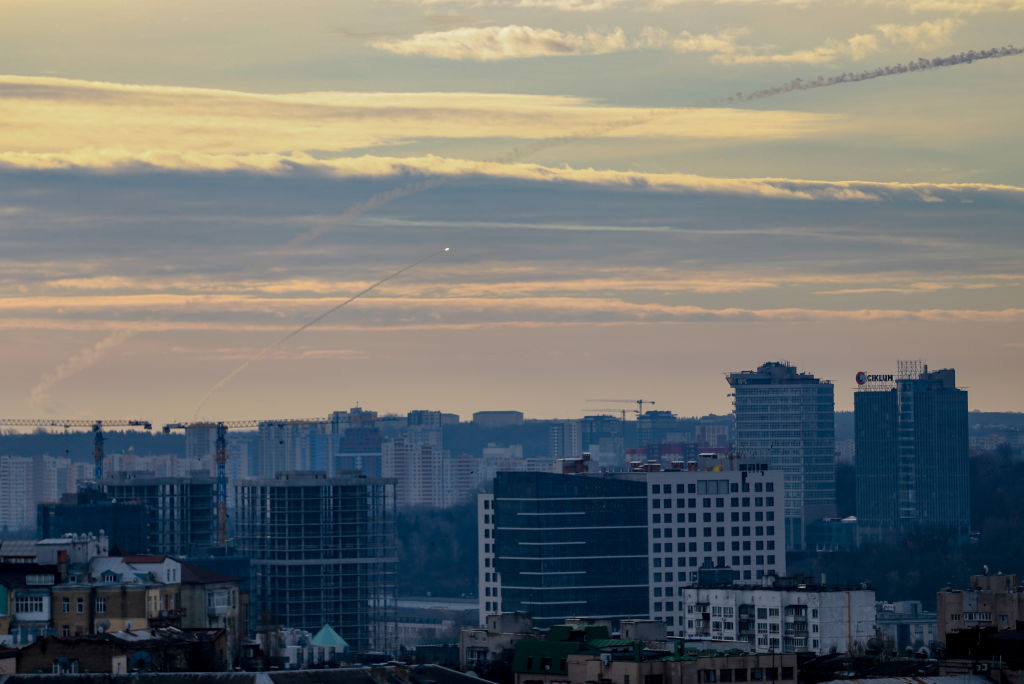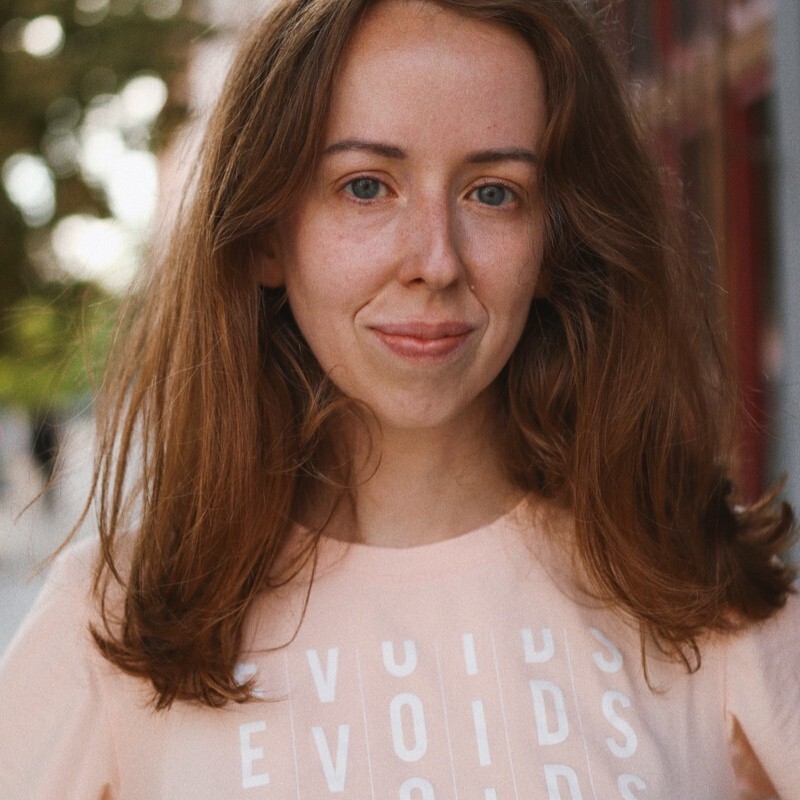 Kate Tsurkan
Reporter
Kate Tsurkan is a reporter at the Kyiv Independent. She is a writer, editor, and translator. Her work has been published in The New Yorker, Vanity Fair, Harpers, The Washington Post, and elsewhere. She is the co-founder of Apofenie Magazine. Originally from the U.S., she resides in Chernivtsi, a city in the west of Ukraine.