This audio is created with AI assistance
People have been having this argument since the beginning of Russia's full-scale invasion of Ukraine.
Western claims that Russia is running out of advanced, high-precision missiles have floated in the news since March. But more than 10 months into the all-out war, Russian missiles continue to rain down on Ukrainian cities.
The question of how many of them are left became especially stark in the past three months, when Russia began pounding Ukraine's energy grid with mass attacks every 1-2 weeks. These strikes used a range of different missiles, some repurposed from their primary uses, backed up by Iranian kamikaze drones.
The short answer is, no one outside Russia has indisputable numbers on its stockpiles and production rates. Ukraine released figures but they have not been independently verified. There are also estimates from Western analysts relying on observable clues.
Many estimates agree on one thing: Russia's strategic bombing campaign is burning through missiles at an unsustainable rate. If it keeps going, Russia should come to a point where it won't be able to launch mass strikes every 1-2 weeks anymore, even if it keeps dipping into its strategic reserves.
Ukraine says that this point is just three mass strikes away.
But Russia won't run out — as in, literally have no more missiles to shoot, even if its stocks are truly that low. So far, it's been able to continue manufacturing modern cruise missiles in spite of sanctions and reportedly has a plan to source missiles, in addition to drones, from Iran.
In short, missile strikes will continue but they may soon become less frequent and drones might have to do more heavy lifting. But to achieve its strategic bombing goals – destroy Ukraine's energy system – Russia needs to be able to hit Ukraine with as much as it can, as often as it can.
Ukrainian estimates
Ukraine's most detailed claim about Russia's missile situation came in a chart tweeted by Defense Minister Oleksii Reznikov on Nov. 22, purporting to show the difference in Russia's arsenal between Feb. 23, before the full-scale invasion, and Nov. 18.
The chart says Russia went from 900 Iskander ballistic missiles to 119, making only 48 new ones in this period. Reznikov claimed that Russia had spent 391 of its 500 Kalibr cruise missiles, while making 120 new ones. For Kh-101 cruise missiles, 132 were used, while 144 were left in stockpile, with 120 newly manufactured.
According to Reznikov, Russia also used half of its stock of 300 Kh-555 cruise missiles, as well as 16 of its 42 Kinzhal ballistic missiles, though it built 16 more to replace them. Anti-ship missiles like the Onyx (Oniks) have been repurposed to fire on Ukrainian land targets as well. Reznikov's chart said Russia used 123 out of a stockpile of 470.
The chart also provided figures on other missiles — Kh-22s and Kh-32s (pre-war stockpile of 370, with 250 used); and Kh-35s (pre-war stockpile of 500, with 360 more built and 504 used).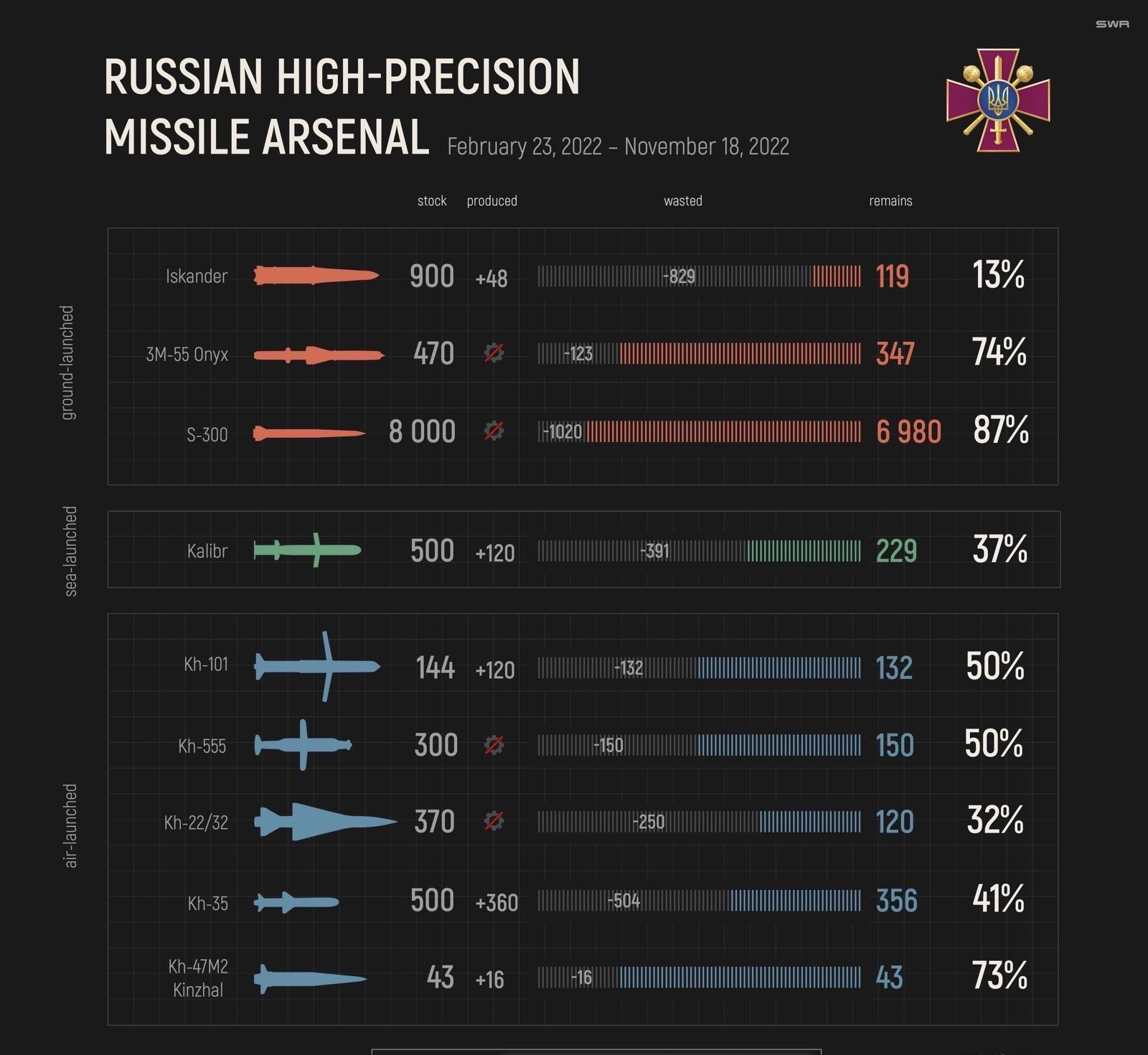 A chart tweeted by Ukraine's defense minister on Nov. 22, claiming to list how many precise missiles Russia had had, used and built.
Reznikov's chart quickly became out of date as Russia launched hundreds of missiles at Ukraine throughout December.
In a more recent, Jan. 4 statement, Vadym Skibitsky, spokesman of the Main Intelligence Directorate of the Defense Ministry, said that Russia had enough advanced missiles left for up to three massive attacks, if each one uses about 80 missiles. Similar estimates were echoed by other Ukrainian officials.
After that, Skibitsky said, Russia would be stuck waiting for the factories to pump out enough for each subsequent attack — at a rate of about 50 cruise missiles produced per month. As for ballistic missiles, Military Intelligence Chief Kyrylo Budanov said Russia is barely making any Iskanders. The production rate for Kinzhals appears to be low as well, according to the defense ministry.
Russia responded to speculations with bravado. Deputy Head of Russia's Security Council Dmitry Medvedev said in December that the country would ramp up production of new-generation weapons.
Moscow on Dec. 29 boasted that it will never run out of Kalibrs. The statement didn't mention other types but Russian President Vladimir Putin has repeatedly talked about developing new hypersonic weapons.
Russia then kept bombarding Ukraine through the New Year holiday weekend. Since then, almost two weeks have gone by without a mass strike. But Natalia Humeniuk, Ukraine's Southern Operational Command spokeswoman, said on Dec. 11 that Russia is preparing to unleash another massive missile strike very soon.
Expert analysis on production and use
Ukraine's estimates should be taken with a grain of salt. It is one of the war's direct participants and its defense relies on control of information and ability to attract military aid from other countries.
However, Ukraine's intelligence came out with some of the most pessimistic estimates about how fast Russia can make cruise missiles. And there are publicly available clues in the way Russia uses its missiles that suggest stockpile depletion.
At the start of the full-scale invasion, the most modern missiles took to the air in large numbers. Over time, Russia began mixing in older models, even less accurate ones from Soviet times. In recent barrages, Russia would send its old Kh-55 cruise missiles without payloads, to trip up Ukraine's air defenses.
An analysis by the Jamestown Foundation said that some Soviet missiles that Russia's been using are no longer reproducible, while others are made at a very low rate.
Russian forces also repurposed anti-ship missiles like the Onyx and anti-air missiles like the S-300 to strike at ground targets, suggesting they're forced to use what they've got.
A few open source investigations at least partly support the claim that lately, Russia's been using missiles that were manufactured earlier this year, which may indicate stockpile issues.
A team from Conflict Armament Research, a U.K. investigative organization that tracks weapon supplies, analyzed pieces from a Nov. 23 attack — three missiles were Kh-101s whose serial numbers show they were produced just months before the attack. CAR suggested that this may be symptomatic of stockpile challenges for assets like cruise missiles but Russia is still able to produce them.
The Long War Journal, a U.S. publication reporting on and analyzing wars, examined the photographed serial numbers from 16 downed Kh-101s, six of which are thought to have been made in 2022. According to its analysis of limited data, the Long War Journal's most conservative estimate is that Russia can produce one Kh-101 missile every four days.
Jamestown estimated that Russia's maximum annual production capacity is not likely to be higher than 225 missiles in total, which includes Onyx, Kalibr, Kh-101, 9M729 and Kh-59 cruise missiles and Iskander-M ballistic missiles.
A June article from the Center for European Policy Analysis stated that Russia's been running its missile factories in overtime. This includes the Novator plant, which made up to 120 Kalibrs and several dozen Iskanders per year before the full-scale invasion, according to CEPA. There is also the Votkinsk plant, which makes Iskander, Yar and Bulava missiles, whose production grew from 50 to 60 missiles per year in 2022.
Interestingly, these appear to be more optimistic estimates than Ukraine's, whose military intelligence said Russia makes 30 Kh-101s in a single month, along with 20 Kalibrs.
Russia also hoped to receive ballistic missiles from Iran whose military doctrine is centralized around missiles and drones and has a production program for both.
U.S. National Security Council spokesman John Kirby said Russia's relationship with Iran was becoming a "full-scale defense partnership," with Russia providing advanced tech to Iran as well. Despite initially denying it, Iran supplied Russia with hundreds of Shahed-136 and Shahed-131 kamikaze drones that were used to attack Ukrainian cities.
And yet, Israeli intelligence officials last month told Axios that Iran wants to limit the range of missiles it plans to send to Russia. Last month, Ukrainian Presidential Office adviser Mykhailo Podolyak said Iran had not yet delivered the missiles to Russia and was wavering as a result of diplomatic pressure, the threat of additional sanctions, and internal political strife.
Russia evades sanctions blocking electronics
The most advanced and precise missiles require advanced electronics. Sanctions have been placed on Russia to limit its access to this technology. Even so, Russia seems to have been able to go on producing weapons. Defense intel firm Janes told the New York Times that Russia probably stockpiled microchips before February 2022.
According to an August report by the Royal United Services Institute, more than 450 foreign-made parts have been found in Russian weapons in Ukraine, acquired from the U.S., Europe and Asia in the years before the invasion. Many of the microelectronics found in the weapons were quite old. Western parts were also found in Iran's Shahed drones as well, according to the Conflict Armament Research team.
Moreover, Russia has likely been able to get around restrictions altogether. Reuters cited Russian customs records in reporting how at least $2.6 billion in computer and other electronic components flowed into Russia in 2022, at least $777 million of which were made by Western firms, whose chips have been found in Russian weapon systems.
Middlemen included firms in Turkey, Hong Kong and elsewhere, but there are even customs records showing shipments of components directly from the EU. The European Commission did not reply to Reuters' questions but claimed to take the issue seriously.
In short, export controls have not been effective enough to prevent Russia from getting the parts it needs to build more advanced missiles.
Moscow gave no indication that it plans to stop striking Ukrainian infrastructure. But limited resources may reduce the frequency of the strikes or force Russia to change its strategy.