This audio is created with AI assistance
Key developments on Aug. 13:
Russian attacks on Kherson Oblast kill 7, injure 15
Official: Partisans set Russian base on fire in Mariupol
Attacks reported in Russia's Kursk, Belgorod regions
Russian media: Massive fire breaks out at warehouse near Moscow

Russian attacks on southern Kherson Oblast killed at least seven people, including children, and injured 15 others, Ukrainian authorities reported on Aug. 13.
Russian shelling killed five civilians in the village of Shyroka Balka, including a family of four: a couple and their two children, a 12-year-old son, and a 23-day-old newborn, according to Interior Minister Ihor Klymenko.
The boy died in the hospital, while the rest of the victims were killed at the site of the attack.
Russian anti-aircraft missile also struck the nearby village of Stanislav, killing two men, Presidential Office Head Andriy Yermak reported.
Interior Minister Klymenko reported that 13 people were injured in the morning of Aug. 13 across Kherson Oblast in the city of Kherson, Berislav, Stanislav, Komyshany, Hihantske, Zolota Balka, and Novokairy.
Later that day, the Kherson Oblast Military Administration reported that Russian shelling of Bilozirka injured a man and a woman on the evening of Aug. 13.
Kherson and other regional settlements on the Kyiv-controlled west bank of the Dnipro River have been consistently targeted by Russian shelling since Ukrainian forces liberated the areas in November 2022.
Russian forces were pushed to the river's east bank, from where they have since been firing at the liberated territories, regularly resulting in civilian casualties.
In addition, an emergency responder died after suffering injuries from an Aug. 7 Russian missile attack on Pokrovsk, Donetsk Oblast, bringing the death toll up to 10 people, the State Emergency Service reported on Aug. 13.
The attack injured 82 people, including children, policemen, and first responders.
Russian forces struck Pokrovsk with two missiles on Aug. 7, claiming that they were targeting a "command post" of Ukraine's Khortytsia Operational and Strategic Group. Ukrainian military dismissed the claim, saying that it was already the "third or fourth time" Russia is said to have destroyed this command post.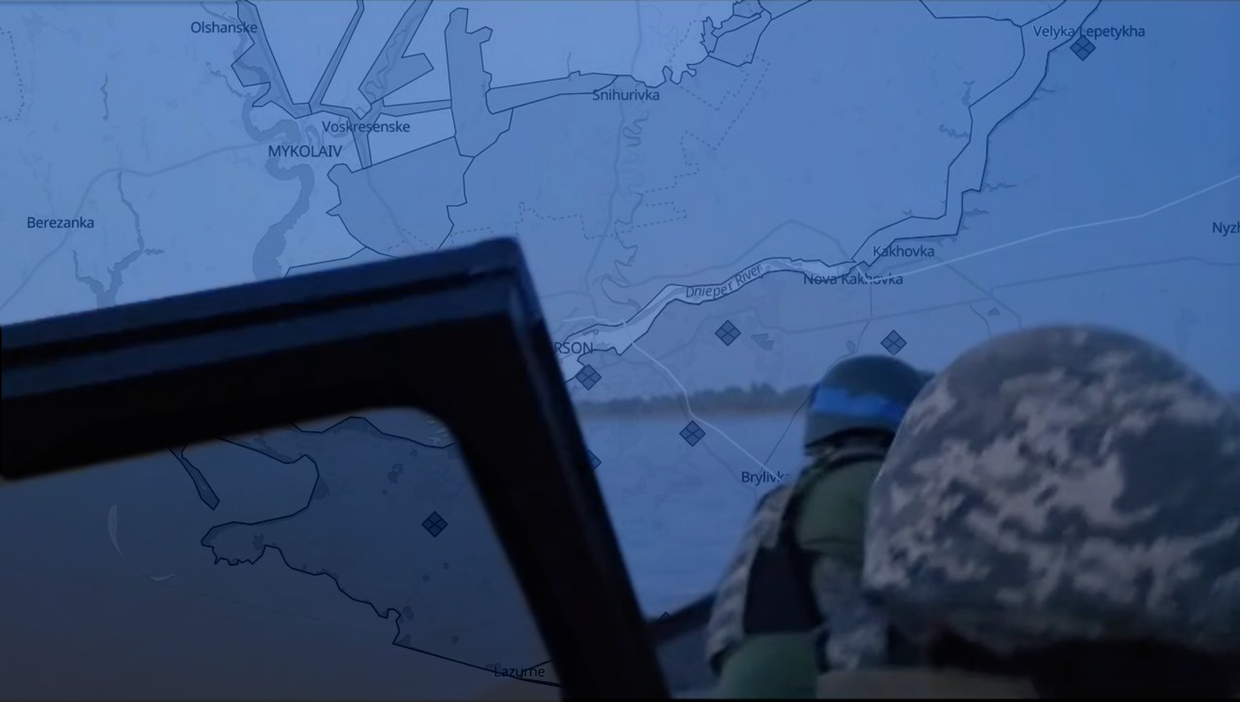 Attacks inside occupied Ukraine
The Ukrainian military reported destroying two ammunition depots in Russian-occupied Oleshky, Kherson Oblast on Aug. 13.
Spokesperson of Ukraine's Southern Command, Vladyslav Nazarov, also said a site hosting a "group" of Russian troops was also hit in Oleshky.
Oleshky is located across the Dnipro River from regional capital of Kherson.
In occupied Mariupol in Donetsk Oblast, Ukrainian partisans set a Russian military base on fire on Aug. 13, according to Petro Andriushchenko, an advisor to the exiled mayor of Mariupol.
Russia lost at least 10 troops, three trucks, and five cars as a result of the fire, he said in another Telegram post. Andriushchenko didn't mention whether Russian soldiers were killed or wounded.
Pictures published on Telegram channels showed pillars of smoke in an area where Russian forces reportedly have a base.
Russia has occupied Mariupol since May 2022, following a brutal three-month siege that damaged most of the civilian infrastructure of Mariupol.
Russian forces are constantly subjected to attacks in occupied territories of Ukraine. Partisans and Ukrainian special services target logistical routes, bases, ammunition and fuel, and individual military personnel or collaborators.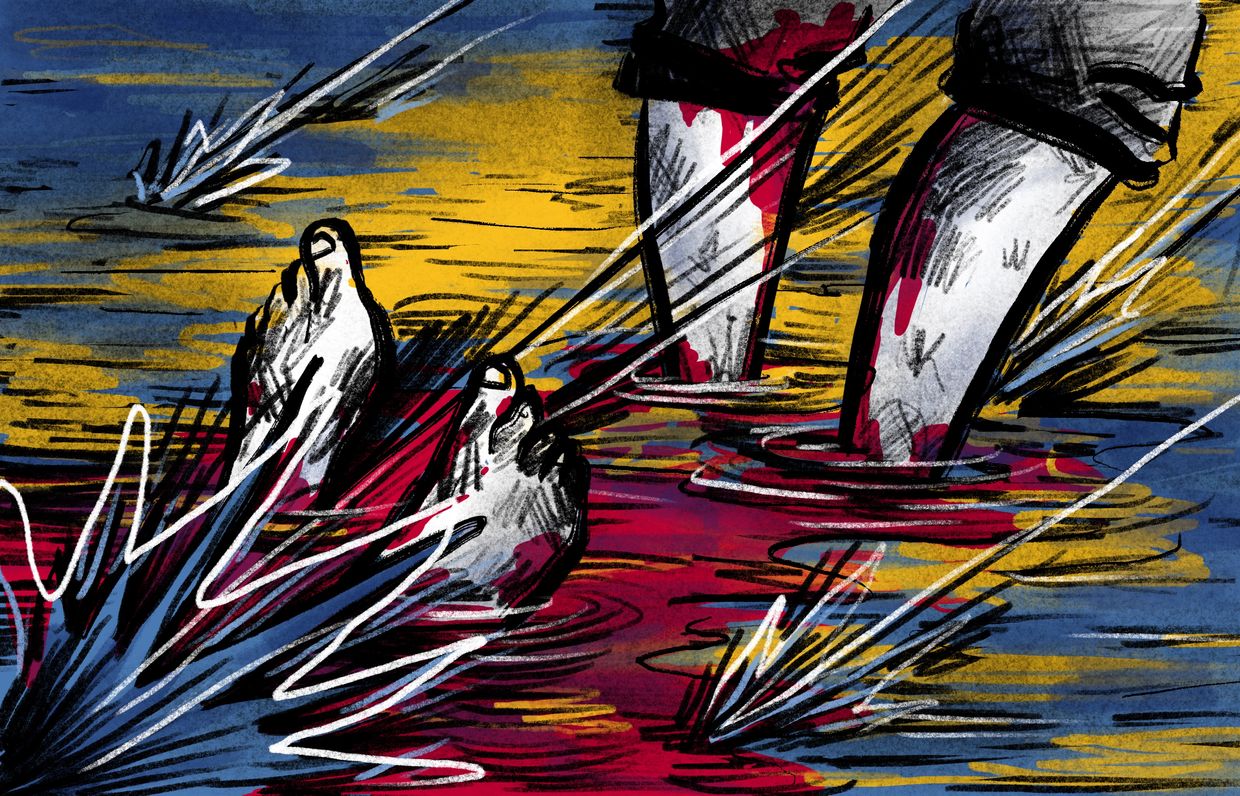 Meanwhile in Russia
A fire broke out at an industrial warehouse in Ramenskoye, some 50 kilometers southeast of Moscow, Russian media and Telegram channels reported on Aug. 13.
The footage and pictures posted online appeared to show a massive column of smoke over the site.
Russian media claimed that the fire broke out at a warehouse belonging to a local fertilizer producer and was caused by negligence.
The fire comes after a series of regular drone attacks on Moscow and its suburbs, as well as other Russian cities. It's not yet clear whether this fire could have been caused by an attack.
Ukrainian authorities haven't commented on the incident.
Drone attacks against Moscow have intensified over recent weeks. Two drone strikes on the same target, a high-rise Moscow City business complex where several Russian ministries are housed, caused damage on July 30 and Aug. 1. Russia blamed the Ukrainian military for the strikes.
Air defense allegedly intercepted loitering minition over Moscow on Aug. 11.
Meanwhile, governors of Russian regions that border Ukraine claimed two settlements were attacked.
Roman Starovoyt, governor of Russia's Kursk region, claimed on Aug. 13 that "shells coming from Ukraine" had hit a home in the village of Volfino, injuring three people.
Volfino sits on the border with Ukraine's Sumy Oblast, the target of daily Russian attacks from across the border.
Vyacheslav Gladkov, governor of Russia's Belgorod region, also claimed that Russian air defense had intercepted two drones in the area on the same day. One was reported to be downed in the village of Solomino, south of Belgorod.
BBC Russia reported explosions in Beglorod just after a loitering munition was spotted in the air. Pictures published online showed a damaged residential building in Belgorod.
The Kyiv Independent cannot independently verify the claims.
While Ukraine hasn't directly claimed responsibility for any attacks against Russia, top officials have publicly welcomed them, saying that "the war is coming home to Russia."