This audio is created with AI assistance
Russia said on March 18 that it agreed to a 60-day grain deal extension that enabled Ukraine to export its agricultural products via the Black Sea, refuting Ukraine's earlier announcement that the deal was prolonged for 120 days.
Russian Foreign Ministry spokeswoman Maria Zakharova said that her country "repeatedly" notified all parties of the UN and Turkey-brokered deal that it was only renewed for 60 days, Interfax-Russia reported.
Ukraine has criticized Russia's push for a shortened period, saying it "contradicts" the original agreement. Prime Minister Denys Shmyhal stressed on March 17 that "Ukraine is one of the key links of global food security, so we insist that the grain deal be open-ended and automatically extended for 120 days."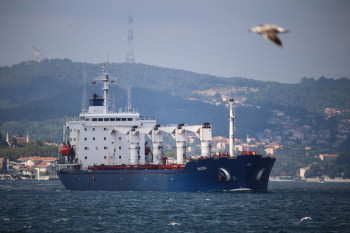 United Nations spokesperson Stephane Dujarric confirmed an extension of the Ukrainian-Russian grain deal in a March 18 statement but refrained from saying the length of the term. He added that some 25 million metric tons of Ukrainian food commodities were exported to 45 countries since the landmark grain deal was implemented last summer.
Turkey's President Tayyip Erdogan said during his speech in the western Turkish city of Canakkale that "as a result of our talks with the two sides, we have secured an extension to this deal," but he did not mention for how long.
The UN and Turkey have backed Ukraine's call for a 120-day rollover period amid Russia's push to renew the pact for only 60 days.
The grain deal, which allows ships carrying food commodities to leave from three designated Black Sea ports in the southern Odesa Oblast, was set to expire on March 18.