This audio is created with AI assistance
Russian President Vladimir Putin claims that the first of Russia's tactical nukes destined for Belarus have arrived. Ukraine denies Putin's claim, saying Russia has yet to deliver a "single nuclear warhead" to Belarus.
PACE urges "practical support" for exiled Belarusians, calling on its members to make legal entry, stay, and travel in the EU easier for Belarusian exiles and their families.
Subscribe to the Newsletter
Belarus Weekly
On a similar note, the International Labour Organization urges its members to reconsider their relations with Lukashenko's regime amid human rights concerns.
Following the introductions of trials in absentia, Belarus is seeking to persecute the dead.
A draft bill that would allow the prosecution of deceased people for crimes against humanity is registered in parliament.
A Belarusian singer could face up to four years in prison for having rejected a personal scholarship awarded by Belarus dictator Alexander Lukashenko in 2020.
Ukraine denies Putin's claims that tactical nukes have arrived in Belarus
Russian President Vladimir Putin claimed on June 16 that the first of Russia's tactical nuclear weapons destined for Belarus have arrived. However, Ukraine has denied the claim.
"The first nuclear charges were delivered to Belarus," Putin said at the International Economic Forum in St. Petersburg, Russia. "But only the first ones, the first part. By the end of the summer, by the end of the year, we will complete this work."
Putin continued: "It is precisely an element of deterrence so that all those who are thinking about inflicting a strategic defeat on us are not oblivious to this circumstance."
On June 9, Putin told Lukashenko that the non-strategic nuclear weapons, promised in a bilateral agreement on May 25, would arrive at the beginning of July once the necessary storage facilities are ready. Lukashenko claimed on June 13 that Russian tactical nuclear weapons will arrive within "days."
However, Ukraine's Military Intelligence Head Kyrylo Budanov said on June 20 that Russia hasn't yet delivered a "single nuclear warhead" to Belarus. According to Budanov, the preparation for a "possible transfer" is ongoing, and storage facilities in Belarus are being equipped.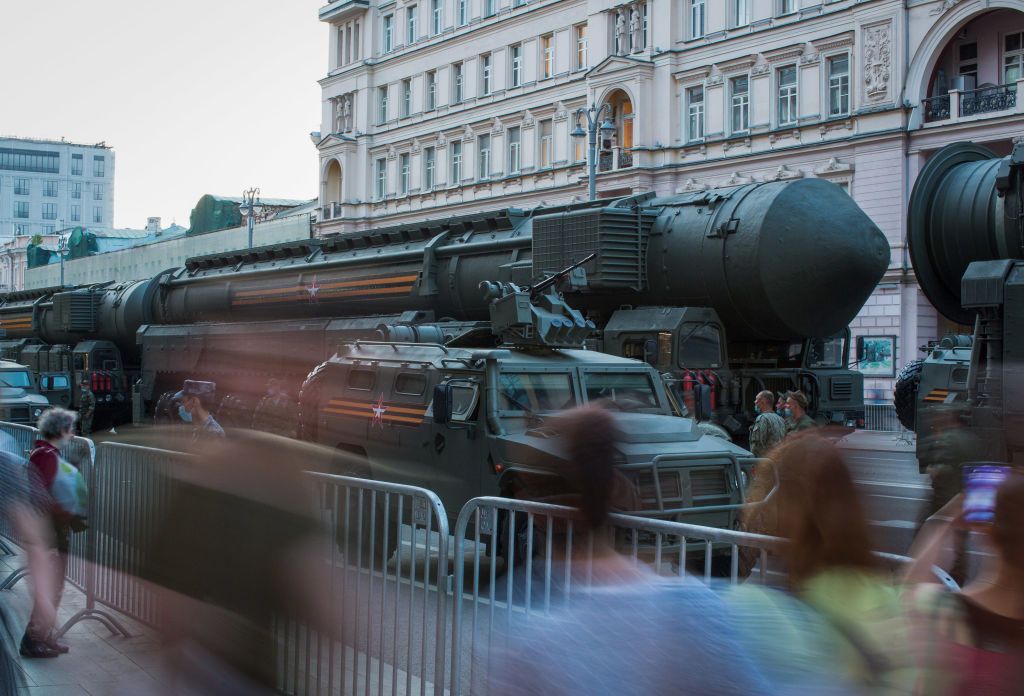 Some experts have also expressed doubts over the seemingly quick transfer of nuclear weapons to Belarusian territory.
"An adequate storage facility has to be built. It's quite a complex engineering structure with systems to control access to it, defense, not to mention the creation of climate conditions. I am convinced that such a storage facility cannot be built in a couple of months," said Pavel Podvig, a senior researcher in weapons of mass destruction at the United Nations Institute for Disarmament Research.
Belarusian monitoring group Belarusian Hajun also said it had not observed the transfer of nuclear weapons to the country.
Meanwhile, the director of the Russian Foreign Ministry's department of former Soviet states, Alexei Polishchuk, said Russia's deployment of tactical nuclear weapons to Belarus is not time-limited, as they could be removed if the U.S. and NATO "refrained from undermining the security and sovereignty of Russia and Belarus."
NATO, the EU, and the U.S. have condemned the decision to transfer nuclear weapons to Belarus. U.S. President Joe Biden recently called the move "absolutely irresponsible."
However, U.S. State Secretary Antony Blinken noted on June 16 that there are no signs for now that Russia is planning to use nuclear weapons.
A month prior, the White House said it had not changed its nuclear threat assessment following Russia and Belarus' nuclear agreement, as it had not observed "any indications Russia is preparing to use nuclear weapons in Belarus."
PACE urges 'practical support' for exiled Belarusians

The Parliamentary Assembly of the Council of Europe (PACE) hailed the "resilience, courage, and determination" of Belarusians who have been forced into exile due to the ongoing repressions led by Lukashenko's regime.
In a resolution on June 20, PACE said the Belarusian people are "not the same" as Lukashenko's regime and should not be discriminated against for the government's participation in Russia's full-scale war against Ukraine.
The resolution refers to Belarus as an "open-air prison where human rights have been reduced to nothing."
PACE added that it was "impressed by the work and initiatives of the Office of Sviatlana Tsikhanouskaya and the United Transition Cabinet of Belarus, which aim at providing their compatriots with the services the regime deliberately withholds."
The assembly made a series of recommendations in an effort to make legal entry, stay, and travel in the EU easier for Belarusian exiles and their families. It also called on EU states to support "democratic forces in exile."
"This is a visionary report (...) and I urge you to vote for it, not only because Belarusians are suffering and deserve your help, but because by doing so, you will be making Europe safer," Belarusian opposition leader Sviatlana Tsikhanouskaya said, adding that most exiled Belarusians' "only wish" is to return to a democratic Belarus.
In the aftermath of the fraudulent 2020 Belarusian elections, which tightened Lukashenko's illegitimate grip on the country, Belarusian authorities cracked down on civil society and those who oppose Lukashenko's regime.
Up to 172,000 Belarusians have fled the country for EU countries from 2020 to 2022. Meanwhile, 1,500 people imprisoned in Belarus have been declared political prisoners.
International Labour Organization urges partners to reconsider relations with Belarus amid human rights concerns
The International Labour Organization (ILO) adopted a resolution condemning the Belarusian government's continued disregard for workers' rights and arrests of trade unionists.
The resolution demanded Belarus permit ILO representatives to visit the country to gather information regarding the country's compliance with ILO's standards, as well as to visit imprisoned trade union activists.
It also called on the organization's partners to reconsider their relations with Belarus. The EU issued a statement supporting the ILO's resolution, noting the EU member states are "alarmed by the disappearance of virtually all space for the safe existence of an independent trade union movement in Belarus."
Lukashenko's regime has consistently disregarded the ILO's recommendations, and state-led repressions have increased dramatically following the mass protests that followed the fraudulent Belarusian presidential election in 2020.
Over 40 trade unionists have been imprisoned thus far, and many have fled the country. Independent trade unions in Belarus are banned.
Belarusian authorities seek to prosecute deceased people
The lower chamber of the Belarusian Parliament passed a bill allowing law enforcement agencies to initiate criminal proceedings against deceased people for a number of alleged crimes.
The bill amends the article of the Criminal Code on circumstances precluding criminal proceedings.
Adopted changes would allow opening the case against deceased people for crimes with no statute of limitations: waging aggressive war, terrorism, genocide, ecocide, violation of laws, and customs of war.
The legal innovation is introduced amidst the ongoing investigation into the so-called "case on genocide against Belarusian people during WWII."
The state would provide an attorney for the deceased, and their family can claim to represent them in court.
The bill's current version suggests that the court will have the right to recover procedural costs from the representative of the deceased participating in the process if the accused is found guilty.
The Belarusian General Prosecutor's Office launched an investigation into the "genocide against Belarusian people during World War II" in April 2021 for the alleged "purpose of social and historical justice, strengthening the constitutional order and national security."
General Prosecutor Andrei Shved claimed that after over 4,000 interviews with witnesses, the prosecutors managed to identify 400 perpetrators and locate 100 new graves of civilians.
According to the Prosecutor General's report in 2021, the damage caused by Nazi Germany and its allies reached $500 billion.
The Belarusian regime routinely accuses Polish and Lithuanian resistance and the German army of genocide during World War II and directly links it to the narrative of the "hostile West."
Belarus has indeed suffered tremendously during WWII, losing up to a quarter of its population. Yet the investigation, accompanied by extensive propaganda, has little connection to justice.
Belarusian singer who refused Lukashenko scholarship faces criminal charges
Belarusian singer Patrytsia Svitsina, who publicly rejected a scholarship from Lukashenko in 2020, is facing criminal charges for "actively participating in actions that blatantly disrupt social order."
In 2020, Svitsina, then a student at Belarusian State University in Minsk studying at the Ethnology and Folklore Department, rejected a scholarship set up by Lukashenko to fund talented youth in protest against the fraudulent 2020 Belarusian election.
Belarusian authorities published a video on May 18 purporting to show Svitsina "confessing" to having participated in mass protests after the presidential election, allegedly blocking off public transit. She is also accused of having shared "negative information" about Russia's full-scale war against Ukraine.
According to Belarusian human rights watchdog Viasna, Svitsina has been placed in a detention center. If charged, she could face up to four years in jail.
On June 6, Belarusian authorities detained Volha Minenkova, a choir conductor from the Belarusian State University, for refusing to sing in a Russian-occupied part of Ukraine's Donbas.
Like Svitsina, Minenkova was also shown "confessing" to having declined the invitation in a video published by Belarus' Main Directorate for Combating Organized Crime. She is now reportedly at risk of facing criminal charges.
---
---
Belarus' only democratic elections
The Spotlight segment provides readers with the historical context of contemporary events in Belarus.
On June 23, 1994, Belarus held its first and, as it appeared to be, the last free, internationally recognized democratic presidential elections.
Twenty-nine years later, Lukashenko, the man who won the 1994 elections, is still in power, now holding the country at his mercy.
Belarus adopted its first modern constitution on March 15, 1994, turning into a presidential republic and set to hold its first presidential elections.
Six candidates were officially registered.
Acting Prime Minister Viachaslau Kebich was running for the presidency along with another well-established political figure – Stanislau Shushkevich, the first leader of independent Belarus, who took on this role due to being the last chairman of the Supreme Soviet of Belarus within the USSR.
Viachaslau Kebich enjoyed broad support in the parliament and was viewed as the potential leader of the country, yet his direction toward closer relations with Russia turned public opinion against him.
Kebich signed an agreement on introducing the Russian rouble in Belarus, thus endangering the country's sovereignty.
His main opponents were two opposition candidates, Alexander Lukashenko and Zianon Pazniak.
Zianon Pazniak, the leader of the Belarusian Popular Front party, ran a pro-Belarusian campaign built around the Belarusian language and national heritage.
Farm director and lawmaker Alexander Lukashenko ran a populist campaign. He made anti-corruption and anti-privatization his main promises.
According to the official data, Lukashenko received over 45% of the vote, with Kebich gaining 17.3%. Nationalist Pazniak received 12.8%, while Shushkevich attracted only 10% of the vote.
In the run-off, Lukashenko crushed Kebich 80% to 14%.
Since then, Lukashenko insists that at least 80% of Belarusians still support his politics, and the results of every following presidential election were rigged to accommodate this belief.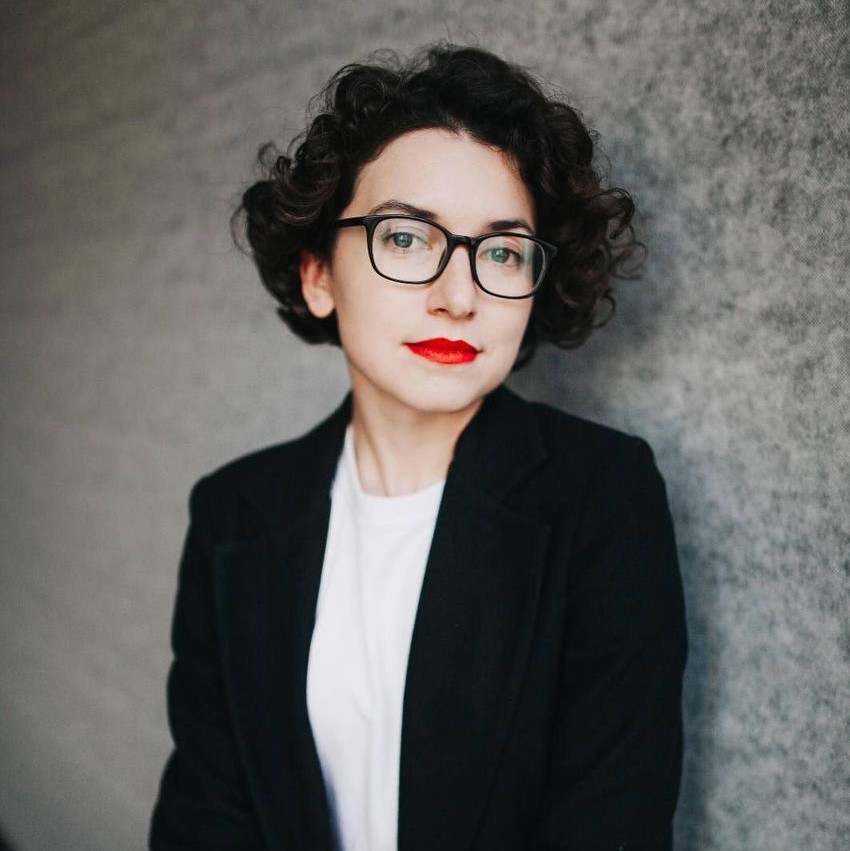 Maria Yeryoma
contributing author
Maria Yeryoma is a Belarusian media manager and a contributing author at the Kyiv Independent. She recently led the commercial "special projects" at TUT.BY — the biggest independent online media in the country. In May 2021, TUT.BY was raided by Belarus authorities leaving 15 employees in custody and forcing the team to leave the country to continue their work. Maria moved to Kyiv and helped establishing a new media outlet — Zerkalo.