This audio is created with AI assistance
Russia's missile strike on Jan. 14 caught Kyiv residents off-guard.
After nearly a year of Moscow's repeated attacks, something unusual happened: The explosions sounded before the air raid alert went off, which is rarely the case in what is believed to be the most protected city in Ukraine.
On that day, Russia launched the first officially confirmed attack on Kyiv with the S-400 surface-to-air missile system, the newest and most advanced air defense system in Moscow's arsenal. The S-400 was also likely used in the attack on Kyiv on Dec. 31, according to the Air Force of Ukraine.
Russian forces have been using other air defense systems, such as S-300, for strikes on Ukrainian cities presumably due to a shortage of high-precision missiles. Designed primarily to take down targets in the air, these systems also have a surface-to-surface function. When used in this way, their key difference compared to other types, such as cruise missiles, is their extremely poor accuracy.
Oleg Katkov, editor-in-chief of Ukrainian military-focused online media outlet Defense Express, says that based on the Soviet data, the effective use of air defense missiles against ground targets is limited to a mere 40-kilometer radius. It is in this range that the missile can still be directed by Russian radar systems.
"As soon as it disappears from Russian radar, it is not controlled anymore. After leaving this radius, the rocket simply falls somewhere," Katkov told the Kyiv Independent.
"That is why the targets for strikes by air defense systems are cities, and not more specific areas or structures."
Russia uses such missiles at a distance of more than 100-200 kilometers, which is why Katkov says they are "needed in order to kill the civilian population."
"At the distances at which they are used, there are physically no options for their other use," he said.
Air defense missiles also fly at comparatively high speed, which renders them almost immune to Ukraine's anti-air systems.
"These missiles can travel approximately 200 kilometers in two minutes. Even less," Yurii Ihnat, spokesperson for Ukraine's Air Force, told the Kyiv Independent.
According to Ihnat, even the growing supply of Western air defense systems is not enough to protect Ukraine from all threats.
According to Defense Express, the country's aging Soviet air defense systems – as well as those that were previously donated by Western partners – are able to effectively shoot down the Kh-101, M-54 Kalibr, P-500, Kh-59 class cruise missiles, but they are unable to counter Russia's missiles that fly along a ballistic trajectory, like the Kh-22, 9M723 (missiles for the Iskander systems), short-range Tochka missiles, and air defense missiles.
Russia's Jan. 14 strike on Kyiv was part of a coordinated large-scale attack across Ukraine.
During the attack, Russia also launched a Kh-22 missile on the city of Dnipro, hitting a residential building and resulting in one of the largest civilian death tolls from a single strike since the beginning of the full-scale invasion on Feb. 24, 2022. It killed 46 people, and injured 80.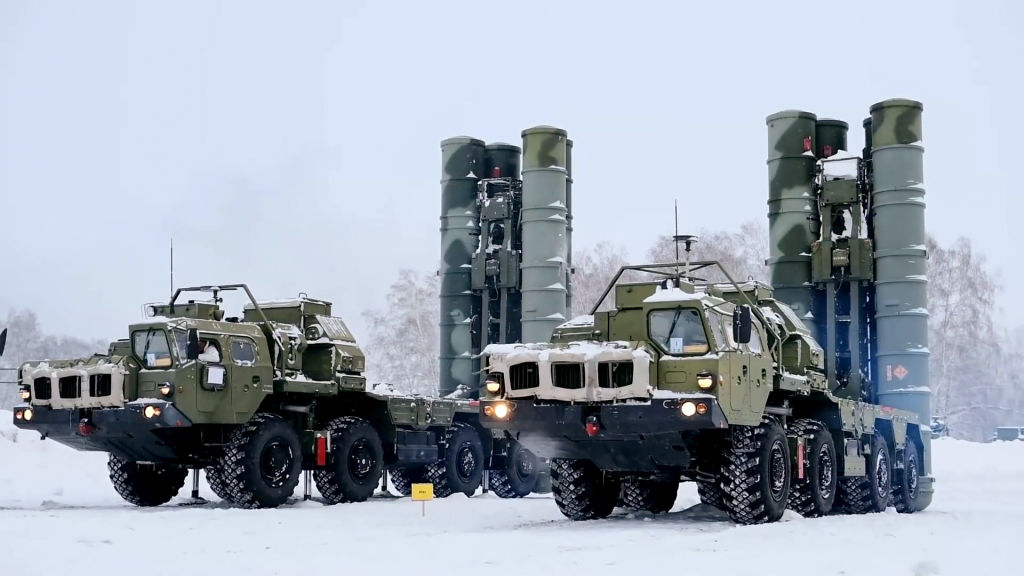 S-400 defense systems, sent by Russia, are seen at the Brestsky training ground ahead of the Allied Resolve 2022 joint military exercise near Brest, Belarus, on Feb. 3, 2022. (Photo by Russian Defense Ministry / Handout/Anadolu Agency via Getty Images)
Greater threat
Both the West and Ukraine have highlighted the shortage of high-precision missiles faced by Russia for months. In late November, Defense Minister Oleksii Reznikov proclaimed that Moscow had used most of its high-precision arsenal.
However, Russia's much larger stocks of air defense missiles may pose a much greater threat to Ukraine.
According to Kyiv, Russia still has about 8,000 S-300 missiles. The number includes both standard missiles, with a range of 120-150 kilometers, and modified versions able to fly over 200 kilometers. This kind of range allows Russia to strike at Kyiv from Russia's Bryansk Oblast, a region that borders Ukraine to the north. The proportion of the two missile types within this 8,000 figure is unknown.
Andriy Yusov, a spokesperson for the Defense Ministry's Main Intelligence Directorate, said that Russia has "significantly less" missiles for the latest S-400 systems. Kyiv claims that a mass bombardment of the country with S-400 systems is extremely unlikely, since they are currently Russia's most sophisticated means of protecting its airspace.
However, the risk of increased use of S-300 missiles to attack Ukraine remains extremely high. Defense Express analysts have calculated that Russia can even strike at Kyiv with the shorter-range version of the missiles if fired from the territory of Belarus.
Although Belarus has not officially declared war on Ukraine since the beginning of the full-scale Russian invasion, Russian forces have used Belarusian territory to launch attacks on Ukraine, including strikes with Iskander and Tocka-U ballistic missiles.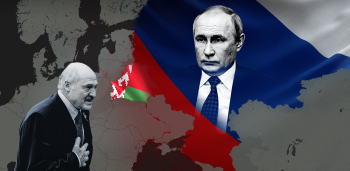 Though in the past months, Russia hasn't been launching rockets from Belarusian territory, the threat of new strikes from there remains, according to Ihnat.
The spokesperson said that both S-300 and S-400 systems were stationed in Belarus as of Jan. 12.
According to Defense Express, the forested area in the Belarusian territory bordering Ukraine has been mostly used for monitoring Ukrainian forces. Katkov suggests that it is this and other southern territories of Belarus that can be used to fire air defense missiles at Ukraine.
"Kyiv, Zhytomyr, Lutsk, Rivne, and even Lviv could come under attack. That is, the degree of threat is much higher. We are talking about huge regions of Ukraine," he said.
Search for a counter
To protect Ukraine from missiles that fly along a ballistic trajectory, including the air defense ones, Kyiv needs the PAC-3 modification of the U.S. Patriot and European SAMP/T (MAMBA) air defense systems, according to Ihnat.
So far Kyiv expects two Patriot batteries to be delivered, one from the U.S. and one from Germany, as well as two more Patriot launchers from the Netherlands. It is not clear what modification of the Patriot system will be supplied to Ukraine. Kyiv also expects one SAMP/T from Italy.
"These systems will be able to strengthen our air defense in those areas. Naturally, the systems that are being offered to us now – one or two batteries, maybe three, maybe four – still won't cover all the (incoming) targets," he said.
"Fired at targets flying along a ballistic trajectory, one such (air defense) system can shoot up to 40 kilometers away. One battery consists of up to eight launchers. How many launchers will be provided in each battery is unknown. This will depend on the partners," Ihnat said.
Though the PAC-3 modification of the Patriot is expected to have increased effectiveness against tactical ballistic and cruise missiles due to its advanced hit-to-kill technology, these systems have only proved successful during tests and are yet to prove their effectiveness on the battlefield.
Another way to protect Ukraine from Russian attacks with missiles such as S-300 and S-400, is to prevent them by directly destroying the launch systems, which the Armed Forces of Ukraine are considering, Ihnat said.
However, according to him, such strikes would require U.S. ATACMS tactical ballistic missiles, HARM anti-radar missiles, and F-16 fighter jets.
Though Ukraine has received HARM missiles and successfully adapted them for the Soviet MIG-29, neither the long-sought ATACMS, nor F-16s have been pledged by Ukraine's allies so far.
President Volodymyr Zelensky said on Feb. 24 that four countries, including Poland, have expressed readiness to train Ukrainian pilots on the F-16 jets, confirmed by Polish Prime Minister Mateusz Morawiecki on the same day. U.S. President Joe Biden, however, said on Feb. 25 that there were no grounds for transferring the F-16s to Ukraine yet.
"If we are talking about the S-300 and S-400 systems, and in particular the S-400, then it is better to destroy the launchers directly from where they strike," Ihnat said.
"To do this, it is necessary not only to strengthen our air defense, but also to increase the number of HARM missiles. If HARM missiles were used from fighters like the F-16s, then the range and effectiveness of these missiles would increase significantly."
"Getting the jets would be the icing on the cake."
While Ukraine is hoping that the West will come through with the delivery of the weapons it needs, Kyiv warns that Russia could be working on replenishing its missile stocks, namely with Iranian ballistic missiles such as the Fateh-110 or the Zolfaghar, which claim to have an operational range of 300 and 700 kilometers respectively.
So far, both Ukraine's military intelligence and air force report that there is no evidence yet that Russia has received any missiles from Iran.
"Nonetheless, the threat remains," Ihnat said.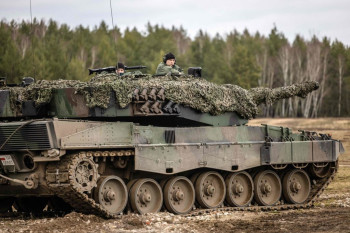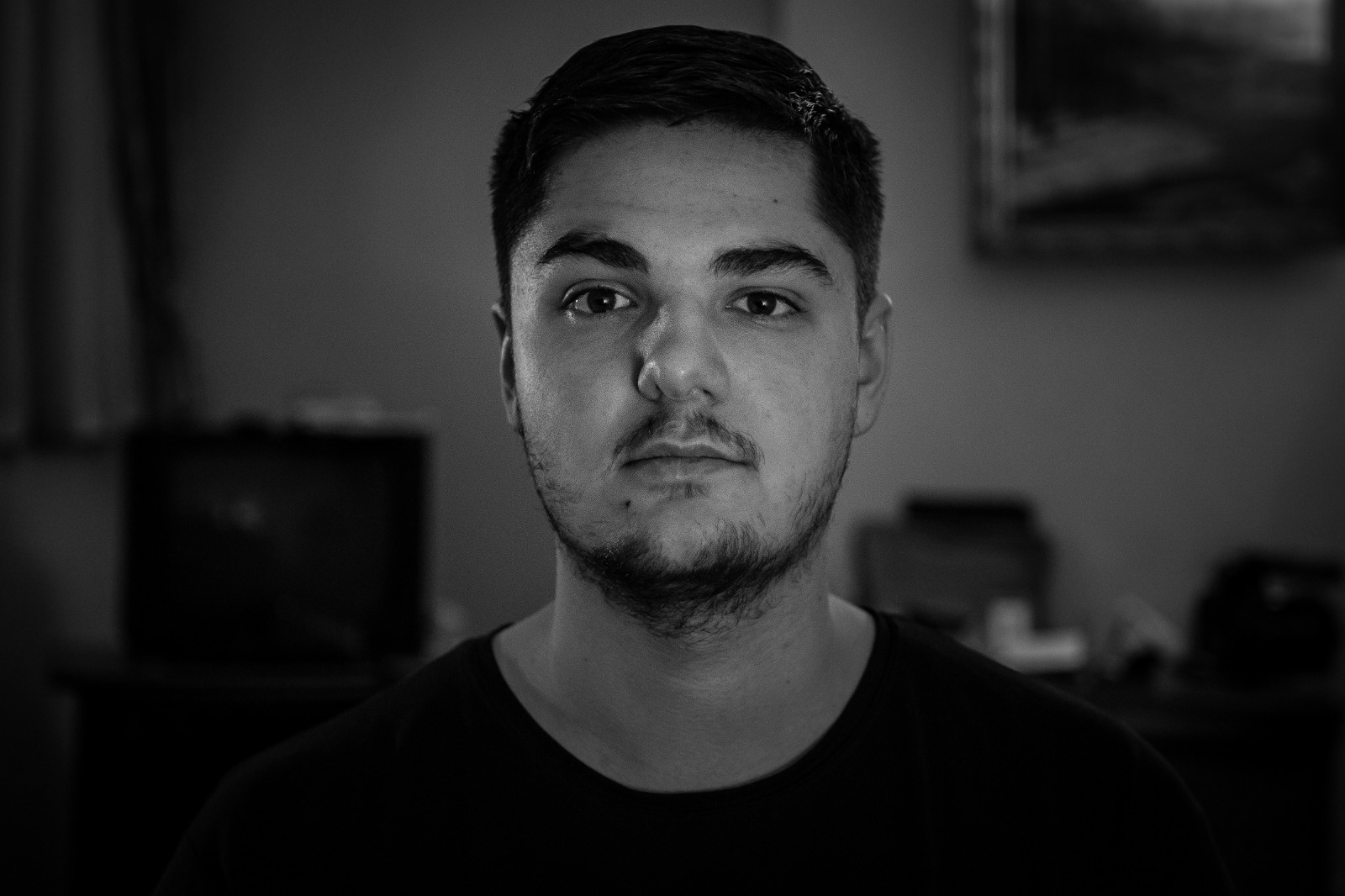 Stanislav Storozhenko
Freelance writer
Stanislav Storozhenko is a Ukrainian journalist and producer. He worked as a news editor for Liga.net and Ukraine's public broadcaster Suspilne. He also collaborated as a fixer with The Telegraph, The New York Times, Al Jazeera, TF1, Les Echos, L'Echo, and Danish Broadcasting Corporation.