This audio is created with AI assistance
NATO Secretary General Jens Stoltenberg closed day one of the defense ministerial meeting on Oct. 11, welcoming allies' newly pledged military aid for Ukraine – which includes F-16 fighter jets, crucial air defense systems for winter, and much-needed ammunition.
Speaking at a press conference at Brussels' NATO headquarters, Stoltenberg applauded the 16th meeting of the Ukraine Defense Contact Group – a U.S. initiative involving more than 50 nations – in which he says world leaders "focused on Ukraine's most urgent needs."
The long day of meetings at various levels kicked off with President Volodymyr Zelensky making an unannounced visit to the headquarters – his first since 2021.
Some of the new pledges include the U.S.'s more than $200 million of aid in air defense, artillery, and rocket ammunition, as well as Germany's one billion-euro package that includes powerful Patriot and IRIS-T air defense systems.
Other developments include Belgium and Denmark's confirmation to deliver F-16s to Ukraine, and Canada's tens of millions of dollars worth of donations to provide winter clothing and equipment for Ukrainian soldiers as the cold weather approaches.
In a tweet posted by Zelensky right after the day's end, the president thanked allies, particularly Croatia, Sweden, Poland, Greece, and Latvia, for "powerful decisions on military aid for Ukraine and reaffirming earlier commitments" at the meeting.
"The international coalition works to ensure our common victory," Zelensky said.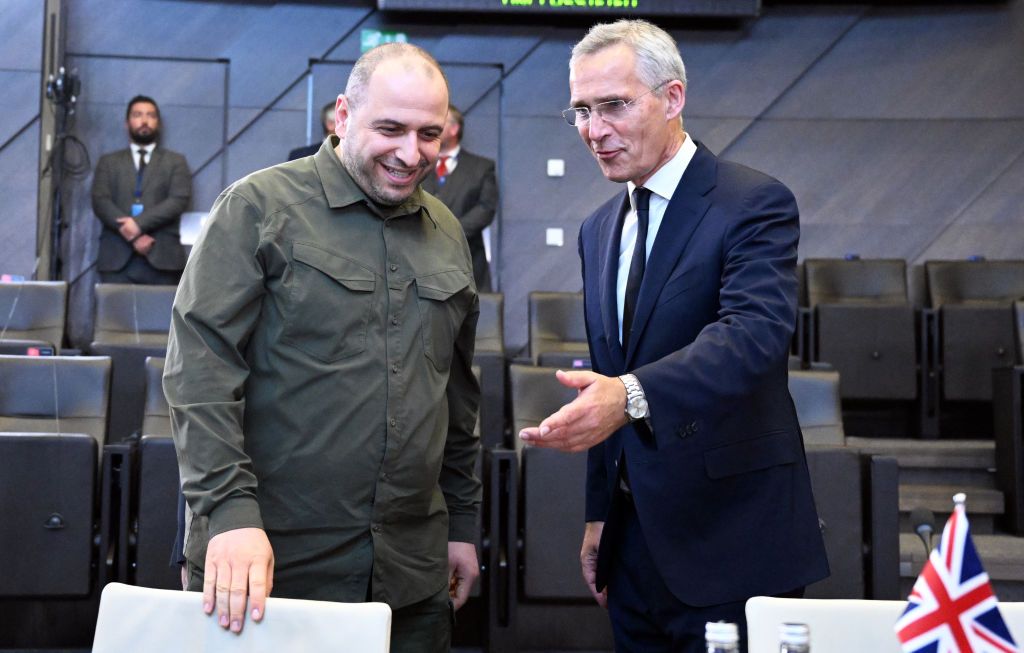 The timeframe for the long-awaited F-16 fighter jets' arrival also became clearer.
At a press conference on Oct. 11, U.S. Secretary of Defense Lloyd Austin said that Ukraine could receive F-16s as early as the Spring of next year after Ukrainian pilots go through the training – currently taking place in the U.S. and Europe.
Danish Defense Minister Troels Lund Poulsen told the Danish TV2 state-owned broadcaster that his country is expected to supply Ukraine with six of its 19 F-16s in March or April 2024.
"This is a natural move following the leading role Denmark already has in relation to the military support for Ukraine and especially in relation to the donation of F-16 fighter jets," he told TV2.
Both Ukraine and the U.S. leaders said they discussed the war-torn country's most vital needs – ammunition and air defense systems as Russia resumes targeting critical infrastructure countrywide with missiles and attack drones.
Though much of the Oct. 11 meeting focused on Ukraine, the agenda for day two of the defense ministerial includes ​​discussions on strengthening NATO security, suspected damage to the gas Nord Stream pipeline in the Baltic Sea, and the Israel-Palestine conflict.