This audio is created with AI assistance
Kremlin-backed mercenary group Wagner forces have taken control of most of the eastern part of Bakhmut, according to the U.K. Defense Ministry's daily intelligence update published on March 11, but they face a new challenge with the Bakhmutka River that divides the city in two and now marks the front line.
Ukrainian forces have demolished key bridges over the north-south rive, which runs through a strip of open ground 200-800 meters wide.
The area has become a killing zone and highly challenging to cross for Wagner forces, in the line of fire of Ukrainians from fortified buildings to the west.
However, Ukrainian forces and supply lines to the west remain vulnerable to the continued Russian attempts to outflank them from the north and south, according to the report.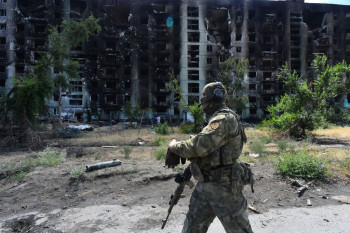 Ukraine's Defense Ministry acknowledged on March 10 that the battle for Bakhmut is becoming more difficult as Russia keeps up its offensive and continues trying to "break through the defenses of our troops."
Recent satellite images of Bakhmut – a city nearly emptied of its 70,000 residents – captured by American private satellite company Maxar.
Technologies published on March 10 showed an apocalyptic-looking city with damaged buildings and a railroad bridge.
Russia has been intensifying its offensive on the Bakhmut front since mid-January, slowly capturing settlement after settlement to encircle the city.
Despite its size and the ruins, capturing Bakhmut would mark Russia's biggest victory since early summer when it seized the last Ukrainian strongholds of Luhansk Oblast.