This audio is created with AI assistance
Editor's note: For this story, the Kyiv Independent talked to residents who live in Russian-occupied settlements in Zaporizhzhia Oblast. For their safety, we have changed their names.
From the rooftop of his home, Anton can easily see the Zaporizhzhia Nuclear Power Plant, the largest nuclear plant in Europe that has been under Russian control since March of last year.
He knows that in the case of a disaster at the plant, the Russian-occupied settlement he lives in would be among the first and the most affected.
Anton has stocked up on food and water, preparing to stay inside if worst comes to pass.
"The only possible way (to survive) is to spend a couple of days in closed premises waiting for evacuation," Anton told the Kyiv Independent.
"But I doubt that Russian occupational authorities would drive around the area to save people," he says.
For the past few weeks, Ukrainian officials have been warning that Russia could stage an attack at the nuclear plant. In late June, President Volodymyr Zelensky said that Russia had rigged the occupied plant with explosives and was had plans in place to set them off, causing radiation to leak into surrounding areas.
Although the International Atomic Energy Agency (IAEA) later reported that it had not found evidence of explosives during the inspections, the agency was not granted full access to the occupied plant's facilities.
A recent report by Ukraine's military intelligence suggests that Russian forces continue to mine the nuclear plant.
Although the reactors at the Zaporizhzhia plant are all shut down, greatly reducing the risk of a quick, dramatic meltdown of a reactor core — which happened during the Chornobyl and later the Fukushima nuclear accidents — the deliberate meltdown of a fully-working reactor is still possible, considering that Russia is in complete control of the plant and its workers.
Mark Zhelezniak, a Ukrainian professor at the Institute of Environmental Radioactivity Fukushima, earlier told the Kyiv Independent that Russia could restart the work of some or all of the reactors of the plant, increasing the contamination caused by a potential meltdown.
According to him, in such a scenario, an initial exclusion zone would be 40-50 kilometers in radius. The contamination in this area would still greatly depend on the weather and would not result in severe doses for civilians if evacuated promptly.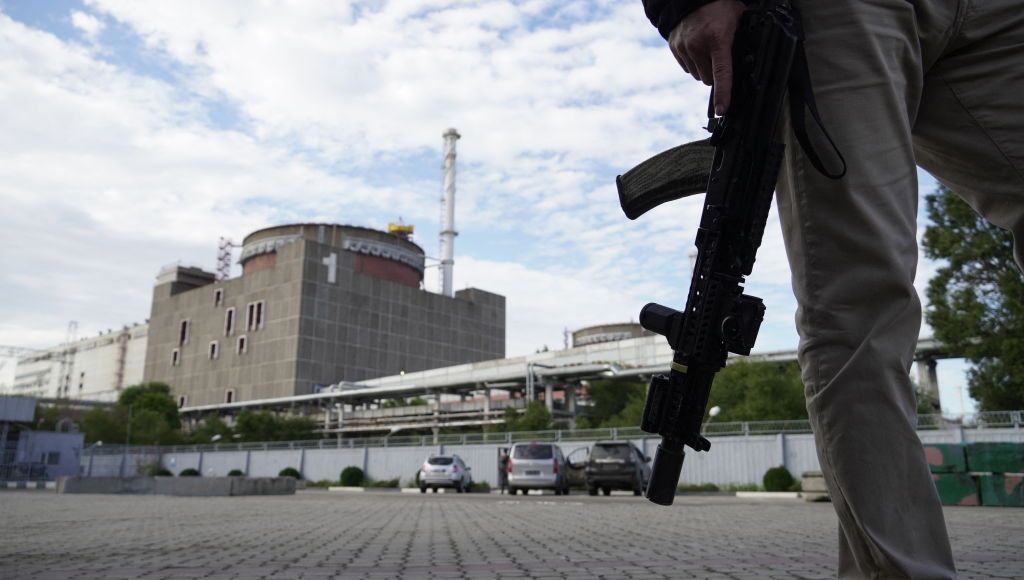 In Russia's trap
Talks about the threat of a disaster at the plant initially reignited in Ukraine following Russia's June 6 demolition of the Kakhovka Hydroelectric Power Plant dam that, apart from other devastating environmental impacts, put the plant's cooling pond at risk of drying up.
The Kakhovka dam destruction has also shown how unprotected and vulnerable Ukrainians in the Russian-occupied settlements surrounding the plant might be in the event of a disaster.  
In occupied areas affected by the flooding, Russian troops prevented people from rescuing others. They also did not let anyone evacuate if they didn't have a Russian passport.
Anton believes that in case of a disaster at the Zaporizhzhia nuclear plant, residents of occupied settlements nearby can expect the same.
He assumes Russian troops would only evacuate those who had earlier agreed to receive Russian passports and says he does not have one.
"I don't think they will let me go with the Ukrainian passport," Anton says.
"Remember how they (Russian troops) saved people from the flooded areas after the Kakhovka dam explosion? They didn't."
Still, according to Anton, there is no panic among the local population, and people are not leaving the area en masse.
Anna, a resident of occupied Enerhodar, where the plant is located, agrees, saying that locals "are not as worried as the rest of Ukraine."
"We know that no one will evacuate us, so what's the point of worrying? It would be the end of all of us here," she told the Kyiv Independent.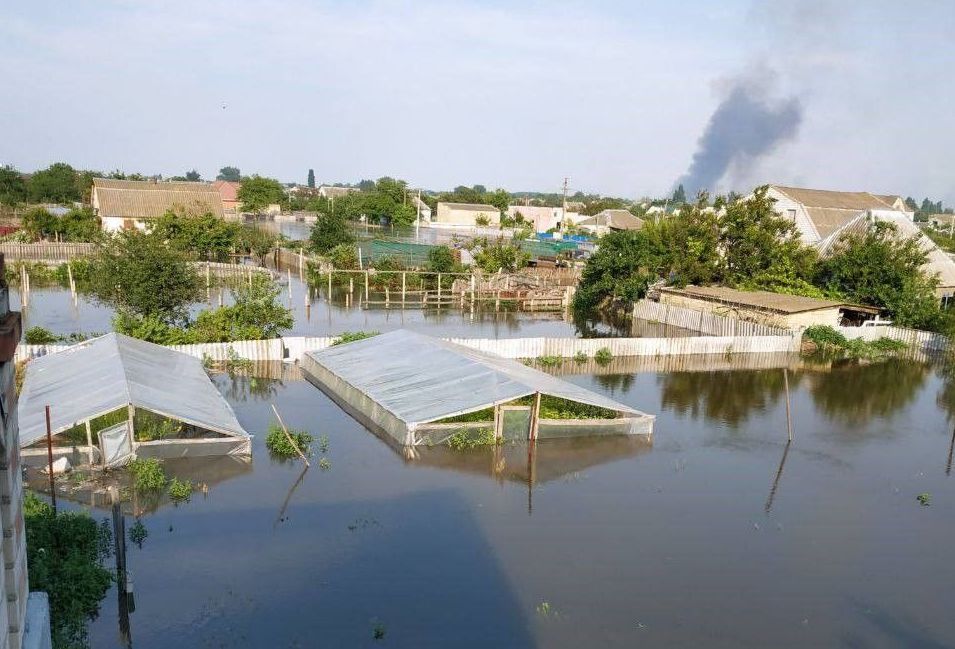 Anna says those who have cars "and will be able to leave" will try to do so. But it's not the case for her family: Since they have refused to obtain Russian passports and her husband is a former nuclear plant employee, she doubts Russian troops would allow them to leave.
"A stock of water and food, that's all the preparation," she says.
"We've been under occupation for 16 months and are already so tired of being afraid."
"The fact that we have lived near the largest nuclear power plant (in Europe) all our lives somehow gives immunity to fear," she adds.
The exiled mayor of Enerhodar, Dmytro Orlov, has recently said that up to 6,000 plant workers are currently in the town but are not allowed to work unless they sign a contract with Russia's state-owned nuclear energy company Rosatom.
He also said that Russian occupation authorities do not allow them to leave Enerhodar and that there are no shelters where people can hide in case of a disaster.
Anna says that Russia's "terror against the locals has intensified" recently, with their troops constantly conducting searches of residents' houses, as well as checking their phones.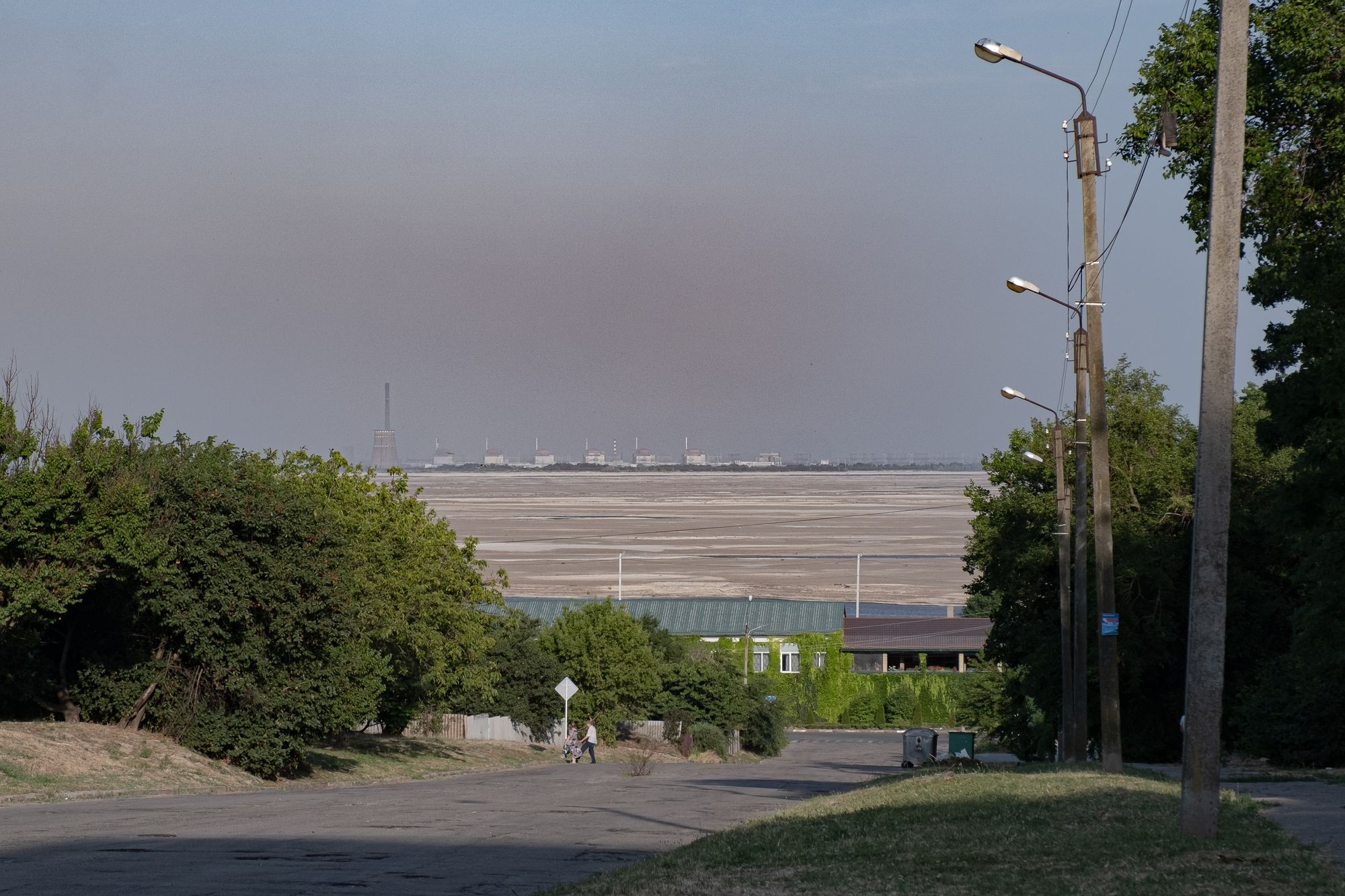 "Those who do not have a Russian passport are treated worse," Anna says.
According to her, Russian soldiers tear apart Ukrainian hryvnias, passports, and SIM cards when finding them during the searches.
Anton says that the situation in surrounding settlements differs from that in Enerhodar: The searches are not as frequent and severe, and he spots fewer Russian troops and military equipment, assuming that they might be "hiding somewhere in the fields."
Also, according to Anton, Russian-installed authorities have not made any unusual statements recently but are instead "preparing local schools for the upcoming school year," suggesting they are not planning to leave the area.
Anna also says it does not look like Russian troops plan to retreat: "They are constantly fortifying (their positions). We are not allowed to go there as the beach and the park are closed, but we see concrete mixers, tractors, and other equipment always going there."
Yet Anton believes that Russia is capable of launching an attack on the Zaporizhzhia plant "even with its troops inside."
According to the General Staff of Ukraine's Armed Forces, some Russian troops "were not prepared for the consequences of the Khakovka dam demolition and suffered losses in manpower, weapons, and military equipment" due to the massive flooding.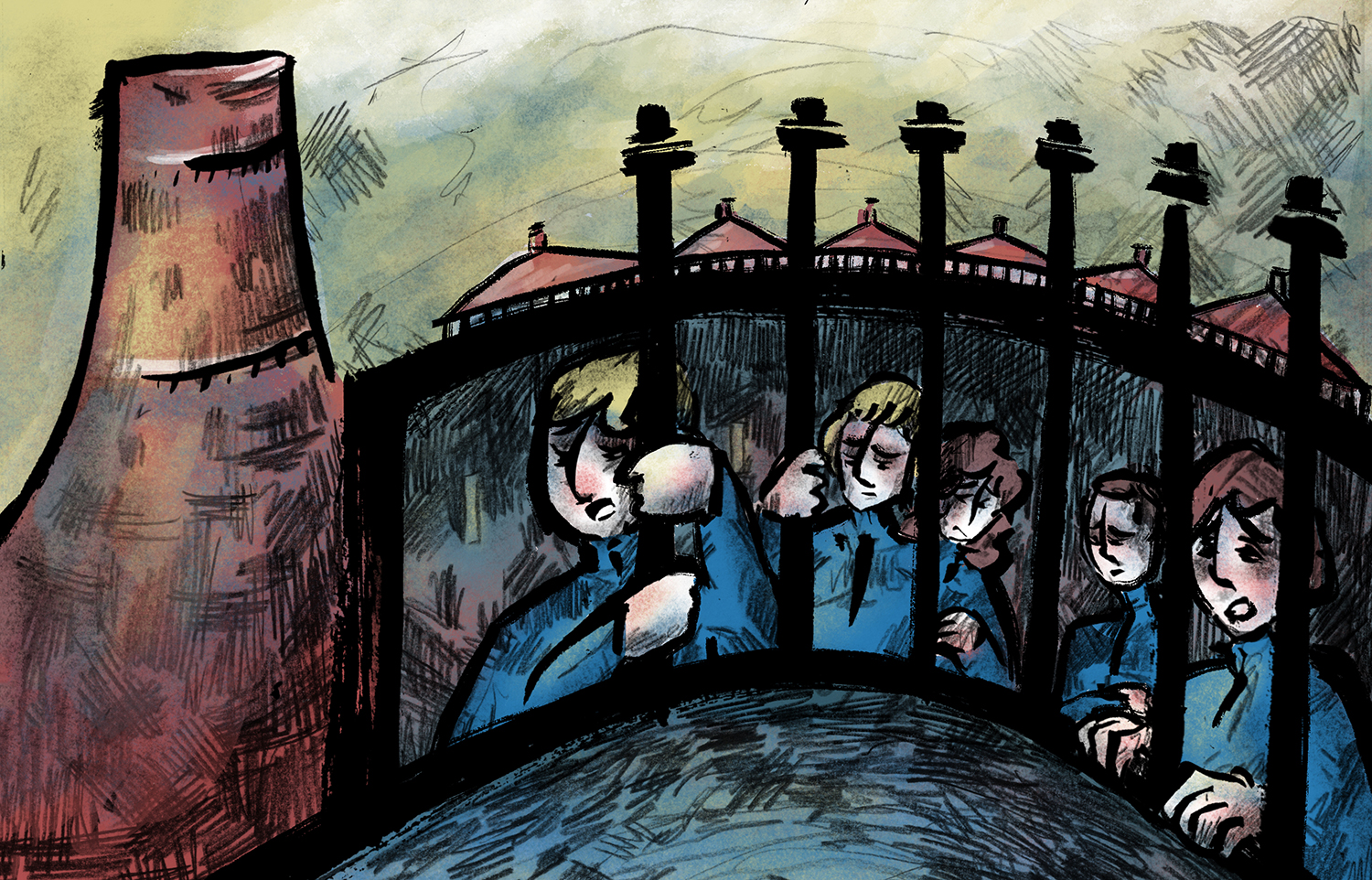 Watching closely
The Ukrainian-controlled city of Nikopol in Dnipropetrovsk Oblast lies directly across the Dnipro River from the Zaporizhzhia Nuclear Power Plant.
Due to the proximity, Russia's possible attack on the plant could also put the population of Nikopol in danger.
Everyone is discussing the potential disaster, says local resident Iryna Sova, 58. But despite the conversations, she estimates that only a few residents have left Nikopol so far.  
"Everyone is reading the news, stocking up on water, packing their suitcases, but not running," Sova told the Kyiv Independent.
"Children play on the streets, factories are operating, and people are working," she says. "I see almost no panic."
According to the 21-year-old local journalist Mykyta Saienko, the situation in Nikopol has been tense ever since Russian troops occupied the plant and began launching attacks on the city from that area.
While Russia's regular artillery strikes on Nikopol have forced many to flee the city, according to Saienko, the possible attack on the Zaporizhzhia plant did not have the same effect on locals.
"The majority stays here," Saienko told the Kyiv Independent.
In a recent survey Saienko and his colleagues conducted, most people said they did not want to leave Nikopol, hoping there would be no nuclear disaster.
Even if it happens, many people plan to stay inside their homes for a few days to avoid exposure to radiation. Some, however, have packed go-bags with documents, clothes, and food in case they need to leave the city.
"Despite regular shellings, people still go to work, live their lives, and do not want to change it in any way," Saienko says.
"And regarding the threat, I feel like many people are simply not aware of possible risks, or even if they are aware, they are ready to accept them here."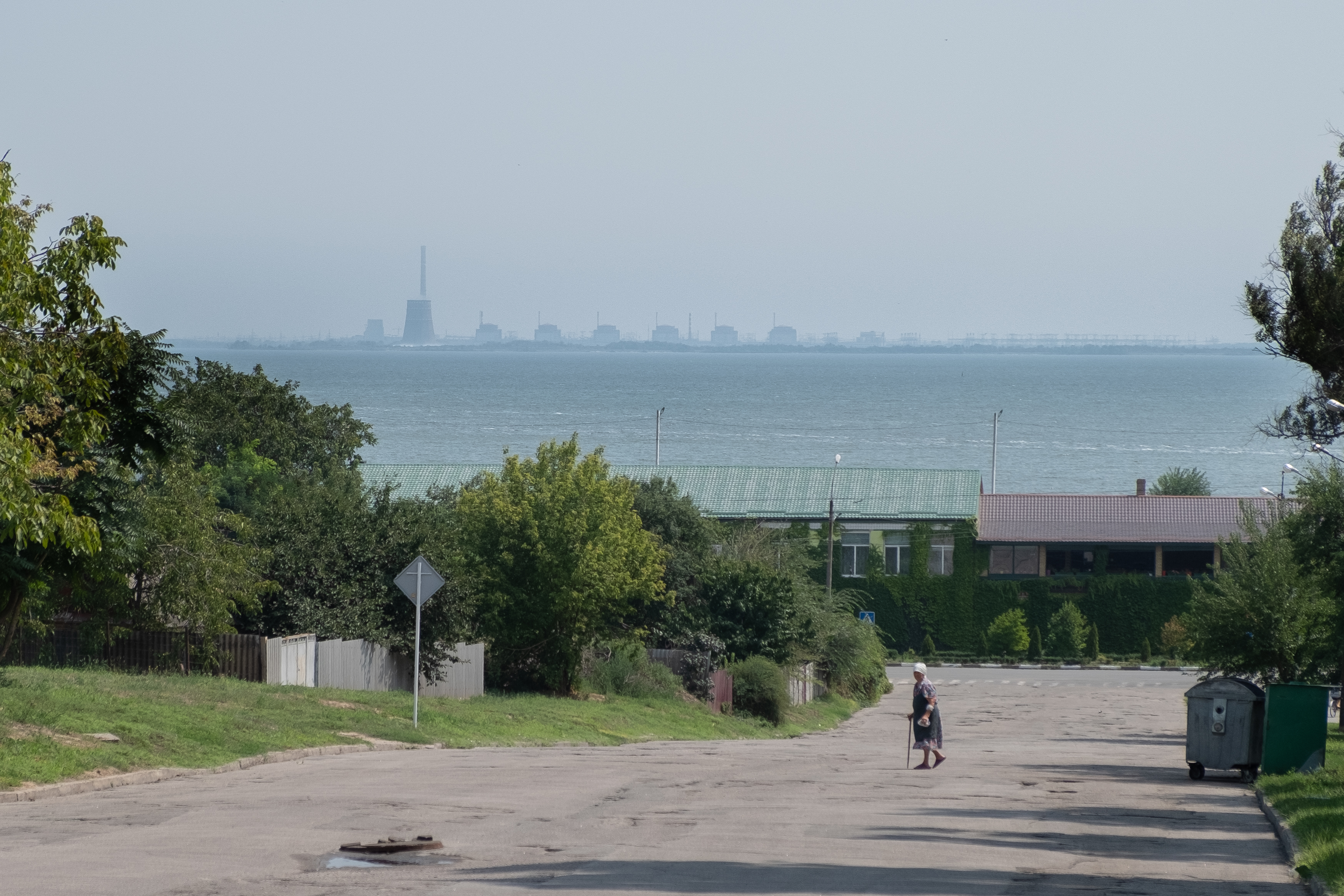 He says he and his family take a potential attack "quite seriously." They have a car and plan to head toward Kyiv if it happens.
"We have the option to evacuate at any time," Saienko says, adding that he has a lot of work at the moment and he wants to stay for as long as he's needed.
Sova says she has packed a small go-bag with documents and medicine and left it near the entrance door of her home. Having no car and an elderly mother who can barely walk would make it very difficult for her to flee.
That's why she agreed with her brother that he would pick them up and drive to Dnipro, the regional capital where her daughter lives. Still, they have decided to evacuate only "in the worst-case scenario," Sova says.
Working at a local factory, Sova says she and her colleagues start their day by checking the radiation level in Nikopol.
"We are watching it closely," she says.
---
Note from the author:
Hi! Daria Shulzhenko here. I wrote this piece for you. Since the first day of Russia's all-out war, I have been working almost non-stop to tell the stories of those affected by Russia's brutal aggression. By telling all those painful stories, we are helping to keep the world informed about the reality of Russia's war against Ukraine. By supporting the Kyiv Independent, you can help us continue telling the world the truth about this war.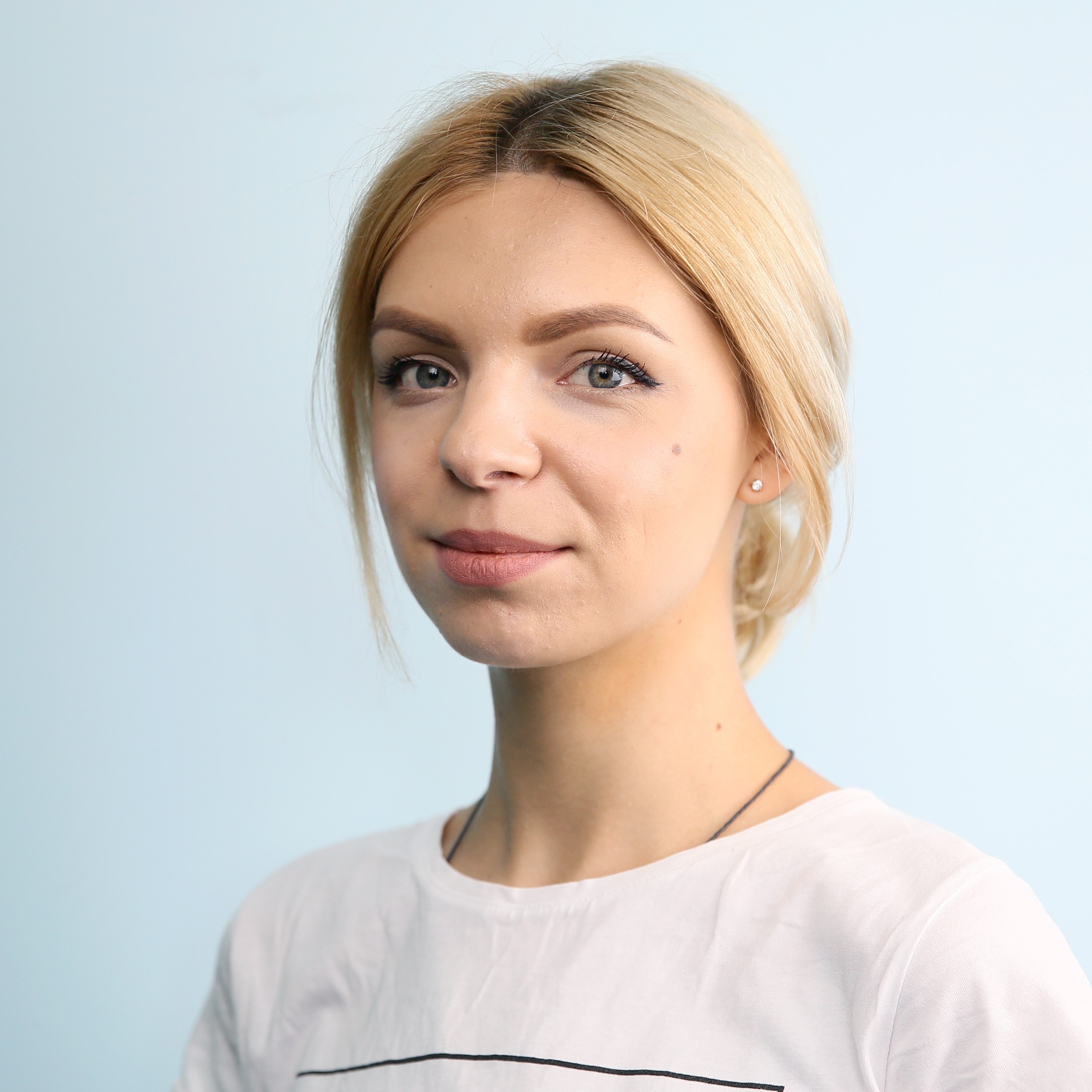 Daria Shulzhenko
Reporter
Daria Shulzhenko is a reporter at the Kyiv Independent. She has been a lifestyle reporter at the Kyiv Post until November 2021. She graduated from Kyiv International University with a bachelor's in linguistics, specializing in translation from English and German languages. She has previously worked as a freelance writer and researcher.