This audio is created with AI assistance
Editor's note: For this story, we spoke to people living or having family in the Russian-occupied areas of Ukraine. For their safety, they are identified by first name only.
After destroying the Nova Kakhovka dam and stranding thousands of Ukrainians in the catastrophic flood zone, Russians prevented people in occupied territories from fleeing or rescuing others, multiple accounts revealed on June 7.
About 80 settlements and 16,000 people were estimated to be in the critical areas. The lower eastern bank of the Dnipro, occupied by Russia, suffered the worst of the damage.
The town of Hola Prystan was 85% flooded by mid-afternoon and was expected to be completely flooded by the end of the day, with the water reaching 3.5 meters, according to the city's military administration director Svitlana Linnik. There were 6,000 people in the city when the dam was blown up.
Oleshky, a city with a pre-invasion population of 24,000 people, is likely to be completely submerged as well. It's expected to be days before the waters recede, letting people take stock of the damage. Many lost all their belongings, including their legal documents.
Social media is flooded with photos and videos of people sitting on rooftops as the water laps around them, with dwindling supplies and no way to escape. A woman pulling a small, frightened dog out of the murky floodwaters before trying to save what things she could. Occasional boats pass between the roofs and treetops that break through the surface.
The Kyiv Independent spoke with family members of people living under Russian occupation in Oleshky and collected accounts that residents posted on social media from the affected occupied areas.
They spoke of being trapped, either lacking the vehicles or fuel to escape or being blocked from leaving by the Russian occupying forces.
Russian news service TASS at 9:10 a.m. on June 7 claimed that 1,300 people were evacuated. Russia's top collaborator in Kherson Oblast, Volodymyr Saldo, stated that people who endured material losses will get financial aid and that children are being transported to occupied Kherson Oblast and Crimea to "good holiday camps."
But people in the area or their relatives said there was no evacuation to speak of whatsoever.
"Right now, many people are sitting on the roofs in Oleshky," said Oleh – he has an aunt and a nephew with disabilities in the town. He described what they had been doing until their eventual rescue.
"They have neither food nor water. People helped to carry the son upstairs, and they did not take anything with them," he said. "They're sitting there waving some red rag. Boats are passing by, but no one has picked them up yet."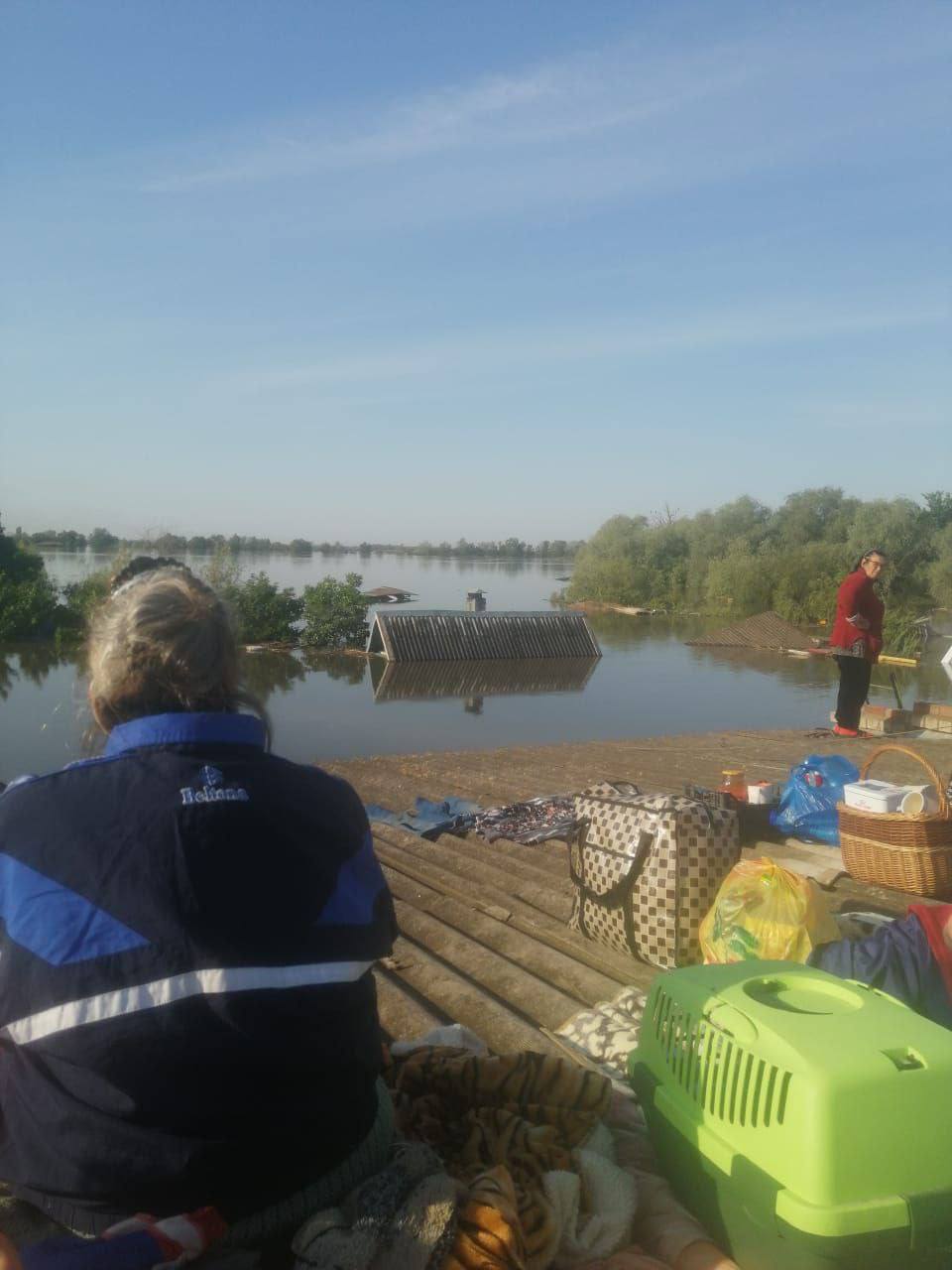 Serhiy, whose parents are trapped in Oleshky, shared a voice message from one of his acquaintances with the Kyiv Independent. This woman, who did not reveal her name, said the situation in the town is critical, with many children, elderly and disabled people stuck on their roofs for many hours.
She said Russian troops set up checkpoints in the less-flooded areas to "prevent" locals from escaping the disaster area or saving others, and she heard of people drowning.
"They are destroying (us)," she cried.
The water rose in a matter of hours, said Serhiy. Many people are sitting on the upper floors, while some residents are trying to rescue their loved ones.
The victims' attempts to escape by boat or otherwise were thwarted by Russian forces, who wouldn't let anyone leave if they didn't have a Russian passport. Numerous people even reported being fired upon when they tried to escape the flooded areas.
Politico reported that Russian forces blocked people who tried to flee immediately after the dam's destruction, forcing them to wait at home for an official list of evacuees that would be bussed out of the area.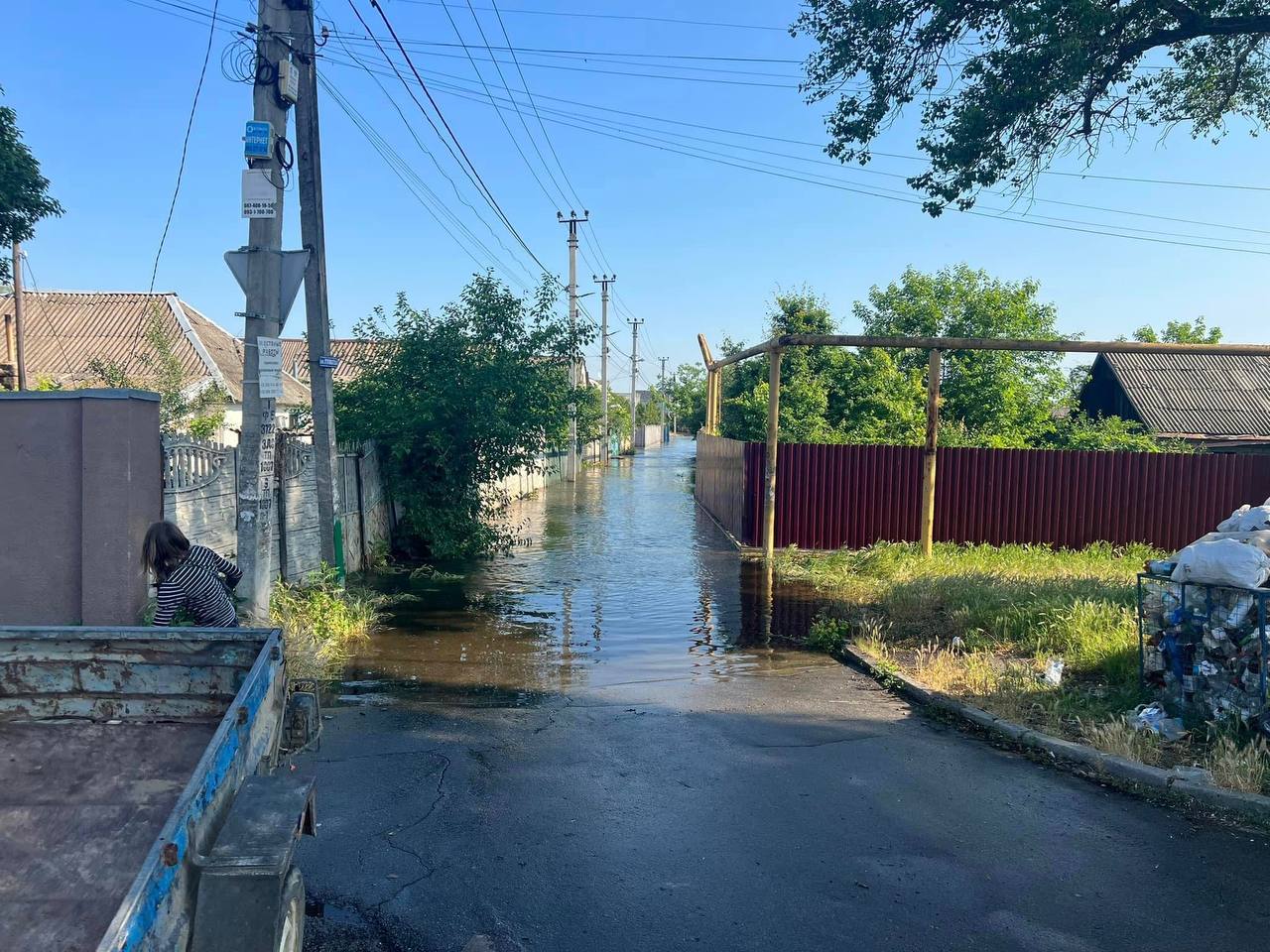 "The orcs abandoned the city," said Yevhen Rischuk, Oleshky's mayor in exile. "People are sitting on the roofs of houses. There are no boats in the city. The curfew is not canceled. Genocide."
Worse, the Russians allegedly destroyed people's means of escape. Serhiy's parents told him the Russians went through the town and rounded up or destroyed all the boats they could find in the weeks before triggering the explosion that caused Ukraine's most lurid catastrophe in decades.
"They stole the boats before all this... all the landings, they carried out all the boats," said Serhiy, paraphrasing what his parents told him. "It's like they were preparing for this to specially create a situation so that no one could escape."
"We thought they were looting. Now I understand that there was a specific command to remove all means of flotation so that people couldn't save themselves."
Oleh said that his aunt told him a similar story.
"They (the boats) were taken away," he said, quoting her. "People whose houses were locked kept their boats. The ones on the pier were smashed, shot up, or taken away."
The occupation authorities themselves have vanished from Oleshky, Serhiy said. But civilians trying to flee were blocked from doing so.
"Yesterday, people tried to escape, so (the Russians) fired assault rifles in the air and didn't allow anyone to leave," Oleh said.
Only people with Russian passports were being allowed to leave, multiple people confirmed.
Tetiana Akhtemenko, a resident of Antonivka, told Ukrainian TV that her family members spoke of a "very bad situation – the water keeps rising, but they're forbidding evacuation, shooting at people's legs. There were a few attempts to throw grenades" at people if they saw them attempting to escape.
Russians are also blocking volunteers from trying to help people, Ukrainian news site Texty reported, citing a woman whose residents are in the flood zone. The Russian forces have not explained to the locals the reason behind their actions. Even Russian volunteers, who arrived to help people from Crimea, were halted at the Russian checkpoints, according to Ukrainian volunteer Andriy Kniga, whose family members are in the disaster area.
With electrical outages and no mobile connections in affected towns, many people lost track of their trapped family members, many of whom are seniors or have mobility issues.
Telegram chats are filled with hundreds of people begging anyone available to rescue their loved ones, describing their situations as critical. Many of these pleas describe people sitting in attics and on rooftops in the villages of Kardashynka, Solontsy, and others. Volunteers ask people to geotag locations where trapped Ukrainians need evacuation.
One of them says that three families of seven people, with a dog and a parrot, are stuck on the rooftop somewhere in the village of Krynky with little food and drinking water.
"If only somebody could provide them with some supplies," the message on one of the local Telegram chats reads.
Another message says that two women and a retiree who can not move without support are trying to save themselves by hiding on a rooftop of a two-storied building in Hola Prystan. Like many others, they are stuck there with little food and water.
"Please help to evacuate people. The water is coming, and the current is increasing," the message reads.