This audio is created with AI assistance
After months of reports that Russia would expand its aggression against Ukraine, the unthinkable happened early in the morning of Feb. 24, 2022: Russian missiles began raining down on Ukrainian cities, and all at once, millions of people had to act quickly to get themselves and their loved ones to safety.
No matter where our staff members were on the day Russia launched its all-out war against Ukraine, one thing is common to all their stories: Their lives as they had known them had ceased to exist.
Below are the recollections of the first minutes, hours, and days of Russia's full-scale invasion against Ukraine, as told by the staff of the Kyiv Independent.
It's 5 a.m. on Feb. 24, 2022, and I'm sitting on the floor of my apartment, my laptop next to me. I've just pressed "publish" on a story I had never expected to run.
"PUTIN DECLARES WAR ON UKRAINE."
I'm looking at my screen when I hear it. A loud, distant bang. Then immediately, more of them. "I hear something. Here," a colleague writes in the work chat. That shocked "Here" means "in Kyiv."
"Me too," "And me," other messages pop up.
I realize with shock that my city is under attack from the air. I'm in a history book, I think. The blitz of London. But surely, it's impossible?
"I've never felt so scared in my life," I write to a friend. "I don't know what to say," he replies.
That morning marked the moment of the biggest upheaval any of us has ever felt. It's like being picked up by a giant, shaken in the air, and tossed back to the ground. It was disorienting, painful, and it stole your sense of control and agency.
The work we've been doing at the Kyiv Independent has helped me restore much of that lost sense of agency. When we work, we are not victims; we are fighters.
I'm writing this in the early hours of Feb. 24, 2023. One hour from now, it will be exactly one year since I heard the sound of missiles hitting my city, Kyiv, for the first time.
I want to stay up until that exact time, 5:07 a.m., to ensure I don't miss the moment when the first year of war ends. More importantly, I irrationally feel the need to make sure that this time nothing happens at 5:07 a.m. — that I hear no attacks, and that my messenger apps don't explode, like last time.
As I walk around my apartment, I can't help but think: Is this the bag I will use for evacuation? Should I put away this shirt or leave it on the couch in case I need to pack very fast? Do I have any cash? Would this wall stop missile debris? If I'm buried under rubble, would the mobile signal come through?
Today marks one year since the last time anyone in Ukraine felt truly safe.
But it's also one year since we learned how unbelievably strong we are. It's knowledge that came at a very high price.
Toma Istomina, deputy chief editor
I was still at the Kyiv Independent's office past midnight on Feb. 24, 2022, working till late, as it would often happen those days. Back then, we were a three-month-old startup, and reports about the looming Russian full-scale invasion were emerging nearly every day – we had a lot of work. When I and my colleagues, editor-in-chief Olga Rudenko and senior editor Oleksiy Sorokin, finally decided to call it a night, it was around 2:30 a.m. I don't remember whose idea it was but, looking exhausted and sleepy, we decided to take an elevator selfie that would later enter the ranks of rare mirror selfies in my phone that have any value. Before heading out to our cabs, I told Olga and Oleksiy that I hoped I would see them the next day, as if I knew I wouldn't.
As soon as I got into the car, I read that U.S. Secretary of State Antony Blinken said he was convinced that Russia would further invade Ukraine by the end of the night. I quickly published the news, shared it with colleagues, and closed my laptop. Of course, my cab driver was the typical talkative character, asking why I was out so late at night. I was numb and couldn't break the news to him.
When I finally got home around 3 a.m., I decided that, after weeks of convincing my family to pack go bags just in case, it was my turn to do that too. I didn't need anybody to convince me – Blinken had done a pretty good job. I was shaking as I was throwing documents, some casual clothes, and essentials into two small bags. In the editors chat, Olga, Oleksiy, and I talked about how we need to get some sleep because it's unlikely we'd get any once it all started. None of us had gone to bed by the time Putin's speech started airing at 4 a.m. We knew what he would say so we opened our laptops and got to work. "Putin declares war on Ukraine" was the title we picked. It made our website go down due to unexpectedly high traffic.
Just a mere moments after his speech was over, Olga, Oleksiy, and I, all being in different parts of Kyiv, heard explosions nearby. I approached my balcony and heard more explosions, there was also something flying above my building. That was the single most terrifying and surreal moment in my life: the moment I felt completely defenseless and incredibly small, standing alone on the ninth floor of an apartment building; the moment I couldn't wrap my mind around the fact that someone had just fired missiles at a European capital in 2022.
What followed were several very dramatic calls to wake up my family, friends, and our developers, asking them to get our website back up. I jumped back to work, only taking a small break to stock up on food and water later in the day. For the next 48 hours, I would go without sleep, staying either in my apartment or hiding in the subway, and working non-stop to keep the world informed about the war. That was the start of the most tragic and challenging time in my life.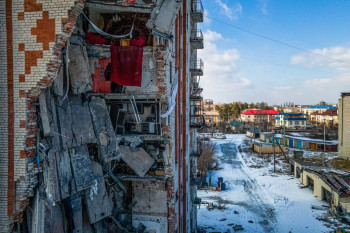 Oleksiy Sorokin, senior editor
The whole world was telling us that a full-scale war was about to happen, and we made an effort not to believe them.
Despite hearing Western intelligence, some of it shared directly with me, it was still a pure shock when it all unfolded on Feb. 24.
Coming home from the office at around 3 a.m. on the 24th, my colleagues and I knew that something was about to happen, and going to bed wasn't an option.
I remember that a video appeared around this time where unidentified soldiers were storming a checkpoint near occupied Crimea. That's when I finally began feeling anxious, waiting for what would come next.
Minutes later, I was sent a link to Putin's speech. Behind all the delusional rant, we understood what was happening. Moments later, Kyiv was bombed.
I picked up my phone, called my dad, and told him that "the war had begun." Everything before this moment now seems so distant and meaningless.
I rushed to my dad's place and later to my grandma's, both in Kyiv, to ensure they were safe. For the next two days, we wrote news updates 24/7, without sleep, informing the world about what was happening on the ground.
When I revisit my memories from February 2022, I remember the fear that I witnessed at 4:30 a.m., and the resilience and dedication of our team, which despite risking personal safety from day one, did their job to the best of their abilities.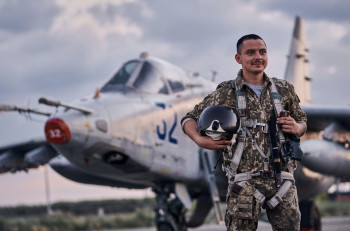 I was barely sleeping or eating in the few weeks before Feb. 24. As tensions were building up on the border I would get more and more anxious. But somehow on the evening of Feb. 23 I felt surprisingly calm. I came home late, walked and washed my dog, cleaned my small one-bedroom apartment in a northern district of Kyiv, lit the candles and listened to my favorite Ukrainian "fight for freedom" songs. It suddenly became clear to me that the big fight was coming and that there was nothing we could do about it.
I took a sleeping pill and went to sleep just after 1 a.m. on Feb. 24 and woke up to the usual sound of my alarm clock at 8 a.m. My phone was buzzing from all the missed messages and calls, a headline in all caps on the Kyiv Independent website read: "Putin declares war on Ukraine."
My backpack with some cash, a bottle of drinking water, documents, and several pairs of underwear was right there in the corner. I quickly coordinated buying supplies with my parents and did the only thing I knew I couldn't avoid (war or no war) – went out to walk the dog. I went out of my apartment building and heard nothing. The city around me was silent and that was probably the scariest thing I've heard. I remember standing over my dog having his usual morning poop at his usual spot and suddenly facing a weird dilemma: should I pick it up?
You would think it's funny. And it was. But that is exactly how my life, every detail of it started falling off. It didn't matter anymore whether I picked up dog poop, took a shower or washed dishes. It didn't matter how I dressed or what I had for breakfast. Nothing mattered anymore, except for the fight.
On that same day I moved to my parents' place just one metro stop away. I remember coordinating the set-up of a small army of volunteers to reinforce the newsroom, trying to find cars to relocate colleagues and friends and constantly scrolling through dozens of newsfeeds.
At conferences and during interviews people keep asking me how Feb. 24 changed my life. It didn't change my life, it took it away, along with millions of Ukrainians. And now we are fighting to get it back.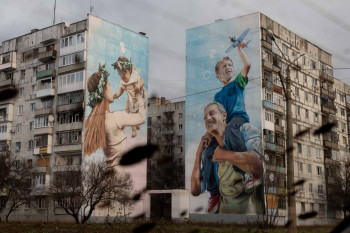 Anna Myroniuk, head of investigations
At around 5 a.m. on Feb. 24, I woke up to explosions in my apartment in a Kyiv suburb. I called my mom, who lives in Bucha, to tell her the war had started. She was already up as she had heard explosions, too.
I then sat at my desk to quickly send an email to the editor of the opinion section of the Washington Post. That day I was supposed to submit a story about my take on Russia's military buildup on Ukraine's borders as a native of Donetsk, a city Russia occupied back in 2014. I told him the story had just become outdated with the all-out war starting. As I waited for his response, a Russian missile landed next to my building. The walls shook, and car alarms went off.
I rushed to the balcony to take a picture of the smoke. My hands have never shaken that much.
The response from the editor came through. They still wanted to run the story but suggested I head to safety. I grabbed my go bag and left my place.
There was no option to get a taxi or use public transport. The traffic just froze, with thousands on their way to flee. The only option was to walk in the direction of Kyiv.
While walking, I received a call from a relative living in Donetsk. Crying, she said she couldn't believe this nightmare had happened again. She was referencing the 2014 Russian invasion of Donbas.
When I reached the city, I stopped at the petrol station, which was surprisingly lively and calm as if nothing was happening. My colleague, senior editor Oleksiy Sorokin, was driving past this district with his family. They gave me a lift to a safe place, from where we got to work.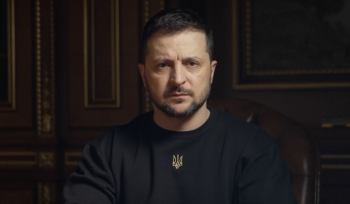 The days and weeks following the start of the Russian full-scale invasion sometimes blur together, but Feb. 24 remains crystalized in my memory. My husband and I had spent the night at his parent's house in Chernivtsi, only to be woken up by his mother with a timid knock on the door around 7 a.m. "Maybe you guys want to get dressed and come downstairs?" she asked, wringing her hands. "It happened…" We immediately understood what she meant.
I opened up social media and, to my horror, read posts from friends and colleagues throughout the country about explosions. There was also a flood of messages in my inbox from people abroad, including people I hadn't heard from in years, asking me if I was alright. I sat in the darkened kitchen, my cup of black coffee going cold because I couldn't look away from the footage on the news.
The three of us prepared a list of food supplies to purchase at the store. We already had other essential items because in the weeks leading up to the invasion, we, like many people in Ukraine, had bought candles, batteries, and medicine, all the while asking ourselves, "Is this crazy?" as we discreetly placed them on the checkout counter. There were no angry mobs or scenes of chaos on that first day. People in Chernivtsi remained calm and welcomed tens of thousands of tired displaced Ukrainians into our small city. We have been spared the horrors faced by other cities in Ukraine, but I still do not know if I have found the words to explain what it's like living with war at arm's reach.
I wasn't working at the Kyiv Independent, nor would I even call myself a journalist back in February 2022. But having followed developments closely for months, I was about 90% sure by mid-February that Russia would invade Ukraine further, sometime after the end of the Olympic Games. I arrived in Kyiv on the 17th, bar-hopping around the city center with old friends who dismissed any fears of such a thing. I didn't know what I wanted to do when it started- try some reporting, volunteer, or just be with my friends.
I was worried about a lightning attack on Kyiv though, and as the date got closer, I realized the last thing I wanted was to take up a space in a car or train evacuating the city that could have been taken by a local. The day Putin recognized his proxies in Donbas, I left for the west with some friends, and ended up in Lviv on the 23rd. That evening, we drank wine and prayed for victory in the war we all saw ahead of us. As I lay in bed listening to haunting Rachmaninov church music, there was a deep, sinking feeling that this would be the night. Not able to sleep until the early hours, I put my phone on charge in the kitchen and finally went to bed.
The next morning, without my phone and with nobody having woken me up, I actually slept in until past 8 a.m., when I came into the kitchen to see all my friends on their phones. "It has begun," one of them said to me as soon as I opened the door.
"Where, Donbas only or everywhere?" I asked.
"Everywhere." From that moment onward, it has been a year of pure adrenalin, anger, dismay, and immense pride. I haven't listened to Rachmaninov church music since.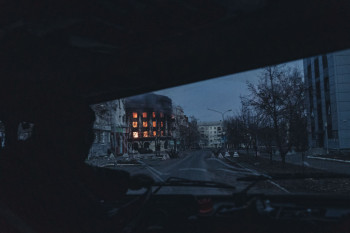 I was already very tired when Russia's full-scale invasion of Ukraine began on Feb. 24. I never took the time to decide what I would do if Russia began bombing Kyiv; I was only focused on meeting deadlines to finish my undergrad studies in two months while working full-time at the Kyiv Independent – covering Russia's anticipated war escalation.
On Feb. 24, I left the office at around 2 a.m. and fell asleep immediately as I got home – after submitting an assignment for my university. I knew I had to get some sleep to be ready for whatever might happen tomorrow – though I never imagined that it would be of this scale.
I was in such a deep sleep that I didn't hear the explosions. When I woke up, I found out that nearly all of my friends – and some of my colleagues – had fled Kyiv.
A friend's relative offered me a stay at a village in Kyiv Oblast, but I kindly declined, convincing myself that it would be better to stay in Kyiv. My instincts served me right because Russian troops soon captured the village and shot at fleeing civilian vehicles.
But I began packing my stuff anyways, hoping to join my colleagues at a nearby metro station. While continuing to write news, I hurriedly threw in changes of clothes for a few days into my bag. I remember how my aquarium gave me a headache: I had to make sure that the fish would be fed when I wasn't at home, so I pushed the aquarium on a table with wheels all the way from the ninth floor to our kind concierge downstairs so she could take care of them.
Though walking in empty Kyiv felt extremely weird, meeting up with my colleague helped me a lot. We resumed working on the news as soon as we got to a safe place.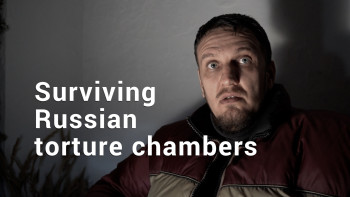 Olena Makarenko, video reporter
A week before the full-scale invasion, I was working with a Dutch journalist team. We traveled across Ukraine by train, ending up in the front-line town of Avdiivka, Donetsk Oblast. We asked local residents what they would do if the invasion moved further. "I don't want to believe that will happen, but if it does, I will stay here doing whatever I can to help our country" – that was the most common answer. I know that many of them stuck to their words after Feb. 24.
Hearing explosions in Donbas was not unusual as the war had been ongoing for eight years there. I did not expect to hear them outside my window in Kyiv.
We returned from the trip three days before the invasion. Exhausted, I only wanted to sleep. But early in the morning on Feb. 24, while it was still dark, my family member woke me up. I knew they would not call me at this time of the day unless it was serious.
"Go pack your stuff. It has started." I knew exactly what he meant, but I was in denial.
"What started?" I asked. "Go read the news and pack your stuff."
The rest of this endless day was busy. People in shops and on the streets were exceptionally kind, even trying to make jokes, probably in an attempt to cope with the stress.
But the fear was also there. The following five days, while still in Kyiv, I was sleeping in the same clothing I was wearing during the day, ready to jump out of bed in case a missile hit.
It felt like we were left alone by the world that was hesitating to help. But the trust in our Armed Forces gave me hope.

Join our community
Support Ukraine's independent journalism in its darkest hour
Support us
On the early morning of Feb. 24, my partner decided to let me sleep a few minutes longer. She didn't know the next time I would be able to sleep in.
Her "it had started" was a flashback to my May 2014, when fighter jets and helicopters flying over my roof woke me up in my native Donetsk. That was the beginning of the now legendary Battle for Donetsk Airport.
That experience of having Russians invading my city helped me keep my head cool when my new home, Kyiv, came under attack in 2022. Although we expected this invasion, Russia's war came as a great shock, and many weren't prepared for it. I put my effort into helping friends and colleagues cope with the anxiety, which reemerged with each Russian missile landing in Ukraine.
The first footage of burned Russian military vehicle columns and downed helicopters gave hope to millions across Ukraine. The courage of the Armed Forces gave us confidence that victory would come.
Five months into the full-scale invasion, even though the war was far from over, I slept in again. That was just a day before I joined the Kyiv Independent.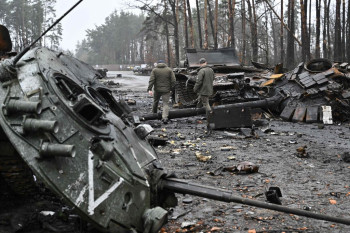 Dinara Khalilova, news reporter
I was asleep at home when I heard something heavy falling from the sky. Once. Twice. On the third time, I woke up and realized it was not a dream. Those heavy things were Russian missiles raining down across my entire country, including my native Dnipro.
Of course, I sensed something was coming, but I never thought it would start this way — by a mass missile attack on Ukraine, a rapid assault on Kyiv, my father's friend from Kherson Oblast calling to say he saw a Russian flag being raised in his town.
At first, there was shock, then crying, followed by panic. I thought we should leave, but I didn't know where to go or if it was safe at all. I packed and unpacked my backpack several times, listening to the news on TV, which became a focal point of our house for hours on end. Finally we decided to stay.
For the next two days, I froze — I didn't work with the Kyiv Independent back then, and I had no energy for anything but scrolling news feeds and helping my family with daily chores. I have never felt worse.
The one thing that pulled me out of that misery was a text from a U.S. TV correspondent, who offered to film several video diaries on how I was coping with Russia's full-scale invasion. My diaries were never featured in her channel's program because I disagreed with their plan to put the wartime experiences of Ukrainians and Russians in one piece. But filming my neighbors making Molotov cocktails, my family turning our basement into a shelter and myself talking about my feelings and fears brought me back to life.
I realized I was capturing a historical moment — and I kept doing this at first as a local producer for a British media company and then as a news reporter at the Kyiv Independent. Making sure I'm doing my part in telling the story of the Ukrainian resistance has become a life raft that has helped me stay sane.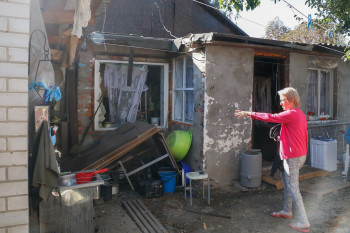 Feb. 21 was my first day as a reporter at the Kyiv Independent. My first editorial meeting with the team began with the topic that was on everyone's mind in Ukraine – what would everyone do if (or rather when) Russia launches its full-scale invasion.
Our defense reporter, Illia Ponomarenko, joked that my arrival was a bad omen and meant war was coming very soon: The previous media outlet I worked at with the same team was shut down and everyone was fired just a few months after I had started there. I thought it was funny, and that relieved my tension a bit.
The atmosphere in Kyiv was heavy, as the war was looming. Everywhere I went, every conversation I had with friends, family, or colleagues inevitably led to the same questions: Will they invade? When? What do we do?
To prepare, I took out cash from an ATM and packed a small backpack with necessities. Yet I was in denial, refusing to fall into what I believed was mass panic.
The evening before the start of the full-scale invasion, I went on a date with a soldier from the Territorial Defense Forces. We talked about the prospect of the big war, and I found myself bored. "I write about it, and talk about it with everyone else, so please spare me this when I am on a date," I thought to myself, and went home around 2 a.m.
In a few hours, I woke up to a phone call from a friend, telling me that Russia was bombing us. My heart raced as I checked the Kyiv Independent's website, seeing the headline in all caps: "PUTIN DECLARES WAR ON UKRAINE."
The day stretched on for more than 48 hours. The next time I slept was on the bus to Poland. Looking back, it all seems like a blur, but those first moments of war will be etched in my memory forever.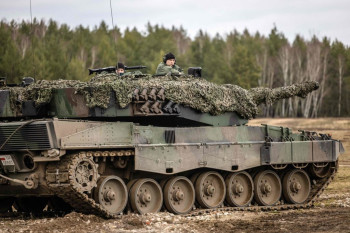 In January and February, several things persuaded me that an invasion would indeed happen: good analysis pieces by U.S. military analysts Michael Koffman and Rob Lee and constant updates on Russian troop movements near the Ukrainian border.
U.S. officials warned several times about the date of the looming invasion, although Russia kept postponing it. After one of these warnings, I bought train tickets to the city of Chernivtsi for myself and my wife in mid-February. I reckoned that Chernivtsi was a safer place because it was far from the border with Russia and close to the border with Romania. I believed that, if Russian troops approached Kyiv, it would be hard or even impossible to get out of the city either because of an encirclement or a traffic collapse.
I also thought that, if Russian forces managed to capture Kyiv, they would likely arrest me because I'm a Russian-born journalist critical of the Kremlin.
Late on Feb. 23, when we were in Chernivtsi, I read on one Telegram channel a claim that the invasion would begin at 5 a.m. in the morning and set the alarm for that time. I woke up at 5.30 and found out that the invasion had started.
During the first day, the situation was so bad that I thought there was a risk of Kyiv being captured by Russian troops and a puppet pro-Kremlin regime being set up there. In that case, the situation in Chernivtsi could have gotten out of hand too, and I figured it would be safer to go to Romania.
On Feb. 25, we went to the Romanian border, and the situation there was extremely chaotic. The Ukrainian border guards were letting through very few people at a very slow rate, and it took us an entire day to cross the border. The first rays of hope emerged when we were in the Romanian town of Suceava on Feb. 26: based on the news, Ukraine had not fallen and was fighting back.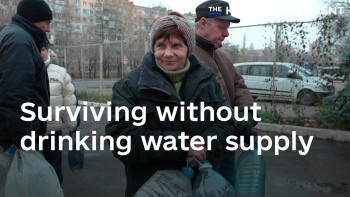 Iryna Matviyishyn, video reporter
Russia's all-out war caught me in a hotel room in central Kyiv. I had moved to the capital just two weeks before to join the team of U.S. public radio as a local producer. The room had a window wall with a nice view of Kyiv – that's where I first saw the war shattering our lives.
On the eve of the invasion, my colleagues gave me protective gear which I had to keep in my room. I was laughing, "Who needs a helmet and a vest in central Kyiv?" Even warnings from Pentagon sources did not convince me. Putin would try to take the east, maybe the south, but not Kyiv, I thought.
That night I was speaking with some of the biggest international media. In other circumstances, this would have been a dream. But the air was getting heavy with each hour, turning my nearly cinematic experience into the most terrifying night.
The news didn't let me sleep. At around 2 a.m., I packed my backpack – it was too late to fall asleep but too early to panic. When Putin was announcing his plan to "denazify" us, my body started to shake in terror.
Soon, the sound of explosions made me jump. The night sky of the beautiful Kyiv landscape lit up in blue and red. "Maybe I'm paranoid," I thought, waiting on my team to wake up. Door slams in the corridor, however, were very real – several guests were hurrying to leave their rooms.
I headed upstairs to grab breakfast before evacuating. Hotel guests were sipping their coffee in the panoramic restaurant on the 15th floor, but they were silent, and their eyes gave away that nothing was normal. A stunning view turned into a gloomy, almost apocalyptic picture, and panoramic windows became dangerous. The anticipation of the worst was unbearable.
This and the next two days of evacuation were the most dreadful moments in my life. I almost believed that Russia had succeeded in pushing us into fear with its terror. But the following months proved me wrong: We have never been stronger and braver than in the past year.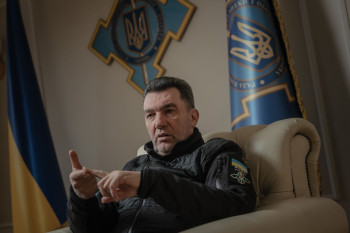 The warnings were everywhere, and it was obvious something would happen. But when?
On the evening of Feb. 24, while my partner was out of the city, I decided to try and relax despite the ominous headlines popping up on the screen of my phone. I went out for a bit, thinking it would make things easier.
Murders of crows were flying in the sky of my beloved Kyiv that evening. I brushed the bad omen off. I couldn't have been more wrong.
That night, I raised my glass "to the end of the world." I couldn't have been more right. Everything changed overnight.
The first explosion was so loud it shook my windows. No need for an alarm to wake up. I'll never forget this first air raid siren, the heavy silence outside, listening to the next explosions, and the smell of smoke.
I called my partner, panicking. "It has started; where are you?" She was stuck in traffic in the direction of Kyiv, trying to reach the capital that many were already trying to flee, moving in the opposite direction. I sat there, puzzled, trying to make sense of everything, with a vision of blood and fire in my head — what if Russians struck civilian convoys? I couldn't control anything, and it felt like the ground was slipping under my feet.
I double-checked my emergency bag, and hers too. Upon her arrival, we headed to the subway. It was silent outside but the sounds of explosions were reaching from the distance, where black smoke was rising between high-rise buildings. These strikes would inflict some of the first civilian casualties on the first day of Russia's all-out war.
And then a strange sense of calm settled – I wouldn't be useful to anyone running like a headless chicken. It was time to stick to our plan. It was time to try and work.
After spending the afternoon in the metro, we headed back home for the night and for our first curfew, waiting for the next Russian strike.
Our nights would never be the same.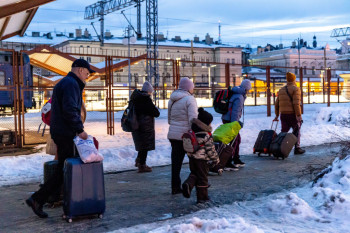 Lili Bivings, contributing editor
If I look back at my messages with friends both in Ukraine and around the world in the days leading up to Russia's full-scale invasion, every single one says that I was sure Russia would never invade. I told people not to worry and said those that warned of an imminent Russian invasion were just catastrophizing. The very last friend I messaged about it on Feb. 22 was a friend in Poland who was genuinely concerned by what the news there was reporting. We ended our conversation by saying we hoped the reports would never become a reality.
On the evening of Feb. 23 (I was in New York when the invasion started), I woke up after having slept all day, extremely ill with extremely high fever from Covid-19, to a text message from that same friend: "Damn, I was wrong." He told me he was ready to pick up any Ukrainians from the border or offer them a place to stay if needed. My response: "This is a literal living nightmare."
I don't remember much after that besides getting online to help the team in Kyiv cover the news. Sick with Covid-19, I spent the first week of the invasion alone in my room, in front of my computer, watching and reading as Russian missiles and shells poured down on my friends and adopted home.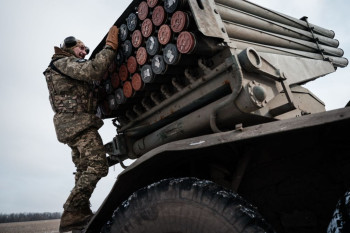 Zakhar Protsiuk, chief development officer
It was in Gdansk, Poland. I learned about the war not from the sound of explosions or air sirens but from a phone call. My friend called me at 6 a.m. and asked if he could borrow my hiking equipment because Kyiv is getting bombed right now. "Of course," I said while contemplating that I was in the scariest moment of my life. As I was the first one in the house to learn about the beginning of the war, I had to break this news to other people in the house.
"Are you really taking a Zoom call that early?" said a friend with a note of irritation as I was walking past her room.
"The war has started. Kyiv is getting bombed," I said and couldn't believe that this phrase was real and not part of some historical fiction.
Next came a blur of actions: we launched a fund to help Ukrainian media, bought and moved equipment for Ukrainian journalists, and found places to stay for our friends and colleagues who were evacuating from Kyiv, Kharkiv, and other Ukrainian cities under attack.
Being in that house with other Ukrainians felt like being home. It was our portal to Ukraine, my mental war zone. I hadn't left it for 10 days or so. And when I went out for the first short walk, I was struck by two contradicting things: how much the world has changed around me these days and yet how calm and abstained it was. I saw so many Ukrainian flags, like never before, and yet I saw people living their lives as if nothing had happened.
I decided to return to Ukraine, and at the beginning of March, I was home. It was the first of the two best decisions of that year. Two months later, I joined the Kyiv Independent. That was the second one.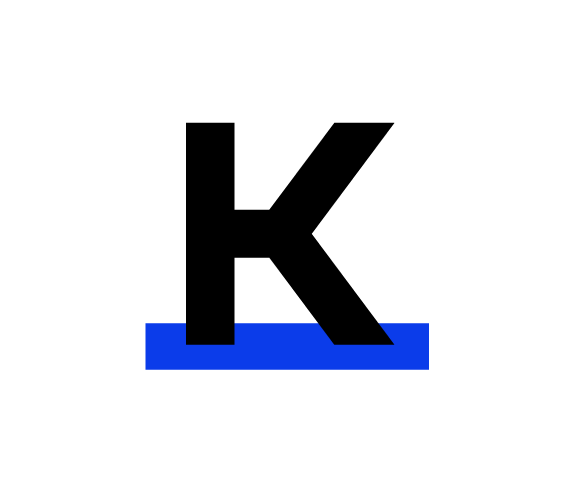 The Kyiv Independent
The Kyiv Independent is an award-winning English-language media outlet that offers on-the-ground reporting from Ukraine. The publication has received international recognition for its coverage of Russia's full-scale invasion of Ukraine.