This audio is created with AI assistance
The European Union's top diplomat Josep Borrell called upon the bloc's members to step up their military support for Ukraine, saying that "a lot of applause" is not helpful without actions.
Speaking at the annual Munich Security Conference, Borell, who recently visited Kyiv and attended the historic EU-Ukraine Summit, stressed that Ukraine needs less applause and more arms supplies.
"(President Volodymyr) Zelensky and the Ukrainians get a lot of applause, but not enough ammunition," Borrell said. "It's a paradox. They need less applause and more weapons."
"Ukraine is fighting with the highest price in lives, but this war is taking place on European territory, affecting us and having a global effect on the whole world," Borrell said, as quoted by Interfax-Ukraine.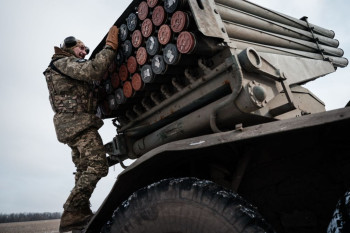 Critics argue that allies' reluctance to supply F-16 and Typhoon fighter jets and long-range ATACMS missiles to Ukraine will prevent Kyiv from launching a counteroffensive and liberating the rest of Ukrainian territory. Ukraine's lack of advanced aircraft and missiles will likely prolong Russia's war of aggression and result in thousands of deaths.
The HIMARS missiles that Ukraine currently uses have a range of 80 kilometers and cannot reach many of the Russian-occupied areas.
On Feb. 3, the U.S. announced it would supply Ukraine with GLSDB missiles, which can travel for 150 kilometers. However, Bloomberg reported that they are likely to arrive in Ukraine in nine months, which may be too late for repelling a Russian offensive or launching a Ukrainian counter-offensive.
Meanwhile, ATACMS missiles have a range of 300 kilometers.