This audio is created with AI assistance
The head of the Belarusian Red Cross admits the branch helps Russia abduct children from Russian-occupied parts of Ukraine. He says the organization has, is, and will continue to be actively involved.
Thousands of Wagner Group mercenaries arrive in Belarus.
Subscribe to the Newsletter
Belarus Weekly
Lukashenko says that the Wagner troops stationed in Belarus are eyeing Poland, as Warsaw continues to up its defenses amid the mercenaries' arrival.
The EU ambassadors agree to adopt "restrictive measures" against Belarus due to its complicity in Russia's war against Ukraine.
Minsk says it applied to join BRICS, a grouping of the world's leading developing economies, back in May.
Belarus' Red Cross head admits involvement in abducting Ukrainian children
The head of the Belarusian Red Cross, Dzmitryi Shautsou, admitted the organization's involvement in the forced deportation of children from Russian-occupied parts of Ukraine to Belarus.
"When they accused the Republic of Belarus of kidnapping children who come to us for rehabilitation – frankly speaking, the Belarusian Red Cross has been, and is, and will be actively involved in this," Shautsou said during an interview with Belarusian state TV in the Russian-occupied city of Lysychansk.
He claimed the abductions were so-called "recreational trips" to help the children "forget the horrors of the war."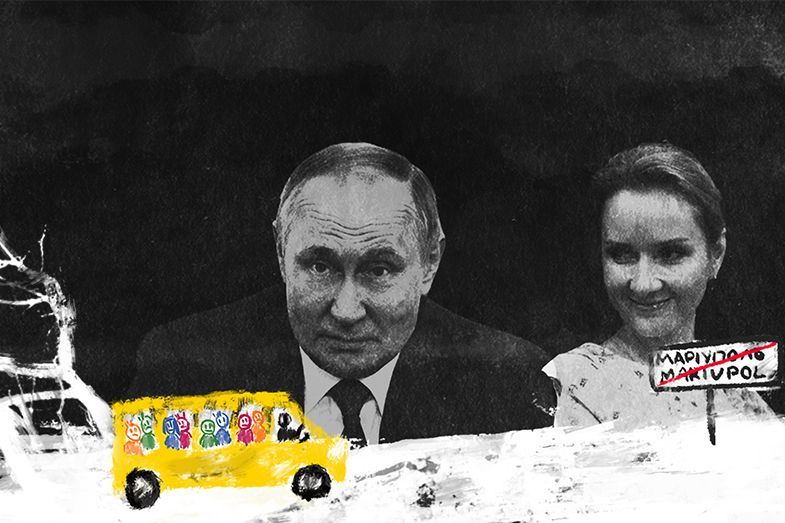 Shautsou was shown wearing military clothes adorned with the letter Z, which is a pro-war symbol for Russia's invasion of Ukraine.
The Belarusian Red Cross is the largest humanitarian organization in Belarus and is part of the international Red Cross movement.
The International Federation of Red Cross and Red Crescent Societies (IFRC) issued a statement saying that it was "not made aware" of Shautsou's visit to occupied Lysychansk and not "involved in any of the (Belarusian branch's) activities, including with children."
"It is essential that all components of the International Red Cross and Red Crescent Movement maintain their independence from governments and weapon bearers," the IFRC statement said.
The Red Cross' Ukrainian branch has asked the IFRC to consider excluding the Belarusian branch from the organization.
Russia has systematically deported children from Russian-occupied parts of Ukraine during its full-scale war. According to official estimates, over 20,000 children have been abducted, although the real figure is likely much higher.
Belarusian authorities have reportedly confirmed hosting over 1,000 children from Russian-occupied parts of Ukraine.
Under international law, the deportation of civilians is considered a war crime. The forced transfer of children from one place to another amounts to genocide.
The International Criminal Court issued an arrest warrant for Russian President Vladimir Putin and Russian Children's Rights Commissioner Maria Lvova-Belova for organizing the illegal transfers.
The European Parliament called on the ICC to issue a similar arrest warrant against Belarusian dictator Alexander Lukashenko for his complicity in the crime, and Ukrainian Foreign Minister Dmytro Kuleba urged the ICC to do the same for Shautsou.
Ukraine's Prosecutor General's Office said it has launched an investigation into the Belarusian Red Cross' involvement in the deportations, noting that the organization's actions constitute a violation of international law.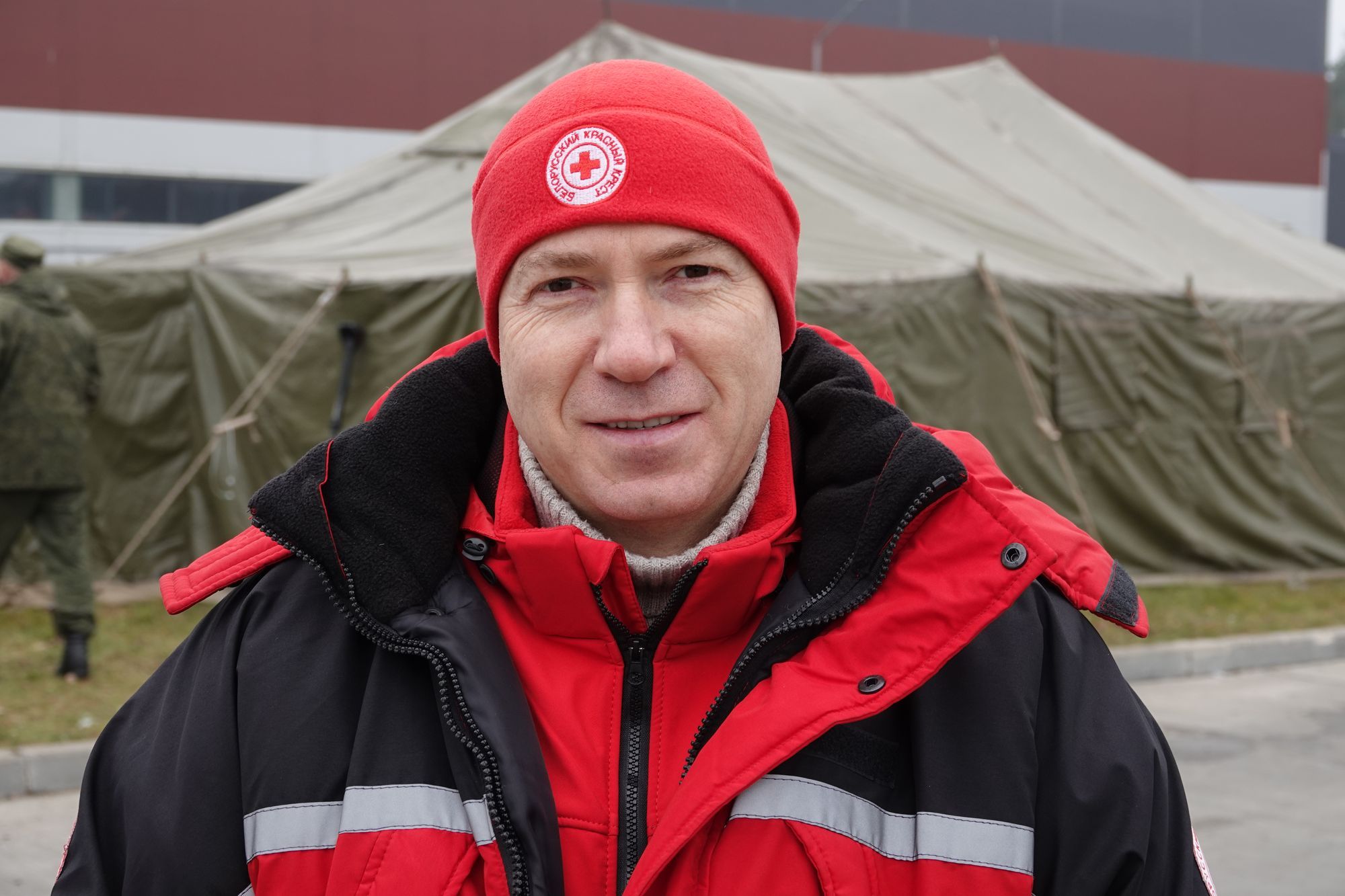 Belarus, Wagner mercenaries hold joint training near Polish border
The Belarusian military and the Wagner Group's troops held a four-day joint training exercise in Brest Oblast near the Polish border amid the arrival of thousands of mercenaries to Belarus.
"For four days, special tactical training classes are being held at the Brest training ground with the involvement of the Wagner Group fighters," the Belarusian Defense Ministry said, adding that the exercises are aimed at modernizing the Belarusian military.
The announcement came after Prigozhin claimed on July 19 that the Wagner Group will make the Belarusian army the "second (best) army in the world."
According to Ukraine's State Border Guard Service spokesperson Andrii Demchenko on July 22, around 5,000 Wagner troops have arrived in Belarus since the mercenary group's aborted mutiny in late June.
Belarusian Hajun, a monitoring group that has tracked the Russian military's movement in Belarusian territory since the start of the full-scale war, said the 11th Wagner convoy arrived in the village of Tsel.
The column reportedly included at least 29 vehicles, namely a UAZ-Patriot, two Ural-4320 trucks, two KAMAZ trucks, six truck tractors with six excavators and a pickup truck, an offroad vehicle, and 11 other trucks.
According to the monitoring group, the vehicles moved along Belarus' P43 highway toward Tsel.
The status of the Wagner Group's mercenaries in Belarus is uncertain. Following the Wagner Group's failed mutiny in Russia, Lukashenko allegedly brokered a deal with Prigozhin to allow them to relocate to Belarus.
Putin said Wagner mercenaries that did not participate in the armed insurrection would be incorporated into the Russian military.
Meanwhile, the U.S. Defense Department said on July 21 that Wagner mercenaries stationed in Belarus are being reassimilated into the Russian military.
"We've certainly seen Wagner forces get sort of reintegrated within the Russian military," U.S. Defense Department Deputy Press Secretary Sabrina Singh said.
However, the Wagner Group announced via Telegram that it will close its recruitment center in Russia's Krasnodar Krai, instead opening a temporary center in Belarus.
According to the Institute for the Study of War, "Wagner forces in Belarus pose no military threat to Poland or Ukraine… until and unless they are re-equipped with mechanized equipment."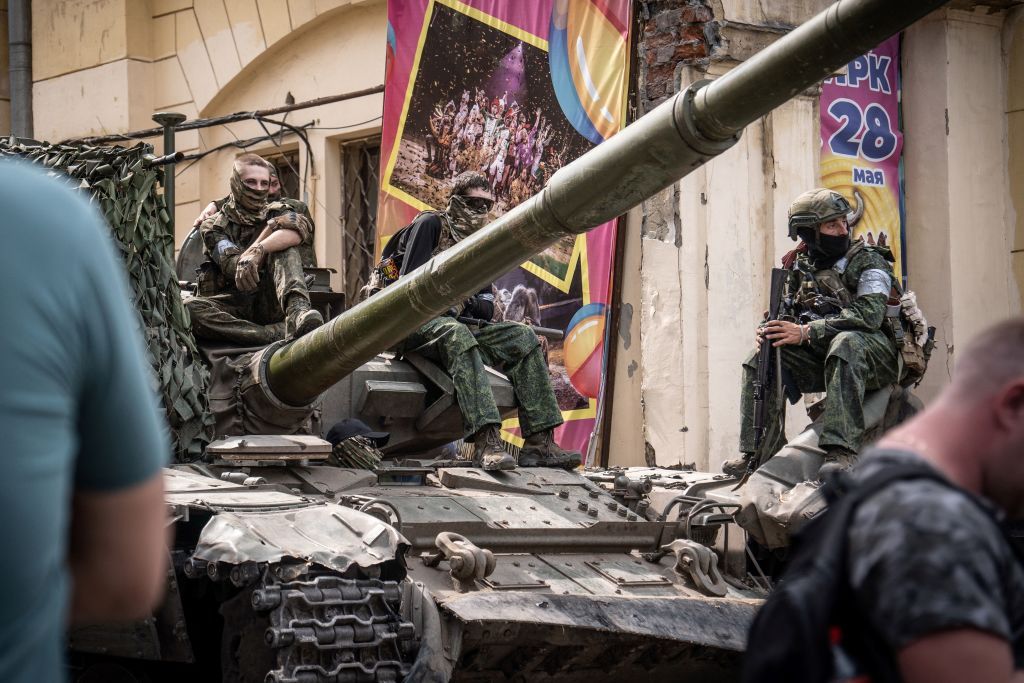 Lukashenko says Wagner troops want to invade Poland
During a meeting with Russian President Vladimir Putin in St. Petersburg on July 23, Lukashenko reportedly joked that the Wagner Group mercenaries stationed in Belarus are eyeing Poland.
"The Wagner guys have started to stress us. They want to go west. 'Let's go on a trip to Warsaw and Rzeszow,'" Lukashenko is quoted as saying.
"Of course, I keep them (Wagner mercenaries) in the center of Belarus, as agreed," he added.
Lukashenko also presented Putin with what he claimed was a map of Poland's plan to attack Belarus. "As we can see, the ground is being prepared," Lukashenko claimed.
The dictator also accused Poland of wanting to "annex western Ukraine under the guise of NATO enlargement."
Poland is one of Ukraine's key backers in defending against Russia's war.
U.S. State Department spokesperson Matthew Miller called the claim "another irresponsible statement by Lukashenko."
"I would say that there is only one country in the region that has demonstrated not only the intention but also the willingness to invade its neighbors, and that is Russia, not Poland or any other country," he said, adding that NATO will defend Poland if necessary.
Warsaw decided on July 19 to move troops to eastern Poland after the reported arrival of Wagner troops to Belarus.
Earlier, Putin accused Poland of having territorial ambitions in the former Soviet Union, stating that any aggression toward Belarus would be met by Russia with "all the means at our disposal."
Warsaw denied any territorial ambitions in Belarus.
Putin also claimed that the western part of Poland was a gift from Soviet dictator Joseph Stalin and that Russia would remind Warsaw of it.
"Stalin was a war criminal, guilty of the death of hundreds of thousands of Poles. Historical truth is not debatable," Polish Prime Minister Mateusz Morawiecki tweeted on July 21, apparently in reference to Putin's claim. "The ambassador of the Russian Federation will be summoned to the Ministry of Foreign Affairs."
Following Putin's remark, Ukrainian Foreign Minister Dmytro Kuleba said on July 23 that Kyiv and Warsaw will "always stand united."
"Unlike Russia, Poland and Ukraine have learned from history and will always stand united against Russian imperialism and disrespect for international law."
Support independent journalism in Ukraine. Join us in this fight.
Support us
EU ambassadors to adopt 'restrictive measures' against Belarus
Ambassadors from the European Union's member states agreed on July 26 to adopt "restrictive measures" against Belarus due to its complicity in Russia's war against Ukraine.
"Today, EU ambassadors agreed on adopting restrictive measures in view of the situation in Belarus and the involvement of Belarus in the Russian aggression against Ukraine. The measures will include listings of individuals and entities," the Spanish Presidency of the Council of the EU said in a Tweet.
No further information was provided.
Politico reported on July 18, citing unnamed EU diplomats, that the EU informally agreed to impose a set of military sanctions against Belarus.
The proposed package reportedly includes restrictions on battlefield equipment, including aviation parts, and will parallel the sanctions imposed on Russia in an attempt to mitigate Moscow's rerouting of sanctioned goods via Belarus.
Meanwhile, Deutsche Welle said on July 18 that the EU is preparing new sanctions for the anniversary of Belarus' fraudulent presidential election in August 2020, which tightened Lukashenko's illegitimate grip on the country.
Belarus says it applied to join BRICS
Belarus applied in May to join BRICS, a grouping of the world's leading developing economies comprised of Brazil, Russia, India, China, and South Africa, Belarusian state media said on July 25.
"This decision was an absolutely logical step in the context of… expanding cooperation in multilateral formats with traditional partners and friendly states," the Belarusian Foreign Ministry said.
The BRICS countries have all refused to join Western economic sanctions against fellow member Russia following its full-scale war against Ukraine.
The Belarusian Foreign Ministry claimed that BRICS is discussing a framework for cooperation with non-member states along the lines of "friends of BRICS" or "BRICS partner countries."
BRICS is due to hold a summit in South Africa in August.
Putin's attendance at the upcoming BRICS summit has been contentious since the ICC issued a warrant for his arrest over the illegal deportation of Ukrainian children. As a signatory of the Rome Statute, South Africa is obliged to detain the Russian president if he enters the country.
South Africa's Presidential Office announced on July 19 that Russian Foreign Minister Sergey Lavrov will attend the summit in Putin's stead.
---
---
Enemies of the regime – Ales Bialiatski and Human Rights Center Viasna
The Spotlight segment provides readers with the historical context of contemporary events in Belarus.
Human Rights Center Viasna became one of the United Nations Human Rights Award recipients on July 20. The prize is given once every five years to "send the signal of appreciation of the human rights activists' work."
Meanwhile, Ales Bialiatski, founder of Viasna, began his third year in a Belarus jail on politically motivated charges.
The 2022 Nobel Peace Prize laureate Bialiatski, his deputy Valiantsin Stefanovich, and human rights activists Uladzimir Labkovich and Zmitser Salauyou were accused of "financing actions grossly disrupting public order." Bialiatski received a 10-year prison term, and his colleagues were punished for 7-9 years.
Viasna-96 emerged in the aftermath of the series of demonstrations against Belarus' integration with Russia that took place in 1996 and resulted in nearly 200 arrested protesters.
The organization started providing them and their families with legal help, observing the elections, and documenting the regime's misconduct.
By 1996, Bialiatski was the director of the Maksim Bahdanovich Literary Museum. He recalled combining museum work with human rights advocacy as he did not believe the organization would last long.
"I thought that in 2-3 (maximum 5) years, there would be no need for it, and we would return to our usual work — museology, literary, scientific, and political studies. Unfortunately, I was wrong," Bialiatski once said.
After the 2001 presidential elections, the pressure on civil society increased. In 2003, Viasna Center was deprived of registration and decided to continue the work regardless.
The first criminal case against Bialiatski was opened on August 4, 2011, after Lithuanian and Polish authorities disclosed information about the foreign bank accounts of Belarusian activists to the Belarusian authorities.
These accounts accumulated financial aid for victims of Belarusian regime repressions.
Bialiatski was accused of concealing profits on a particularly large scale and sentenced to 4.5 years of imprisonment. He pleaded not guilty and was recognized as a political prisoner.
After serving three years of his term, he was released on amnesty.
During his imprisonment, Bialiatski wrote books with his views on Belarusian culture and history and his experiences in prison, which were later published.
In 2020, Viasna monitored the elections and documented violations. The human rights center also recorded cases of administrative and criminal persecution of Belarusians that took part in protests afterward.
Viasna began tracking politically motivated arrests and now keeps count of political prisoners in the country, monitors the conditions of their detention, and helps their families.
On February 16, 2021, Belarusian law enforcers searched the main office of Viasna, alleging the organization financed the 2020 protests. On July 14, 2021, Bialiatski and several of his colleagues were arrested.
The wife of Ales Bialiatski, Natallia Pinchuk, is uncertain if she will see her husband again.
"Given the prison conditions, a ten-year term is a life sentence," she said.
Like other high-profile political prisoners, Bialiatski is held without the right to correspondence, and his location and condition have been unknown since April 2023.
Viasna Human Rights Center continues its work on helping the oppressed and documenting the regime's crimes.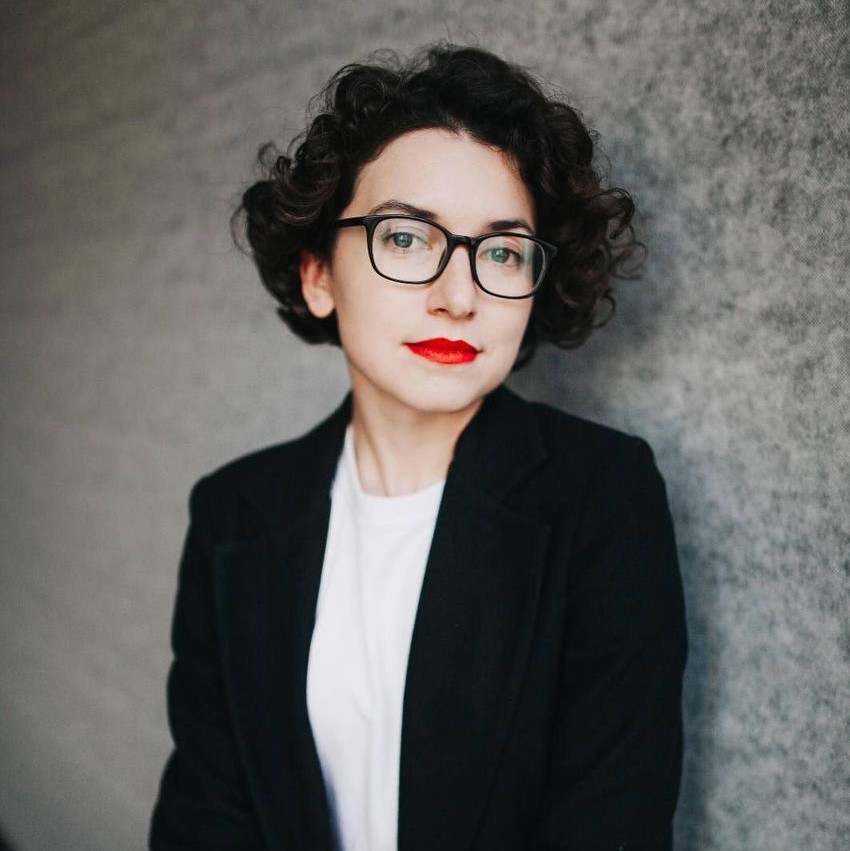 Maria Yeryoma
contributing author
Maria Yeryoma is a Belarusian media manager and a contributing author at the Kyiv Independent. She recently led the commercial "special projects" at TUT.BY — the biggest independent online media in the country. In May 2021, TUT.BY was raided by Belarus authorities leaving 15 employees in custody and forcing the team to leave the country to continue their work. Maria moved to Kyiv and helped establishing a new media outlet — Zerkalo.