This audio is created with AI assistance
Key developments on Feb. 28:
General Staff: Russian forces trying to create conditions for offensive in southern Ukraine
Western-made parts are used in Russian weapons involved in war crimes, report reveals
Russia attacks Kherson Oblast, killing 4 and injuring 5 people
Putin signs law suspending major nuclear treaty with U.S.
Russian forces continue their assault on Bakhmut in the eastern Donetsk Oblast while trying to create conditions for the offensive in some areas of the southern Kherson and southeastern Zaporizhzhia oblasts, the General Staff of Ukraine's Armed Forces reported in its evening update on Feb. 28.
Ukraine continues to hold Bakhmut despite the seven-month-long Russian attempt to capture the city as Moscow tries to increase its grip over the entirety of the eastern Donetsk Oblast, around half of which it currently occupies.
According to the General Staff, in the Zaporizhzhia and Kherson directions, the Russians are conducting artillery shelling of populated areas near the contact line.
Kherson city, in particular, has been continuously subjected to Russian shelling since it was liberated by Ukrainian forces in November 2022, along with other areas on the west bank of the Dnipro River. Russian troops were pushed to the river's east bank, from where they had been firing at the liberated territories.
Four people were killed, and five people were injured due to the Russian artillery strikes on Kherson Oblast on Feb. 28, according to the oblast administration.
At the same time, Ukraine's Southern Operational Command reported that Russia has deployed additional ships to the Black Sea. There are currently 17 ships, including five missile carriers and two submarines, there.
Ukraine's Donetsk, Kherson, and Zaporizhzhia oblasts, as well as Luhansk, were declared annexed by Russia in September despite the fact that Moscow controls only parts of these regions.
On Feb. 28, the Kremlin's spokesperson Dmitry Peskov once again said that Moscow "would never compromise" on what he described as new "territorial realities."
Meanwhile, Ukraine is preparing for a new counteroffensive in spring. Ukraine's upcoming spring counteroffensive will aim to "drive a wedge into the Russian front in the south between Crimea and mainland Russia," Vadym Skibitsky, deputy head of Ukrainian military intelligence, said in an interview with German media, Deutsche Welle reported.
The ultimate goal of the announced counteroffensive, according to Skibitsky, is "to liberate all the occupied territories of Ukraine, including Crimea.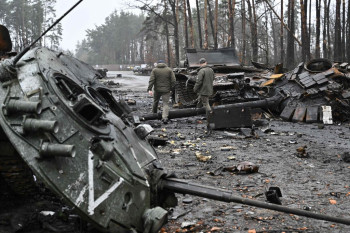 Putin signs law suspending major nuclear treaty with US
Russian President Vladimir Putin signed a law on Feb. 28 officially suspending Russia's participation in the New START treaty. He had first announced the suspension during his state-of-the-nation address to the Federal Assembly and members of the Russian political elite last week.
The New START treaty was signed by the U.S. and Russia in 2010 in Prague, aiming to reduce their nuclear arms. It limited each country to no more than 1,550 deployed nuclear warheads and 700 deployed missiles and bombers. This was the only agreement governing arms control between the two nations.
During his address, Putin stated that Russia would not allow the U.S. or NATO countries to inspect its nuclear arsenal. He added that a week prior, he had signed a decree putting new strategic ground-based systems of nuclear missiles on combat duty. Putin also said that Russia is prepared to test nuclear weapons if the U.S. does so first.
This statement came amidst a series of nuclear threats that Russia has made since the beginning of its full-scale invasion of Ukraine. Putin's initial announcement was met with fierce criticism from Ukraine's Western allies.
U.S. President Joe Biden called the decision a "big mistake," while NATO Secretary General Jens Stoltenberg said that with Russia's suspension of the treaty, "the whole arms control architecture has been dismantled."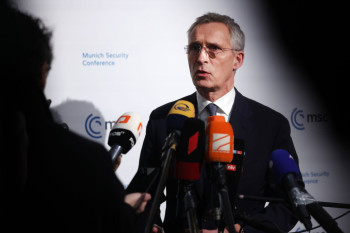 Western-made parts found in Russian weapons
A report by the International Partnership for Human Rights and the Independent Anti-Corruption Commission has shown that Western technology companies continued exporting dual-use and specific military components to Russia as late as November 2022.
These components were used in weapons linked to multiple war crimes allegedly committed by Russian troops in Ukraine, according to the report.
The researchers cited trade data indicating that millions of dollars worth of components produced by companies such as Harting, Trimble, and T.E. Connectivity were imported into Russia through official distributors or third parties such as Hong Kong and Turkey. Two of these companies manufacture dual-use components, while one produces a specific component needed by the Russian military for navigation and targeting, the report said.
The Kalibr cruise missile, allegedly used in the war in Ukraine, includes components produced by nine U.S. companies, one Swiss company, and one Taiwanese company. Western parts were also reportedly found in Iskander missile systems, Kha-101 strategic cruise missiles, and Tornado multiple launch rocket systems, according to the commission.
The report concludes that current regulations and enforcement measures aimed at limiting Russia's access to western dual-use technology are insufficient, as evidenced by continued exports to Russia from companies producing components sought by the Kremlin.
In November, Ukraine-based nonprofit StateWatch and Ukrainian civil society group Independent Anti-Corruption Commission (NAKO) published an investigation finding that Iranian-made Shahed drones, with the exception of the engine, consist entirely of foreign-made parts. The nonprofit identified over 30 EU and U.S. companies whose parts have been used to manufacture Iranian kamikaze drones. The investigation showed the components included a "servo drive from the American Hitec USA Group, power elements from the Japanese Panasonic, and ceramic antenna from the Canadian Tallysman."
Following the discovery, Biden's administration has established a task force to investigate how Western technology, including U.S. microelectronics, ended up in Iranian-made kamikaze drones, CNN reported citing multiple officials.