This audio is created with AI assistance
Belarus reignites the border crisis spat with Latvia, claiming to have found dead migrants at the countries' shared border. Latvia denies the claim.
The editor-in-chief of an independent Belarusian-language newspaper is sentenced to four years in prison. Human rights groups deem the move politically motivated.
Sweden appoints a special envoy to serve as a liaison with Belarus' exiled democratic forces.
Jailed Nobel Peace Prize laureate Ales Bialiatski was transferred to solitary confinement.
Belarus ranks the lowest in Europe for rule of law in this year's World Justice Project's Rule of Law Index.
Subscribe to the Newsletter
Belarus Weekly
Belarus reignites border crisis spat with Latvia
Belarus blamed Latvian border guards for the death of migrants it claims to have found at the border between the two countries – a claim Latvia vehemently denied.
The Belarusian State Border Committee claimed it found the bodies of several migrants, some of whom were allegedly from Iran, at the Latvian-Belarusian border on Oct. 23 and 27.
The Belarusian border guards accused Latvia of having pushed them back into Belarus after they illegally crossed the border, resulting in their deaths.
However, the Latvian State Border Guard responded to the Belarusian claim with a video from Oct. 27 purporting to show several dead bodies being transported by Belarusian authorities.
Minsk funneled thousands of migrants from the Middle East and Africa, which it brought to Belarus under the false promise of easy asylum in the European Union, to its borders with Latvia, Lithuania, and Poland in retaliation for EU sanctions against Belarus.
Continuous crossing attempts by migrants prompted Poland, Latvia, and Lithuania to build walls along their borders with Belarus.
This is not the first time Belarus has shifted the blame onto its EU neighbors. Belarusian officials claimed to have found at least 20 migrants at the country's border with the EU in 2023 – half of them at the border with Latvia.
However, the Lithuanian State Border Guard Service reported having detained a group of migrants on Oct. 24, who shared their accounts of the inhumane treatment they endured at the hands of Belarusian border guards, including beatings and electrocution.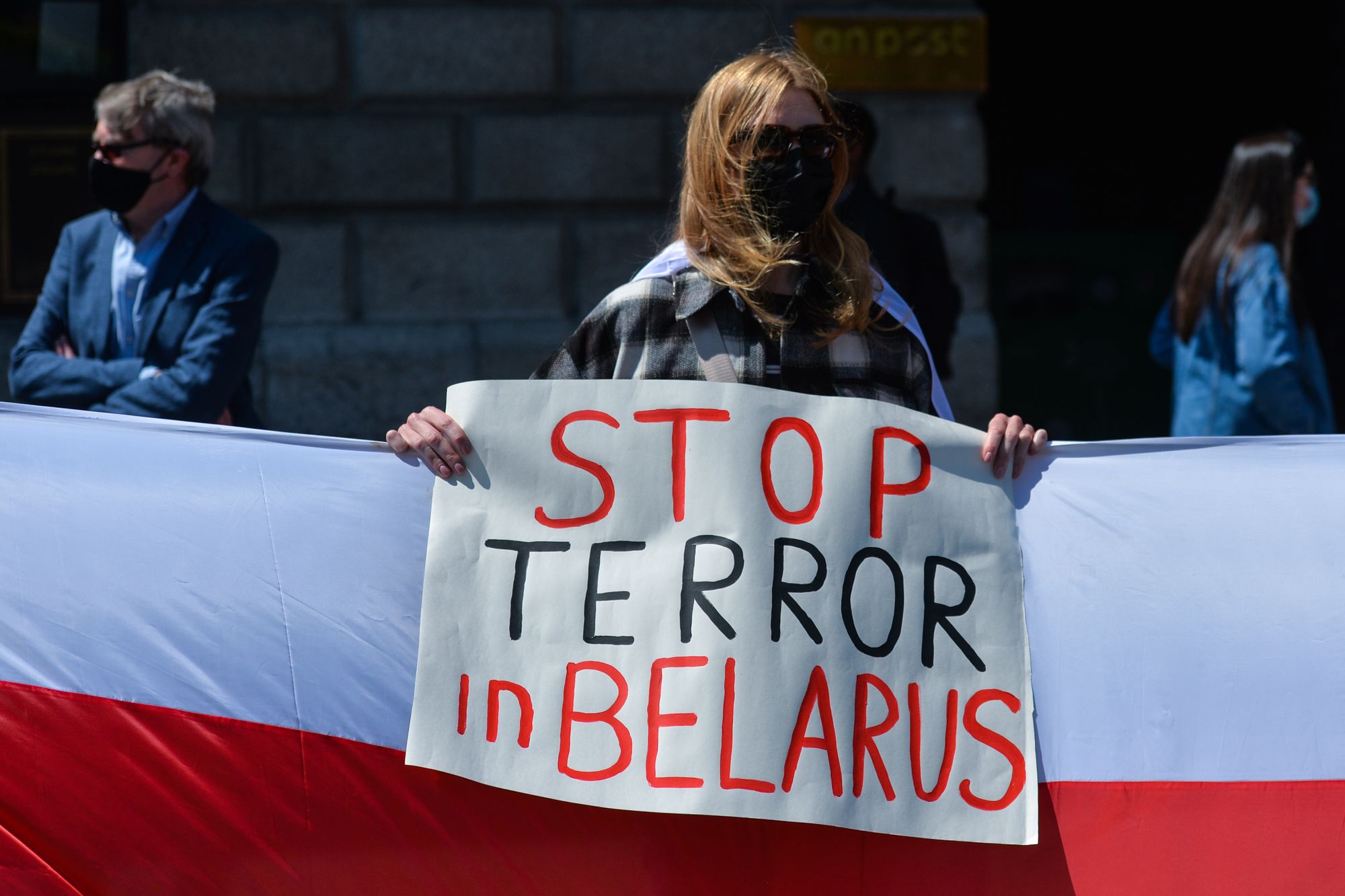 Chief editor of Belarusian-language newspaper sentenced to jail
A regional Belarusian court sentenced the chief editor of the Belarusian-language newspaper Rehiyanalnaya Hazeta, Aliaksandr Mantsevich, to four years in prison on Nov. 3 for "discrediting" the country.
The court claimed that Mantsevich knowingly disseminated false information discrediting Belarus and its authorities via the newspaper between January 2020 and March 2023. He was detained on March 15 after authorities searched his home.
Founded in 1995, Rehiyanalnaya Hazeta is the leading independent newspaper in Maladzechna, a town in Belarus' Minsk region. Mantsevich has won multiple journalistic awards for his work.
Minsk labeled the newspaper a so-called "extremist organization" in January 2022 and subsequently banned it. The term "extremist" is frequently used by Belarusian authorities to target individuals and organizations that dissent against Lukashenko's dictatorship.
According to the Belarusian human rights organization Viasna, Mantsevich's imprisonment is politically motivated.
Mantsevich said the following at his trial:
"I hear the voices of my ancestors – I never betrayed the Motherland. I love my people, and I love Belarus… I'm not a dreamer, but I'm sure that one day there will be a street named after Rehiyanalnaya Hazeta, which strengthened the authority of the Belarusian nation and wrote the truth… It's not my fault. It's a pity that I, as a grandfather, cannot teach my grandson new Belarusian words. And my daughter cannot explain to her grandson where his grandfather is. But he will not be ashamed of his grandfather. It's a pity for the newspaper, which could have existed for many years… I don't admit my guilt."
He continued: "My grandfather was shot dead for Belarus. And you think I should fear your four years, public prosecutor? … I do not consider myself guilty, and I never will."
Belarus is notorious for being a dangerous country for journalists, having ranked 157th out of 180 countries in the Reporters Without Borders' World Press Freedom Index.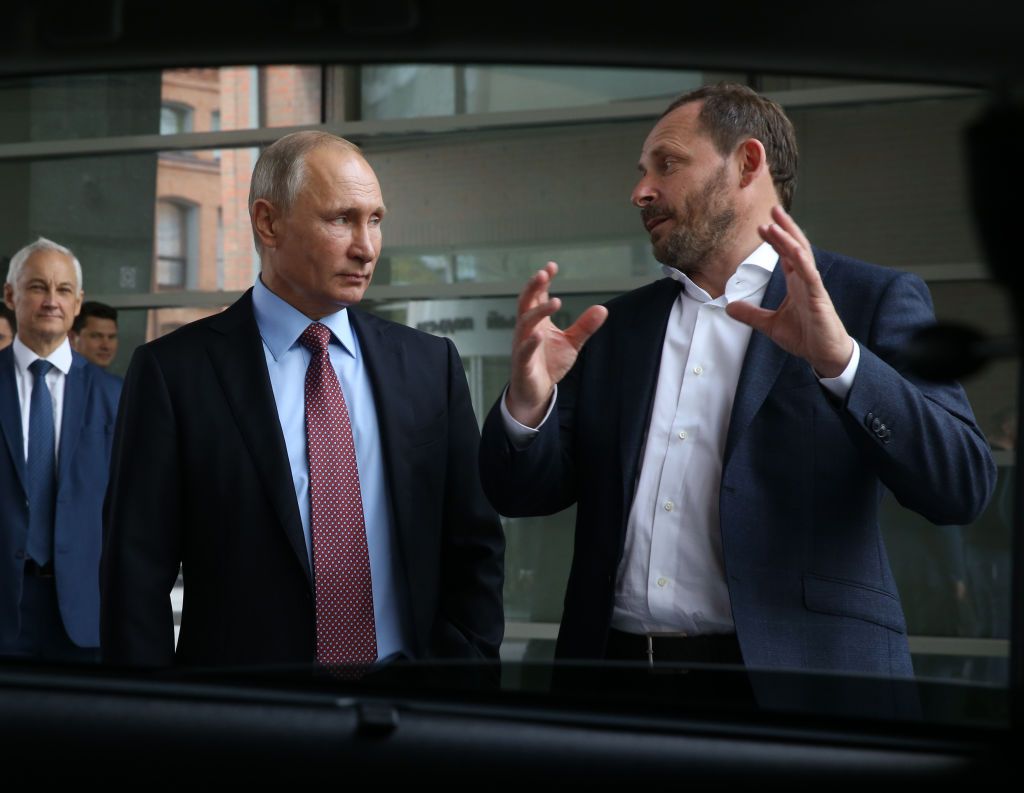 Sweden appoints envoy to Belarusian democratic forces
Swedish Foreign Minister Tobias Billström announced the appointment of a special envoy to Belarus' exiled democratic forces on Nov. 6.
The position was given to Christina Johannesson, Sweden's former ambassador to Belarus.
The envoy's responsibilities will include "relations with Belarusians in exile, cooperation with the democratic forces, and strengthening international ties."
"Once Sweden takes over the coordination of the Nordic-Baltic Eight next year, it will make Belarus one of its priorities and will support discussions on Belarus at the EU ministerial meetings in Brussels in January 2024," Billström said at a meeting with exiled Belarusian opposition leader Sviatlana Tsikhanouskaya.
Sweden joined France, Estonia, Lithuania, and Poland in appointing special representatives for relations with Belarus' democratic forces.
According to Tsikhanouskaya, she and Billström also discussed issuing alternative passports to Belarusians in Sweden, an endeavor undertaken by Belarusian democratic forces in an attempt to counter Lukashenko's growing crackdown on those who oppose his regime.
As of September, Belarusians can only obtain or renew their passports in Belarus, a move condemned by the international community, including the United Nations.
Tsikhanouskaya and Billström also discussed support for rehabilitation programs for political prisoners coming from Belarus.
Rule of Law Index ranks Belarus lowest in Europe
Belarus ranked 104th out of 142 countries, and the lowest in Europe, in the 2023 World Justice Project's Rule of Law Index.
The index assesses a range of factors, including the degree of corruption, transparency, fundamental rights, order and security, regulatory enforcement, civil justice, criminal justice, and constraints on government powers.
Belarus' lowest score was 0.26 out of 1.0 for constraints on government powers, or the extent to which those who govern are bound by law.
Belarus' 2023 score represented a 54-point drop from 2015 when it ranked 50th out of 102 countries.
Dubbed the "last dictatorship in Europe," the rule of law in Belarus suffered a huge hit after the fraudulent presidential election in 2020, which saw Belarusian dictator Alexander Lukashenko tighten his illegitimate grip on the country.
---
---
Europe's most dangerous country for journalists
The Spotlight segment provides readers with the historical context of contemporary events in Belarus.
According to Reporters Without Borders (RSF), Belarus incarcerated 34 media workers, making the country one of the most dangerous places for journalists.
Following the International Day to End Impunity for Crimes Against Journalists, marked on Nov. 2, the Kyiv Independent brings attention to the dangers of being a journalist in Belarus.
Following the 2020 fraudulent presidential elections in Belarus, and the subsequent crackdown on civil society, the Belarusian Association of Journalists recorded 394 detentions of journalists on duty, with 62 detainees reporting violence and torture during their detention.
Additionally, according to the independent professional association, at least three cases of firearms being used against journalists were reported.
As Belarusian dictator Alexander Lukashenko continued his crackdown on dissent, administrative detentions transformed into criminal proceedings against journalists.
Polish free-to-air Belsat TV journalists Katsiaryna Andreyeva (Bakhvalava) and Daria Chultsova, who were live-streaming a protest on Nov. 15, 2020, were detained and accused of participating in the rally and inciting actions that "grossly violated public order." They were subsequently sentenced to two years in prison each.
While Daria Chultsova has completed her sentence and was released on Sept. 3, 2022, her colleague faced new charges of high treason and was sentenced to an additional eight years of imprisonment.
Katsiaryna Andreyeva is known for her investigation into Belarus's support of pro-Russian militants in the occupied Ukrainian territories of Donbas, which led to the book "Belarusian Donbas," labeled as extremist. On Nov. 2, Andreyeva celebrated her 30th birthday in detention.
On Nov. 12, 2020, activist Roman Bandarenka died in an emergency hospital in Minsk after being assaulted by law enforcement. His murder resulted in a prison sentence for another journalist.
TUT.BY journalist Katsiaryna Barysevich refuted the allegations of the activist being drunk during the incident based on the medical records.
The journalist and the doctor were accused of disclosure of medical confidentiality and received a six-month and a two-year sentence, respectively.
Ironically, the day before Barysevich was scheduled for release on May 18, 2021, TUT.BY, the largest independent online media in the country, covering 63% of Belarusian internet, was raided and shut down by Belarusian authorities. Thirteen employees were detained.
On Mar. 17, 2023, the outlet's leadership, CEO Liudmila Chekina, and Chief Editor Maryna Zolatava were charged with tax evasion and sentenced to 12 years in prison.
Blogger Raman Pratasievich, who ran Telegram channels that served as a mouthpiece for the 2020 protests, was arrested after a flight from Athens to Vilnius was grounded while crossing Belarusian airspace.
The International Civil Aviation Organization (ICAO) found Belarus guilty of orchestrating the forced landing, confirming that claims of a bomb threat were communicated to the flight crew under the instructions of senior government officials of Belarus.
Reportedly, Pratasievich was forced to testify against himself and sentenced to eight years in prison, only to be "pardoned" two weeks later. His girlfriend, Russian citizen Sofia Sapega, was detained alongside Pratasievich, and received a six-year prison sentence.
She was pardoned in June 2023.
In July 2021, the Belarusian KGB conducted a sweep of the media field under the pretext of identifying participants of "destructive" Telegram chats. This led to 71 searches in editorial offices and journalists' homes on July 8-9, with a second mass attack on independent media occurring a week after, targeting at least 26 media workers.
In 2023, Belarusian courts recognized approximately 1,500 publications on online platforms, mainly Telegram channels, as "extremist materials." Furthermore, 18 media outlets were classified as extremist organizations.
The Lukashenko regime criminalized any form of cooperation with independent media.
Darya Losik, the wife of imprisoned Radio Free Europe/Radio Liberty (RFE/RL) journalist Ihar Losik, was arrested after giving an interview to Belsat TV, which was retroactively labeled extremist. She was sentenced to two years in prison on charges of falsely representing herself as the wife of a political prisoner and offering a personal negative assessment of state bodies responsible for criminal prosecution and justice.