This audio is created with AI assistance
President Volodymyr Zelensky held a meeting with European Commission President Ursula von der Leyen during the Ukraine-Balkan summit in Athens, on Aug. 22.
Zelensky said that he expects a decision from EU member states on starting Ukraine's EU accession negotiations at the end of 2023.
He also thanked von der Leyen for "her efforts to normalize Ukraine's agricultural exports and transit," following Russia's decision to unilaterally terminate the Black Sea Grain Initiative on July 17 and repeated strikes on Ukrainian port infrastructure.  
Von der Leyen said that they "discussed Ukraine's progress on the EU path," and added that another 1.5 billion tranche in EU financial assistance to Ukraine has been paid.
Zelensky also met Bulgaria's Prime Minister Nikolai Denkov in Athens, in particular to discuss Black Sea security and alternative grain corridors.
Denkov and his Greek counterpart Kyriakos Mitsotakis, who hosted the August summit, said earlier hat the two countries are considering helping Ukraine in shipping out its grain following Russia's unilateral termination of the Black Sea Grain Initiative.
However, Bulgaria is among the five EU countries that have pushed for the EU-instituted ban on the domestic sale of Ukrainian agricultural products. The ban, asked by Bulgaria, Poland, Romania, Hungary, and Slovakia is currently set to expire by Sep. 15.
Face-to-face with Vucic
Another notable meeting at the summit took place between Zelensky and Serbian President Aleksandar Vucic, where they had an "open, honest, and fruitful" conversation on topics including the "inviolability of borders."  
The Serbian-Ukrainian relationships have been complicated by Belgrade's friendly attitude toward Russia, as Serbia has refused to join sanctions against Moscow.
At the same time, Vucic has called Ukraine a "friendly country" and had previously affirmed that Crimea and Donbas are Ukrainian sovereign territories.
Before the meeting, the Serbian president said that he will talk to Zelensky "about everything that has happened recently in Kosovo."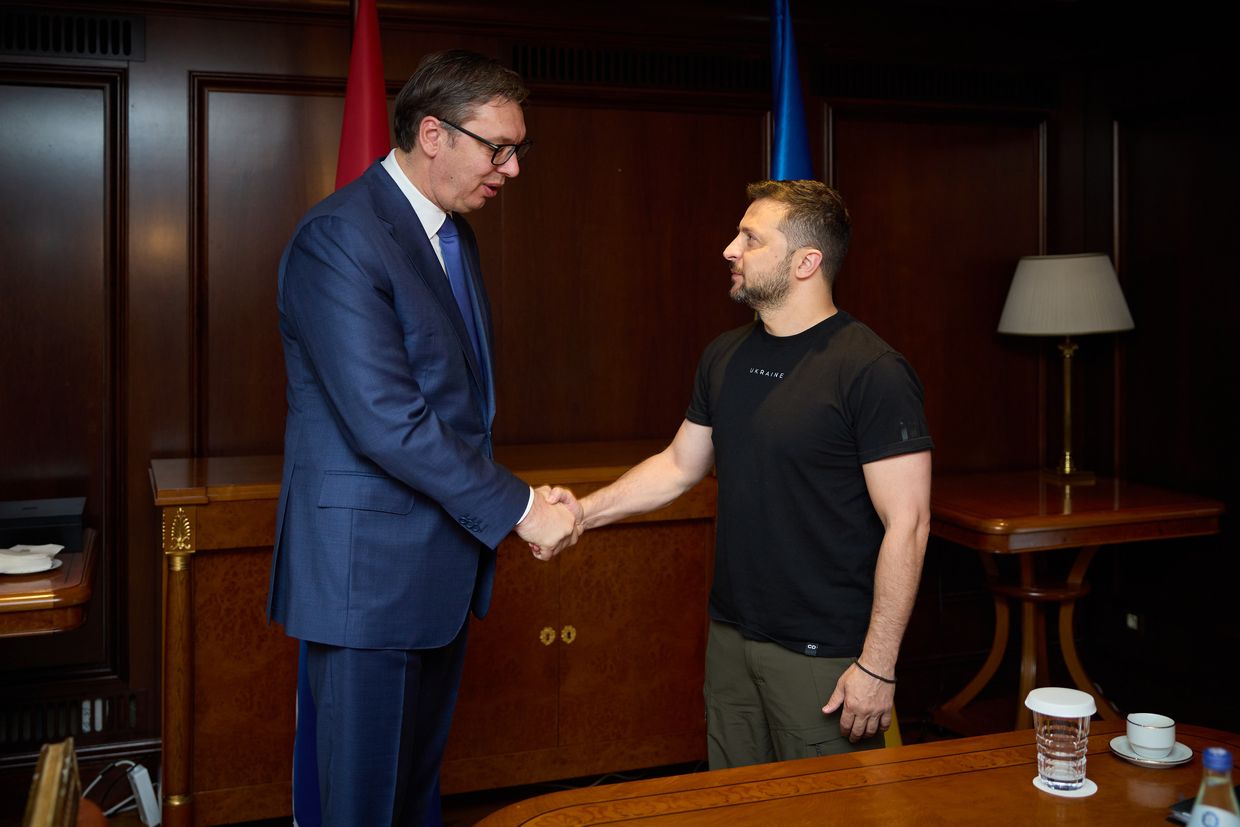 In May, dozens of NATO peacekeeping soldiers were injured when violence erupted in northern Kosovo following the election of ethnic Albanian mayors in Serbian-majority areas. Serbs boycotted the elections, resulting in a low turnout.
Kosovo blamed Serbia for inciting the boycott and ensuing violence.
Serbia has not recognized the independence of Kosovo, which broke away from Serbia following a war in 1998-99 and officially declared its independence in 2008.
While U.S. and most EU member states support the independence of Kosovo, Ukraine is yet to officially recognize its independence. On Aug. 8, that Vucic said that "if Ukraine recognises the independence of Kosovo, it will lose everything in one day."
Zelensky didn't meet with Kosovo's Prime Minister Albin Kurti also present at the summit.
Ensuring support
The export of Ukrainian grain was also discussed between Zelensky and Moldovan President Maia Sandu.
On Aug. 18, Sandu said that Moldova is working with partners to help Ukraine export its grain while taking into account the interests of Moldovan farmers.
Sandu admitted in an interview with the Romanian language service of the French public broadcaster RFI that Moldova's current infrastructure is not sufficiently developed even for the needs of domestic farmers, and Ukrainian exports put it under greater strain.
In Athens, the discussions also focused on EU integration and the "common challenges along the path" for both countries, as well as Russian hybrid influence and aggression.
On July 26, Moldova asked 45 Russian diplomats and embassy staff to leave the country after media investigations discovered that Russian embassy in Chisinau has 28 "spy antennas" installed on its rooftops. The antennas were likely serving to intercept signals and gather intelligence.
Meanwhile, Zelensky also discussed demining in Croatia with the Croatian Prime Minister Andrej Plenkovic and "thanked Croatia for its practical assistance and leadership in demining Ukrainian territories," as well as its defense support.
Croatia announced on July 31 that it had allocated one million euros ($1.1 million) for demining of Ukrainian agricultural lands.
According to Zelensky, Croatia additionally "confirmed its readiness to provide ports on the Danube and the Adriatic Sea for transporting Ukrainian grain."
In July, Croatia offered its rail network and ports on the Adriatic Sea as an alternative export route.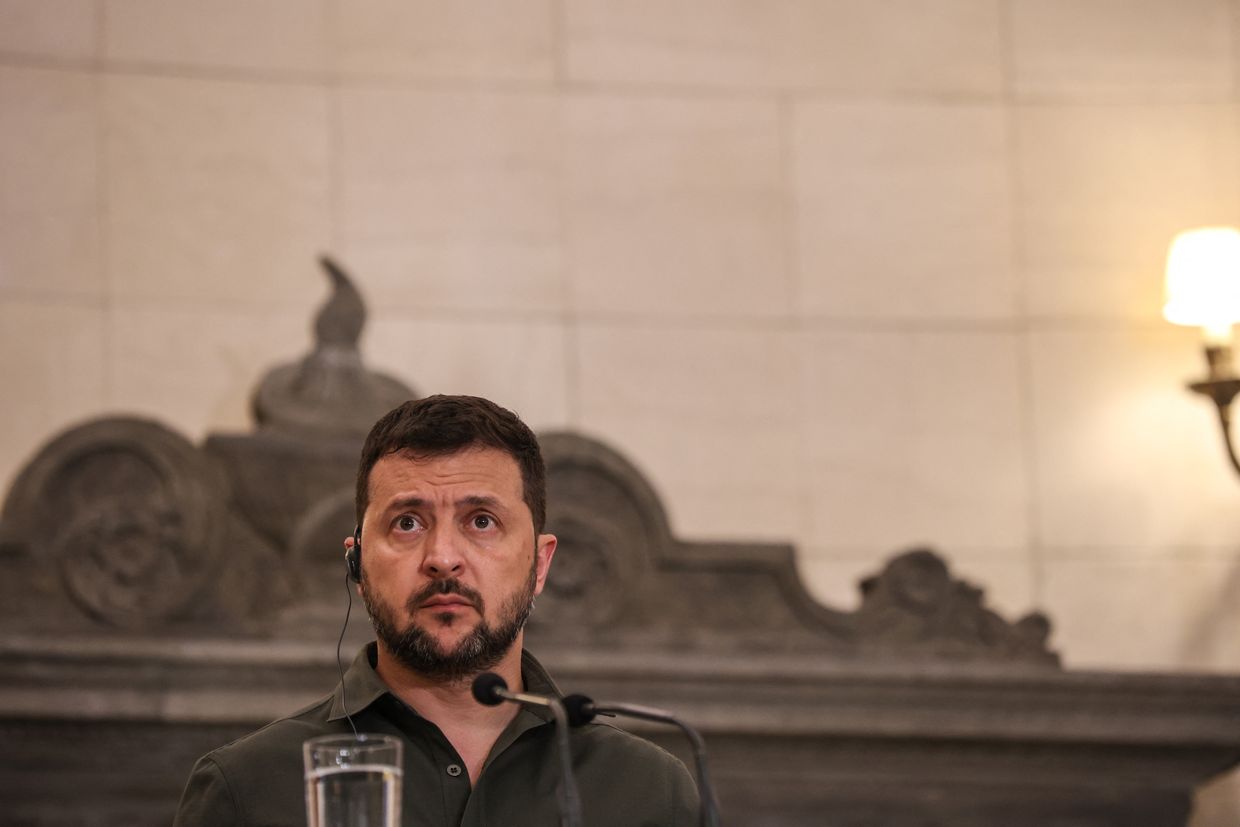 Summit declaration
Others who attended the summit included Montenegrin President Jakov Milatovic, North Macedonian Prime Minister Dimitar Kovacevski, Romanian Prime Minister Ion-Marcel Ciolacu, Chairwoman of the Council of Ministers of Bosnia and Herzegovina Borjana Kristo, and European Council President Charles Michel.
The attendees issued the Athens Summit Declaration on Aug. 21, which expressed "unwavering support for Ukraine's independence."
The declaration referenced the Thessaloniki Summit, held twenty years ago, which acknowledged that the Western Balkans belong to the European Union.
The war against Ukraine showed "the urgent need for a strong, resilient and inclusive EU as a cornerstone of peace and prosperity among our peoples," declaration said.
Zelensky arrived in Athens on Aug. 21 after visits to Sweden, the Netherlands, and Denmark.
The Dutch Prime Minister Mark Rutte said on Aug. 20 the Netherlands and Denmark would provide Ukraine with F-16 fighter jets once conditions for the transfer have been met.
"Today we can announce that the Netherlands and Denmark commit to the transfer of F-16 aircraft to Ukraine and the Ukrainian Air Force," he said in a joint press conference with Ukrainian President Volodymyr Zelensky at a military air base in Eindhoven.
Rutte added that he wanted the training for F-16 jets and their delivery to Ukraine to take place as soon as possible.