This audio is created with AI assistance
Key developments on March 22:
Russian missiles hit two residential buildings in Zaporizhzhia
Zelensky visits soldiers on front line near Bakhmut in Donetsk Oblast
Next few weeks of the war are 'critical,' says White House.
Russian missile attack on two residential buildings in Zaporizhzhia, a city in southeastern Ukraine, killed one person and injured 34 on March 22, Interior Minister Ihor Klymenko reported in the evening, after the rescue operation was over.
According to Zaporizhzhia Oblast Governor Yurii Malashko, among the injured are three children, aged between five and nine, who are currently receiving medical care in a local hospital. While the governor described their injuries as "light," other wounded in the incident face more severe physical trauma.
Zaporizhzhia has been subject to frequent attacks since the start of the full-scale invasion. Thirteen people were killed in the Russian missile attack on the city on March 2, including an eight-month-old child.
In October, Russia claimed an illegal annexation of Zaporizhzhia Oblast, along with  Kherson, Donetsk, and Luhansk oblasts. While a part of Zaporizhzhia Oblast remains under occupation, Russian forces have been unsuccessful in capturing the entire region.
Bakhmut update
In the eastern Donetsk Oblast, Moscow's attempts to occupy the region have failed so far.
The Battle for Bakhmut, which has been raging for the past eight months with heavy losses on both sides, continues as of March 22, according to the General Staff of Ukraine's Armed Forces.
In its regular evening update, the General Staff said that the fiercest fighting persists in the southern and northern parts of the city.
The U.K. Defense Ministry believes there is a "realistic possibility" that the Russian military is losing momentum in Bakhmut, with the Russian Defense Ministry transferring units to other sectors, according to its daily intelligence update.
Ukrainian forces launched a counterattack to the west of Bakhmut that is "likely" to ease the stress on their supply routes, the ministry said.
On the same day, President Volodymyr Zelensky visited Ukrainian soldiers' positions near the embattled city.
During the visit to the front line near Bakhmut, Zelensky received updates regarding the situation on the battlefield and also presented awards to soldiers for their military service.
"I am honored to be here today, in the east of our country, in Donbas, to award our heroes, to thank you, and to shake hands. Thank you for protecting the state, its sovereignty, and the east of Ukraine," Zelensky said.
Ukraine's Deputy Minister of Defense Hanna Maliar said on March 20 that the Ukrainian military has been successful "in certain areas" and is "destroying Russia's most professional units," namely the state-backed Wagner Group.
According to Donetsk Oblast Governor Pavlo Kyrylenko, less than 3,000 local residents remained in Bakhmut as of March 15. The once-prosperous industrial city was home to 70,000 people.
On March 22, Deputy Prime Minister Iryna Vereshchuk reported that approximately 10 children still remain in the city despite the mandatory evacuation of families with children from active combat zones.
The deputy prime minister added that officials are doing everything they can to facilitate continued civilian evacuations from Bakhmut as quickly as possible.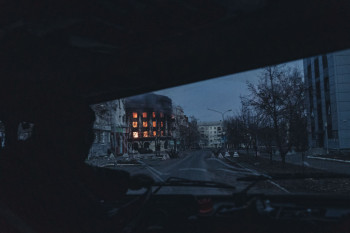 US warns about new Russian offensive in many directions soon
According to White House National Security Council Spokesperson John Kirby, Russia can launch a new offensive along "many" different vectors in the coming weeks.
Speaking to CNN, Kirby emphasized the critical nature of the next few weeks of the war, stating that the U.S. and other Western allies must ensure Ukraine is prepared for its planned spring counteroffensive.
Earlier on March 16, U.S. Defense Secretary Lloyd Austin underscored that "Ukraine doesn't have time to waste" before launching its counteroffensive.
In line with Austin's statement, the Pentagon announced on March 21 that it would supply Ukraine with older M1-A1 variants of its Abrams tanks. According to Pentagon spokesperson Brig. Gen. Patrick Ryder, as quoted by CNN, the move would allow the U.S. to deliver the tanks "by the fall of this year."