This audio is created with AI assistance
Kindergarten teacher Olena Naumova was struggling to breathe as she sat in the back seat of a car driving through the streets of her hometown of Kherson on the morning of Aug. 23.
There was a tight plastic bag over her head and three Russian soldiers surrounded her.
Naumova knew she was in trouble: The 57-year-old actively participated in protests against the Russian occupation of Kherson in the early months of the war.
She went viral on TikTok for mocking the Russian soldiers and doing live streams from the streets of the occupied city, sharing the truth about what was happening there.
"You have said enough to be prosecuted," Naumova heard a Russian officer tell her after she was brought to a torture chamber that August day.
She was dragged there on trumped-up charges of "extremism." The Russian soldiers demanded for her to help them track down the underground resistance in Kherson and more "patriotic bloggers" like her.
For 11 days, Naumova was locked in a tiny basement cell with nothing but two chairs and a pile of garbage. She was threatened and interrogated multiple times. Russian soldiers once hit her in the face.
"To break my will was their main goal," Naumova told the Kyiv Independent. "But they couldn't do it."
As she was released under house arrest, Naumova went into hiding. She knew Russian soldiers couldn't let go of such an "outspokenly pro-Ukrainian person" so easily and would return to capture her again.
For over eight weeks, none of Naumova's loved ones, including her only son Mykola, had any idea whether she was even alive. "That was the price for my life," she says.
Naumova and numerous other Khersonians came out of hiding on Nov. 11, when the Ukrainian Armed Forces entered the city. Kherson, the invaders' most significant gain, spent eight months under occupation before the Russian forces were forced to withdraw.
The kindergarten teacher rushed to the central square of her city, holding a Ukrainian flag. When she saw Ukrainian soldiers and her fellow Khersonians, Naumova couldn't hold back the tears: The ordeal was finally over.
Yet the city paid a heavy price. Multiple torture chambers were discovered in Kherson following its liberation. Throughout the Russian occupation, local morgues in Kherson received about 700 bodies, nearly 100 of which bore the marks of violence. Mass burial sites were still being discovered there in late December.
'City of my heart'
Naumova's voice fills with love the moment she starts talking about Kherson, a southern Ukrainian city with a pre-war population of about 290,000 people. She calls it the city of her heart.
"It's a small, cozy city. It's very sunny and very warm, with green avenues and the broad Dnipro River," Naumova says. "People there are nice and friendly, with sincere smiles."
Naumova has cared for little kids as a kindergarten teacher for 36 years. In 2021, she developed a new passion — TikTok. She launched an account called "vyhovatel z humorom" ("teacher with humor") and began filming funny videos about her everyday life as a teacher.
"We used to film some things with the kids in the evenings," Naumova says. "Parents liked it, kids liked it too, and so did I, of course."
She never thought that one day, the entertaining content on her account would become the reason for her detention, as her hometown turned into a prison for Ukrainians.
"It felt as if we returned to the Soviet Union. The city froze," Naumova recalls the early days of the Russian invasion.
Russian tanks rolled into Kherson in early March, about a week after the start of Russia's full-scale invasion on Feb. 24. A brutal occupation ensued, resulting in many residents being suppressed, robbed, abducted, tortured, and killed.
Naumova says most residents stayed in Kherson, "holding on and supporting each other,"  despite the immense threat.
"We showed them that it was our land, not theirs."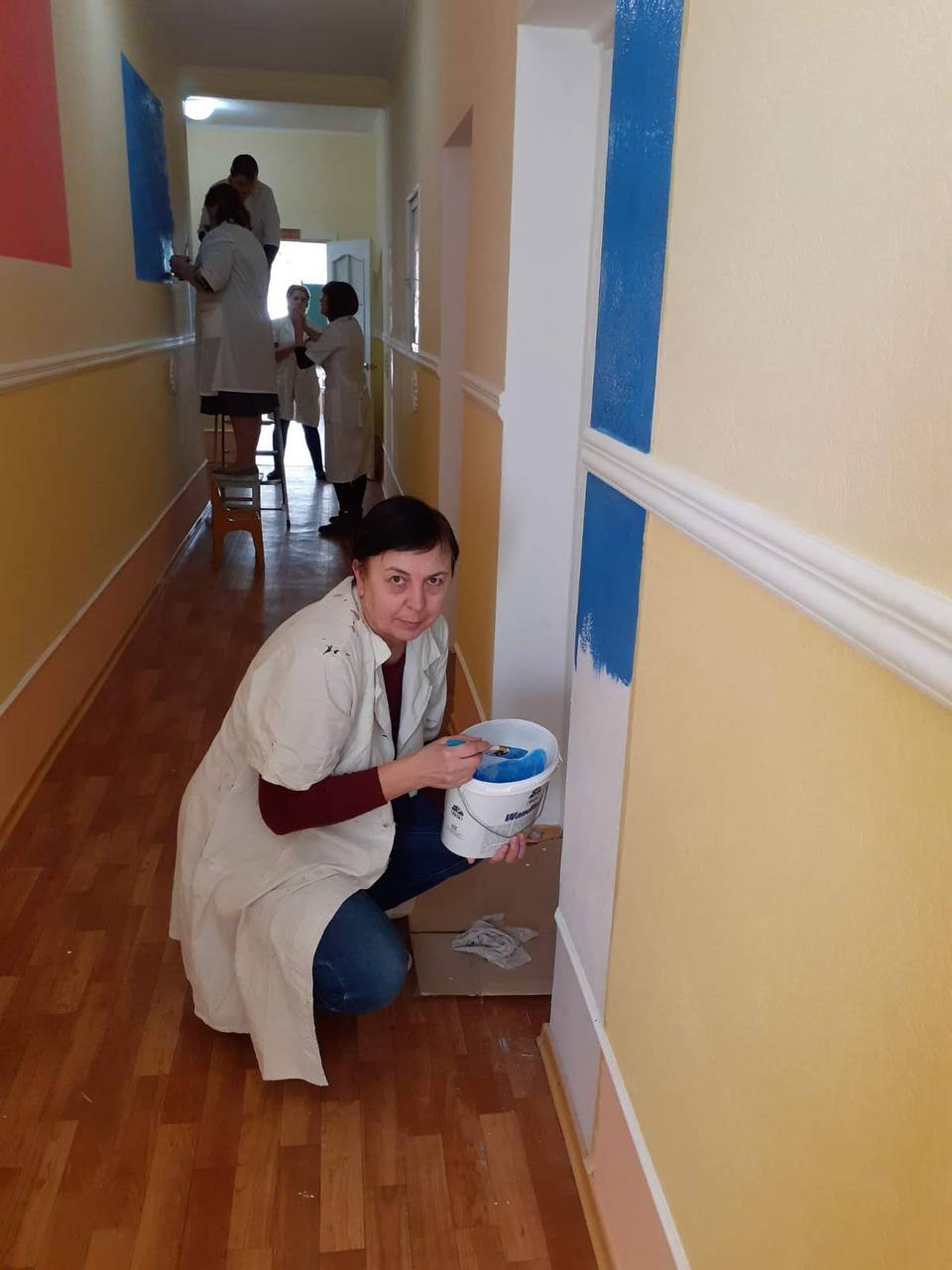 United, they fight back
Brave Khersonians used to gather in the city center to demonstrate to the Russian troops that they weren't welcome in Kherson. Naumova says that up to 20,000 people watched her live streams from the protests.
"I attracted a large audience," she says. "But people weren't interested in me. They were curious about the events in Kherson."
She says the first Russian soldiers that entered the city "pretended to be liberators" and claimed they wouldn't harm civilians. But the Russian national guard, Rosgvardiia, that came shortly after, "showed the true face of the Russian world."
The guardsmen tried to sow terror throughout the city. They used tear gas and stun grenades against the peaceful protesters, injuring them. "It was impossible to breathe and to see anything because of that smoke," Naumova recalls.
During one of the last rallies held that spring, Naumova became known as an active protester even outside Kherson. The video of her singing a patriotic song about Kherson went viral across Ukrainian media and was screened on national TV channels.
She knew Russians saw it too.
"I hid at my cousin's place for one week. I thought no one would be looking for me anymore," Naumova says.
Although locals could no longer protest openly after the crackdowns, Kherson's resistance evolved into sabotage and moved underground. Naumova, however, continued streaming from the streets of occupied Kherson until the end of May, when a Russian soldier tried to take her phone away.
She caught two Russian soldiers on camera as they bothered people waiting in line for humanitarian aid. When they noticed her filming, one of the soldiers rushed towards Naumova, trying to grab her phone. He was armed, she recalls.
"He tried to grab my hand and purse, saying I should come with him," Naumova says.
"I sternly told him that I wouldn't go with him," she continues. "I turned around and started walking away very calmly. But inside, I felt a volcano erupting."
She decided to stop live-streaming from the streets following that incident. Yet, Naumova found another way to be helpful.
Since there was little access to medicine and other essential goods in the occupied city, she began raising money to support the most vulnerable residents.
Naumova's TikTok followers from all over Ukraine sent donations that she distributed as cash or essential goods to retirees, single parents, caretakers of people with disabilities, refugees, and others in need. Ukrainians often asked Naumova to visit their loved ones in Kherson with whom they had lost connection.
She says many of those she visited "had tears in their eyes" when receiving her help.
Naumova says she raised a total of Hr 500,000 ($13,700) from early July until Aug. 17. Around that time, Naumova realized she was once again in danger.
Pink plastic bag
Naumova went live on TikTok three times per day, updating Ukrainians on the situation in Kherson. She often made fun of local collaborators and Russian propaganda, calling on the Ukrainian Armed Forces to liberate the city and kill the Russian troops.
In one update, she mockingly talked about how the U.S. HIMARS missile launchers filled the Antonivskyi Bridge with holes, making it impossible to drive over. The bridge, which once connected Kherson with Dnipro's eastern bank, was a main route into the city for Russian combat vehicles and supplies — Russian forces destroyed it as they pulled out.
"They reminded me about all of that in the torture chamber," Naumova says.
On the morning of Aug. 23, she went live on TikTok as usual. But the stream was cut short when Naumova's dog started barking. Looking outside, she saw an old Soviet car and three Russian soldiers.
They searched her entire house, "from attic to basement," demanding to know where she hid her weapons and Ukrainian symbols.
They took the notebook in which Naumova kept a record of all donations, asked her to pack some water, snacks, and her phone into a plastic bag, and then put her in their car.
"Do you love Ukraine?" Naumova heard a Russian soldier asking.
"Ukraine is my homeland. Do you love yours?" she said in response.
"Very much," the soldier responded.
"So do I," Naumova said.
The soldier emptied the pink plastic bag she had packed and put it over her head. Naumova says she could barely breathe. The interrogation started as soon as they arrived.
"They started asking which other bloggers from Kherson are patriots like me, and I kept saying that I didn't know anything," Naumova recalls.
At first, a Russian soldier told her they didn't beat "women her age," only younger men and women. But then another soldier ran into the room, shouting: "Oh, there you are," and hit Naumova in the face.
"They were playing good cop, bad cop," Naumova says. "I decided to play dumb to survive."
When they studied her phone and notebook, the Russian troops accused Naumova of taking money from the Ukrainian military and refused to believe that Ukrainian civilians donated the money. Then, they started questioning her about her friends.
Naumova didn't participate in Kherson's underground resistance and only discovered that one of her friends did after the city's liberation.
The Russians threatened to torture Naumova with electricity while she tried to stall for time, hoping that her friends would find out that she got captured and hide.
Naumova was locked in a tiny basement cell with no windows or toilet later that day.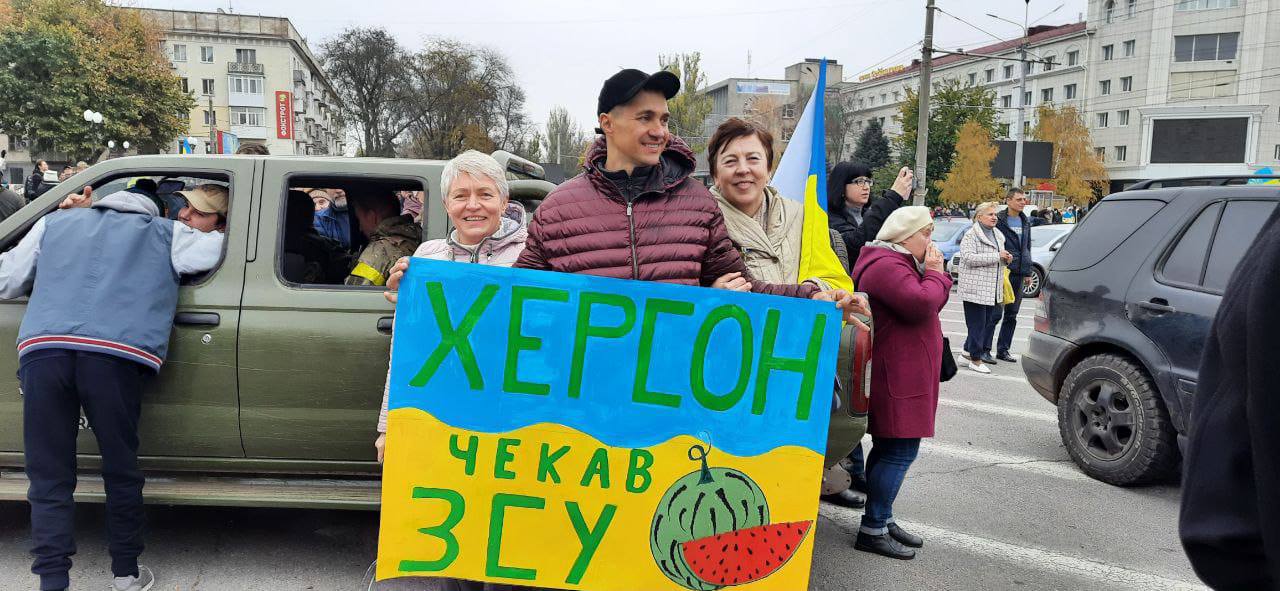 Air of freedom
For the first two days in captivity, Naumova had no food except the biscuits she brought from home. She says she had "bad hallucinations" after drinking the water Russian soldiers had given her and assumed that it contained narcotics.
They told her to put a plastic bag over her head every time they knocked on the door and did so multiple times a day "just for fun."
"It was some kind of sophisticated sadism," Naumova says. "They enjoyed breaking people physically and mentally and boasted of controlling the city."
One day, through a little hole in the wall, Naumova saw a man lying on the floor in a cell next to hers. It was her close friend Valeriy. He and his girlfriend were detained days after Naumova. His ribs were broken, and multiple teeth were knocked out.
During interrogations, Naumova learned that Russian soldiers had seen all her TikTok videos. They accused her of "extremism" and forced her to apologize to the Russian soldiers on camera for offending them.
"I have constantly been telling my followers that if I ever say something like that, they should know I was forced to say it at gunpoint," Naumova says.
Though they released her from the prison and put her under house arrest, Naumova knew it wasn't the end: By then, Ukrainian forces had already liberated a number of settlements in Kharkiv Oblast, revealing Russia's atrocities there during the occupation. Naumova knew that the Russians might conduct a "purge" upon retreating, killing all witnesses of their crimes. She decided to go into hiding once more.
She says she disappeared for eight weeks without informing anyone in her circle of her plans to not put them in danger. "I can't imagine what my loved ones went through."
Naumova's heart nearly stopped when on Nov. 11, she learned that the Ukrainian Armed Forces had entered Kherson.
"There was no electricity, no running water, and no heating in the city, but we were so happy," Naumova says, trying to hold back tears.
In one of her recent TikToks, Naumova said that even the air in Kherson had changed after liberation. She said that it felt like freedom.
"I want every Ukrainian to be able to breathe this air of freedom on our Ukrainian land," Naumova said.
___________________________________________________________________________________________________________________________
Note from the author:
Hi! Daria Shulzhenko here. I wrote this piece for you. Since the first day of Russia's all-out war, I have been working almost non-stop to tell the stories of those affected by Russia's brutal aggression. By telling all those painful stories, we are helping to keep the world informed about the reality of Russia's war against Ukraine. By becoming the Kyiv Independent's patron, you can help us continue telling the world the truth about this war.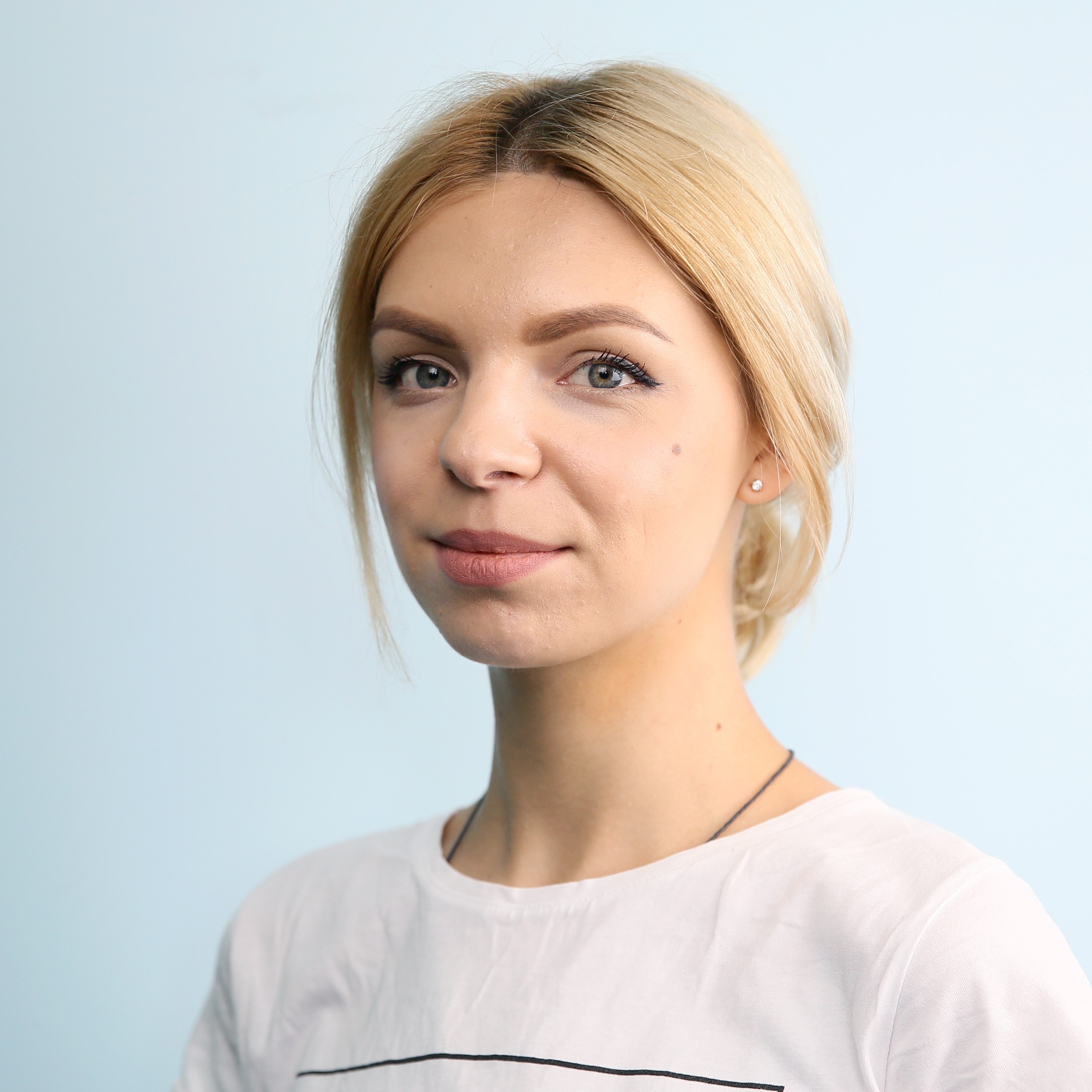 Daria Shulzhenko
Reporter
Daria Shulzhenko is a reporter at the Kyiv Independent. She has been a lifestyle reporter at the Kyiv Post until November 2021. She graduated from Kyiv International University with a bachelor's in linguistics, specializing in translation from English and German languages. She has previously worked as a freelance writer and researcher.