This audio is created with AI assistance
On the morning of May 13, Tetiana Horobtsova was busy in the kitchen at her home in then-occupied Kherson when she heard her daughter saying, "Mom, they've come for me."
She left the kitchen to find her daughter – 37-year-old IT specialist Iryna Horobtsova – standing on the balcony, looking pale and scared.
Just a few seconds later, the doorbell rang. Six armed Russian soldiers stood behind the door with balaclavas covering their faces.
"Open the door!" Tetiana recalls them shouting. "Otherwise, we will break it down!"
Terrified, Tetiana turned to her daughter and heard her repeating: "Don't worry, they're here for me." Iryna was right. The Russian troops had come to kidnap Iryna for her activism against Russia's full-scale invasion and occupation of Kherson.
Iryna had actively participated in protests against the Russian occupation of her hometown, Kherson, in the early months of the full-scale war. During that time, she also delivered medicine and first aid to wounded local protestors and territorial defense fighters.
She also called for the Ukrainian Armed Forces to liberate the city and raised money for them on her social media accounts — something that Russian troops punish and torture civilians for in the areas they occupy.
"She's a patriot of Ukraine," says Iryna's mother.
When kidnapping Iryna that day in May, one of the Russian soldiers told her parents she would be "returned home by the evening."
But it's been nearly a year now since Iryna's relatives last saw her. Months after she was kidnapped, some women contacted Iryna's family, claiming they had been imprisoned with her.
Through them, Iryna's loved ones discovered she was kept in a pre-trial detention center in Russian-occupied Crimea.
To date, Russia has not officially confirmed that Iryna is in their captivity.
"I can not sleep. I close my eyes and see my daughter," the 73-year-old mother says, crying. "It's been a year…"
The office of Ukrainian Ombudsman Dmytro Lubinets has received over 20,000 reports from the relatives of civilians in Russian captivity, he said in an interview with the Ukrainian media outlet Ukrainiska Pravda. But the actual number of civilian prisoners may be much higher, according to Lubinets.
"While part of Kherson, Zaporizhzhia oblasts, as well as Donetsk, Luhansk, and all of Crimea, are under occupation, it is clear that the relatives (of those kidnapped and held captive) who are there can not contact us," Lubinets said, as quoted by the media.
On April 26, President Volodymyr Zelensky said that 2,279 Ukrainians had returned home from Russian captivity since the beginning of the full-scale invasion. This number includes both Ukrainian military and civilian personnel.
Fearless patriot
Iryna cared deeply about her hometown and its residents even before the full-scale invasion, according to her friend Igor Mazurok.
"It is difficult to say that she was an activist on a permanent basis, but if she saw a problem, she tried her best to find a solution," Mazurok told the Kyiv Independent.
In addition to her work at an international IT company, Iryna wanted to help victims of domestic violence and began studying psychology at the local university.
No one in her inner circle was surprised when in March, shortly after Russian tanks rolled into Kherson — a southern Ukrainian city with a pre-war population of about 290,000 people — Iryna move quickly to help those in need and participate in protests against Russia's invasion.
Her mother Tetiana says their whole family attended protests every Sunday, "holding Ukrainian flags," until Russian troops began using tear gas and stun grenades against the peaceful protesters.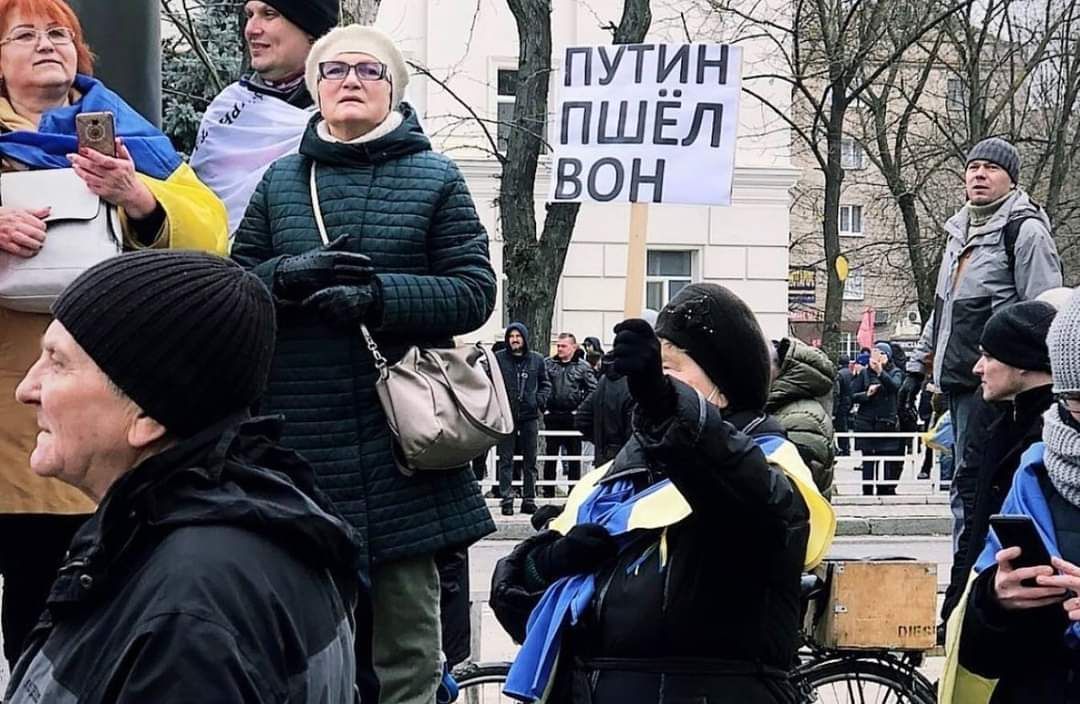 Iryna's older sister, Olena Kornii, and her family fled Kherson in early April. The rest of the family refused to leave their hometown.
According to Tetiana, Iryna purchased a large quantity of bandages, painkillers, syringes, and other goods needed for first aid and began delivering them across Kherson's hospitals. She soon started delivering the goods to the other towns in the oblast as well.
Since public transportation had stopped running in the early months of the war, Iryna was often asked to drive doctors to hospitals or deliver medicine to local patients.
Her mother refused to let Iryna go alone on these trips around the oblast, saying that armed people at check points inspected the car and documents. "It was terrifying. What if they had decided to shoot us in the back."
Iryna's friend, Mazurok, says she also spoke out against Russia's invasion on social media: She posted many photographs from protests on her accounts, as well as called for the release of Ukrainian soldiers from the besieged Azovstal steel plant in occupied Mariupol.
Shortly before her birthday, Iryna also asked everyone to donate money to the Ukrainian military instead of giving her gifts, says Mazurok.
"Compared to what other Kherson residents were posting at that time, her posts looked quite fearless," he says.
"I didn't post anything like that," Mazurok adds.
Iryna's circle says they asked her to be more careful: "But no one can influence my daughter," says Tetiana.
"She is a strong-willed person with a strong sense of justice," says Mazurok.
Darkest birthday
Amid all those grim days of living in the city under Russian occupation, May 13, Iryna's birthday, was supposed to bring at least some joy to the family.
Instead, it became one of the darkest days for the family. "I got up in the morning and set the table," Tetiana says. "We prepared flowers and brought her a gift."
It was also the day Iryna's parents were supposed to meet her boyfriend's parents for the first time.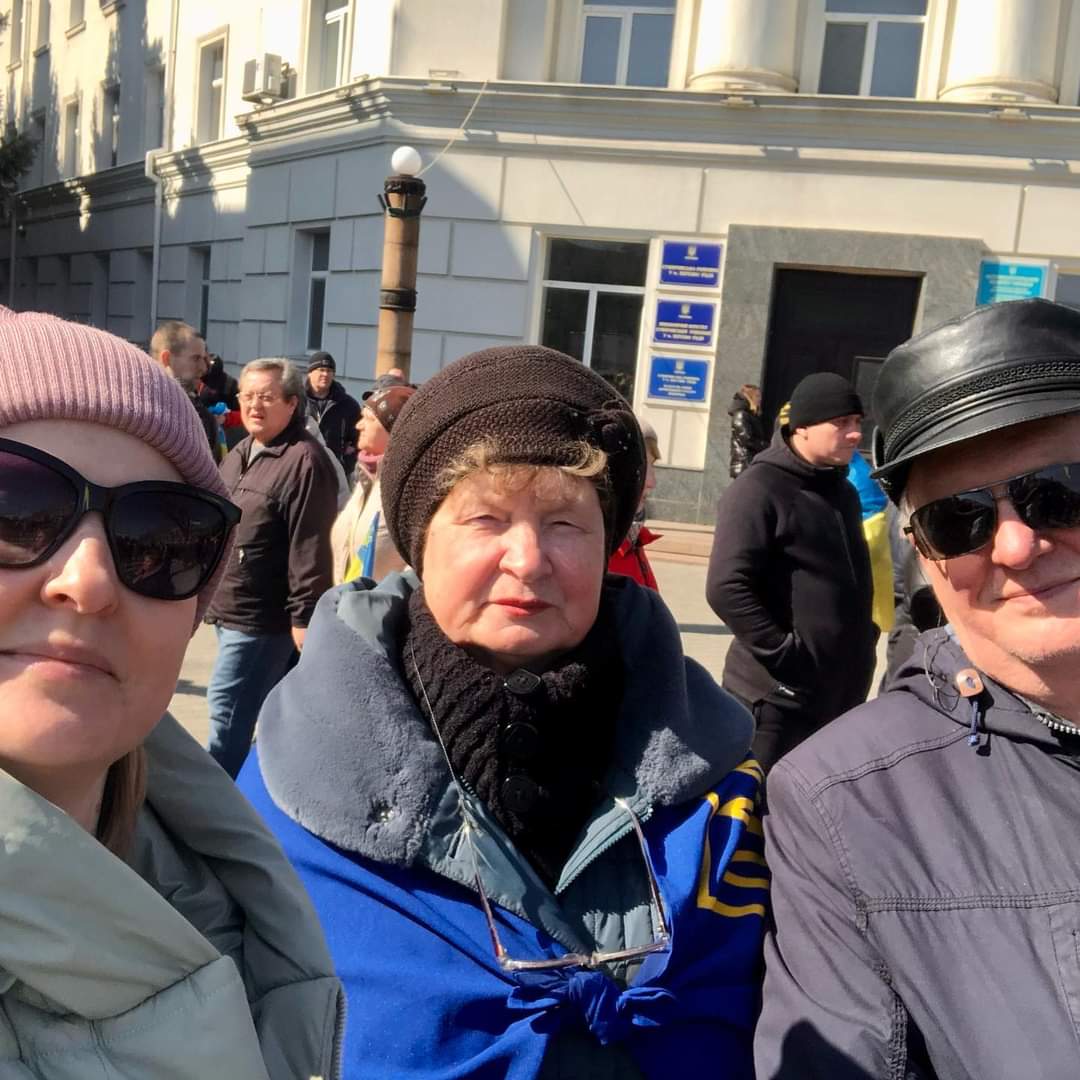 Out of nowhere, six Russian soldiers appeared at their door. Five more waited near the car outside their apartment building.
They searched through the entire flat, taking away Iryna's two cell phones, laptop, some flash drives of her father, retired physics teacher Volodymyr Horobtsov, and a power bank.
One of the soldiers locked Tetiana in the kitchen, while her husband was outside at a grocery store, so they didn't see what was happening in the room where Iryna was.
When her father returned home, he heard his daughter saying to the Russian troops that she was a "Ukrainian patriot and she hated them," Tetiana says. They brought her downstairs, put her in the car, and drove away.
"That was it. We didn't know anything about our child," she says.
Tetiana assumes her daughter was kept in Kherson for the first couple of days: One night after Iryna was kidnapped, they got a call from her saying that she was alive and would be released as Russians "didn't have anything on her."
Then, a local collaborator who supposedly allowed Iryna to call her parents took over the phone, Tetiana says, and told them they should not be as "optimistic" as Iryna was.
Tetiana and Volodymyr looked for their daughter all over occupied Kherson. One day, however, a Russian officer told them they should stop looking as she had already been transferred to occupied Crimea.
Desperate to find their daughter, they reached out to Russian-installed authorities and law enforcement and received a response from Russia's Federal Security Service (FSB) in Simferopol, a city in the occupied Crimean Peninsula. They said that Iryna "would remain in isolation while the 'special military operation' (the Kremlin's official way of referring to its full-scale invasion of Ukraine) is ongoing," according to Tetiana.
Seeing no other way on how to help their child, the two decided to go to Simferopol.
Year of pain
Russian troops established a bus connection between Kherson and Crimea shortly after they occupied the city, says Tetiana. When the family saved up enough money for the trip, they hopped on a bus to Simferopol in July.
But they were never allowed to enter the FSB building.
"I cried so much, saying that we only needed to know whether she (Iryna) was alive and where she was," Tetiana says. "No one would even talk to us after seeing our Ukrainian passports."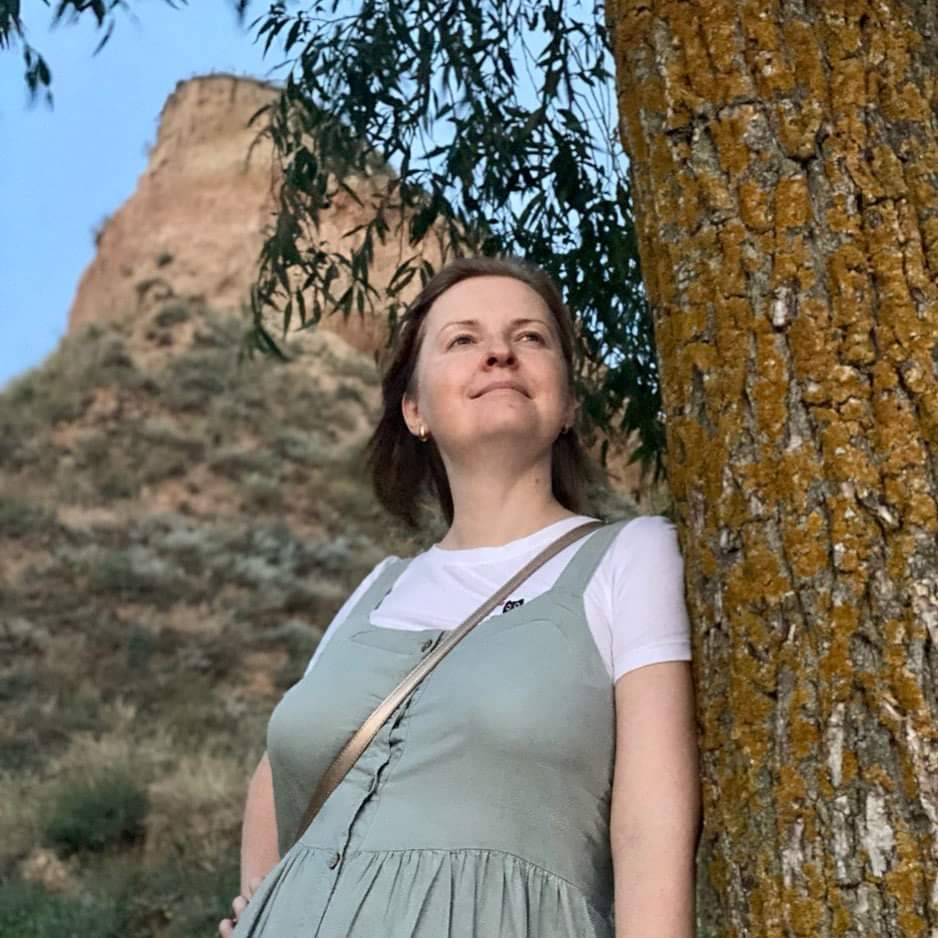 They spent five days going back and forth to the FSB office, trying to get at least some information about their daughter. Running out of money, the two had to return home.
In the fall, however, Iryna's family was contacted by two Ukrainian women who claimed they had shared a prison cell with her at a pre-trial detention center in Simferopol.

One of them anonymously told Ukrainian journalists that Iryna had lost weight and felt depressed. She also said Russian troops found some photographs of their military equipment in her phone and that Horobtsova was treated "much harder" than her.
"She wasn't beaten but threatened," the woman said.
According to Tetiana, another woman passed them a hand-written letter from their daughter: It said that she was transferred to Simferopol on May 16, three days after being kidnapped. The Kyiv Independent saw the letter but agreed to not disclose further details upon the family's request.
So far, Russia has not confirmed that Iryna is among its prisoners. She has not been charged either.
Her attorney, Emil Kurbedinov, wrote on Facebook that the FSB refuses to allow him to meet Iryna "under the pretext of protecting state secrets."
"I know what the state secret is," says Tetiana. "That no one knows how many of them are locked there and in what condition they are."
She says that her daughter has a high risk of a stroke due to a brain aneurysm, and any severe stress is extremely harmful to her health and can even lead to death.
The woman from Iryna's cell told them the Red Cross was the only organization ever allowed to visit the pre-trial detention center and that they have only been allowed to visit prisoners with severe health issues.
Nearly two weeks ago, the family got confirmation that the Red Cross representatives had been to that pre-trial detention center. But they were told that Iryna was not there and couldn't see her, says Tetiana.
Some hope sparked when Lubinets, Ukraine's ombudsman, told the family that Ukraine had added Iryna to their "prisoner exchange list" and that his team was working on creating a "platform to exchange civilians."
Even though they were happy when Ukraine liberated Kherson on Nov. 11, Tetiana says they could not celebrate it to the fullest, knowing that their child's life was still in danger.
"This has been a year of pain for our family," says Kornii.
---
Note from the author:
Hi! Daria Shulzhenko here. I wrote this piece for you. Since the first day of Russia's all-out war, I have been working almost non-stop to tell the stories of those affected by Russia's brutal aggression. By telling all those painful stories, we are helping to keep the world informed about the reality of Russia's war against Ukraine. By becoming the Kyiv Independent's patron, you can help us continue telling the world the truth about this war.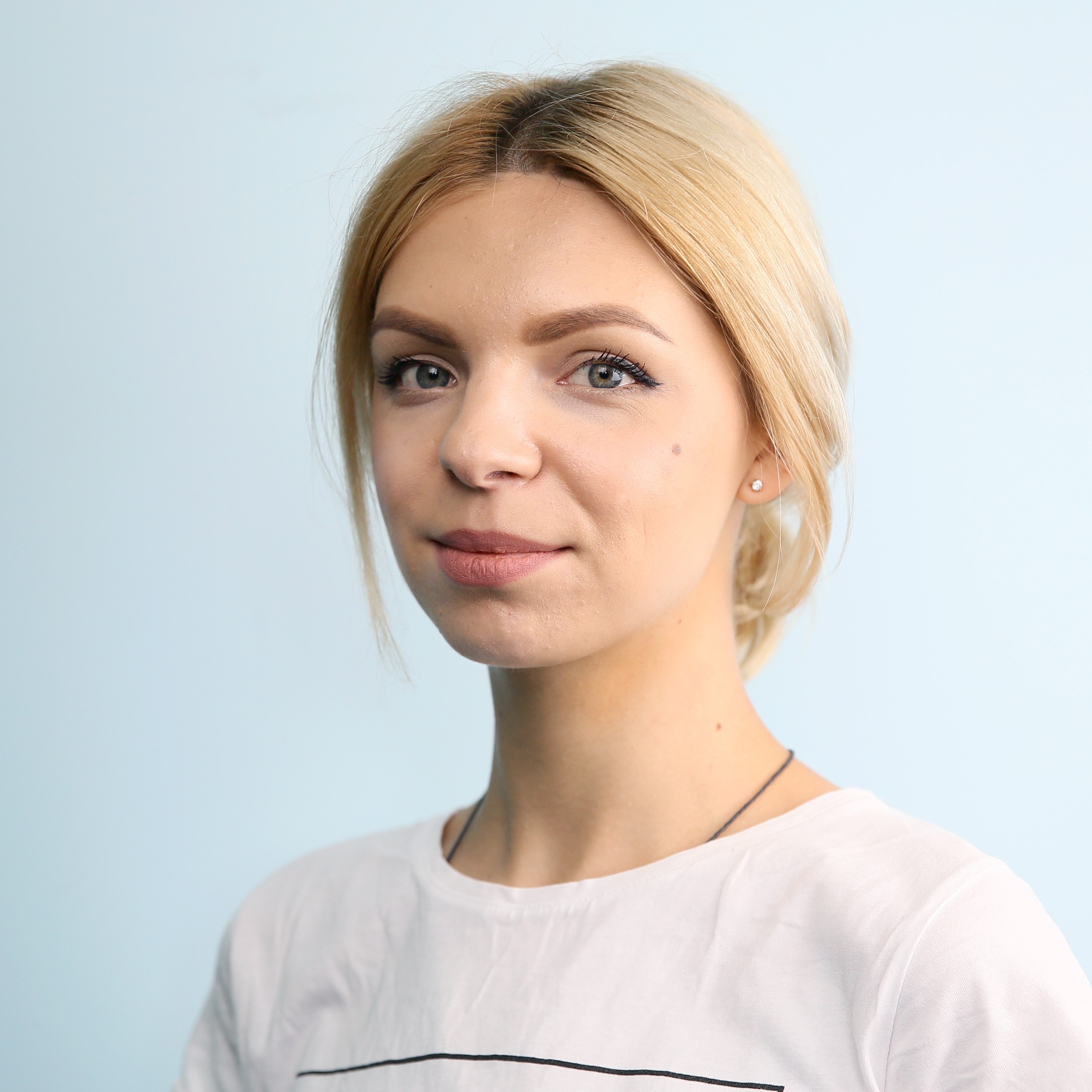 Daria Shulzhenko
Reporter
Daria Shulzhenko is a reporter at the Kyiv Independent. She has been a lifestyle reporter at the Kyiv Post until November 2021. She graduated from Kyiv International University with a bachelor's in linguistics, specializing in translation from English and German languages. She has previously worked as a freelance writer and researcher.