This audio is created with AI assistance
A frame-by-frame analysis of a video taken at the location of the attack that killed 33-year-old U.S. volunteer aid worker Pete Reed in the front-line city of Bakhmut, Donetsk Oblast, shows Reed was unarmed and killed by a guided missile almost certainly fired by Russian forces, the New York Times reported.
Reed was killed while rendering aid to a wounded woman in Bakhmut, Global Response Medicine, the humanitarian aid group Reed founded, confirmed on Feb. 3.
At the time of the attack, the exact circumstances of Reed's death were not specified but were believed to have been the result of indiscriminate shelling.
The video of the attack shows Reed and fellow aid workers helping the wounded woman beside a white van that they were using to transport humanitarian supplies. A missile then flies close to the ground and squarely hits the van, destroying it. The explosion killed Reed and wounded the others.
While it is not clear if the Russian troops knew they were targeting aid workers, the convoy around the white van that was targeted had markings that clearly signaled they were humanitarian vehicles. One vehicle had a red cross clearly painted on it, the New York Times article mentions. Laser-guided anti-tank missiles are also usually fired when a specific target has been identified.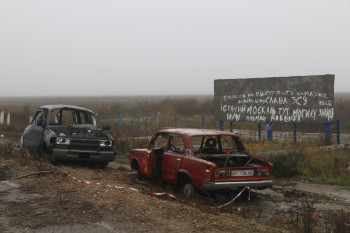 Russian regular forces, along with Kremlin-controlled mercenary group Wagner, have been attempting to capture Bakhmut for months as Russia tries to consolidate its grip over the entirety of Ukraine's eastern Donetsk Oblast, around half of which it currently controls.
Yevgeny Prigozhin, the founder of the Wagner Group, said on Feb. 15 that Bakhmut in Donetsk Oblast could be surrounded in March or April, Russian state-controlled news outlet Ria Novosti reported.
President Volodymyr Zelensky said on Feb. 3 that Ukraine has no intention of giving up Bakhmut.
"No one will surrender Bakhmut. We will fight as long as we can," Zelensky said at a press conference following a historic Ukraine-EU summit in Kyiv.
Russia has launched its new offensive in Bakhmut, according to multiple sources, having consolidated its forces there.