This audio is created with AI assistance
For Kyiv's Motherland monument, 2023 marks an era of rebirth.
In late July, the national landmark saw the Soviet hammer and sickle that once adorned its shield replaced with the tryzub, the Ukrainian trident. The rejuvenated monument was officially unveiled on Aug. 24, Ukrainian Independence Day.
The decision to remove the Soviet statue's symbols is a watershed moment in Kyiv's years-long de-communization program: a movement that has seen Ukraine purposely distance itself from old Soviet ties to reclaim and reassert its independent culture, identity, and future.
But de-communization also marks a decisive split from Russia.
While Ukraine seeks to stake its claim on an independent, European future, the Kremlin is keen to stoke nostalgia for the Soviet past: a supposed era of Russian military, economic and political might.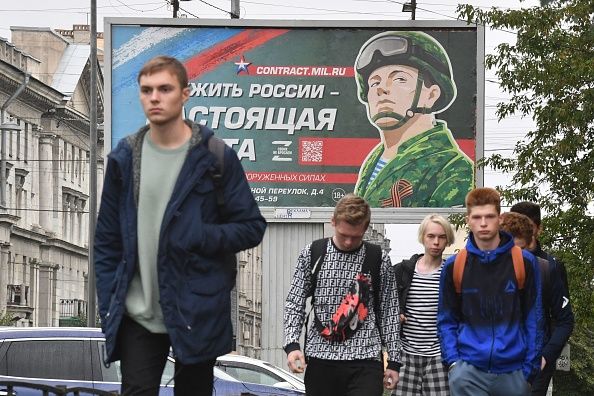 In the process, Soviet symbols have become a staple of pro-war propaganda. When Russian tanks rolled into eastern Ukraine on Feb. 24, 2022, several were seen flying the Soviet flag.
These contrasting attitudes toward the visual baggage of the USSR reflect two very different visions of a somewhat shared past.
But they also cast light on the two contrasting futures that Ukraine and Russia seek to build for their people — and the new national identities that each country seeks to cast on the world stage.
Winning identity
The refurbishing of the Motherland monument is just one part of a long-term Ukrainian effort to erase the vestiges of communist influence from its public spaces.
Ukraine's parliament, the Verkhovna Rada, outlawed the public display of Soviet symbols in 2015, equating them with the Nazi ones.
Across the country, hundreds of Soviet statues were pulled down and destroyed, while streets dedicated to Soviet cultural figures, often having no connection to Ukraine, were re-dedicated to celebrate Ukrainians.
For nations seeking to reassert their national identity, the changing of the guard — the repurposing and creation of statues and monuments — is not unusual, says Pippa Catterall, professor of history and policy at London's University of Westminster and editor of the journal National Identities.
She sees the Ukrainian decision to replace the Motherland monument's Soviet emblem with a trident as a "low-level form of intervention" in comparison to other historical examples.
In comparison, a statue of King George III was taken down by New Yorkers in 1776 so that it could be melted into bullets and fired at British forces. Ukraine has no plans to dismantle the monument, opened in 1981.
"(Monuments today are) a marker of territory in much the same way that Roman emperors' statues were used as markers of territory," she says.
"You replace one marker with another marker, and all you're doing is reflecting new realities of power."
But for many, this small step has been a vital step towards reclaiming the country's past.
Ukraine's Soviet monuments extolled a country of prosperity, equality, and brotherly comradeship: a far cry from what most ordinary citizens experienced in the USSR.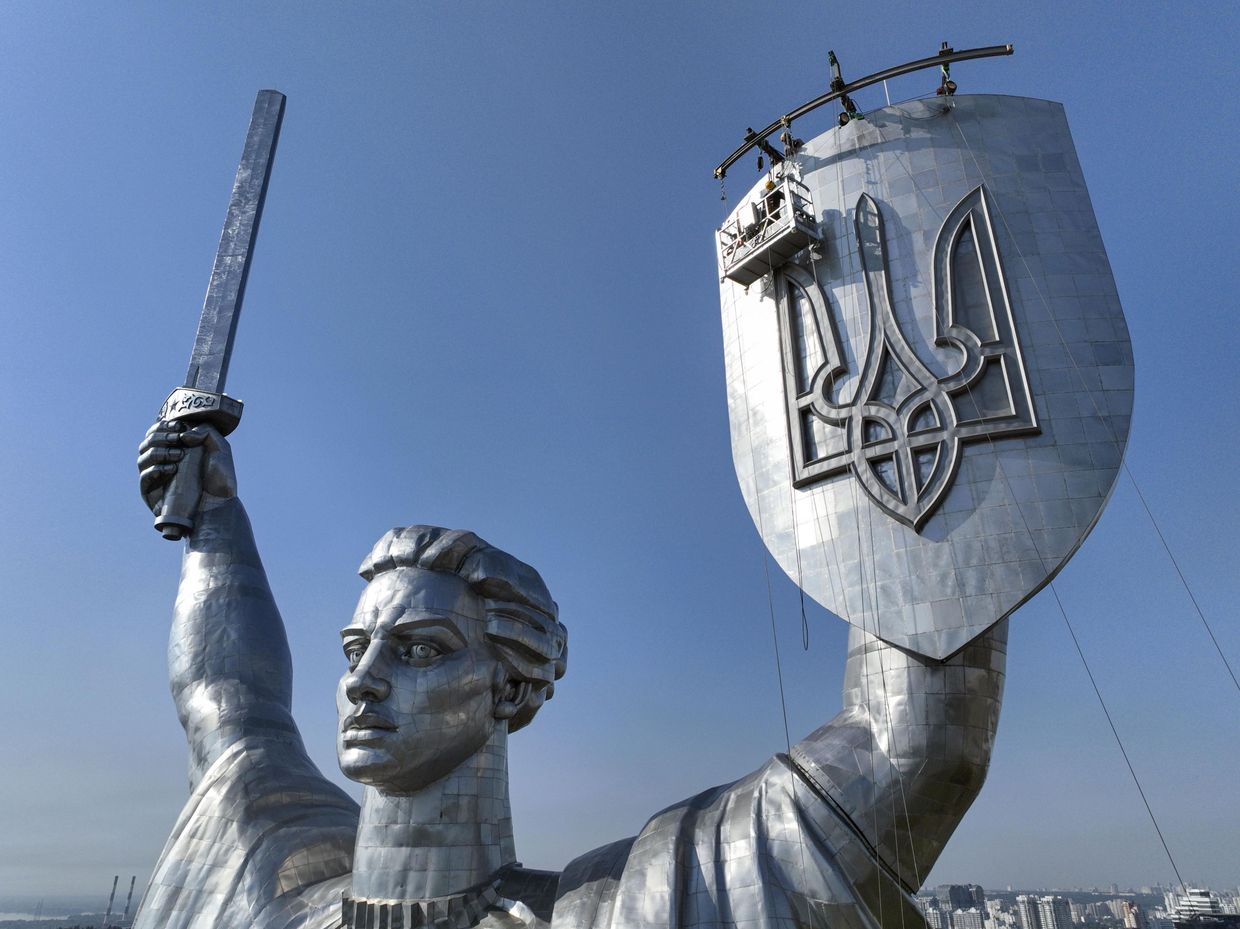 For millions of Ukrainians, the Soviet past is synonymous with the oppression of the Ukrainian language, the promotion of Russian culture over its Ukrainian counterpart, and the Holodomor, a Stalinist man-made famine that killed millions of Ukrainians, and has been recognized as an act of genocide by both the European Parliament and the United States.
"The Holodomor was an experience shared across the country," says Professor Daria Mattingly, a lecturer of european history at University of Chichester and a post-graduate fellow at the University of Cambridge.
She describes the famine as an attempt to control Ukraine, driving the population to focus only on survival rather than resisting Soviet policies such as forced collectivization.
"It was a communal experience because it clearly was directed against Ukraine: the borders of the Ukrainian Soviet Republic were closed so that the victims couldn't escape it."
Some 13 percent of Ukraine's population died in the Holodomor. The experience touched almost every Ukrainian family, irrevocably shaping the country's view of the USSR.
It is just one reason why Russia and Ukraine see the Soviet era very differently today.
"Whether you were in Kyiv or near Mariupol, you remembered the famine (through oral history), and that's how it remembered what it means to be Ukrainian," says Mattingly. "It's being destroyed mentally and physically, and that shapes your experience of the Soviet Union."
Those differences in memory can still be seen today.
A study by the Kyiv International Institute of Sociology, published on Aug. 3, showed that in 2016, 17 percent of Ukrainians had a positive attitude toward the Soviet leader at the time of the Holodomor, Joseph Stalin. In comparison, in Russia, where Stalin more closely associated with victory in the Second World War, 37 percent of people had a positive view of the Soviet leader.
These gulfs in opinion have only grown over time. The same study found that in 2023, 63 percent of Russians had a positive view of Stalin, compared to only 4 percent of Ukrainians.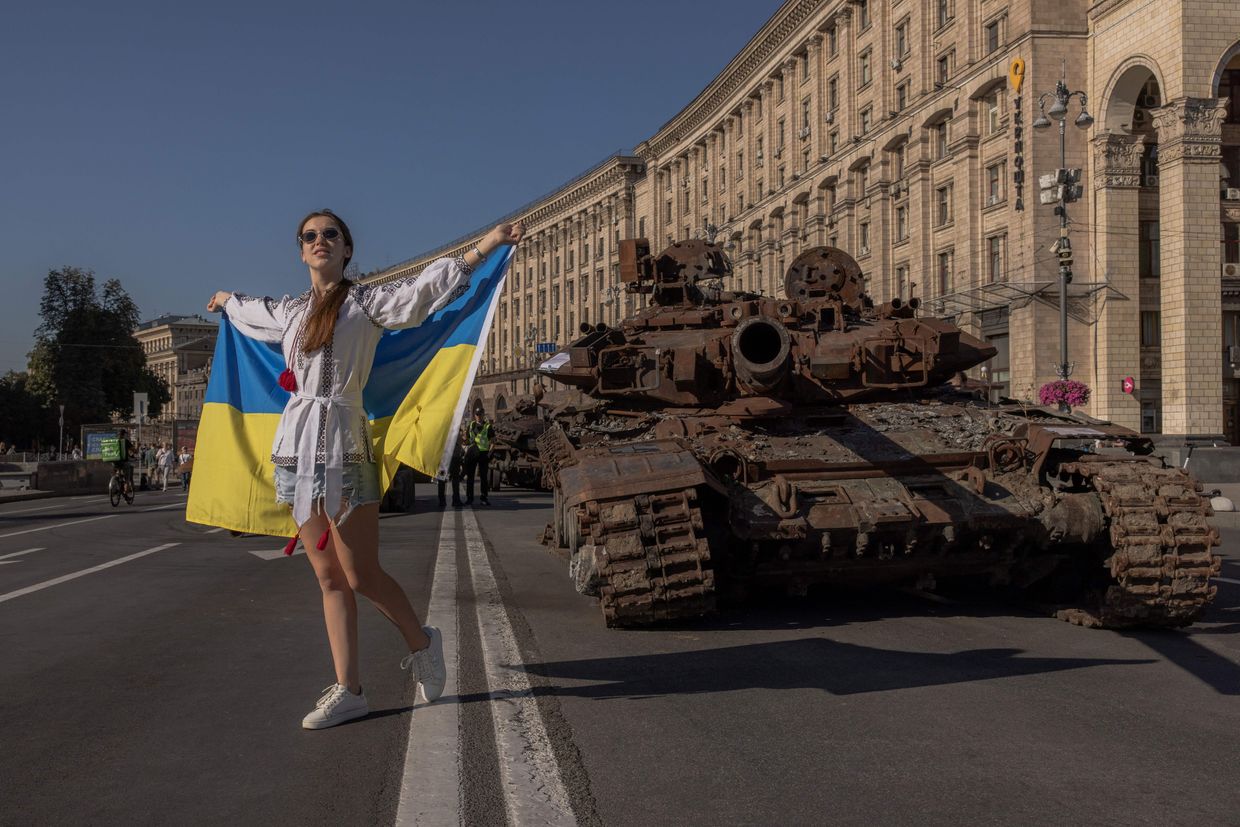 While de-communization in practice has meant removing socialist statues and renaming streets, in theory, it has meant shedding light on what the Soviet Union really meant for Ukraine and celebrating the parts of Ukraine's heritage and identity that communist officials once tried to suppress or erase.
"In Ukraine, there were streets named after the perpetrators of the Holodomor, or those who took part in crushing the Ukrainian national movement. Why commemorate them?" says Mattingly.
De-communization was not without its controversies. Ukrainian and foreign critics feared that the new laws could prohibit open discussion of Ukrainian history and could deepen societal divisions — especially in the country's east, which was already under siege from Russian forces.
But the much-feared backlash never truly materialized.
Instead, Russia's invasion — an attempt to quite literally wipe Ukraine off the map — only accelerated the case for brushing off Moscow-imposed Soviet structures.
Today, it enjoys widespread support: some 85% of Ukrainians backed the removal of the Soviet coat of arms from the Motherland monument, according to data released by the country's Culture Ministry last year.
Symbols are important, says Catterall — but one of the greatest reminders of national identity is when we compare ourselves to others.
"When you're invaded and treated brutally, that contributes to your sense of self," she says.
"It's the feeling of: 'Well, we're definitely not like them.' And the more that Russia uses symbols such as the hammer and sickle, the more those symbols will be rejected in those countries which have been subjected to Russian or Soviet imperialism."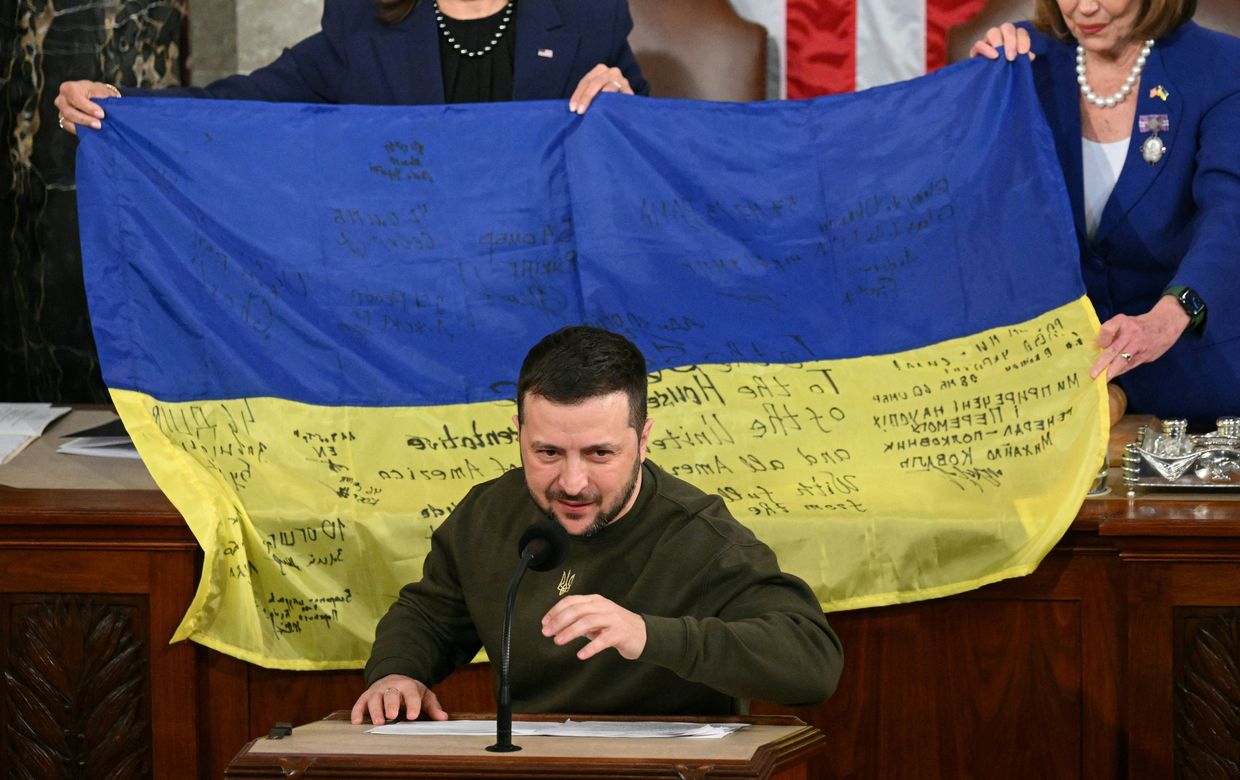 Soviet war aesthetic
If Ukraine has sought to divest itself from the Soviet past, Moscow has sought refuge in it.
Soviet symbols have become increasingly present in Russia throughout the 2010s.
Modern versions of Soviet children's groups, such as the Young Pioneers, have been resurrected, complete with red neckerchiefs and choreographed Red Square parades.
In Russia, murals featuring the joyful reception of Red Army soldiers have become commonplace. In recent years, there have even been Soviet-style murals featuring Putin himself.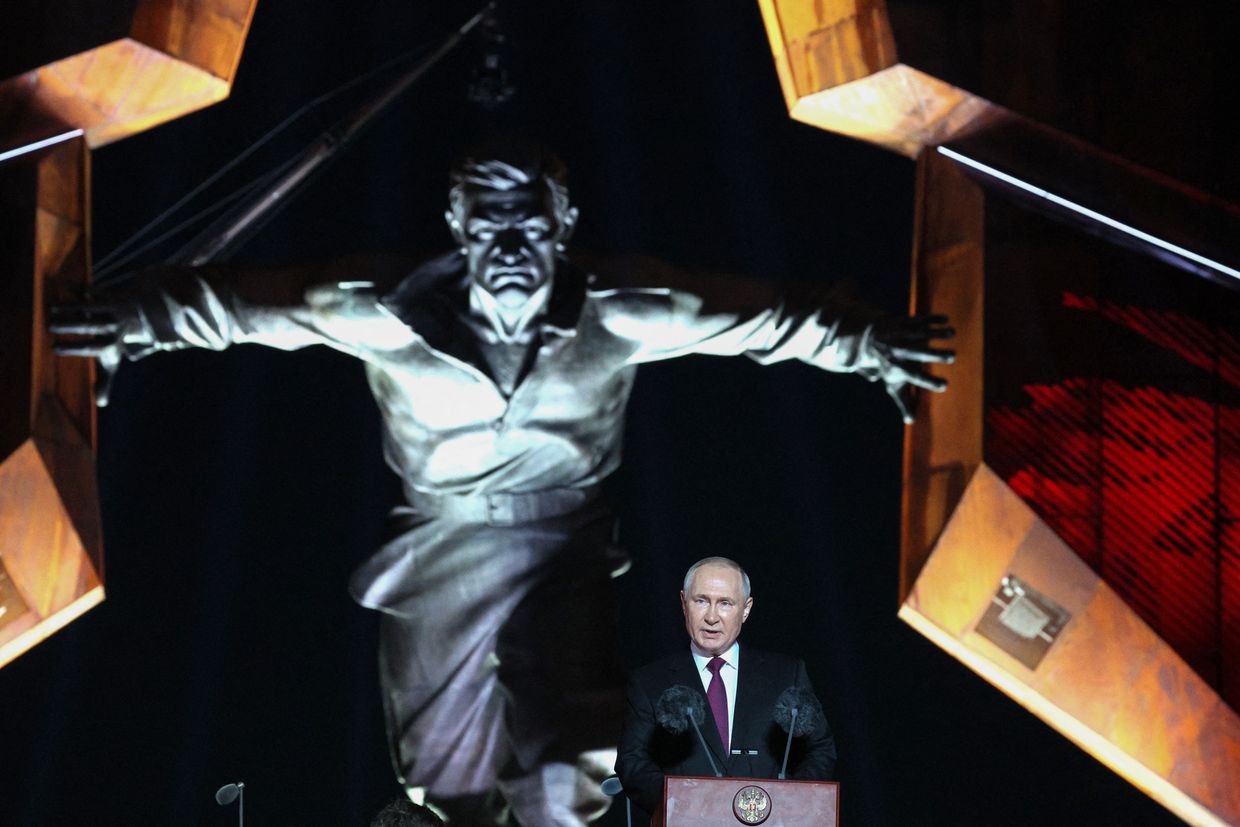 That trend has only accelerated since February 2022, when Soviet symbols became a cornerstone of Moscow's war propaganda.
Perhaps the most notable example is the image "Granny Anya," an elderly Ukrainian woman glorified across the Russian media after being shown on camera holding a Soviet flag. She later told Ukrainian journalists that she hoped the act would placate Russian troops from destroying her village.
These symbols represent an empire that the Kremlin would like to recreate.
They are shorthand for an era when Moscow was seen as the heart of a superpower: venerated politically and militarily and respected in fields such as science and sport.
Unlike in Ukraine and other former Soviet republics, Russians don't see the USSR as a source of horror or oppression but as a strong nation-state.
A Levada Centre poll from 2020 found that 75% of Russians saw the Soviet period as their country's "greatest era."
But this explosion of socialist imagery — and especially symbols linked with Soviet victory in World War II — isn't just about glorifying the past, says historian Dr. Ian Garner.
It's also about creating a new narrative for Russia's present and future.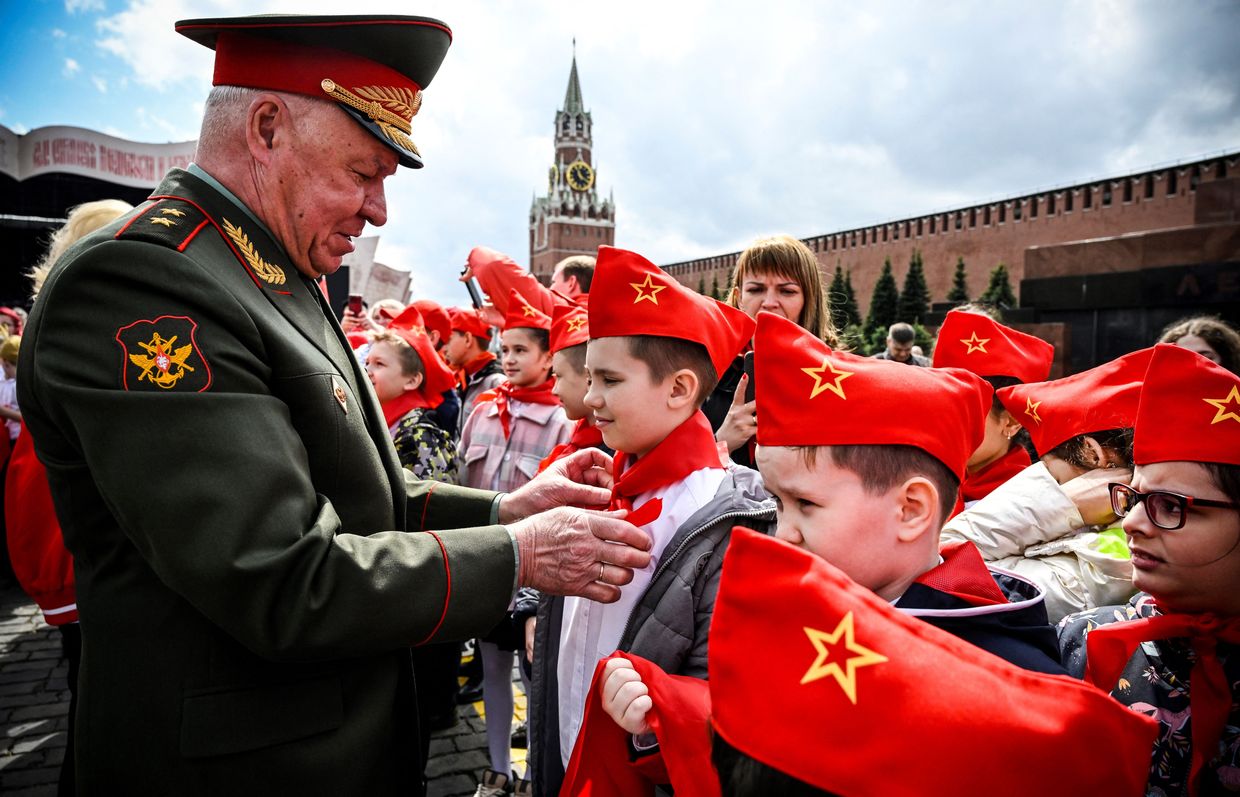 Soviet sacrifices in the Second World War deserve commemoration and respect. Some 27 million soldiers and civilians from across the Soviet Union died in World War II — a figure that includes victims from all 15 nations that formally made up the USSR, including Russia and Ukraine.
But in Moscow, that legacy has been twisted, exploited, and put at the heart of a new Russian national myth: one that portrays Russians as valiant defenders besieged by outside enemies, fighting to build a bright new future.
"All of the wild cult stuff (we see about the invasion of Ukraine) — the trashy pop culture, the statues, the movies — everything is being underpinned by the story of the sacrifice of 27 million Soviet citizens during the Second World War," says Garner.
"The story is that these people had to die. They had to be sacrificed to somehow save the world, save the nation, to enter this new sort of utopian era."
By evoking Soviet wartime imagery, this same quasi-religious story of death, sacrifice, and rebirth can be endlessly extended and reimagined for the present day, says Garner. It is a story that downplays Russia's growing death toll in Ukraine, painting it as not only acceptable but necessary.
"All deaths at the front are supposed to mimic this period of strife before what will — in the story at least — turn out to be some majestic trial," he says.
"This has been the narrative of the Putinist state: We're suffering now. We have suffered. But every time Russia historically suffers, it emerges with new life. The war isn't over. We have to be ready to do it again. That is our historical lot. That's our fate."
Some experts have characterized the Kremlin's obsession with appropriating the Second World War as a "death cult." Its victims are memorialized and glorified without reflection.
There is no need to question if anything could have been done to prevent or lessen these Red Army deaths or what kind of world they wished to build with their sacrifice.
For the modern Russian army, there is also no need to question if the thousands of Russian soldiers killed while invading Ukraine died for anything at all. They, too, are venerated like their forebears who fought Adolf Hitler: in death and glory, they are beyond reproach.
When a statue of Stalin was unveiled outside a factory in the town of Velikiye Luki in Russia's Pskov region in mid-May, the monument was blessed by a local priest.
He told the crowd that although the church had suffered under Stalin's rule — more than 168,000 clergy members are believed to have been detained by the secret police during the purges of 1937 and 1938 alone — at least the Soviet leader had brought the church "many new martyrs."
Manipulating the narrative that surrounds the invasion of Ukraine benefits the Kremlin in other ways.
By equating the conflict with World War II, Moscow can position criticism of the war as the ultimate taboo, equating it with criticizing the fight against Nazi Germany.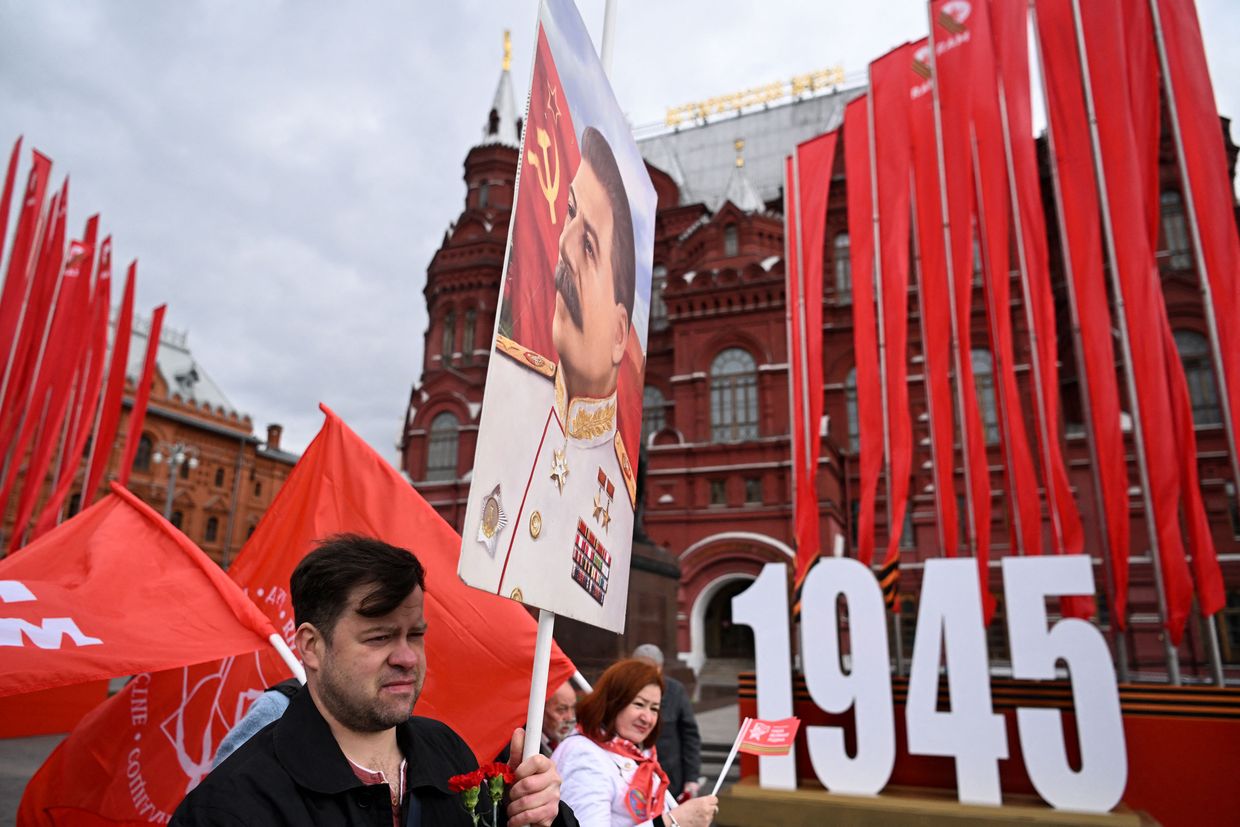 The very real suffering of civilians in the face of horrors such as the siege of Leningrad can also be called upon and molded to justify any inconveniences that Russians might suffer on the home front.
The more the state can sell this story of sacrifice and redemption, the more that people will associate the present struggles with the economy, says Garner.
Ultimately, creating a religious-style myth laden with allegory, it doesn't really matter what symbols such as the hammer and sickle actually mean.
In fact, says Garner, Tsarist and pre-Tsarist images are often used to support the same narrative of sacrifice and rebirth. Symbols are malleable: it is the stories behind them which give them power.
Russia's favorite myth
But while nation-building ideas such as flags and icons do have an impact on ordinary people, national identity isn't created wholly by the state, says Catterall, it's something that the majority of citizens must also agree to, day by day.
Even the grandest statue is ultimately meaningless if it was rejected by the nation at large. For a national myth to have meaning, ordinary people must identify with it and consistently buy into that sense of belonging.
"National identity is just a construct," she says. "It is something created by authorities, by public bodies, who want to create a sense of identity and belonging among their populations, and by acts of volition — by populations themselves."
If symbols such as the tryzub have power in Ukraine, it is because it symbolizes something that the population believes in: an independent, democratic future.
In Russia, it means that the Kremlin is not the only institution responsible for fuelling a national myth of war and righteous suffering. To grasp a different kind of future, it is one that the Russian people must reject too.
"Russians deeply believe in (this myth) we've been talking about," says Garner. "Encouraging them away is going to take one hell of an effort."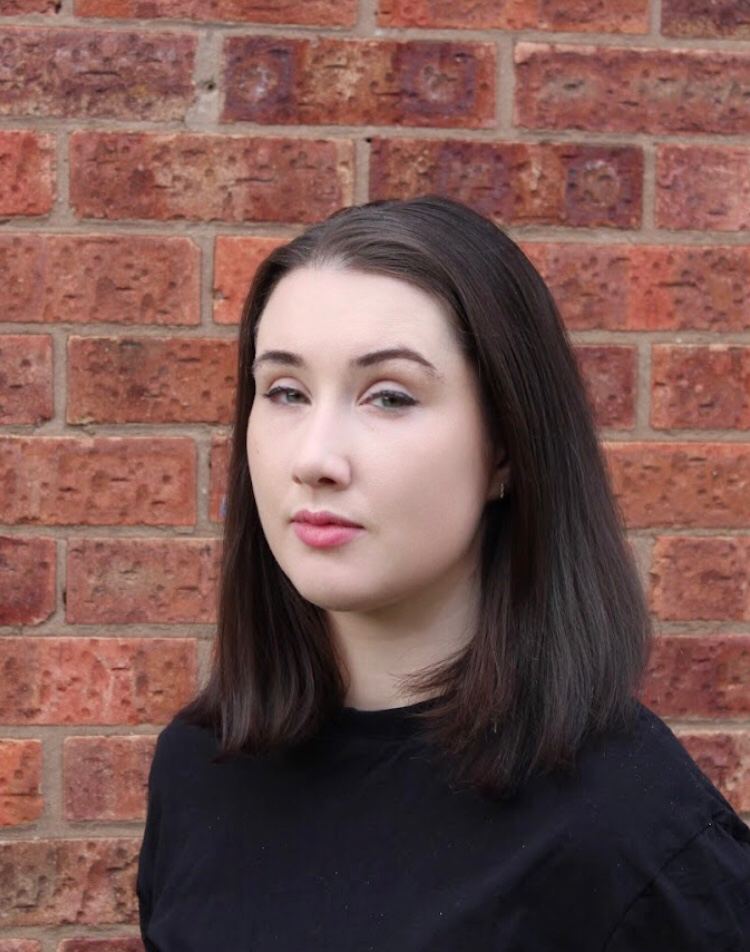 Katie Marie Davies
Contributor
Katie Marie Davies is a freelance journalist who has worked in Russia and the UK. She has previously worked as a news editor at The Moscow Times and features editor at The Calvert Journal.