This audio is created with AI assistance
Welcome to Investigative Stories from Ukraine, the Kyiv Independent's newsletter that walks you through the most prominent Ukrainian and Ukraine-focused investigations of the past week.
If you are fond of in-depth journalism that exposes war crimes, corruption and abuse of power across state organizations in Ukraine and beyond, subscribe to our investigative newsletter.
To support our journalism, please become a patron of the Kyiv Independent. Pledges start from just $5 a month.
Top investigative stories
______________________________________________
OCCRP: Kremlin-linked group arranges payments to European politicians to support Russia's annexation of Crimea
Russian lobbyists offered money to European Union politicians for pushing Kremlin-favored policies, a cross-border investigation found.
The joint investigation was conducted by Organized Crime and Corruption Reporting Project (OCCRP), Estonia's Eesti Ekspress, Italian IrpiMedia, Profil from Austria, and Russia's iStories.
Since 2014, a Russian lobbying group allegedly paid European politicians to help legitimize Russia's occupation of Crimea and secure votes to drop Western sanctions imposed for the illegal seizure of Ukraine's peninsula.
According to the leaked correspondence of Russian parliamentary staffer Sargis Mirzakhanian, running from 2007 to 2017, he built a network of political analysts, journalists, activists, and academia to push the Kremlin's interests abroad following the Russian seizure of Crimea.
His group drafted pro-Russian resolutions and paid politicians thousands of euros to put them forward in European legislatures. The price tag for the motion submission amounted to 20,000 euros with a further bonus of 15,000 "in case of successful voting."
In 2016, a motion recognizing the Russian annexation of Crimea and calling for the end of EU sanctions against Russia was adopted by a local council in Veneto, Italy. The councils in Liguria and Lombardy regions followed Veneto's example. Soon Cyprus adopted a similar resolution, too. The documents were allegedly put together with the help of Mirzakhanian and his team.
The lobbying group also arranged trips for politicians from Germany, Austria, Italy, the Czech Republic, and Poland to Russian-occupied Crimea, paying for their presence.
Read the full story in English via the link.
This investigation is part of a series. It includes a story looking into Italian politicians and businessmen accepting Russia-sponsored trips to Crimea. Another story focuses on the Russian lobby in the Cyprus parliament.
Russian media: Rostec buys Western parts for electronic warfare bypassing sanctions
A subsidiary of Rostec, Russia's main arms manufacturer, purchases Western-made parts for electronic warfare systems that destroy Ukrainian defenses circumventing sanctions, Russian investigative media outlet iStories found.
Rostec's subsidiary, Concern Radio-Electronic Technologies, develops electronic warfare systems for the Russian army, including the Khibiny aircraft electronic countermeasures (ECM) system used to protect Russian aircraft from Ukraine's air defense.
The company also produces the Vitebsk system placed on Russian helicopters to protect them from Ukrainian portable surface-to-air missiles, and the Krasukha used to jam signals of Starlink satellites.
Russia uses some Western components in the production of Khibiny, Vitebsk, and Krasukha, according to publicly available documentation discovered by iStories.
The media outlet found that the SAP-518SM jamming system, a modernized version of Khibiny, uses chips made by U.S., German, Swiss, and Japanese companies. Vitebsk operates on chips made in Japan and the U.S., while Krasukha runs on American-produced chips.
Russia's state-controlled enterprise created shell companies and used linked intermediaries to buy Western-made chips from Turkish and Chinese sellers.
For example, Saratov-based VMK, whose only client in 2022 is Concern Radio-Electronic Technologies, received $43 million worth of components from abroad.
VMK bought the required tech from Turkish and Chinese firms.
Previously, iStories together with Reuters and Royal United Services Institute (RUSI), found that the Russian manufacturer of the Orlan-10 drone buys Western-produced components through Russian, Chinese, and American intermediaries bypassing sanctions. Read a short summary of this investigation in a previous issue of this newsletter.
Read the full story about Rostec in English via the link.
Ukrainska Pravda spots a family of sanctioned Russian oligarch Bokarev in Courchevel
Journalists found that the wife and daughter of Russian oligarch Andrey Bokarev, under EU and U.K. sanctions, vacationed in January in Courchevel, an expensive French ski resort.
Bokarev is the 59th richest person in Russia, with an estimated $2.2 billion net worth. In April 2022, the EU and UK imposed a travel ban and asset freeze against him.
Bokarev is the president and co-owner of JSC Transmashholding, Russia's largest manufacturer of locomotives and rail equipment, according to the UK government website. He is also a part owner of Kuzbassrazrezugol, with a large coal mining operation in the Urals. Previously, Bokarev was among the owners of the Kalashnikov company. Currently, one of his enterprises allegedly supplies diesel engines for Russian warships, according to the Russian media.
The April 2022 batch of EU and UK sanctions touched some family members of Russian oligarchs, however, not Bokarev's relatives.
Bokareva's daughter Elizaveta enjoyed snowboarding while her mother Olga went shopping at Balenciaga boutique, according to Ukrainska Pravda.
The Bokarev family stayed at chalet Croix du Sud, owned by other rich Russians, billionaire brothers Sergei, and Nikolai Sarkisov, engaged in the insurance business. The two own other chalets in Courchevel. Among them is the Black Pearl, which the Sarkisov brothers own through proxies, Ukrainska Pravda reported.
The publication found the real estate of nine Russian oligarchs in Courchevel and nearby.
Among the businessmen-owners of luxury chalets and hotels is Mikhail Prokhorov, the 11th richest in Russia, close to the country's president Vladimir Putin; Grigory Berezkin, yet another of Putin's allies with interest in various industries, including media, energy, infrastructure, natural resources; and Oleg Tinkov, the founder of the online Tinkoff Bank, one of Russia's largest lenders, and others.
Watch the full story in Ukrainian here.
RFE/RL identifies leadership of Russian unit responsible for shelling Mykolaiv Oblast
Schemes, an investigative project of Radio Free Europe/Radio Liberty, identified commanders of a Russian brigade allegedly shelling the city of Ochakiv in southern Mykolaiv Oblast and found that they were led by a former Russian lawmaker.
This brigade is called "Don." It belongs to the Russian paramilitary cossack movement and is stationed in the Russia-occupied Kinburn Peninsula, according to Ukraine's Navy.
From there, Russian troops have been heavily shelling Ochakiv.
On Jan. 9 alone, the artillery attack injured 16, including a child. Since Feb. 24, Russian attacks on the city have killed over 50 locals and damaged houses, hospitals, and grain elevators.
The "Don" brigade's commander is Alexey Kondratiev, a former Russian lawmaker and member of the parliamentary defense and security committee before 2020.
Kondratiev reportedly served in Russia's special forces and was deployed to fight in Russia's wars in Chechnya, Georgia, as well as Kosovo.
He also served as mayor of Tambov in 2010.
Find the full story in Ukrainian here.
BBC identifies 13,000 Russian troops killed in Ukraine
BBC Russian Service and Mediazona, a Russian online publication, identified 13,030 Russian soldiers killed in combat in Ukraine since Feb. 24 and found that 7% of them, or 924, are newly conscripted soldiers.
The journalists only counted the death confirmed by local authorities or via social media posts of friends and relatives. According to the report, around a quarter of those identified as dead were civilians a year prior and either mobilized or joined Wagner Group mercenary formations.
The authors of the story indicate that their findings are at least twice below the actual Russian losses.
Out of the 13,030 Russian soldiers identified as killed in Ukraine, almost 15% or 1665 were officers, including four generals and 54 colonels. As many as 500 soldiers were reportedly killed in late January when Russia started its attempt at an offensive in the Donbas.
Russia only confirmed around 6,000 of its troops being killed since Feb. 24. Ukraine's General Staff reports Russian losses at over 130,000.
Read the full story by the BBC and Mediazona in Russian via the link.
Bihus.Info: Russia boosts disinformation efforts in Germany, US amid new arms shipments to Ukraine
In light of increased Western military support for Ukraine, Russia has intensified its disinformation efforts, according to Bihus.Info, a Ukrainian investigative project.
After Germany had agreed to send the long-desired Leopard 2 main battle tanks to Ukraine late last month, pro-Russian opinion leaders have begun spreading the idea that Russia's war against Ukraine was driven by NATO with renewed vigor, the journalists found.
Among the most vocal activists backing Russia in Germany is Helga Zepp-LaRouche, the founder of the Schiller Institute.
She claims Germany's move to deliver Leopards to Ukraine after months of negotiations was made under the "external influence" of the U.S., the U.K., and NATO itself. Zepp-LaRouche is widely cited in Russian state-controlled media outlets.
Alice Schwarzer, a German journalist, and Johannes Varwick, a political scientist, are reportedly among those trying to stop the German military aid to Ukraine.
In the U.S., opposition to supplying aid to Ukraine is also increasing. Graham Fuller, a former vice-chair of the National Intelligence Council under the Office of the Director of National Intelligence, and Tucker Carlson, a Fox News host, claim "Russia is winning the war, and Ukraine is losing it." Both are widely cited across Russian state media.
Watch the full story by Bihus.Info in Ukrainian here.
The Kyiv Independent spent months researching Russia's influence in the U.S. We have mapped Russia's propaganda network in the U.S. by showing the connections between commentators, organizations, and media outlets that cultivate disinformation. Read our story in English.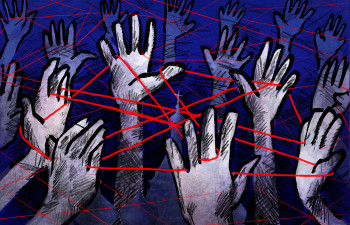 Top official at Ukraine's Defense Ministry exposed in having pro-Russian background
Oleksandr Liyev, a Defense Ministry official in charge of defense procurement, didn't oppose the Russian occupation of Crimea in 2014 and called Crimeans people of "Russian mentality," according to media reports, supported by archive videos.
Journalists and anti-corruption activists dug into Liyev's past and found evidence of his outspoken pro-Russian stance, which he apparently held up until 2014.
On March 5, 2014, after Russia had occupied Crimea, Liyev, then-acting minister of culture and tourism of the peninsula, spoke with Hromadske TV channel. In the video, Liyev backs the staged "referendum" – a sham vote used to justify Moscow's illegal occupation of Crimea – saying its results must be "legalized" by Kyiv and Crimea must get full autonomy within Ukraine.
On the very same day, Liyev announced that he had been fired as a minister of the Crimean government. A newspaper report quoted him as saying he was ready to assist his Russia-appointed successor.
Liyev, who was born in Russia's Komi region but grew up in Crimea, had consistently expressed pro-Russian views, according to media reports.
He also was an active member of the pro-Russian Party of Regions led by President Viktor Yanukovych, ousted in 2014 by the EuroMaidan Revolution, and promoted Yanukovych's party on local television.
In 2013, Liyev accepted an unofficial medal from the so-called head of the Russian imperial house. He then wrote on his social media, "I serve the motherland!" apparently referring to Russia.
Liyev denied the allegations but resigned soon after the news about his past broke. He had been the acting head of the Defense Ministry's department in charge of developing the country's armament capabilities and weapons procurement since the summer of 2022.
More on Liyev's story in Ukrainian: A video by Ukrainian journalist Yanina Sokolova here and an opinion piece by anti-corruption activist Vitaliy Shabunin here.
Impact
______________________________________________
Court arrests ex-deputy defense minister, sets bail at $10 million following procurement scandal
The Kyiv Pechersk Court arrested former Deputy Defense Minister Vyacheslav Shapovalov for two months, setting bail at $10 million on Feb. 2, according to the State Bureau of Investigations.
The Bureau suspects Shapovalov of lobbying for contracts with overpriced food supplies as well as purchasing poor-quality bulletproof vests, helmets, and clothing for the army for over $27.2 million (Hr 1 billion). If found guilty, Shapovalov faces up to 15 years in prison for "obstructing the activities of Armed Forces."
His arrest follows a procurement scandal in the Defense Ministry.
According to a report, the ministry sought to buy food at prices two to three times higher than in Kyiv grocery stores, possibly indicating a corruption scheme.
The contract's total worth is Hr 13.16 billion ($360 million) for military food procurement in 2023.
When the story first broke, Defense Minister Oleksiy Reznikov initially dismissed the investigation as "nothing but manipulations" and promised repercussions to those who leaked the contract to journalists, adding that the Security Service would look for the alleged whistleblower.
Following media reports of MP's secret house, anti-graft agency suspects corruption
The National Agency on Corruption Prevention (NAPC) found that lawmaker Pavlo Khalimon, ex-deputy head governing Servant of the People faction, and his girlfriend didn't have the funds to buy the lavish house in Kyiv, alleging illicit enrichment.
The anti-corruption agency started looking into Khalimon's assets following the January investigation by Ukrainska Pravda.
According to the investigation, Khalimon bought the house for Hr 10 million ($270,000) in June 2022. The house and land plot was sold five to six times cheaper than the asking prices for similar houses nearby, the journalists found.
According to the investigation, Khalimon tried to hide the purchase by registering the house as the property of Anastasiia Kotelenets, who the journalists allege is his girlfriend.
NAPC found that in 2020, Khalimon had also failed to declare real estate used by his family members, including an apartment in the capital and houses, one in the Kyiv suburb and another one in the city of Zhytomyr.
The NAPC asked the Special Anti-Corruption Prosecutor's Office and the National Anti-Corruption Bureau of Ukraine to open a probe into illicit enrichment. If found guilty, Khalimon faces up to 10 years in prison.
When the story first broke, Khalimon was quickly removed from the position of deputy head of the Servant of the People parliamentary faction.
Security Service conducts searches in construction companies alleging money laundering for pro-Russian politicians
Ukraine's Security Service (SBU) searched the premises of development firms allegedly controlled by Vadym Stolar, a lawmaker with the pro-Russian Opposition Platform. SBU suspects the companies of laundering money for the party's notorious leadership, including Viktor Medvedchuk and Taras Kozak.
More about the construction business associated with Stolar in an investigation by Bihus.Info summarized in our previous newsletter.
Stolar's construction empire allegedly helped legalize funds of Russian and Belarus citizens under Western sanctions, according to the SBU.
Both Medvedchuk and Kozak were kicked out of parliament in January after President Volodymyr Zelensky stripped them of Ukrainian citizenship.
Medvedchuk, charged with high treason in 2021, was Ukraine's high-profile pro-Kremlin politician and Russian President Vladimir Putin's right-hand man in Ukraine. He was handed over to Russia as part of a prisoner exchange in late September.
Medvedchuk and Kozak used to run a media empire airing pro-Kremlin narratives before they came under Ukrainian sanctions in early 2021 and their TV channels were shut.
Today's Investigative Stories from Ukraine were brought to you by Anna Myroniuk and Alexander Khrebet.