This audio is created with AI assistance
Editor's Note: Soldiers in the story are introduced by their first names for security reasons amid the ongoing war in Ukraine.  
DONETSK OBLAST – Soldiers from Ukraine's 24th Mechanized Brigade listened closely to the instructors as they practiced assault tactics before using them on the battlefield for the first time.
On a hilly terrain in early spring, 21 infantrymen – many of whom were recently mobilized – split into three groups, taking turns throwing grenades, shooting rifles, and learning first aid.
The two-week-long assault training on the eve of a looming counteroffensive was led by foreign instructor Magnus, a 53-year-old ex-Swedish lieutenant with 12 years of army experience.
"These soldiers have mostly been fighting in defensive positions in the trenches," said Magnus, who first arrived in Ukraine in July 2022 and has spent months training Ukrainian soldiers since then. "I have a focus on assault fighting, a completely bold game."
"My goal is to train soldiers because I know that this saves lives, that's my main objective," he told the Kyiv Independent. "An infantryman must be absolutely superior with his assault rifle and his hand grenade."  
Magnus said Ukrainian soldiers are always highly motivated to take as much from the training as possible because "they know where they are going." Despite the language barrier, the soldiers learn quickly with the help of a translator, and "always with a smile on their face," he added.
Soldiers from various brigades, as well as from Ukraine's new Offensive Guard force, have been preparing for an operation that could turn the tide of Russia's war on Ukraine.
Early signs of what could be a build-up step of the Ukrainian counteroffensive appeared on June 5. Kyiv said it was shifting to offensive actions "in some areas" in Donetsk Oblast, heightening hopes that a long-awaited operation is set to begin soon.    
Ukrainian soldiers from the 24th, a brigade originally from the western Lviv Oblast, seemed more than ready by their spirit to take on the mission. They followed Magnus as he explained the drills for the next simulation training.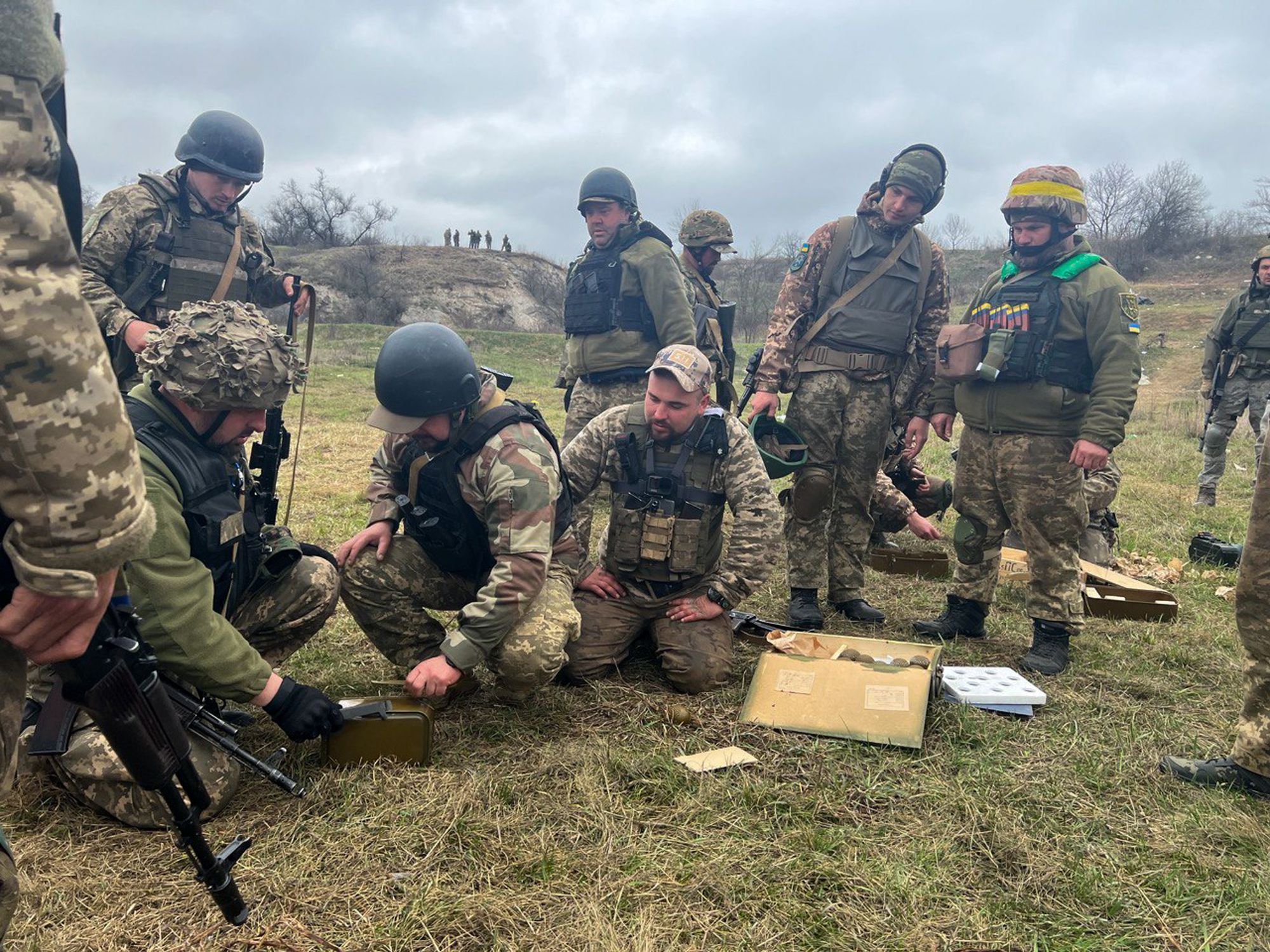 Andriy, a 32-year-old infantryman, said he knows the risks of switching to the offensive side to storm into Russian-held positions, but adrenaline keeps him going.
"You want more adrenaline after feeling an adrenaline rush," Andriy told the Kyiv Independent during a break from the training.
The soldier from the western Rivne Oblast voluntarily joined the army in December because he felt it "in his heart." He volunteered to join the assault troops in March, as he believes "there aren't enough soldiers on the front line." A few days later, he was sent to Donetsk Oblast for special training.
Though Andriy spent a month and a half training in the native Rivne Oblast before heading to the Donbas back in winter, he says he appreciates Magnus' instructions because they are "interesting and straight to the point."
He said that the support from his comrades has helped him to feel as "ready" for the assault as possible.
"The most important thing is not to be afraid, but there is a little bit of fear," Andriy said of his experience on the front line.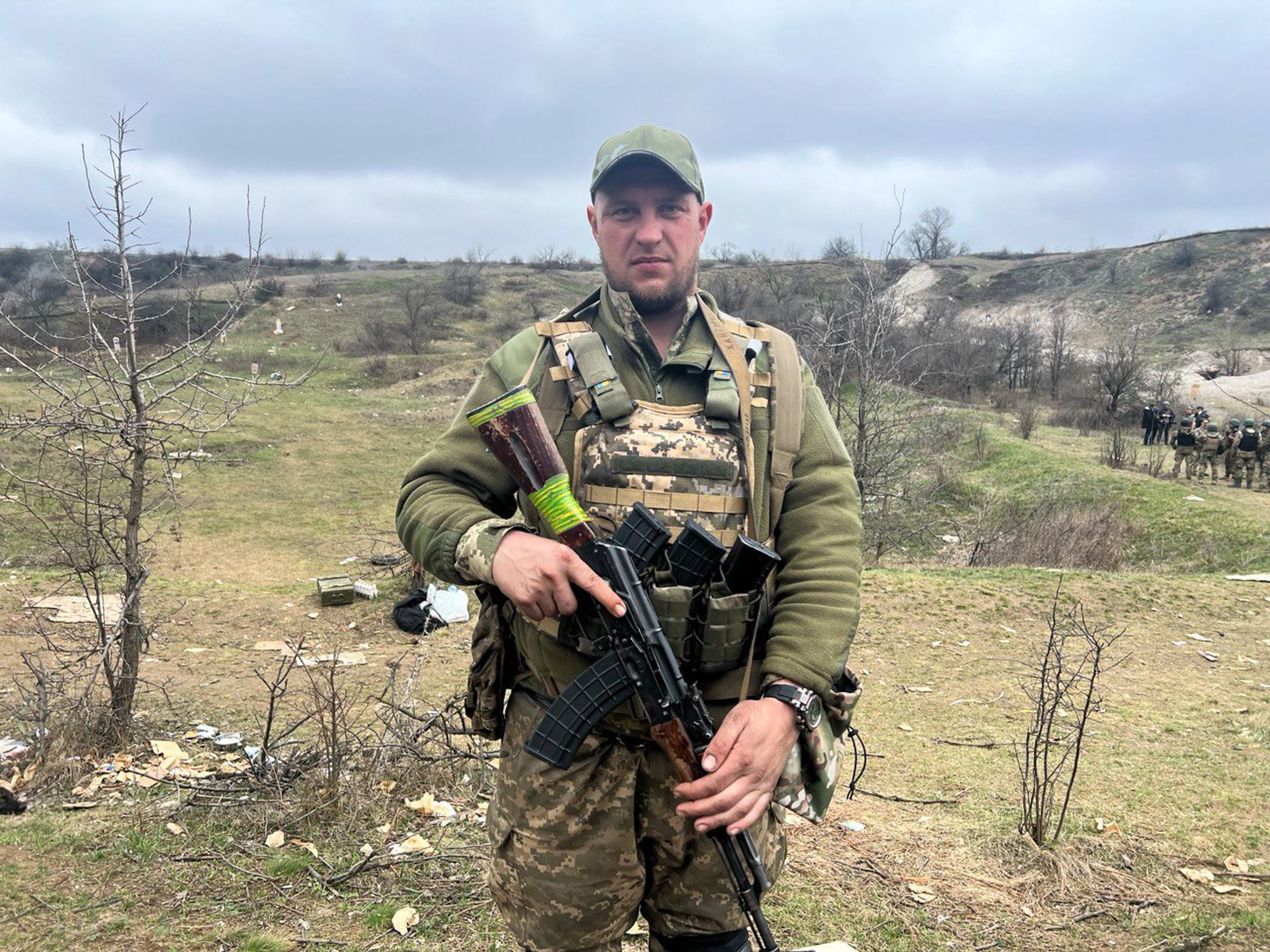 Building confidence
For Nazar, a soldier from western Ukraine who was mobilized to the army in December, these were his final weeks of training before heading into active combat for the first time.
Nazar was rather calm, saying he felt "ready" because he knew his turn would come "sooner or later." Since arriving in the Donbas, he went out to the position near Toretsk in February, but he said he didn't have enough experience then to do more than drive.
The newly trained soldier said shooting with an assault rifle was still "difficult," but he is learning new tactics and getting ready. He said his life – like for millions of other Ukrainians – has turned upside down, but his comrades have been an immense help even on the days he misses his big family back home the most.
Another soldier, Igor, a 51-year-old from the western Ternopil Oblast, appeared more tired. He has served in the army since the early summer of 2022, and he misses his two small granddaughters.
As he loaded bullets into his rifle, Igor told the Kyiv Independent that it had been difficult to overcome the trauma of watching his mentor – a platoon commander – severely injured by a Russian attack that hit very close to their base, near Bakhmut, in January. The commander is still hospitalized after losing an eye, and four others standing near him were killed.
Holding back his tears, Igor said they were unable to evacuate the bodies immediately due to the continued Russian shelling.
"It's difficult, but you need to get used to everything," Igor said.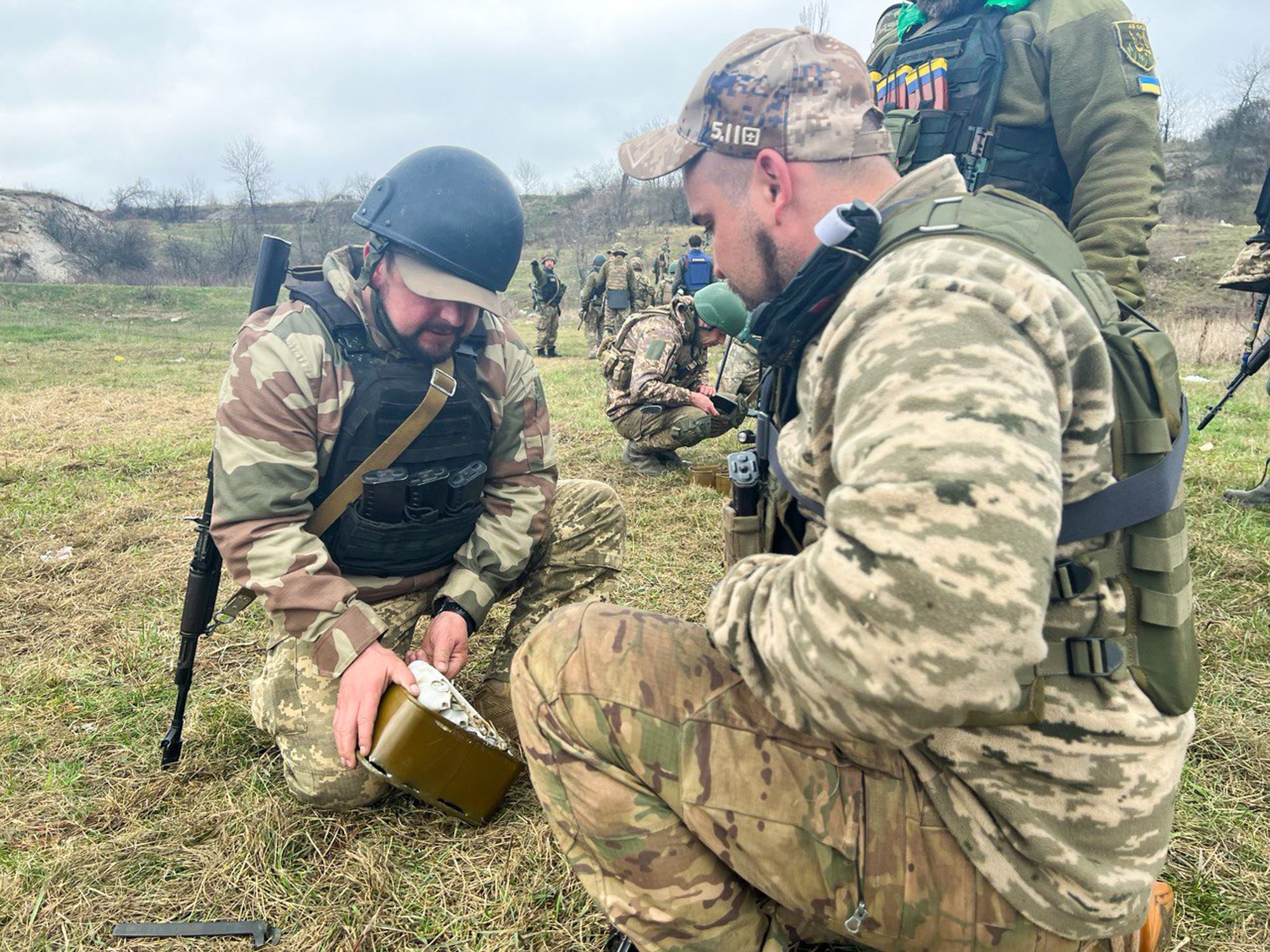 Training soldiers
As sounds of grenade explosions spread across the training field, Vitaly, a 40-year-old former platoon commander working as a driver due to his severe concussions, observed each soldier's movements.
In between his trips to the front line, Vitaly also helps train soldiers who have less experience than him. He sees the soldiers have each other's back, but he understands that their risks are high as assault troops are the first to storm into unknown territory, and the odds of survival is akin to the spin of a roulette.
Vitaly is too familiar with the brutality of the war after losing a 24-year-old brother near Bakhmut last summer. The soldier from the western Zakarpattia Oblast says he was always in close touch with his brother and remembers him saying, "everything is okay" during their last phone call.
"Everyone can be fine one day, and then tomorrow no longer," Vitaly said, mourning his brother Mykhailo with whom he worked on construction sites in Germany before rushing home in the wake of the full-scale war.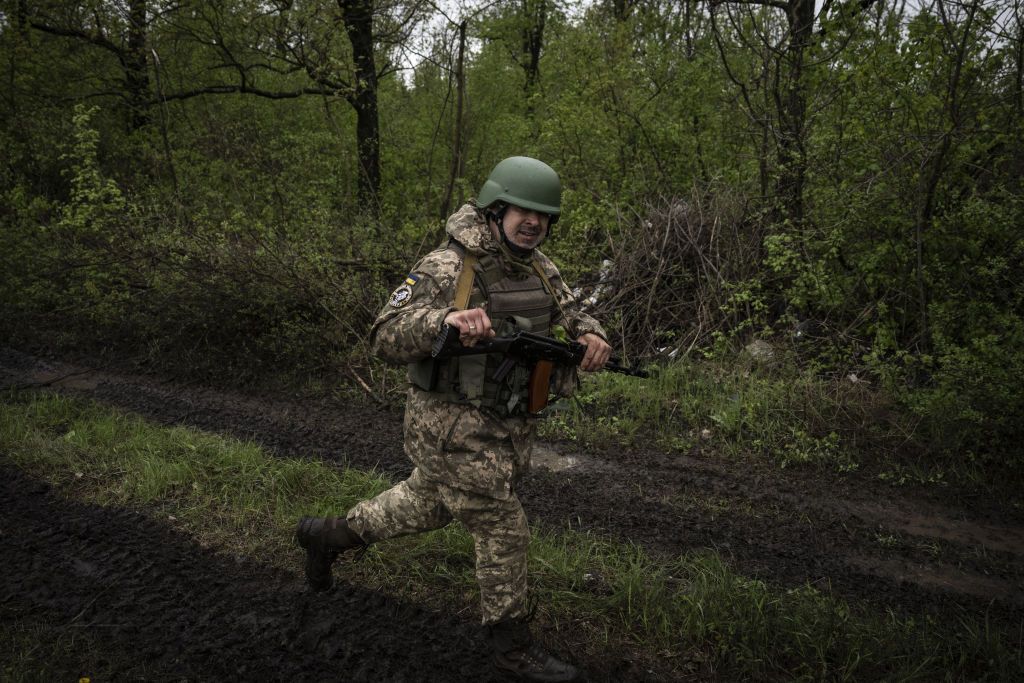 Now, Vitaly's job is to deliver boxes of ammunition and drive soldiers to the front line. But he said the most difficult part is when he is called to transport killed soldiers from their positions to a morgue.
"They are all like brothers to me," Vitaly said, looking at the soldiers training from uphill. "Everyone is learning here. If you want to survive, you need to learn."
Another Vitaly, an instructor from Ukraine's Armed Forces who helps Magnus with the training, said the most important thing that he hopes the soldiers would learn in these few weeks is coordination and how to avoid friendly fire.
"The result is visible after a week, they are better," the serviceman from Lviv Oblast said.
But no matter how much the soldiers practice, it would still be difficult repeating the movements from the training because Russian forces will be attacking the Ukrainian positions with artillery and heavy equipment, Vitaly said.
According to Vitaly, the soldiers still need to work on their speed and ensure the assault movements are almost "automatic" during the rest of the training.
"The guys are motivated, and they know what they want," Vitaly said, referring to the common goal of ending the war so today's children can live better lives.
The most rewarding moment would be "when they (the soldiers he trained) go home alive, and return to what they were doing" before the full-scale war, Vitaly said, just as he excused himself to return to the training.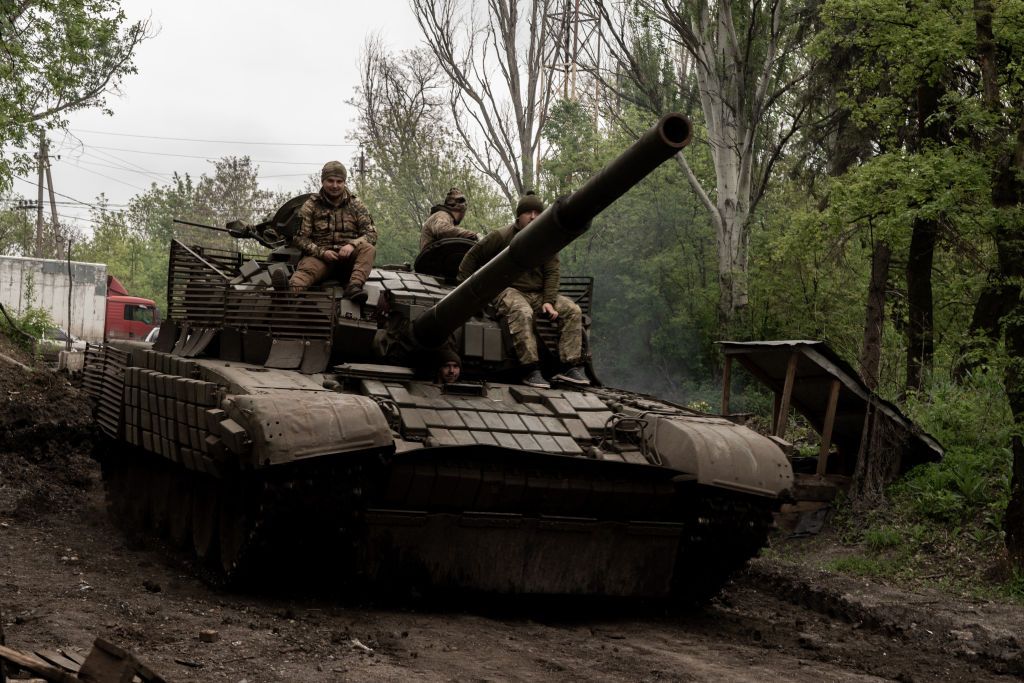 ______________________________________________________
Note from the author:
Hi, this is Asami Terajima, the author of this article.
Thank you for reading my story till the end. I have spent a considerable amount of time in the Donbas this year, hoping to tell stories about the heroic bravery of Ukrainian soldiers in extremely difficult circumstances. They are encouraged when I tell them that our readers in other countries – such as the U.S., U.K., and Canada – are following the war closely because they are with Ukraine. To help the Kyiv Independent continue reporting from the Donbas, please consider supporting us by becoming our member.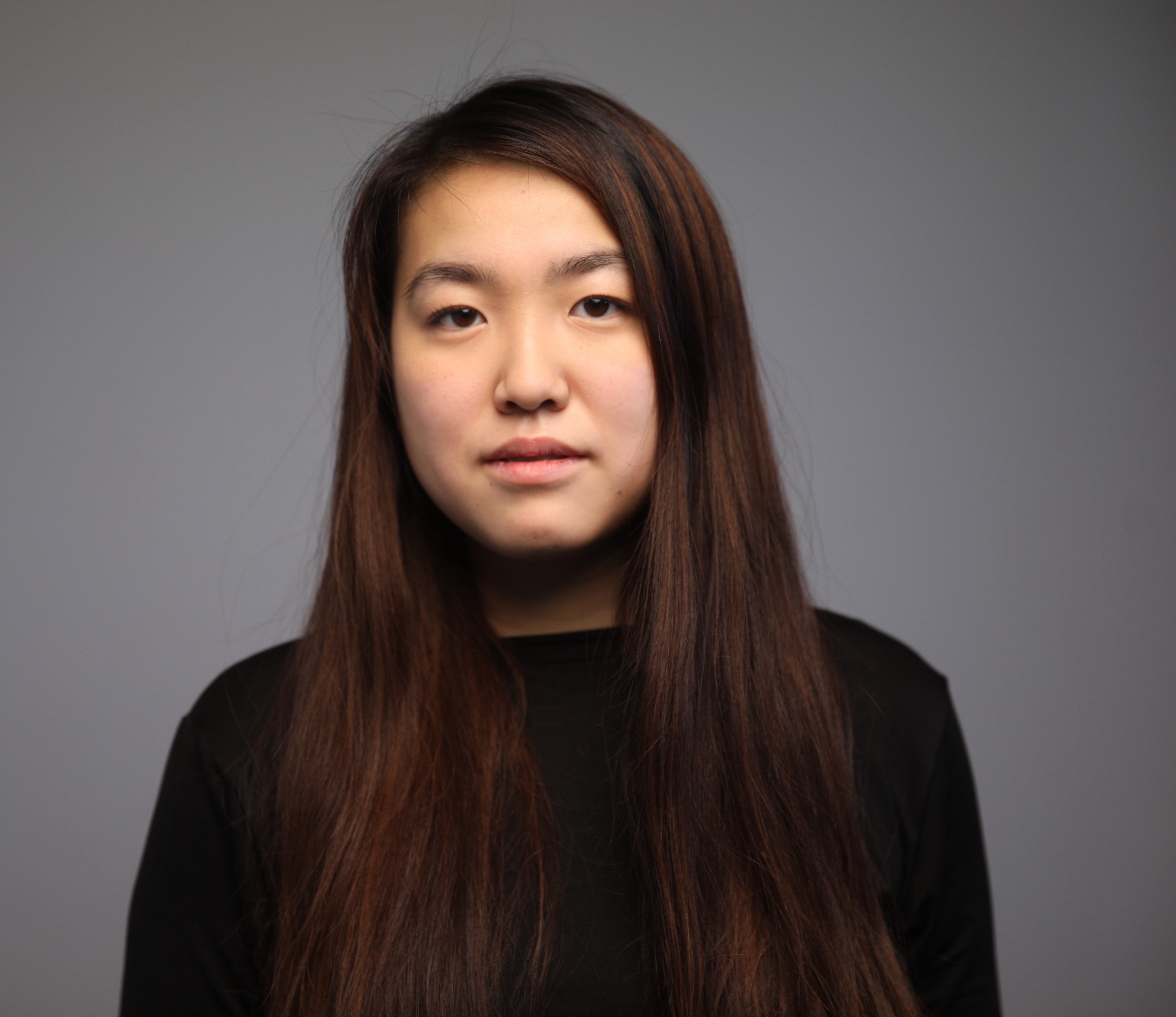 Asami Terajima
Reporter
Asami Terajima is a reporter at the Kyiv Independent. She previously worked as a business reporter for the Kyiv Post focusing on international trade, infrastructure, investment and energy. Originally from Japan, Terajima moved to Ukraine during childhood and completed her bachelor's degree in Business Administration at William Woods University in Missouri, U.S.A. She is the winner of the 2023 George Weidenfeld Prize, awarded for "excellent investigative and courageous research activities" as part of Germany's prestigious Axel Springer Prize.