This audio is created with AI assistance
DONETSK OBLAST — Moscow has fought bitterly to avoid giving up control over the lands it conquered over the centuries — and made many enemies in the process.
Now, as Russia is leading yet another war of conquest, in Ukraine, many of those enemies have joined Ukrainians on the battlefield to fight their common foe, Russia.
Many came from the region where Russia had fought its most recent wars before Ukraine — the Caucasus. Hence the presence of units like the Georgian Legion, as well as the Chechen battalion named after 18th century Chechen warlord and folk hero, Sheikh Mansur.
Aslan Ocherkhadzhiev, 43, a Chechen veteran who lives in Norway, says he came to Ukraine to get a shot at the old enemy that crushed his people in the Chechen wars, and denied them an independent state.
"We lost our independence as a result of this battle," he said. "And this dream of independence lived on in me, as it lived on in many Chechen people who ended up in Europe and other countries."
Ocherkhadzhiev welcomes the Kyiv Independent at a mosque near one of the front-line towns in Donetsk Oblast. Some of his fellows from the Sheikh Mansur battalion are around as well. Their vehicles, including armored ones, are parked outside. They appear well equipped, with high-quality, well-maintained weapons.
Ocherkhadzhiev is tall and broad-framed, sporting a long beard with traces of graying. He's missing the middle finger on his right hand, something that doesn't seem to affect the strong grip of his handshake.
The battalion, which may be closer in strength to a regiment, gets its name from a religious and military leader who sought to prevent Russian Empress Catherine the Great's imperial expansion into the Caucasus during the late 1700s. Mansur is remembered for uniting the Caucasus against Russians' growing presence.
When Russia sent troops after him, he declared holy war against the empire. After fighting the Russians for years, he was captured and taken to Russia where he died in prison.
Russia subsequently fought the peoples of the Caucasus over more than 60 years. It eventually annexed the regions that would become Chechnya and Ingushetia, a territory over which the Soviet Union would retain control. In 1991, a push towards more independence in part of this region began under the helm of Dzhokhar Dudayev. Another Chechen battalion fighting in Ukraine is named after him.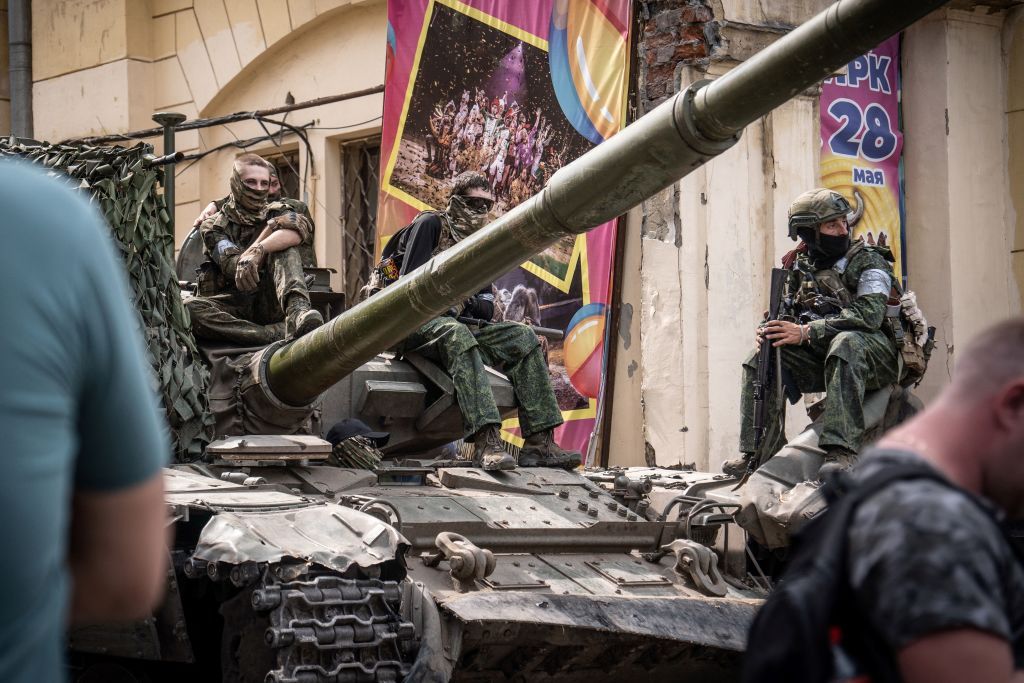 Ocherkhadzhiev has seen some prison time as well, along with a litany of tribulations in Chechnya. He speaks in a clear but low, almost melancholic Russian as he recounts his past. He first joined an Islamic battalion as a young man after the first Chechen war began in 1994.

He was more active in the second war that hit the lawless area in 1999, the year Vladimir Putin became president of Russia. An incursion by Chechen fighters into Dagestan and a series of apartment bombings in Russia were used as Moscow's casus belli.
The Russian government blamed Chechens for the bombings, but some blamed Russia's FSB, the secret service, which used to be headed by Putin. His strongman reaction to the bombings as prime minister won him the presidency months later.
"Unfortunately I had to experience a lot," Ocherkhadzhiev said of his years in Chechnya. "A lot of death, a lot of mutilated people. I was wounded too."
He says he lost his finger in the year 2000, when he was trying to take down Russian armor in a gorge known locally as the Maw of the Wolf.
"I saw prisons," he continues. "When I was in Grozny, I was very ill and they arrested me."
He says he was tortured and forced to confess to terrorism, which he denies engaging in. After spending three years in prison, he was released, then arrested and re-imprisoned shortly, for a total of over five years behind bars.
Ocherkhadzhiev escaped Chechnya a few years after getting out of prison. Since then, Russia has put out new accusations against him, alleging that he was involved in the murders of police officers and military personnel, which he denies.
Eventually, he made his way to Norway, where his family, including his five sons, now lives. Though he's built a livelihood in Norway, he came to Ukraine at the invitation of the Sheikh Mansur Battalion, he says. While his arrival was much more recent, the battalion's been around since 2014, fighting Russian invasion of Ukraine since its beginning.
The Sheikh Mansur Battalion consists mostly of veterans from both Chechen wars against Russia, mainly ethnic Chechens, but there are other nationalities. Most are Muslim but Ocherkhadzhiev said there are people of other faiths as well.
"We don't divide people by religion and nationality, that's one of our principles," he said. The unit's many muslims follow the ordinary traditions like prayer, but there is nothing radical involved, according to Ocherkhadzhiev.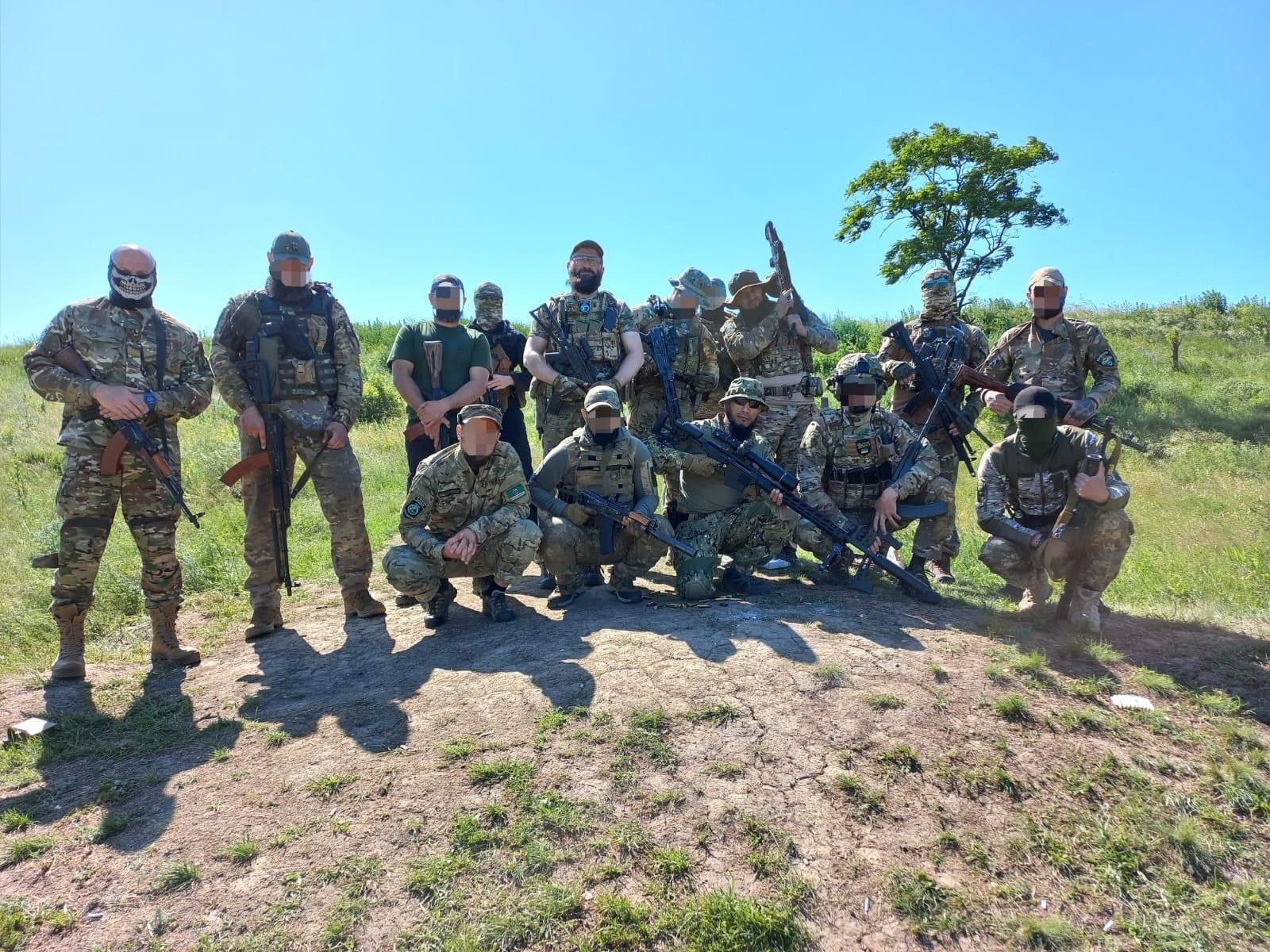 Aslan said the battalion doesn't get any financial support from the Ukrainian government, relying instead on volunteers and donors, who include Ukrainians and Chechens. While the unit coordinates with Ukraine's regular military, it does not take orders from it.
One of the reasons the unit works well is because the fighters know each other and have come to work well together like a well-oiled machine. It contains several companies and special tactical groups for special operations. Besides training Ukrainians, these formations participated in some of the hottest spots in the war, such as the outskirts of Bakhmut.
The Ukrainian military had envisioned Bakhmut as a choke to inflict severe attrition on Russian forces, primarily composed of Wagner mercenaries backed by airborne troops along that axis. Ocherkhadzhiev described how the shrinking city territory controlled by Ukrainians allowed Russian Wagner Group to bring more and more overwhelming artillery to bear.
"Even though (Wagner leader Yevgeny) Prigozhin acted out, yelling give me ammo, give me ammo, there was no actual ammo hunger," says Ocherkhadzhiev. "The problem was, they used six times more ammo than is tactically and academically called for. They just buried the Ukrainians in shells. And in these conditions, the Ukrainians still defended."

"Now, everything's changed," he says. "Now, the territory has opened up again and they have to defend the whole front, they have to defend the flanks, they have to defend Luhansk Oblast — to control this huge line will be a very difficult challenge for Russia."  

He echoes the words of other soldiers that artillery fire between Russians and Ukrainians is approaching parity, especially given that Ukrainians are more likely to strike at individual targets while Russians tend to try to saturate an entire grid square.
But the one enemy the Sheikh Mansur Battalion hasn't faced in battle is other Chechens, the ones working for Russia and loyal to Putin's pocket warlord Ramzan Kadyrov. Throughout the full-scale invasion, they became infamous for being more active on social media than the battlefield.
"We haven't run into them," Ocherkhadzhiev says. "We were on the zero line, the first and second lines, while they were somewhere on the third or fifth, far away," he said. "Instawarriors. Sometimes they got lost and blundered into capture or died under artillery."
Still, the brutality towards civilians and mass looting allegedly committed by Kadyrov's fighters earned them a foul reputation.

It doesn't feel good for the pro-Ukrainian fighters to know that when many people in the world open the news and read the word "Chechen," they probably picture Kadyrovites or the Akhmat force, which are both fighting or pretending to fight for Russia.
"Well, yes," Ocherkhadzhiev says. "A huge government propaganda machine of the Russian empire works to create this image of these radical Chechen evildoers who attacked Ukraine, create the image that they're some kind of independent allies for Russia."

"We all understand that they're military service members of Russia. Russia's police. These are not independent people."
"How do we see it? Yeah, it's unpleasant for us, but from our side, we stand against it," he continues. "We are volunteers who get no paycheck, no material motivation. We came here from quiet, measured lives, to risk our lives and I think that this must show the world that when Chechens are truly independent, they pick this side."

Note from the author:
Hi, this is Igor Kossov, I hope you enjoyed reading my article.
I consider it a privilege to keep you informed about one of this century's greatest tragedies, Russia's ongoing invasion of Ukraine. With the help of my colleagues, I will continue to bring you in-depth insights into Ukraine's war effort, its international impacts, and the economic, social, and human cost of this war. But I cannot do it without your help. To support independent Ukrainian journalists, please consider becoming our patron. Thank you very much.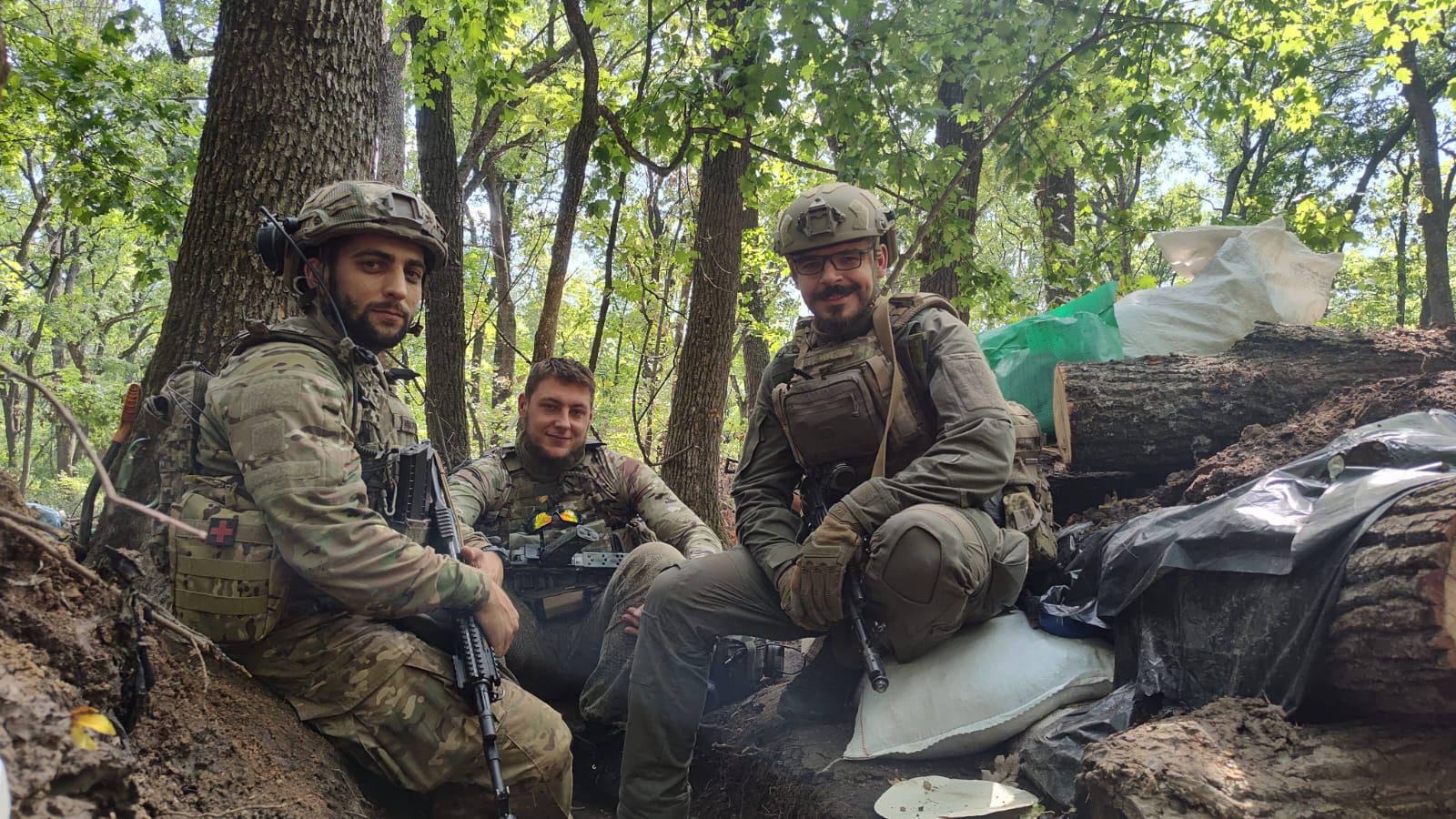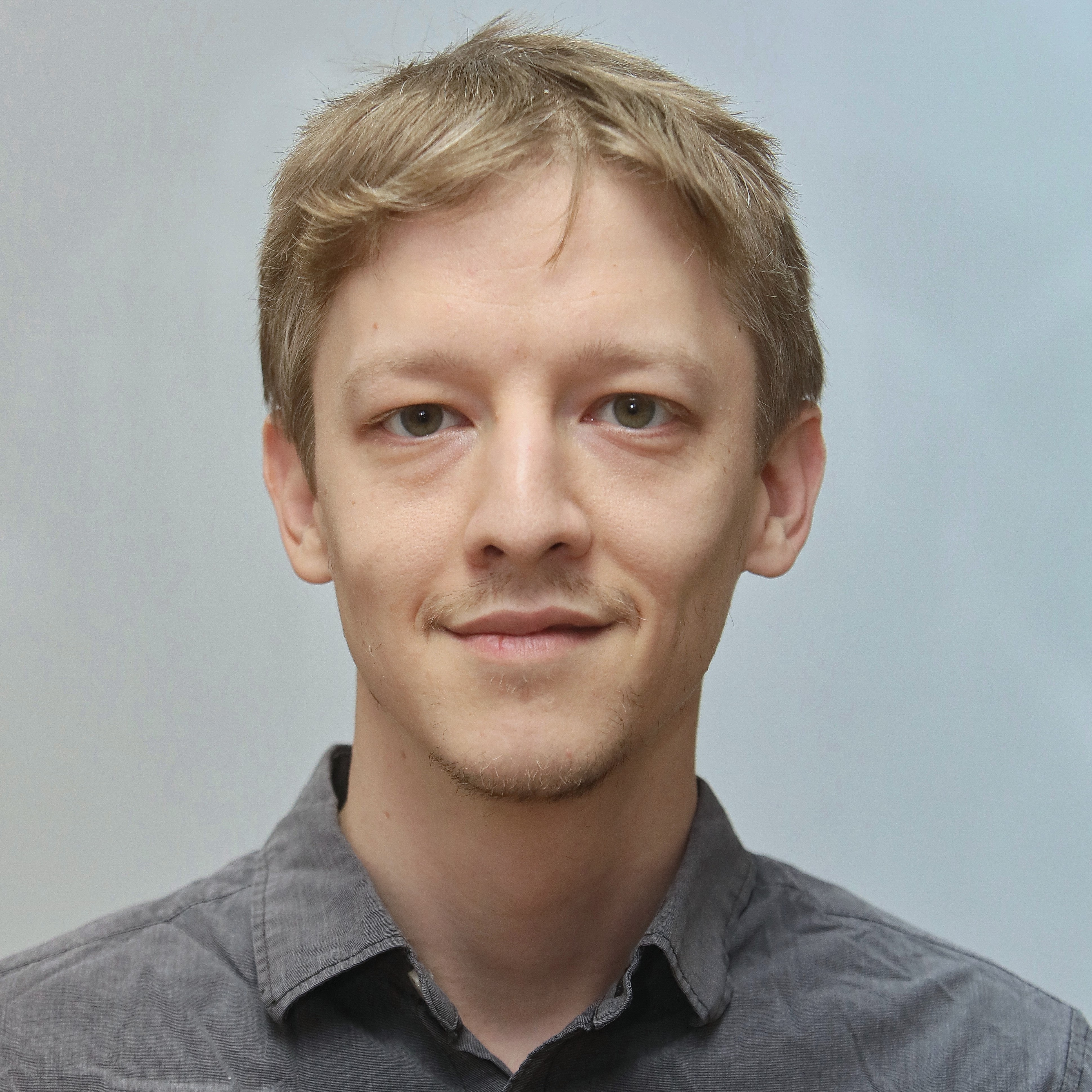 Igor Kossov
Reporter
Igor is a reporter at the Kyiv Independent. He has previously covered conflict in the Middle East, investigated corruption in Ukraine and man-made environmental damage in Southeast Asia. He has a Master's in Journalism from the CUNY Graduate School of Journalism and was published in the Kyiv Post, USA Today, The Atlantic, Daily Beast and Foreign Policy.