This audio is created with AI assistance
Two explosions rocked Machulishchy airfield near Minsk on Feb. 26, destroying a Russian A-50 warning and control aircraft.
Belarus ups border security after explosions.
Belarusian dictator Alexander Lukashenko pays a state visit to Beijing, claiming that "not a single issue in the world can be resolved without China."
Prosecutors order extensive prison sentences for several Belarusian opposition members, including exiled opposition leader Sviatlana Tsikhanouskaya.
Lukashenko responds to a leaked document alleging that the Kremlin plans to take over Belarus by 2030.
Ukraine announces its withdrawal from several agreements on border checkpoints with Russia and Belarus amid Minsk's ongoing role as a co-belligerent in Moscow's full-scale war.
The number of Belarusians seeking refuge in the European Union hits a record high in 2022.
Lithuania seizes over 3,000 tonnes of sanctioned Belarusian fertilizers worth over $2.1 million.
Subscribe to the Newsletter
Belarus Weekly
Russian aircraft heavily damaged by explosions in Belarus
A Russian A-50 early warning and control aircraft was heavily damaged as a result of the Feb. 26 explosion at the Machulishchy airfield near Minsk, Aliaksandr Azarov, leader of BYPOL, reported on Feb. 26.
BYPOL, an initiative of exiled Belarusian law enforcement, claimed to have used drones to hit the Machulishchy airfield.
According to Azarau, the operation had been planned for several months.
Belarusian Hajun, a group that monitors the movement of Russian weapons, reported that residents heard several explosions in the area at around 8:30-9 a.m. on Feb. 26.
The radar system of the Soviet-built A-50 can simultaneously track up to 150 targets at a distance of up to 230 kilometers or large targets such as ships at a distance of up to 400 kilometers.
After the explosions, Belarus border guards have increased their checks of people leaving the country.
The U.K. Defense Ministry said on Feb. 28 that the loss of the aircraft will "likely leave six operational A-50s in service, further constraining Russian air operations."
Neither Belarusian authorities nor the Kremlin have made official statements regarding the incident. However, Lukashenko did convene a meeting of the country's security officials for an undisclosed reason.
According to human rights watchdog Viasna, Belarusian authorities temporarily detained six Belarusians in the aftermath of the incident but have since released them.
Meanwhile, Ukraine's Air Force spokesperson Yuriy Ihnat said the attack is "good news" for Ukraine, as the aircraft conducts frequent reconnaissance operations over Ukrainian territory.
Ihnat added that he believes Belarusian anti-regime activists conducted the attack.
Since the launch of Russia's full-scale invasion of Ukraine, anti-regime groups have been active in Belarus, sabotaging military, cyber, and transport infrastructure.
Lukashenko visits China as tensions mount
Lukashenko met with Chinese leader Xi Jinping on March 1 as part of his three-day trip to Beijing.
"Today, not a single issue in the world can be resolved without China," Lukashenko told China's state news agency Xinhua before his visit.
Lukashenko and Xi have issued a joint statement urging for a ceasefire in Ukraine and negotiations about a political settlement of the war.
"Relevant countries should stop politicizing and using the world economy as their tool, and take measures that truly advance a ceasefire and stop the war and resolve the crisis peacefully," Xi said, referring to the U.S. and allies, as quoted by Chinese state broadcaster CCTV.
The visit comes amid concerns over China's potential provision of lethal aid to Russia and a 12-point "peace proposal" detailing Beijing's stance on achieving a "political settlement" to resolve Russia's full-scale war against Ukraine.
In an interview with ABC News, U.S. President Joe Biden dismissed China's proposal, noting that it would likely only work in Russia's favor.
In September, Minsk and Beijing agreed to upgrade their "all-weather comprehensive strategic partnership" amid the Shanghai Cooperation Organization (SCO) summit, which Russian President Vladimir Putin also attended.
Lukashenko on alleged Russian plans to take over Belarus by 2030: 'There might have been such a document'
Lukashenko has reacted to a document featured in a joint investigation by the Kyiv Independent and a group of U.S. and European media outlets, which allegedly details Russia's plans to subjugate Belarus and dismantle its independence.
Speaking to state-controlled media at a sporting event on Feb. 25, Lukashenko said the document "might have been" written three years ago, as Moscow and Minsk discussed the formation of integration roadmaps at the time.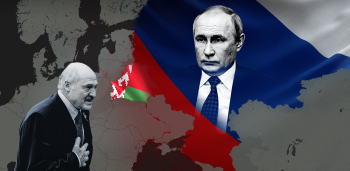 According to the document, by 2030, Belarus will be made to have a single currency and tax system with Russia, and its media space would be under Russian control.
The Belarusian army would have to comply with Russian regulations, while all key military production would be transferred from Belarus to Russia.
Representatives of one Western intelligence service, who spoke anonymously, alleged that the two-part document was created in 2021 by the Kremlin's Cross-Border Cooperation Directorate.
"There were different points of view," Lukashenko said, adding that he sees Belarus as an "independent and sovereign state."
He claimed that the cross-border investigation aims to divide Belarus and Russia.
Belarusian prosecutors seek jail time for opposition leaders
Belarusian prosecutors have ordered extensive jail time for several opposition leaders, including exiled opposition leader Sviatlana Tsikhanouskaya.
The in absentia trial against Tsikhanouskaya and her colleagues Pavel Latushka, Volha Kavalkova, Maria Maroz, and Siarhei Dyleuski began on Jan. 17. None of the defendants are in Belarus.
On Feb. 27, prosecutors demanded 19-year sentences and fines of $15,000 and $10,000 for Tsikhanouskaya and Latushka. Kavalkova, Maroz, and Dyleuski are facing 12-year prison sentences.
"I can't say that I am surprised to learn that the prosecutor asked for 19 years in the Belarus regime's fake trial against me," Tsikhanouskaya said. "It has nothing to do with justice, it is just personal revenge against me and others opposing the regime. It will only make us fight even harder."
In October, Belarusian authorities launched an in absentia investigation against Tsikhanouskaya and her allies, alleging that she committed several crimes, including crimes against national security, plotting a coup d'état, and inciting civil unrest.
Lukashenko signed legislation permitting trials in absentia in July 2022.
On Feb. 27, Belarusian prosecutors also gave Tsikhanouskaya's husband, jailed Belarusian activist Siarhei Tsikhanouski an additional year and a half in prison for allegedly "systematically disobeying the legal requirements" of his sentence.
Tsikhanouski is the first of Lukashenko's political opponents to have announced his intention to run for the presidency in 2020. He was detained in May 2020 and sentenced to 18 years in prison.
Ukraine terminates border agreements with Belarus
Ukraine's government announced the country's withdrawal from several agreements on border checkpoints with Russia and Belarus.
The agreement between Kyiv and Minsk regarding the joint control of checkpoints at the Ukraine-Belarus border, signed in 1995, has ended. The deal with Russia on the joint development of checkpoints at the Ukraine-Russia border, signed in 2011, has also been terminated.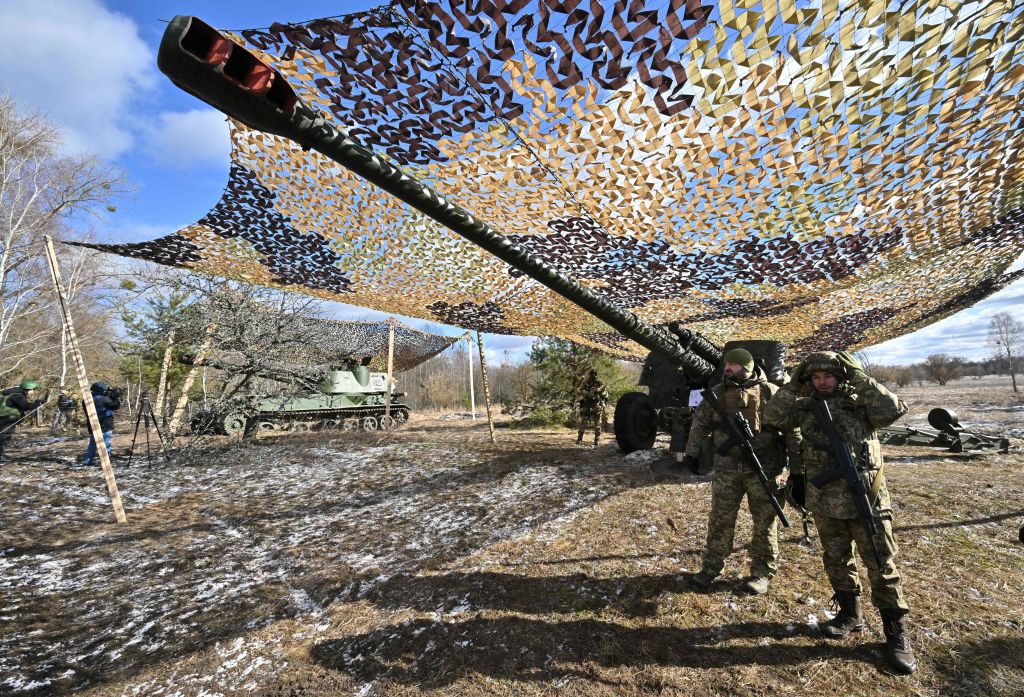 Ukrainian soldiers take part in military drills simulating a possible attack in the Chornobyl zone a few kilometers from the border with Belarus, on Feb. 20, 2023. (SERGEI SUPINSKY/AFP via Getty Images)
According to Ukrainian government representative in parliament, Taras Melnychuk, the decision was announced during a meeting on Feb. 28.
Due to Belarus' role in Russia's full-scale war, Ukraine has sought to minimize its ties with Minsk and bolster its border security.
On Feb. 25, Ukraine's parliament decided to bolster its defenses along its borders with Russia and Belarus. Ukraine will place physical barriers and mines along a two-kilometer strip of land at the borders.
In November, Ukraine's parliament voted to terminate an agreement between Kyiv and Minsk to prevent tax evasion and double taxation of citizens. Ukraine's Finance Ministry said the move aimed to further "cut off economic and financial ties" with Belarus, given its role as a co-belligerent in Russia's full-scale war.
Number of Belarusians seeking refuge in Europe hits record high
The number of Belarusians seeking refuge in the European Union hit a record high in 2022.
According to the union's asylum agency, Belarusians reportedly filed 5,051 asylum applications in the EU in the past year. In 2021 and 2020, 3,817 and 1,193 such applications were filed, respectively.
Recognition rates for Belarusians in 2022 stood at 88%, according to the European Union Agency for Asylum. Among citizenships receiving at least 1,000 decisions this past year, Belarusians were second only to Syrians (94%) and just above Ukrainians (86%).
The Council of Europe's Parliamentary Assembly estimates that some 200,000 to 500,000 Belarusians have been forced to flee the country after the fraudulent 2020 Belarusian election and the ensuing crackdown on civil society by Lukashenko's regime.
Lithuania seizes over 3,000 tonnes worth of sanctioned Belarusian fertilizer
Lithuania seized 15 railroad cars carrying over 3,000 metric tons of sanctioned Belarusian fertilizer product in the port city of Klaipeda on Feb. 23.
The seized carbamide, which was transported to Lithuania by rail, is worth over 2 million euros ($2.1 million). Lithuanian authorities say a "pre-trial investigation into possible circumvention of sanctions and fertilizer smuggling" is underway.
The only Belarusian producer of carbamide is Grodno Azot, under EU sanctions.
It is suspected that the company has managed to transport its products to Lithuania using third parties to mask the origin of the export. Belarusian chemical industry company Belaruskali, also sanctioned by the EU, owns shares of Grodno Azot.
When asked whether Lithuania should be reprimanded for bypassing sanctions by Belarusian fertilizer companies, Lithuanian Foreign Minister Gabrielius Landsbergis said no, stressing that "institutions simply need to strengthen their capabilities."
He warned that such cases might reoccur as Lithuania shares borders with Russia and Belarus, which face extensive sanctions.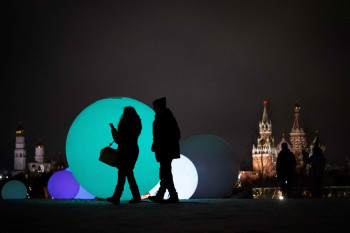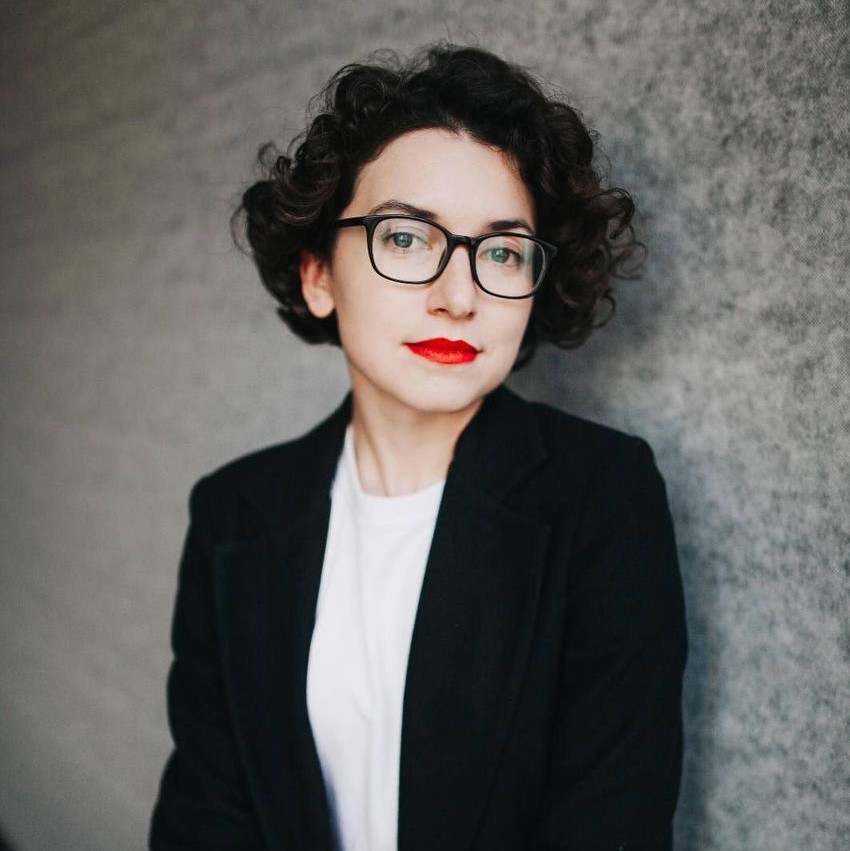 Maria Yeryoma
contributing author
Maria Yeryoma is a Belarusian media manager and a contributing author at the Kyiv Independent. She recently led the commercial "special projects" at TUT.BY — the biggest independent online media in the country. In May 2021, TUT.BY was raided by Belarus authorities leaving 15 employees in custody and forcing the team to leave the country to continue their work. Maria moved to Kyiv and helped establishing a new media outlet — Zerkalo.