This audio is created with AI assistance
Belarus entered 2022 gobbled in its ongoing political crisis and finished it as an accomplice in an unprovoked and brutal Russian aggression toward Ukraine.
Belarus dictator Alexander Lukashenko conceded his country's sovereignty to Russia, becoming entirely reliant on President Vladimir Putin's will.
Belarus reached technical default on its foreign debt and attempted to curb inflation by banning the rise of consumer prices.
Subscribe to the Newsletter
Belarus Weekly
Lukashenko's regime relied on brute force and punitive legislation to suppress dissatisfaction with economic downturns and war.
Civil society was eradicated, and the number of persecuted opponents of the regime, labeled as "extremists" and "terrorists," skyrocketed. Human rights defenders have been regularly reporting torture and abuse in detention centers across the country.
In 2022, Belarus became a very grim place. The Kyiv Independent provides its readers with a recap of the main stories from Russia's top ally.
Belarus helps Russia launch full-scale war, allows territory to be used for mass murder of Ukrainians
Belarus took an active part in Russia's full-scale invasion of Ukraine and the subsequent Russian war crimes committed in Ukraine, including Bucha, Kyiv Oblast.
Before the start of the full-scale invasion, Belarus allowed the Russian Armed Forces to perform weeks-long military drills on its territory, which were a facade for the planned invasion.
On Feb. 24, Russian troops crossed into Ukraine from Belarus, soon occupying the northern parts of Kyiv and Chernihiv oblasts.
Belarus railroads were used to transport Russian troops into Ukraine, while Belarusian hospitals were used to treat wounded Russian soldiers.
Russian forces have entered Kyiv's satellite cities of Bucha, Irpin, and Hostomel from Belarus, occupying the area until late March.
According to NATO estimates, the attack force that entered Ukraine from Belarus had up to 30,000 Russian troops.
After a Russian military defeat in Ukraine's north, Belarus under Lukashenko continued to take an active part in Russia's war against Ukraine by providing its territory as a launchpad for Russian missiles against Ukraine's civilian infrastructure, causing death and destruction in Ukraine.
According to the Community of Railroad Workers of Belarus, a Belarusian opposition initiative of railway workers, Belarus has sent 65,000 metric tons of ammunition to Russia.
According to the initiative, Belarus exported the largest amount of ammunition to Russia in April – over 22,000 metric tons. The export of ammunition to Russia peaked again in September at over 14,000 metric tons.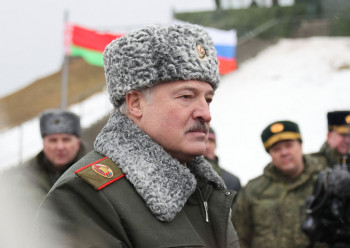 In October, Minsk also transferred 211 units of military equipment from Belarus to Russia, including tanks, military vehicles, and infantry fighting vehicles.
Lukashenko reiterated his country's status as a co-belligerent in Russia's war against Ukraine in an interview with Agence France-Presse (AFP) on July 21 in Minsk.
The Belarusian autocrat confirmed that his country is supporting Russia, providing its territory for missile strikes on Ukraine, and providing medical and intelligence assistance to Russian troops.
"Yes, we are taking part in this operation," Lukashenko said, once again blaming the West for Russia's war.
Lukashenko met nine times with Russian President Vladimir Putin in 2022, losing any sort of political independence from the Kremlin.
Belarus began the process of creating a joint regional military command with Moscow and ceded control of its air bases to Russia.
Up to 10,000 Russian soldiers are currently stationed in Belarus.
In August, Ukraine's National Security and Defense Council Secretary Oleksiy Danilov said that Kyiv expected every possible military scenario except that Belarus would allow Russia to use its territory to attack Ukraine.
"It was a stab in the back," said Danilov.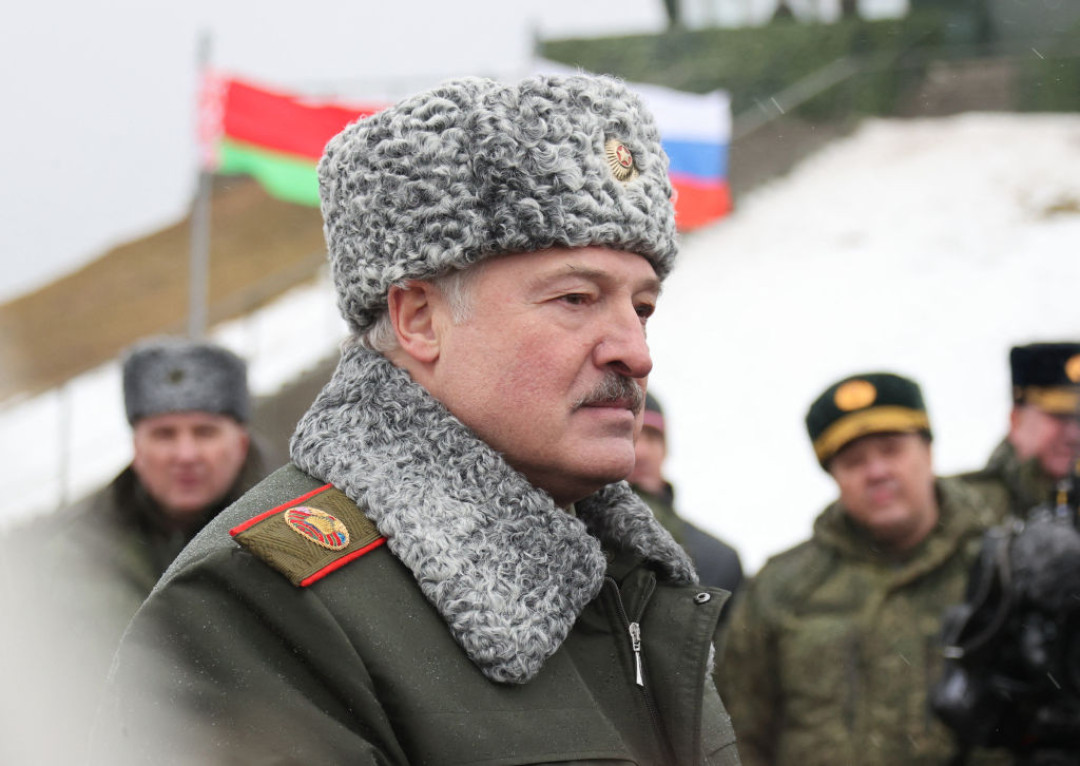 Lukashenko's regime persecutes political activists, civil society
The persecution of political activists and civil society members in Belarus continued into 2022, as Lukashenko's regime undertook efforts to stamp out any semblance of opposition.
According to the UNHRC, Belarus has been plunged into an "atmosphere of repression and fear."
In August, Belarus' Investigative Committee claimed that it launched over 11,000 criminal cases for so-called "extremist activities," a clause usually meaning politically motivated persecutions of opposition members and those who took to the streets to protest the fraudulent 2020 Belarusian presidential election results.
Belarus also decided to withdraw from the 1966 International Covenant on Civil and Political Rights, which permits citizens of a given country to submit a claim to the UN Human Rights Committee when their rights are violated.
The death penalty was introduced as punishment for acts of "attempted terrorism" in May.
The list of so-called "terrorists" and "terrorist organizations" in Belarus skyrocketed as Belarusian authorities worked to quell any form of opposition to Lukashenko's regime.
For example, BYPOL, the organization of exiled Belarusian law enforcement, was labeled a "terrorist organization" by Belarus' Supreme Court.
In November, the European Parliament filed a motion on the "continuing repression of the democratic opposition and civil society in Belarus" by Lukashenko's regime. Human rights watchdog Viasna published three reports in June on politically-motivated trials and detention in Belarus, noting torture and inhumane treatment as an "integral feature."
Lukashenko also initiated a bill permitting trials in absentia for a series of violations, including charges of treason, terrorism, genocide, mercenarism, and participation in "extremist organizations." If found guilty, individuals may have their assets seized or be deprived of their Belarusian citizenship.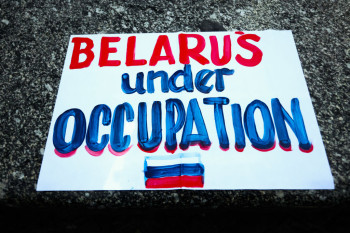 Belarus' economy takes a hit
In July, international rating agencies Fitch and Moody's downgraded Belarus' status to "default," citing Minsk's failure to make its Eurobond payments amid its decision to make repayments in Belarusian rubles.
Between January and September, the number of people employed in the Belarusian economy hit a historic low, with under 4.2 million people employed in a country of around 9.5 million. An aging population and the migration of qualified workers from Belarus due to ongoing repressions propel the shift.
In an attempt to curb mounting inflation amid a deteriorating economy and international sanctions, Lukashenko banned consumer price increases in Belarus in October. Amid resistance from local shopkeepers, the regime conducted raids on grocery stores and issued criminal sentences for raising prices.
In October, the World Bank announced that it had put all loans to Belarus into "nonperforming status" effective immediately due to overdue payments.
Due to a decrease in the volume of trade between Belarus and the EU, Belarus' Central Bank decided to remove the euro from its currency basket used to determine the official exchange rate for the Belarusian ruble.
Lukashenko's regime targets Belarusian culture
As Lukashenko's regime increasingly viewed Belarusian culture as a marker of opposition, authorities cracked down on Belarusian literature, language, and media.
In June, executives at Belarus' oldest independent news agency BelaPAN were brought to trial for having allegedly created an "extremist organization."
The Union of Belarusian Writers published a report in July detailing the increasing marginalization of the Belarusian language, and the growing use of Russian by the government and in the educational sphere.
Speaking Belarusian after 2020 is associated with being opposed to Lukashenko's regime and can lead to fines or imprisonment.
Using the country's original official language has become a risk many are afraid to take.
The government banned the sale of George Orwell's 1984 and marked Sviatlana Aleksievich, Belarus' only Nobel Prize in Literature laureate, as "extremist content."
Belarusian-engineered migrant crisis persists
The migrant crisis engineered by Minsk, which reached its peak in November 2021 when Belarus forced thousands of asylum-seekers to cross the border into the EU, continued into 2022.
In June, Human Rights Watch published a report detailing the beating, extortion, and sexual abuse faced by migrants in detention centers at the Belarusian border.
Dozens of crossing attempts by migrants are registered daily, which prompted Poland, Latvia, and Lithuania to build walls along their borders with Belarus.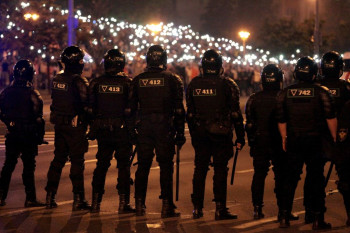 Belarusians show solidarity for Ukraine
Despite Lukashenko's Belarus taking an active part in Russia's full-scale war against Ukraine, many Belarusians showed solidarity with Ukraine.
Belarusian nationals joined volunteer formations within the ranks of Ukraine's military, despite ongoing persecution by Belarusian authorities. The Kastus Kalinouski regiment fighting as part of Ukraine's Armed Forces was labeled a so-called "extremist organization" in Belarus.
At the start of Russia's full-scale war, Belarusian activists, known as "railroad saboteurs," attempted to disrupt the transit of Russian supplies and personnel toward Ukraine. The activists' actions are said to have somewhat thwarted the Russian attack through Belarus' territory.
Ukrainian President Volodymyr Zelensky issued statements to the Belarusian people, urging them to resist involvement in Russia's full-scale war against Ukraine.
BYSOL, a fund that emerged in 2020 to help Belarusians repressed by Lukashenko's regime, raised over 500,000 euros to help Ukraine in the first 100 days of Russia's all-out war.
Belarusian civil society receives international recognition
Belarus' robust civil society received international recognition for its efforts to promote democratic values amid ongoing persecution by Lukashenko's regime.
Belarusian political prisoner Ales Bialiatski was awarded the 2022 Nobel Peace Prize in October alongside Russian human rights organization Memorial and Ukrainian human rights organization Center for Civil Liberties. Bialiatski is the founder of human rights watchdog Viasna, which reports on politically motivated persecution undertaken by Lukashenko's regime.
The Council of Europe's Committee of Ministers established a "Contact group" through which it will hold regular exchanges with Belarusian opposition leader Sviatlana Tsikhanouskaya and other Belarusian democratic opposition forces and civil society.
Ryanair Flight FR4978 verdict finds Belarus guilty
The International Civil Aviation Organization (ICAO) concluded its investigation into the forced landing of the 2021 Ryanair Flight FR4978, confirming that Belarusian air traffic control was forced by the state to issue false bomb threats.
The results of the ICAO's investigation confirmed that claims of a bomb threat aboard the aircraft were "deliberately false and endangered its safety" and were "communicated to the flight crew upon the instructions of senior government officials of Belarus."
According to the ICAO, forced landing constitutes an offense under the Montreal and Chicago conventions.