This audio is created with AI assistance
Two months after Ukraine's defense of Bakhmut seemed doomed, the bloodiest battle of Russia's full-scale war against Ukraine is still going against all expectations.
Making rapid advances at the end of February, Russian forces seemed to be on the cusp of surrounding the city, as the only roads supplying Ukrainian defenders inside came under direct fire control.
According to an April 21 Washington Post report citing documents from the major leak of classified U.S. documents on the war, U.S. intelligence was already assessing in January that Ukrainian forces in Bakhmut were "at risk of encirclement, unless they withdraw within the next month."
Foreseeing a defeat that would bring with it painful optics for Ukraine's war effort, U.S. Defense Secretary Lloyd Austin played down the significance of losing Bakhmut in March.
"I think it is more of a symbolic value than it is strategic and operational value," he said.
Washington has been proven wrong in its assessments, but Russian forces have continued to make steady gains in Bakhmut.
As of April 19, approximately 87.9% of the city's urban area is under the control of Russian forces, led by the Wagner paramilitary group, according to estimates by the U.S.-based Institute for the Study of War.
Ukrainian forces have made a successful stand holding the railway running through Bakhmut over the last few days, but meanwhile, Russia made new breakthroughs in the neighborhoods north and south of the railway line.    
Every day since winter, almost like clockwork, Ukraine's General Staff has said in its updates that the heaviest fighting along the entire front line is in Bakhmut, sometimes mentioned together with Avdiivka and Marinka further south.
The battle, which has defined the nature of the war since Ukraine's liberation of Kherson in November, has now entered its ninth month.
As the fight drags on, reports and video material from soldiers on both sides paint a picture of the utter annihilation of the city.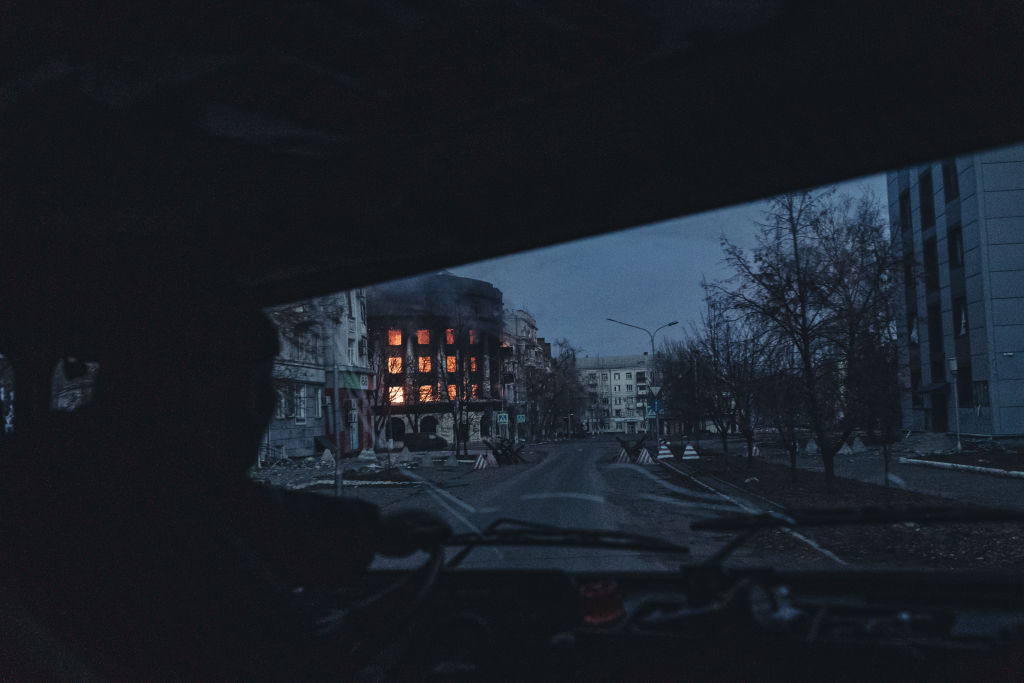 Last lifelines
There are two roads left into Bakhmut still nominally under Ukrainian control: one to the north, through the village of Khromove, and the T0504 further south through Ivanivske. Both come within one kilometer of Russian positions at some point along the way.
Soldiers' videos from the roads in and out confirm that they remain as dangerous as ever, with Ukrainian vehicles weaving between craters and pieces of wreckage close to top speed to get through.
Deadly as the roads are, the Ukrainian command has clearly decided that the lifeline into Bakhmut is stable enough to continue to support its defense of the city for now.
Since reaching the state of "near-encirclement" in late February, Russian forces have failed to advance much closer to the roads to finish the job.
According to Finnish open-source intelligence analyst Emil Kastehelmi, the northern Khromove road hasn't been in active use by Ukrainian forces for several weeks as of April 21.
At the bend in the road closest to Russian positions, recent satellite imagery shows fields riddled with thousands of shell holes. Here, according to Kastehelmi's analysis, deeply entrenched Ukrainian units have held back intense enemy attacks.
Video footage released by the Da Vinci's Wolves battalion and Gonor Group units on April 19 and geolocated to the same bend in the road showed fierce close-quarters combat as Russian squads assaulted a treeline on the approach to what the unit calls "the Road of Life."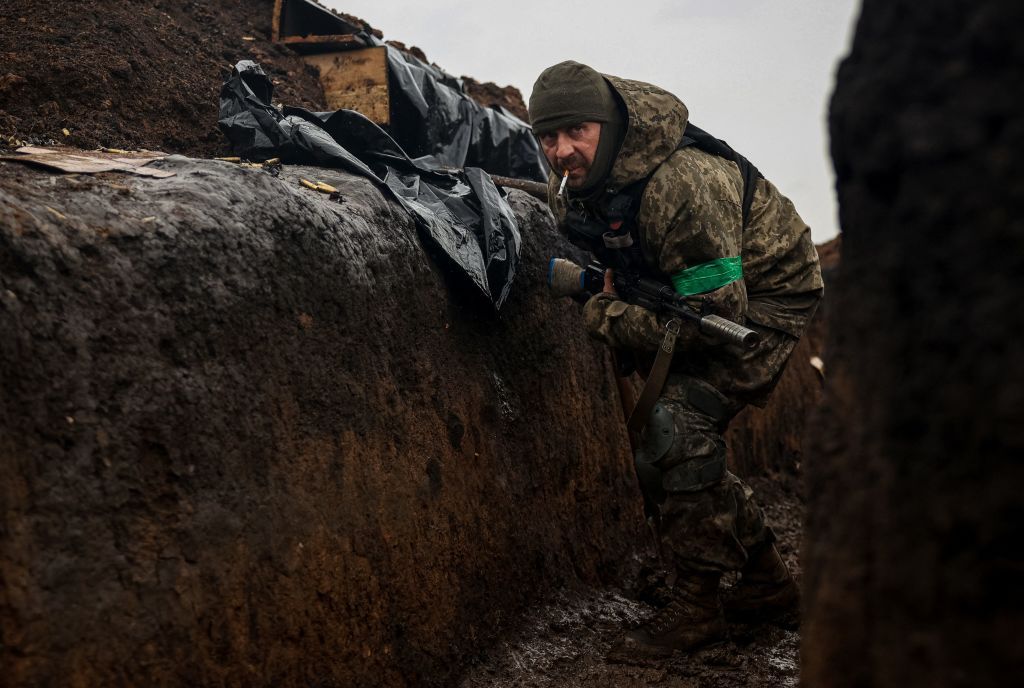 On April 11, Wagner Group head Yevgeny Prigozhin announced that the flanks of the Bakhmut offensive had been "handed over" to regular units under the Russian Defense Ministry, including Russia's once-elite paratrooper units badly mangled by the failed assault on Kyiv.
According to Ukrainian military spokesperson Serhii Cherevatyi, who regularly reports figures of over 100 Russian soldiers killed in action daily around Bakhmut, this injection of the paratroopers and others was due to the colossal losses of Wagner forces in the sector.
By April 21, Prigozhin had changed his tune dramatically since declaring Bakhmut was "practically surrounded" in March, now coming out to dispel rumors that Russian forces had cut off the Khromove road.
A new normal appears to have set in: While attacks have slowed on the flanks, Wagner has now been tasked with taking the rest of the city front-on in a familiarly brutal, grinding urban assault.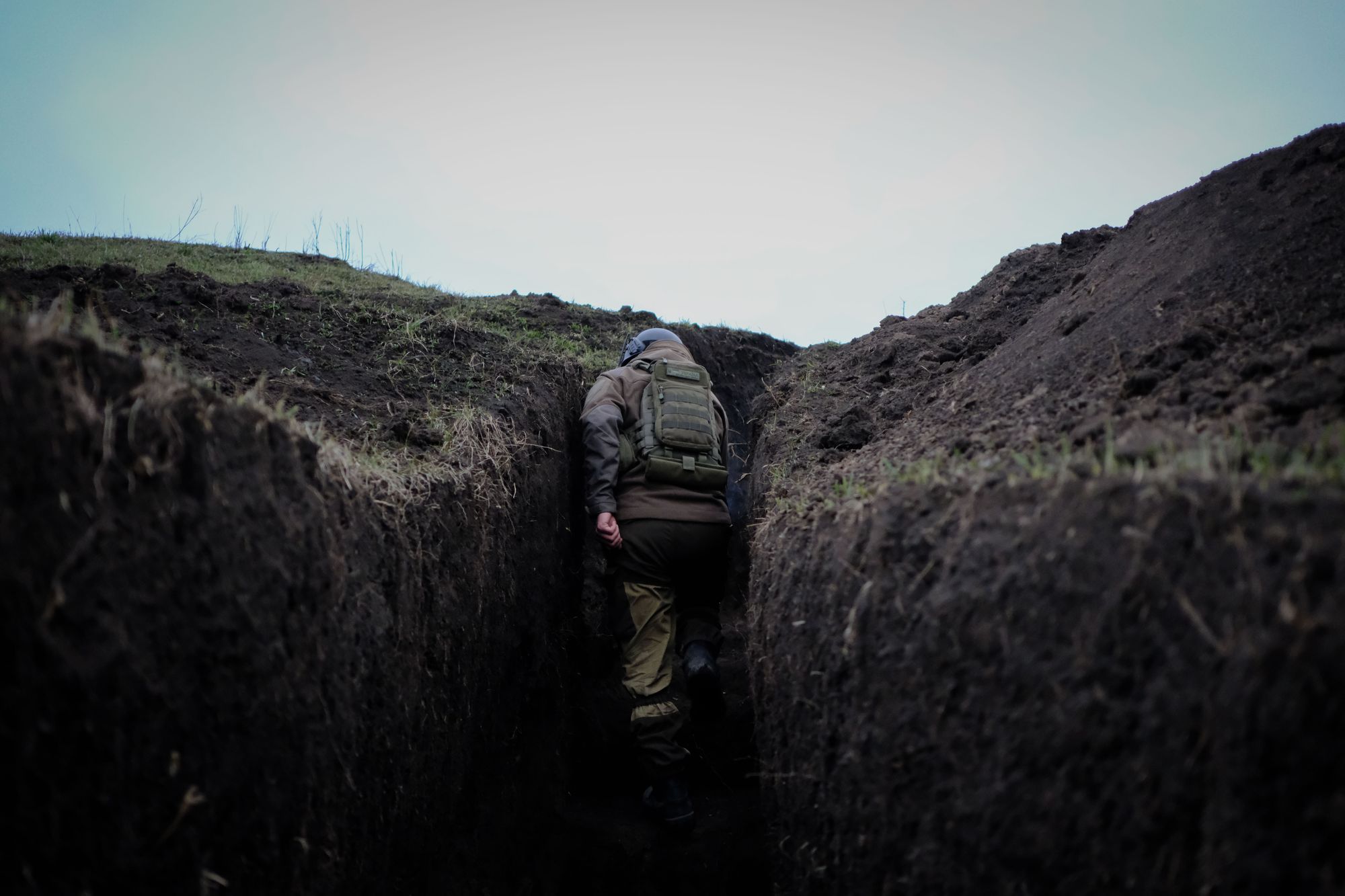 Block by block
Once boasting some of the richest architectural heritage in Donetsk Oblast, Bakhmut as of April is destroyed beyond recognition, even when compared to the winter months when journalists were still able to regularly visit.
The city administration building on the central square has been completely flattened, evidenced by Prigozhin's planting of the Russian and Wagner flags literally on top of the rubble.
On the western entrance to the city from Ivanivske, the Soviet-era MiG-17 fighter jet monument that greeted soldiers, journalists, and volunteers coming into Bakhmut is no more.
Facing away from Russian lines, the colorful mural behind it of a happy family is remarkably intact, but the two apartment buildings it is painted on have both been mangled by a series of direct hits.
Inside the city, the cornerstone of Ukraine's defense has been the legendary 93rd Mechanized Brigade, which since 2018 has held the apt honorific Kholodnyi Yar, or "Cold Ravine."
The conditions in which soldiers of the 93rd, alongside other brigades, fight in Bakhmut are difficult to comprehend for those not there.
"I don't know if I will return or not. We are just getting killed," said one 54-year-old infantryman of the brigade, Volodymyr, who spoke to a Kyiv Independent reporter in March on the condition of anonymity due to security concerns.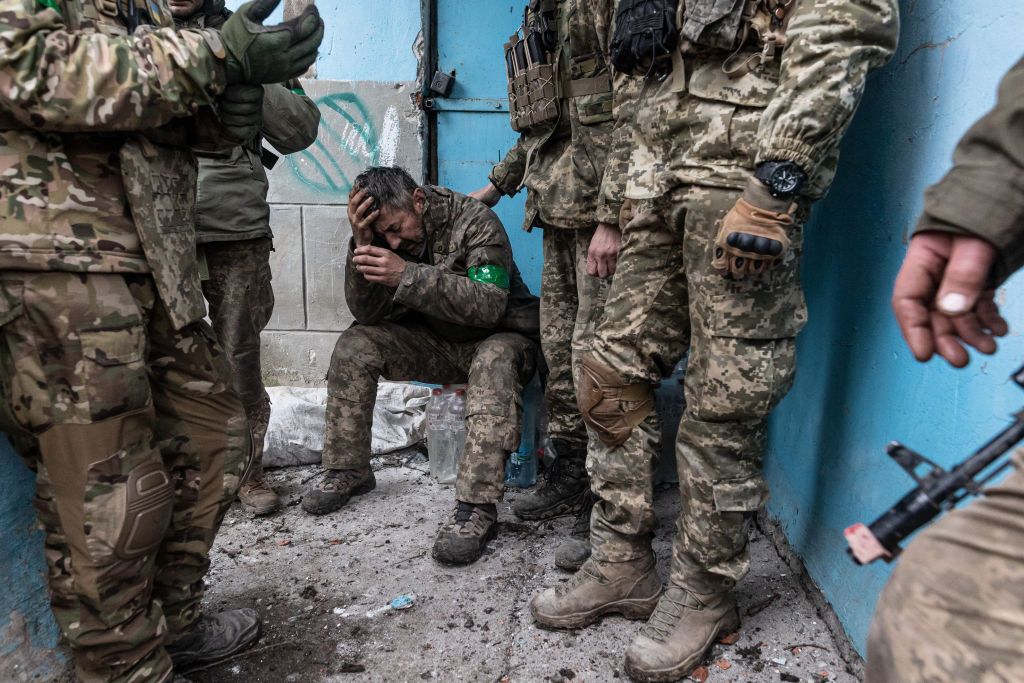 In late March, evidence emerged of a ruthless new tactic allegedly put in use by Ukrainian forces.
Russian military channels reported that upon withdrawing from an area, Ukrainian forces would rig entire buildings with explosives, luring in dozens of Wagner fighters before setting off the charges.
Several videos have circulated appearing to show such instances of buildings demolished in an instant, though the truth to the claims can't be independently verified.
On both sides, buildings that might appear to provide shelter can quickly turn into death traps.
"So you understand, houses for you are mass graves," said Serhii Yurchak, a commander of Ukraine's State Border Guard Service to new arrivals in Bakhmut, in a short film posted on April 18 on the YouTube channel of the service, whose troops are taking part in the battle.
"It's happened a few times that they simply surround a house from both sides, and that's the end."
"You will just need to dig into the ground; dig and dig," he added, as the apprehensive soldiers he spoke to stared at the basement floor.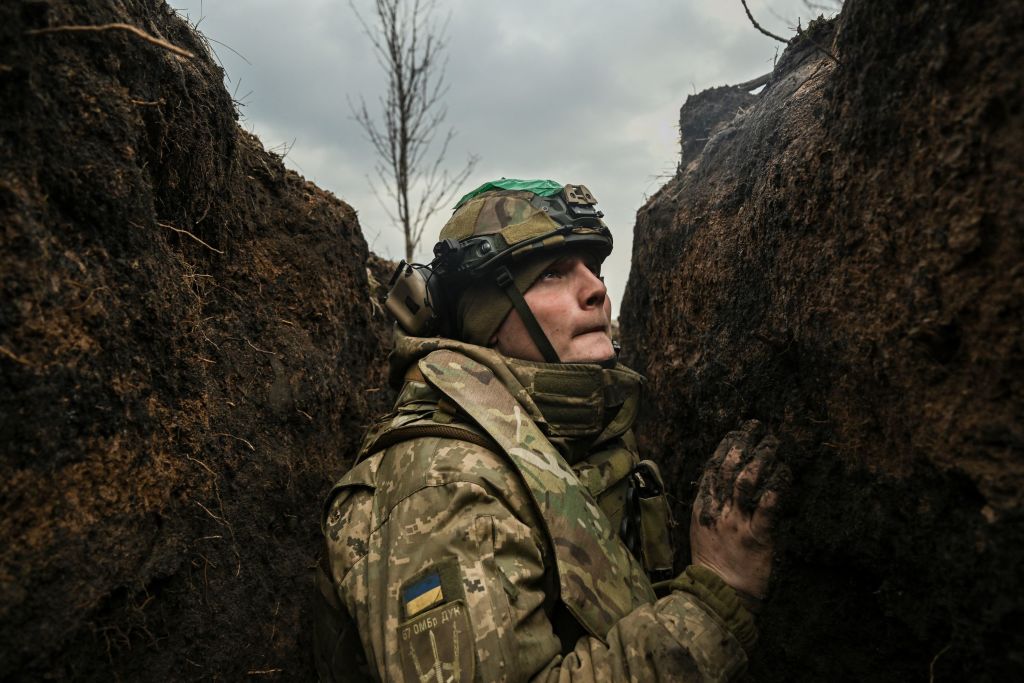 Cataclysm for civilians
One of the key lessons of this war has been that everything, especially personal safety and the lack of it, is relative.
Back in winter, before Wagner troops had broken into Bakhmut's built-up urban area, several thousand stubborn civilians, including children, remained in the city.
Then, though Bakhmut was already shelled constantly, volunteer organizations regularly brought in humanitarian aid, residents could shelter and charge devices at underground Points of Invincibility set up by the government, and emergency services continued to do their best to save lives.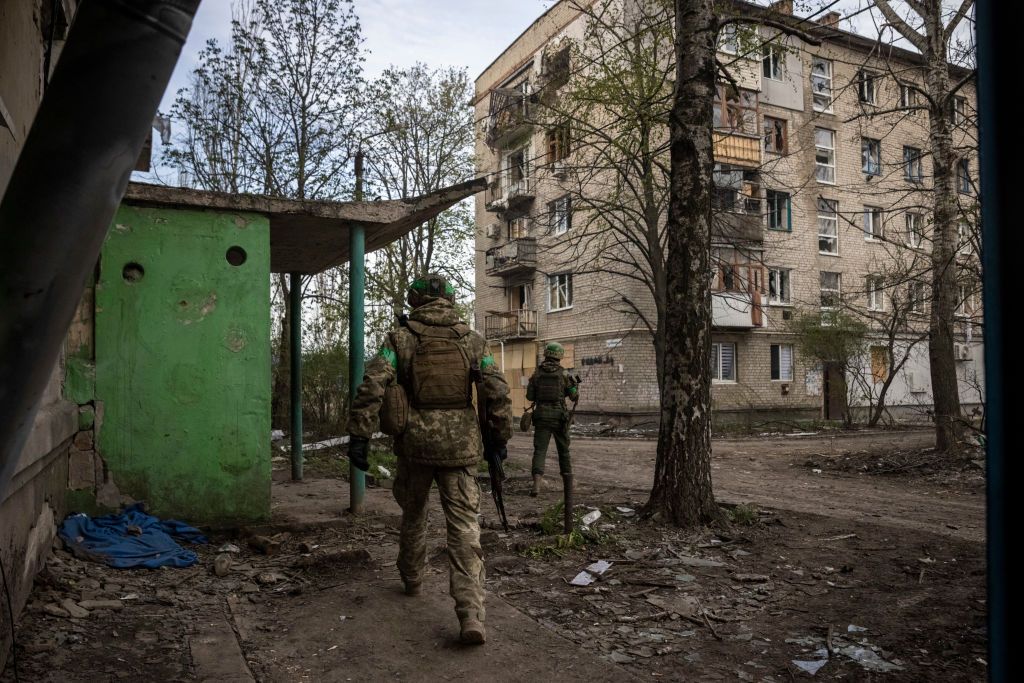 By now, any remaining life is quickly being snuffed out as the urban landscape itself becomes the site where two heavily-armed militaries clash at close quarters.
On the Ukrainian side, all but the most intrepid volunteers have long ceased traveling to Bakhmut, and those that do are involved only in last ditch evacuation attempts.
Nearby shell impacts, destroyed Ukrainian equipment, and burnt-out housing blocks feature in a video posted on April 18 by Ignatius Ivlev-Yorke, a British volunteer who, has run evacuations in the most dangerous parts of the front line together with his team.
"Do you understand that you will die here?" says Ivlev-Yorke to an elderly woman who refused to evacuate her home in Bakhmut, despite her husband and children all finally leaving.
"I won't, they will protect them," she says, pointing to Ukrainian soldiers nearby.
"They will tell you the exact same thing," Ivlev-Yorke replies.
In those neighborhoods already taken by Wagner, the fate of civilians is much darker.
Speaking over the phone to Russian independent journalist Vladimir Osechkin, who released the recordings on his outlet Gulagu.net, ex-Wagner fighter Azamat Uldarov admitted to shooting dead a five-year-old child in the area around Soledar and Bakhmut, having allegedly been given orders to "clean" an area of remaining civilians.
Alexei Savichev, another ex-Wagner mercenary who spoke to Osechkin, claimed that his unit received an order to shoot all civilians above the age of 15 at a location near Bakhmut in February.
Ukraine's Prosecutor General's Office said it had launched an investigation into the killings described in the interviews.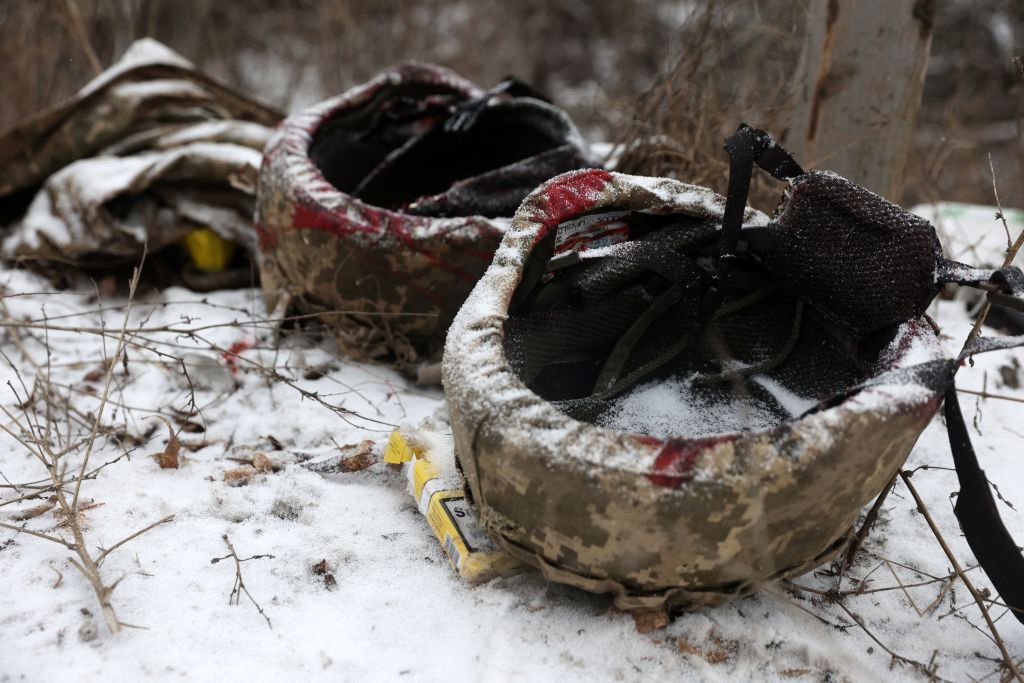 A Ukrainian Stalingrad?
Back when Russian forces began to bear down on the roads in Bakhmut in late February, debate flared on whether or not Kyiv should withdraw its troops from the city to save them from encirclement, as had been done with nearby Lysychansk in summer last year.
Both sides, as well as third-party observers, have drawn parallels between Bakhmut and the Battle of Stalingrad, the deadliest engagement of World War II, where Red Army units held on for dear life in city blocks on the western bank of the Volga for months against a relentless German assault.

With Axis forces, driven by Adolf Hitler to take the city at whatever cost, severely depleted, a massive Soviet counteroffensive surrounded the German 6th Army in late 1942, ending Nazi dreams of conquering the Soviet Union.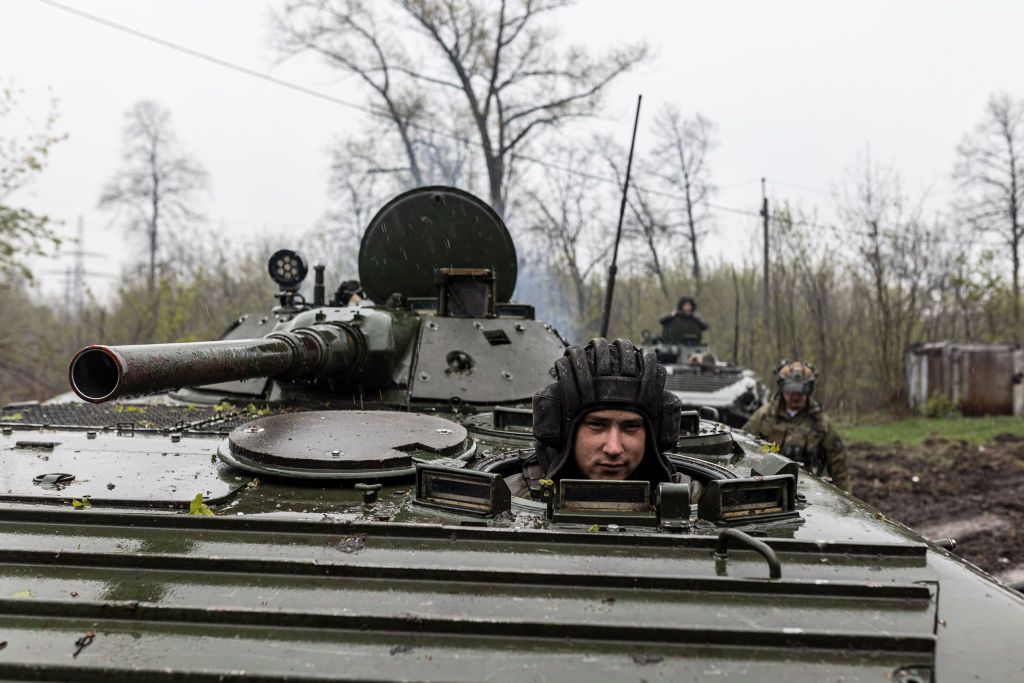 In Russian pro-war circles, which portray the war against Ukraine as a new struggle against neo-Nazi aggression in the vein of World War II, the analogy ignores Russia's status as the aggressor in Ukraine and takes on a more mythical character, as the moment when Moscow bled out its enemy and turned the tide.
For Ukraine, the analogy presents a hopeful vision: of a costly urban slug-fest that will nonetheless end Russia's offensive potential and open the door for future offensives and in turn, the liberation of all occupied territory.
Just like the Soviets in Stalingrad, the way Ukraine has held on in Bakhmut has not come by chance, but as the result of active decisions to send more units into the city and its surrounds, even if suffering higher rates of attrition.
On the other hand, Stalingrad was won with an outflanking local counteroffensive backed by hundreds of thousands of troops and an advantage in munitions, neither of which Ukraine has available.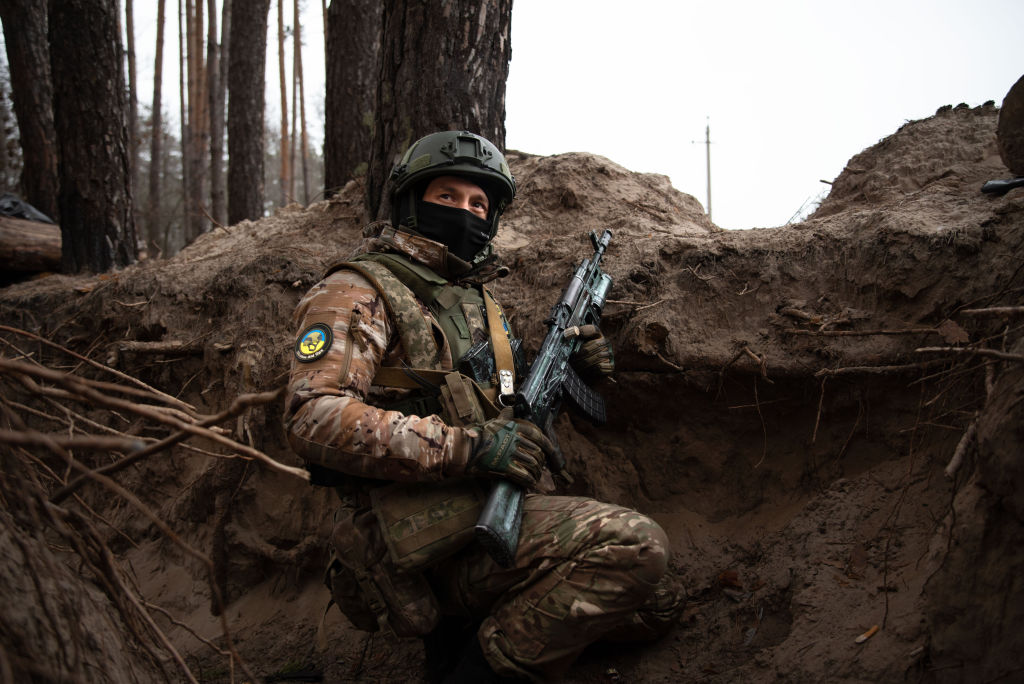 Speaking to the Kyiv Independent in March on the northern flank of Russian lines around Bakhmut, soldiers expressed hope for a Ukrainian counteroffensive, but said they couldn't see evidence of any such preparation in their sector.
Ukraine is preparing for a much-awaited spring/summer offensive, saving ammunition, gathering fresh units and new Western armored vehicles.
But when it begins, it will almost certainly not be around Bakhmut.
Russian forces are highly concentrated, and there is no opportunity for the game-changing strategic breakthrough that Ukraine badly needs to leap forward towards final victory.
As expressed by the Ukrainian command, the hope is that even if Bakhmut does fall, the months-long stand of the "fortress" city would be exactly what makes such a breakthrough possible later.
---
Note from the author:
Hi, this is Francis Farrell, cheers for reading this article. I grew up on the other side of the world, but in Ukraine I have found a home unlike any other. Just like with so many of our readers, I understand that you don't have to be from near here to realize how important Ukraine's struggle is for freedom and human rights all over the world. The Kyiv Independent's mission is to lead the way in continuing to bring the best homegrown, English-language coverage of this war, even if the rest of the world's attention starts to fade. Please consider supporting our reporting.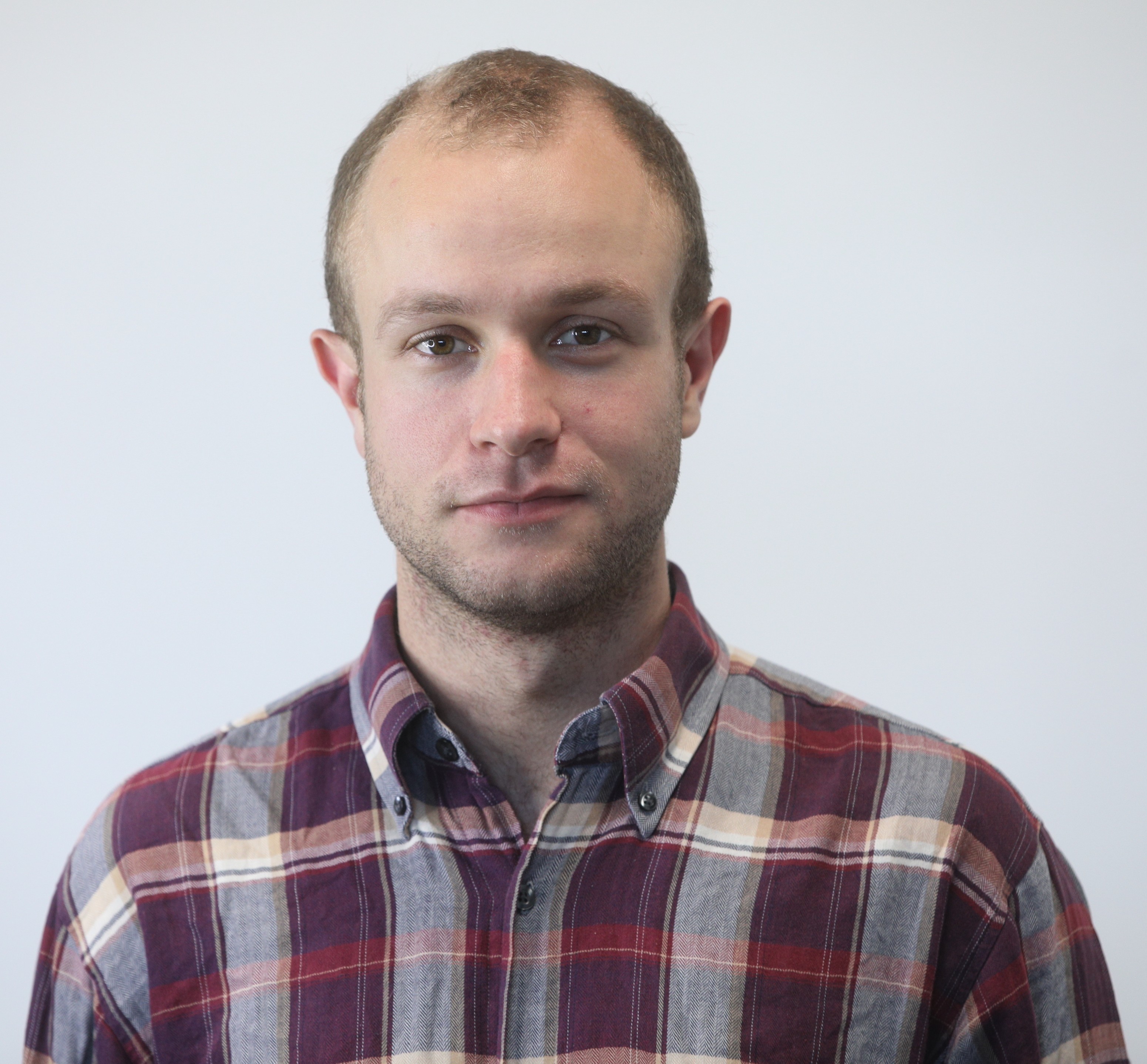 Francis Farrell
Reporter
Francis Farrell is a reporter at the Kyiv Independent. He has worked as managing editor at the online media project Lossi 36, and as a freelance journalist and documentary photographer. He has previously worked in OSCE and Council of Europe field missions in Albania and Ukraine, and is an alumnus of Leiden University in The Hague and University College London.