This audio is created with AI assistance
Editor's note: The Kyiv Independent is not revealing the soldiers' surnames or the exact location of their deployment due to security concerns amid the ongoing war. Some military personnel spoke without the authorization of their commanders or a press officer.
DONETSK OBLAST – Just days before heading back to fight in the Battle of Bakhmut, a Ukrainian soldier Volodymyr, 54, said he felt ill-prepared.
"When they drive us to Bakhmut, I already know I'm being sent to death," Volodymyr told the Kyiv Independent during his brief stay in Kramatorsk, a city in Donetsk Oblast some 25 kilometers west of the front line.
Volodymyr, an infantryman from the 93rd Mechanized Brigade, said he struggled to eat after fighting in Bakhmut for months. He looked shaken as he talked.
For two months, Volodymyr's unit was tasked with guarding Bakhmut against small Russian assault groups creeping into the city. The brigade was constantly under mortar fire as soldiers were outdoors where shrapnels could wound or kill them at any moment.
"(The Russians) keep firing at us, but we don't have artillery – so we have nothing to attack them back with," Volodymyr said. "I don't know if I will return or not. We are just getting killed."
Ukrainian infantrymen interviewed by the Kyiv Independent described the fighting in Bakhmut as a desperate survival challenge against Russia's "infinite" stocks of artillery munitions and manpower. With just their machine guns and rifles, they say they braced relentless Russian mortar and artillery attacks until their hideout was eventually destroyed.
Volodymyr is haunted by the thoughts of his comrades killed in Bakhmut. He recalls a 29-year-old comrade whom he found lying dead after shrapnel hit the young man's head at a position.
"I knew he was dead, but I just kept wrapping his head (with bandages)," Volodymyr said.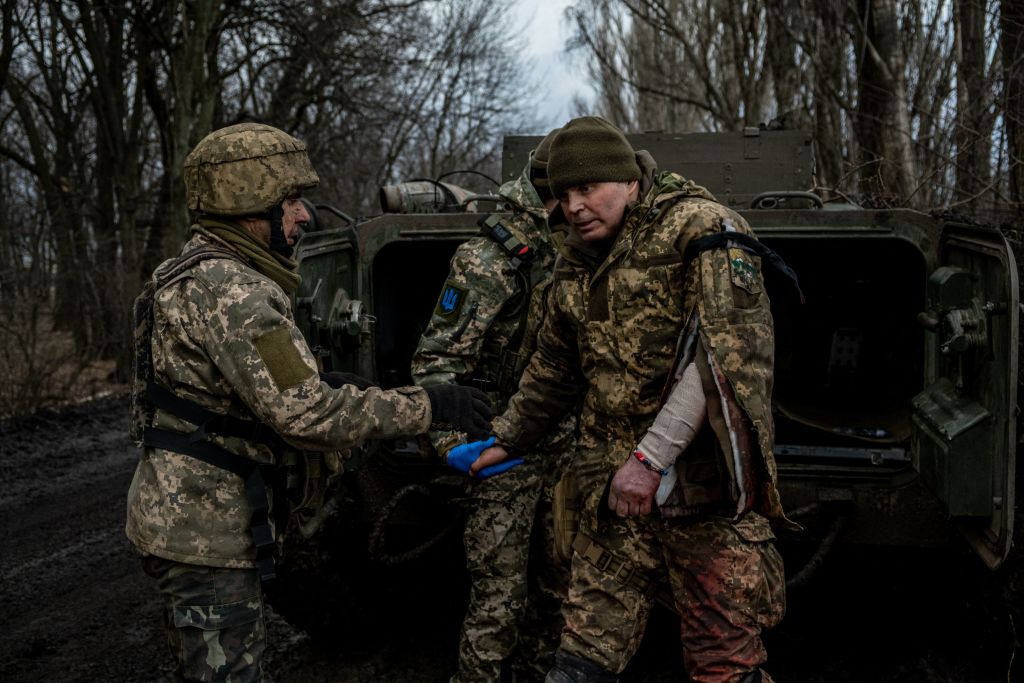 Volodymyr's story is far from the only harrowing account of what soldiers face as they defend Bakhmut.
Eight months into the Battle for Bakhmut, Ukraine faces growing concern over the need to defend the ruined city, now nearly empty of its 70,000 residents.
Russians have almost encircled Bakhmut and have entered the city. Ukraine has been clinging to Bakhmut at a high price. Withdrawing from it would give the Kremlin its first major victory since July 2022.
Seizing the ruined city has become a symbolic and political objective for the Kremlin after facing humiliating defeats in late 2022 amid Ukraine's successful counteroffensives.
Speaking to the Kyiv Independent in the nearby town of Kostyantynivka in early March, Senior Lieutenant Oleksandr said he was unaware of any plans to withdraw from Bakhmut but acknowledged that the situation is tense "everywhere."
Russians put enormous pressure to "squeeze out" the Ukrainian troops from Bakhmut, Oleksandr said, with the fiercest fighting raging in the northern part of the city. The lack of munitions and equipment, such as armored personnel carriers, makes it hard to hold on to the city, Oleksandr added.
Russian forces outnumber the Ukrainians on the Bakhmut front, with approximately 20,000 to 30,000 troops fighting in the area, according to Mykola, a staff sergeant from the 28th Mechanized Brigade.
If Russia keeps up its current pace of attacks, "it could be a few weeks, and that's it," Mykola said about the fight for Bakhmut.
"The situation is now very difficult because they have already felt the taste (of victory in Bakhmut)," Mykola said. "And now they know that there is only a little bit left."
Ukraine's military leadership said that a complete withdrawal from Bakhmut is on the table, but such a decision would only be made if necessary.
As Russia throws more Wagner Group mercenaries to fight in Bakhmut, the tension surrounding the city is at an all-time high.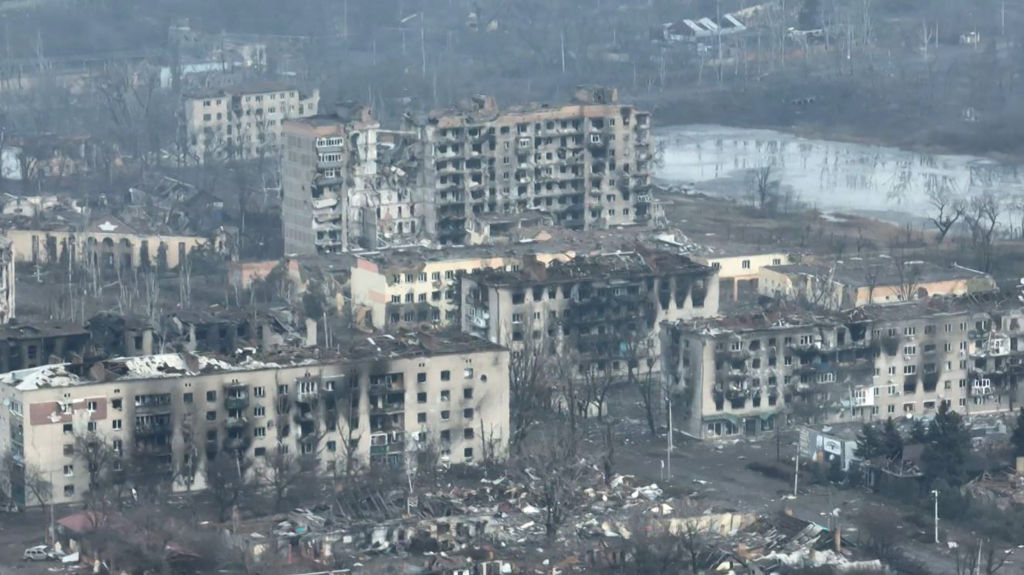 Bloody warfare
While Russian casualties on the Bakhmut front are assumed to be very high, Ukraine is also taking heavy losses as it holds on to the city, soldiers' testimonies reveal. NATO intelligence estimates that at least five Russian soldiers were killed for every Ukrainian loss, CNN reported on March 6, citing an unnamed official with the alliance.
Valeriy, a Ukrainian infantryman, says that most of his fallen comrades were fatally wounded by projectile fragments.
"It's a pity that probably 90% of our losses are from artillery – or tanks and aviation," Valeriy told the Kyiv Independent a few hours after leaving the Bakhmut front. "And much less (casualties) from shooting battles."
Valeriy counted that "only a few" of the original 27 members of his platoon got out of the Bakhmut front with him, though he explained that most of them were wounded, not killed.
"The Russians have so many weapons, and there are so many of them," Valeriy said. "They are firing at us all the time. Sometimes, you hear an incoming (shell) every second."
Russian forces have intensified their assault on Bakhmut since mid-January after capturing the nearby salt-mining town of Soledar, which sits some 15 kilometers northeast of Bakhmut.
Infantryman Vladyslav from the 58th Independent Motorized Infantry Brigade says many soldiers in his platoon have refused to go to Bakhmut as Russians came closer.
Multiple soldiers from other brigades also said they've encountered many "refusers" who did everything not to be deployed back to Bakhmut.
During the last rotation in late February, Vladyslav said that only eight out of 25 soldiers in his platoon headed out to Bakhmut – and the rest said they couldn't go because of sudden fever or body pain.
The eight then headed to a position at a crossroad near the Bakhmutka River, where destroyed houses lined up. The platoon came under heavy Russian mortar fire as soon as they arrived.
Two were killed, and two were severely wounded – one soldier lost his arm, and the other was hit in the stomach by a projectile, Vladyslav said. The rest, including Vladyslav himself, received a severe concussion.
They were all evacuated from Bakhmut that day and lost the position.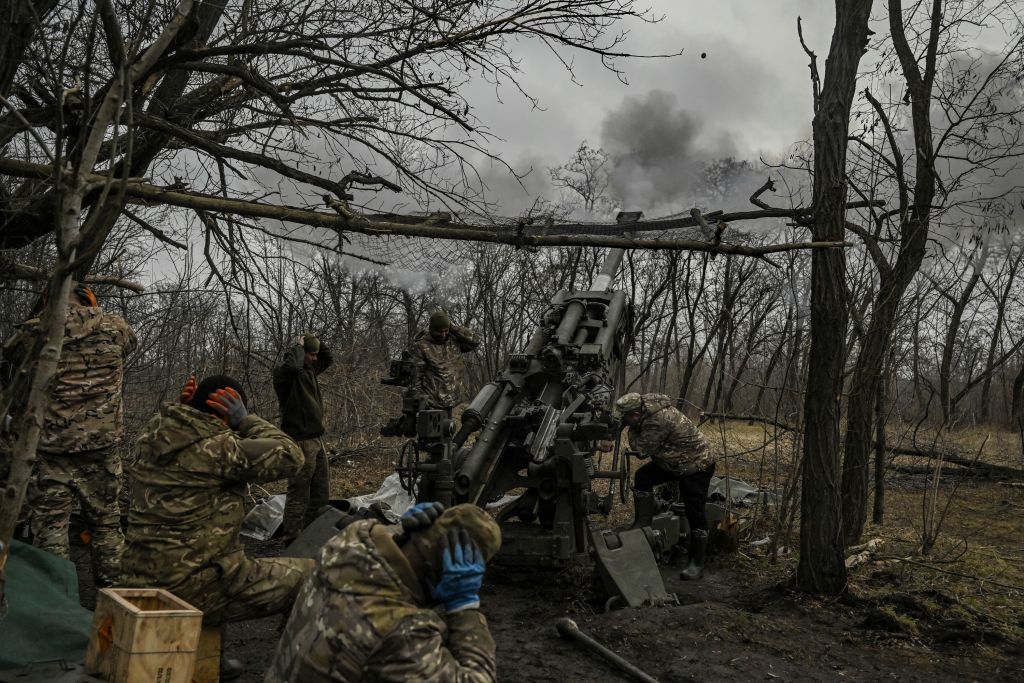 Ukrainian soldiers fighting in and around Bakhmut told the Kyiv Independent that Russia's tactics are potent. They locate Ukrainian positions, use mass fire to kill as many as possible, then move forward with infantry, usually also witnessing heavy losses.
Infantryman Vladyslav said that the Russians would usually appear in a group of about five people at night, but they seemed "scared" to launch close-range attacks.
So instead, the Russians would use mass firepower to destroy the houses – where the Ukrainians hid to monitor invading forces – to the point that they were forced to abandon the position to seek another position with better protection, according to Vladyslav.
"They are (now) fighting smartly, too," Vladyslav said.
Some soldiers deployed in Bakhmut said the Russians split into small assault groups of about ten people and launch waves of nearly suicidal attacks. They say that Wagner mercenaries could have been among them, but it was difficult to assess since they all wore similar uniforms.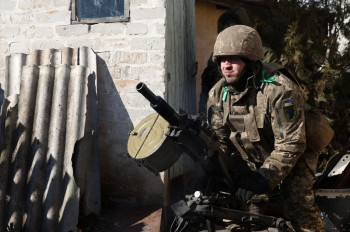 Maksym, 33, an infantryman from the 5th Separate Assault Brigade, said the Russians also had an established tactic in the southern area near Bakhmut.
The infantryman from Kyiv was deployed on the Ivanivske front, at the southwest outskirts of Bakhmut, throughout February 2023, where fierce fighting rages over a strategic village that sits on one of the key routes into the city.
Relying heavily on drones, the Russians would locate Ukraine's positions in the area. They would then fire multiple rounds of mortar and artillery, which would then be followed by infantry assaults, in an attempt to encircle Ukrainian soldiers, according to Maksym.
If the drones cannot detect Ukrainian positions, the Russians will send a few soldiers to fire gunshots until they hear return fire, according to Maksym.
As brutal as they may be, the Russian tactics have slowly worked and pushed back Maksym's unit by 1.5 kilometers in total throughout February. He said that his unit had to relocate to another position 100-300 meters away every now and then, especially if nearby units began withdrawing and the defense line began to collapse.
According to Maksym, Russia's weapons, such as its Soviet-designed mortars and grenade launchers, might not be accurate, but they are "very effective infantry weapons" when used en masse.
As Russia strives for full-encirclement of Bakhmut by capturing settlements such as Ivanivske, Ukrainian forces are under increasing pressure.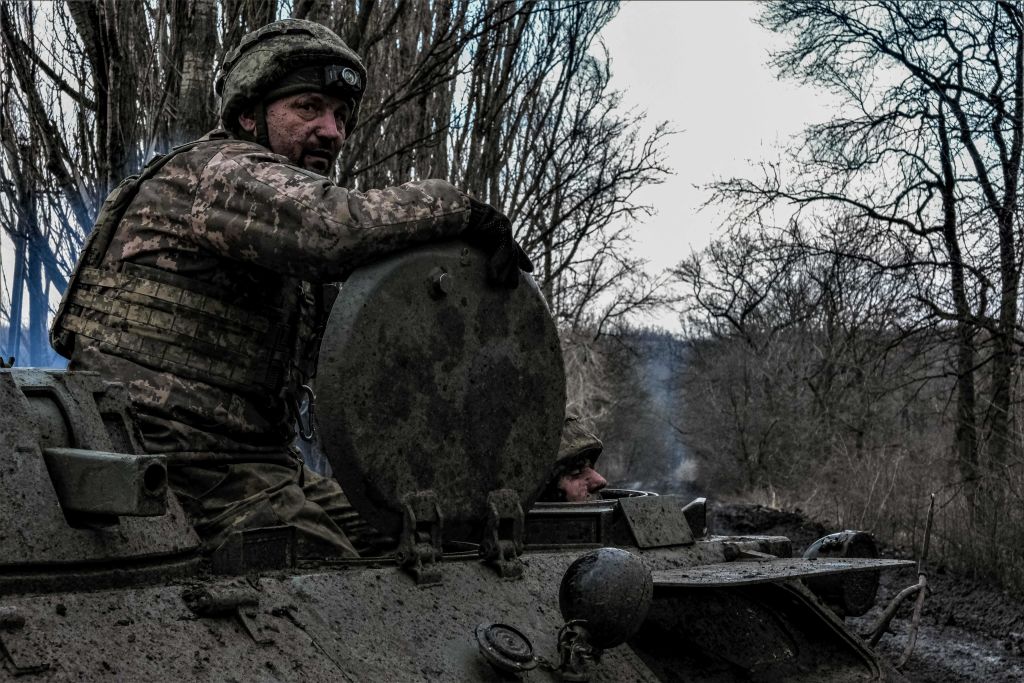 Anticipating Russia's next move
While Russia's capture of Bakhmut is becoming more plausible, "Russian forces lack the capability to exploit the tactical capture of Bakhmut to generate operational effects," the Institute for the Study of War predicted.
Russia's offensive will likely "rapidly culminate" after its possible capture of the city, according to the report.
But despite reports that Russia's push could stall after what would be Russia's biggest victory in eight months, Ukrainian soldiers deployed further out from Bakhmut are not taking chances.
According to soldiers that talked to the Kyiv Independent, while Russia was concentrating its forces on capturing Bakhmut, the intensity of fighting in areas outside Bakhmut had slowed down, giving Ukrainians the opportunity to focus on propping up the defense.
Staff Sergeant Mykola said his 28th Brigade had begun conducting short training exercises for less experienced soldiers now that the fighting had become less intense north of Bakhmut.
Oleksii and Vasyl, sappers from the 80th Air Assault Brigade, said they lay explosives – mostly anti-tank mines, but also anti-personnel mines in areas that they expect to be the next front line.
At this point, Bakhmut is "basically surrounded by mines," the younger sapper Oleksii from Kharkiv Oblast says.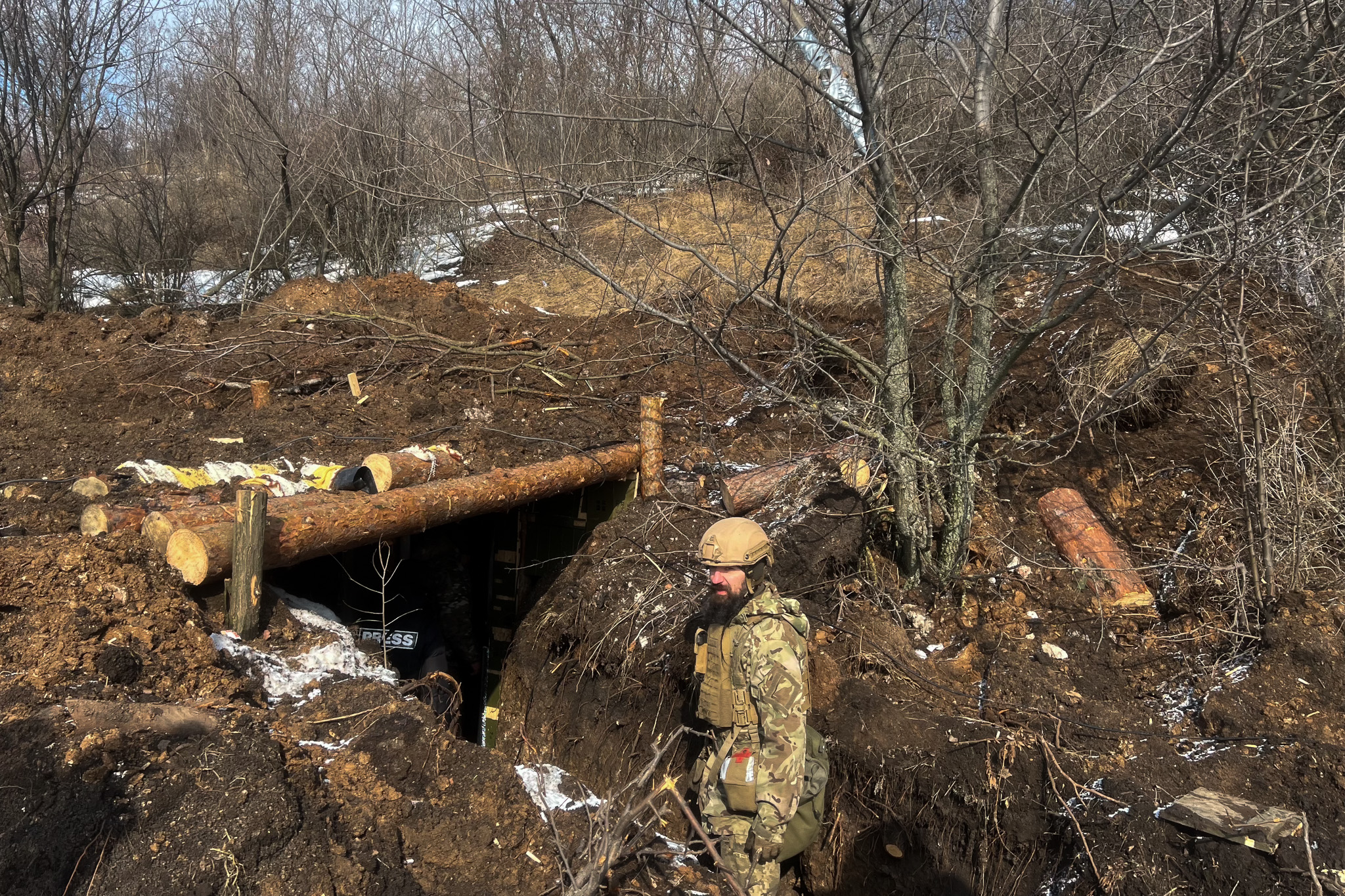 If Bakhmut falls, the ISW forecasts that Russia could attempt to push westward along the highway toward the nearby town of Kostyantynivka (about 20 kilometers from Bakhmut) and further northwest to Kramatorsk and Sloviansk – the two central hubs in eastern Ukraine.
The village of Ivanivske, which sits on the highway to Kostyantynivka and is located only eight kilometers from Bakhmut, is among the settlements Ukrainian forces are fortifying.
A deputy company commander from the 80th Brigade, known under the call sign Third, told the Kyiv Independent that trenches were being dug out alongside the highway from Ivanivske to Kostyantynivka to prevent a Russian breakthrough in Ivanivske. The "operational pause" in the fighting in the areas further away from Bakhmut has been helpful to build fortifications.
"If the Russians capture Bakhmut, they will advance further to the south, to Ivanivske, then to Chasiv Yar, and further to the west," said Third, 45, who has served since 2014. "We are preparing in advance."
"At the moment, there is enough (defense)," he said of defending the rest of the region from Russians if Bakhmut falls. "But it's for now, and I do not know what the enemy will do next."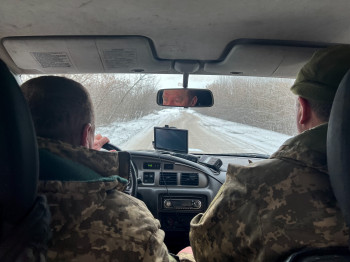 __________________________________________________________________________________________________________________________________________
Note from the author:
Hi, this is Asami Terajima, the author of this article.
Thank you for reading my story till the end. I spent a few weeks collecting testimonies from Ukrainian soldiers in the eastern Donetsk Oblast to illustrate the battle for Bakhmut through their eyes. Some of them have said they try not to get attached to other comrades because otherwise, it gets too painful – but they admitted it wasn't really possible because they spend 24/7 together. To help the Kyiv Independent tell more stories of Ukrainian soldiers and continue reporting on the ground, please consider supporting us by becoming our patron.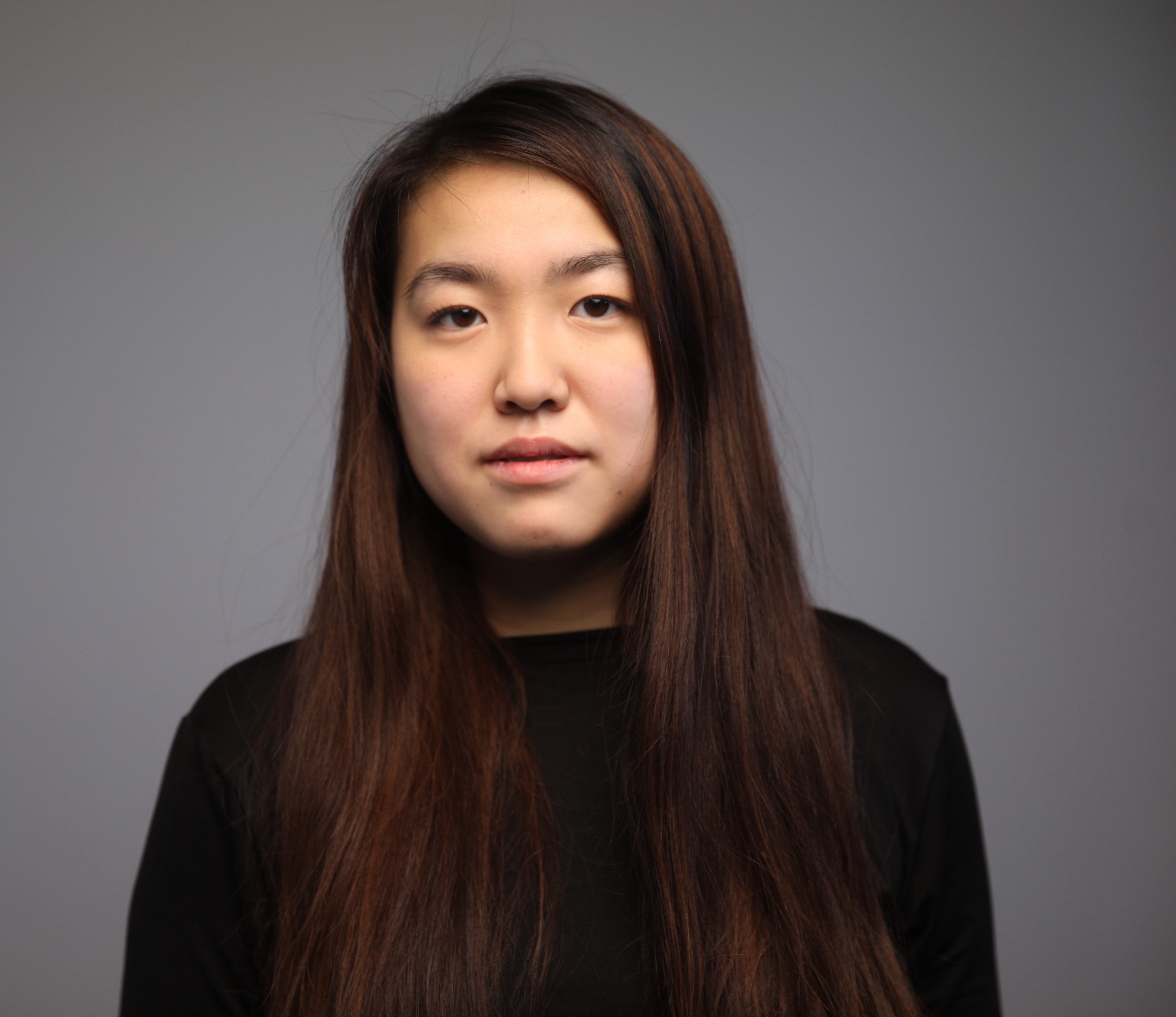 Asami Terajima
Reporter
Asami Terajima is a reporter at the Kyiv Independent. She previously worked as a business reporter for the Kyiv Post focusing on international trade, infrastructure, investment and energy. Originally from Japan, Terajima moved to Ukraine during childhood and completed her bachelor's degree in Business Administration at William Woods University in Missouri, U.S.A. She is the winner of the 2023 George Weidenfeld Prize, awarded for "excellent investigative and courageous research activities" as part of Germany's prestigious Axel Springer Prize.