This audio is created with AI assistance
DONETSK OBLAST – Ukrainian soldier Oleksandr Navarenko says his unit was under heavy Russian tank fire last summer in Zaporizhzhia Oblast when the idea for a life-saving robot came to him.
"Why use people when you can use machines?" the 59-year-old combat engineer told the Kyiv Independent, wondering why humans still perform dangerous military tasks.
Since last summer, Navarenko, part of the 3rd Separate Assault Brigade that is now fighting near the Russian-occupied city of Bakhmut in Donetsk Oblast, has developed two prototypes of unmanned ground vehicles (UGVs) designed to help front-line troops in their treacherous assault missions.
The first version dropped anti-tank mines that Navarenko says wounded Russian troops. The second, which has yet to be tested on the battlefield, can quietly approach enemy positions on any terrain and shoot rocket-propelled grenades. At the moment, both versions are still in the development stage.
Unlike drones, now ubiquitous and indispensable tools of war on both sides, unmanned ground vehicles have yet to become integral parts of combat operations in the war in Ukraine.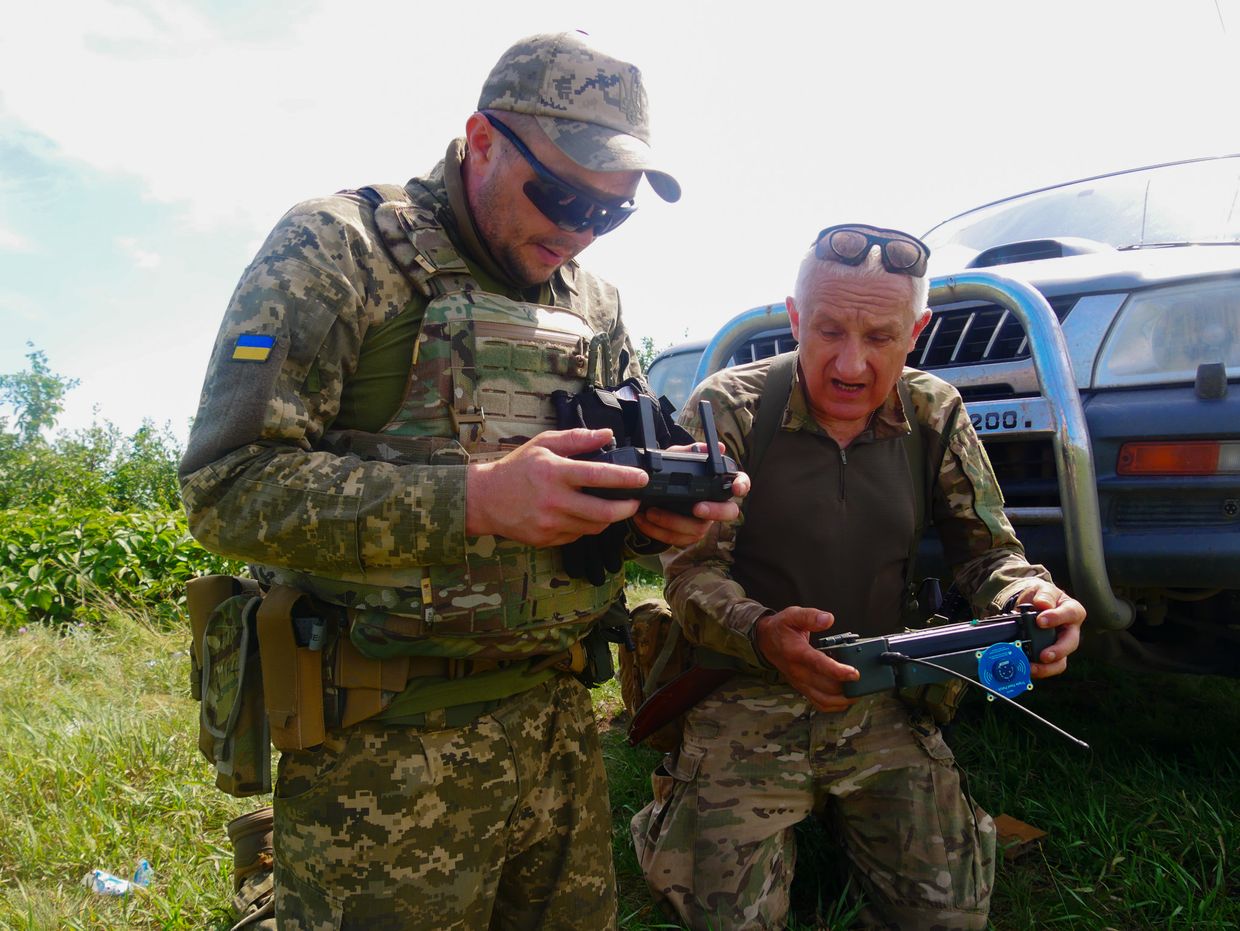 While the West has provided some UGVs to Ukraine for evacuations and infantry fire support, the amount isn't nearly enough to make a noticeable difference, according to the Center for Strategic and International Studies.
Ukrainians on and off the battlefield are trying to change this. In addition to soldiers like Navarenko, Ukrainian tech companies are testing designs of UGVs. The Digital Transformation Ministry, for its part, is working to convince Ukraine's military to adopt new innovations a quickly as possible.
Ukraine's Defense Ministry also had a meeting with Armed Forces representatives and other ministries titled "Ground Robotic Systems" at the end of June as part of an effort to develop and integrate ground-based robotic systems into military operations.
Minister of Digital Transformation Mykhailo Fedorov says that while integrating these developments takes time, it isn't impossible.
Drones are a successful example, with 62 models officially used on the front lines – a major jump from just seven in February before a fast track system to speed up the approval process was launched, according to Fedorov.
While the development of UGVs still has a long way to go, both Ukrainian and Russian inventors have launched many of self-initiated projects like Navarenko's work, hoping their use on the battlefield could be a game changer if they prove to be effective.
"This is the most technologically advanced war in human history. It is innovations and tech solutions that will help Ukraine win," Fedorov said.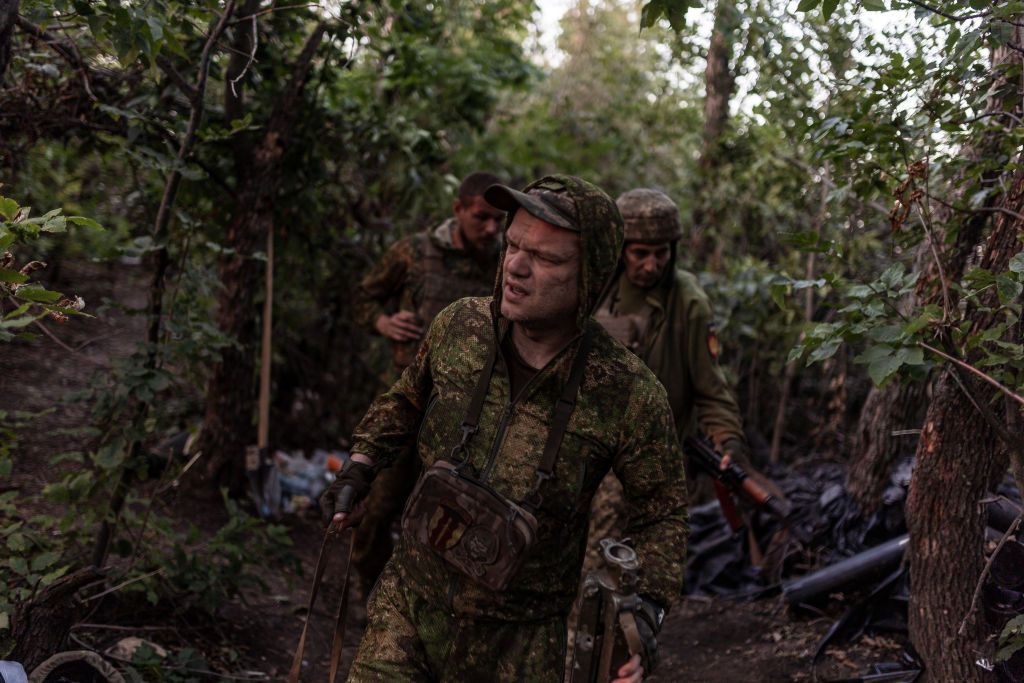 Robot innovations
Among the startups that emerged in the wake of the war is SkyLab, a Ukrainian defense company making drones and UGVs co-founded by Yevhen Rvachov.
SkyLab began with the development of Unmanned Aerial Vehicles (UAVs). Its products include Shoolika mk6 attack drones, which the company says are immune from being jammed by electronic warfare – the usual vulnerability of UAVs.
A year into developing drones for the army, lead engineer Rvachov, a 38-year-old from Kharkiv, says he had a product vision of something else that could be as powerful as UAVs on the battlefield.
It was a day in March 2023, right after his colleagues had gone home. He began to wonder why there was a lot of focus on UAVs and "little emphasis" on ground logistics systems.
And that is how the Sirko-S and Sirko-S1 robots, remote-controlled cars that can carry weapons or equipment of up to 150 and 200 kilograms of weight respectively, were born.
It took roughly two months to perfect the first UGV's 3D design, Rvachov said.
But even then, its performance at a training ground in May didn't satisfy the engineer, and he decided to opt for a completely new model – Sirko-S1.
In comparison to the first model, the Sirko-S1 is heavier due to its metal composition – making the platform more stable when something is put on top of it – and has two cameras, which include a night-vision lens.
The Sirko-S1 model is priced at $8,000-10,000, according to its co-creator.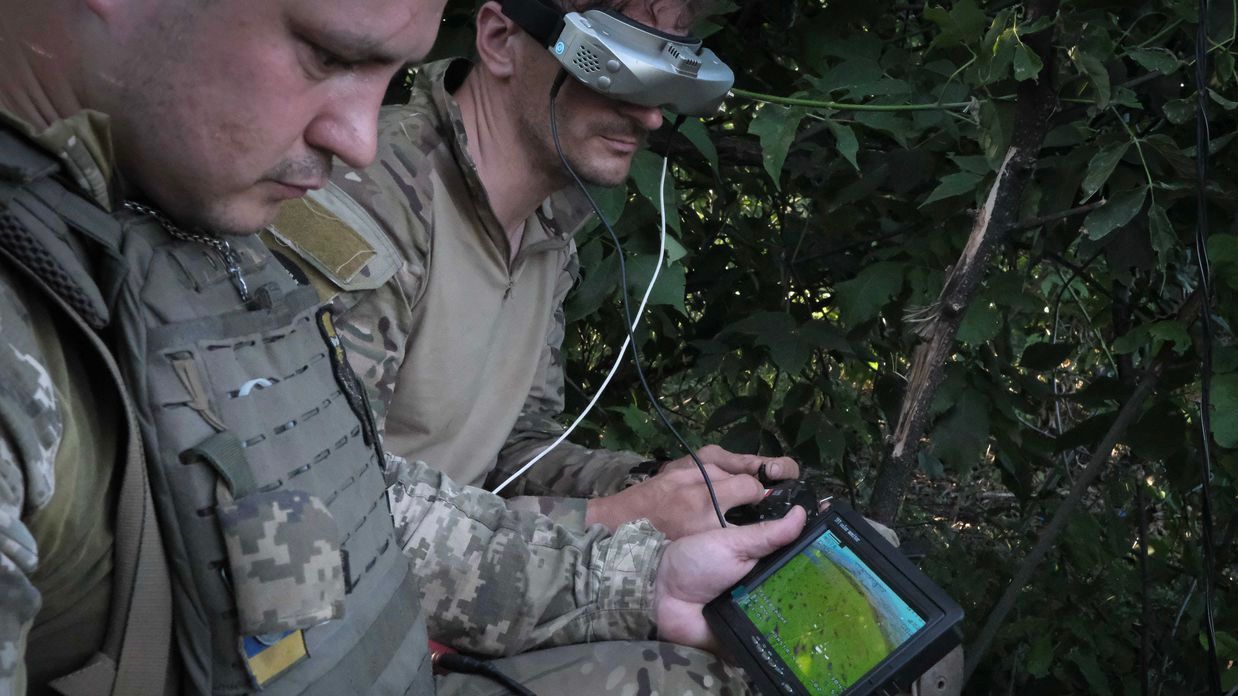 But the machines are susceptible to landmines – just like any equipment or car, and Rvachov believes it would be fairly easy for Russian forces to spot them due to their meter-long size.
Samuel Bendett, a senior fellow at the Center for a New American Security told the Kyiv Independent that in general, UGVs are susceptible to enemy fire and that a single-use "kamikaze" type may be more effective as a way to expose enemy positions, he said.
Nevertheless, Rvachov is eager to get through the bureaucratic process with the Defense Ministry so his UGV innovations can finally help soldiers on the battlefield. Neither of his robots has been used on the front line yet as of early September.
"It is better to lose $8,000-10,000 than a person," Rvachov said.
"Our main goal is to use robotic systems as much as possible so military personnel don't lose their lives, and (don't have to) take any risks – not even a minute to perform an operation."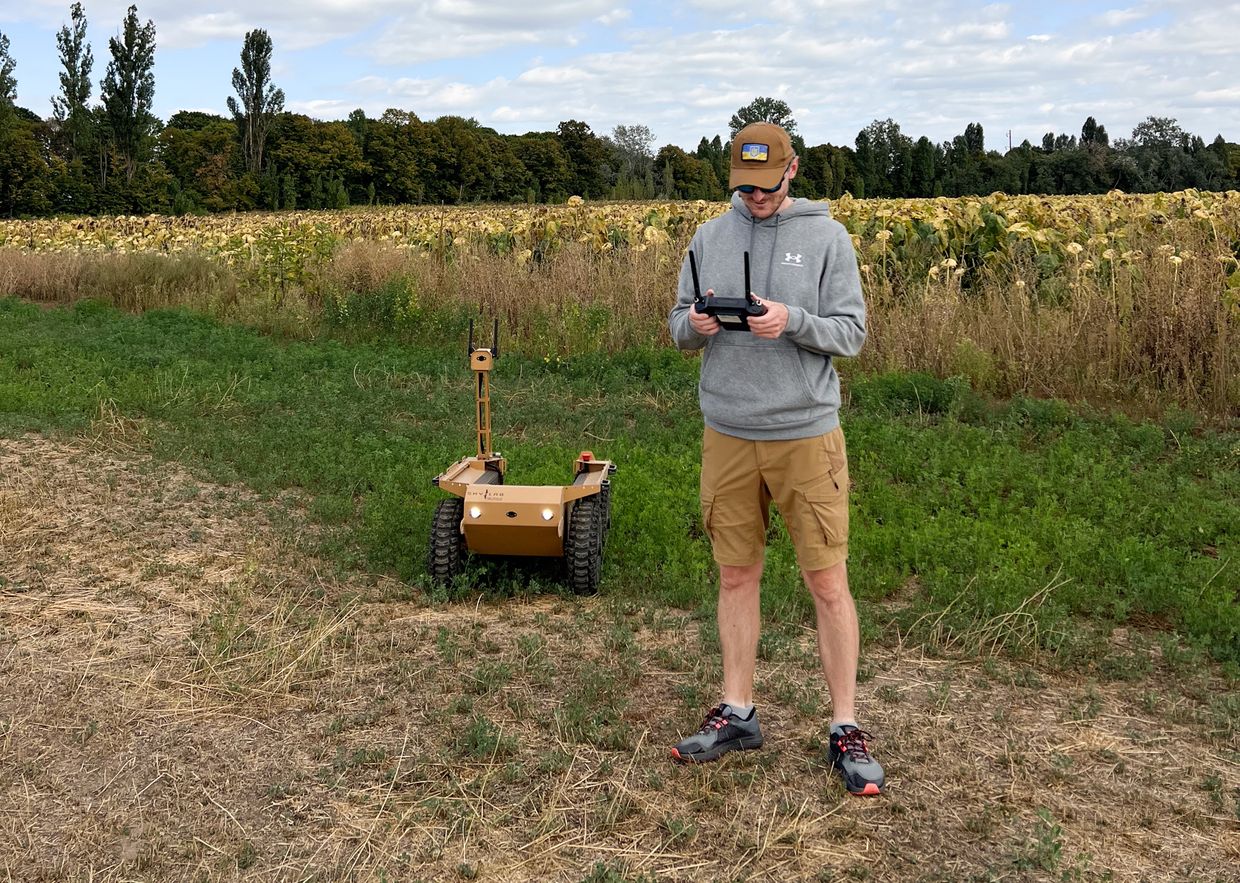 Long and expensive bureaucratic process
The government has been encouraging innovators to submit their ideas that would help the military via Brave1, a government platform that provides informational and financial support for defense tech projects.
The platform, launched in April 2023 by co-founders that include the Digital Transformation Ministry, the Defense Ministry, and the General Staff, has seen over 500 defense tech developments registered on its platform, according to Brave1.
Brave1 said that it had handed grants to about 40 defense tech projects as of early September, ranging from $5,000 to $30,000.
According to Brave1's Project Lead Nataliia Kushnerska, the platform's core priorities are unmanned robotics systems – including UGVs and UAVs, as well as radio-electric warfare.
Kushnerska explained that each registered idea is reviewed by over 500 General Staff niche experts, and receives a grant and other forms of support if it scores medium or high marks.
"We have to move fast as the time costs the highest price – our defenders' lives and health," Kushnerska said, explaining the organization's "fast track" system to help individuals outside of the "military world" get through the bureaucracy process quickly.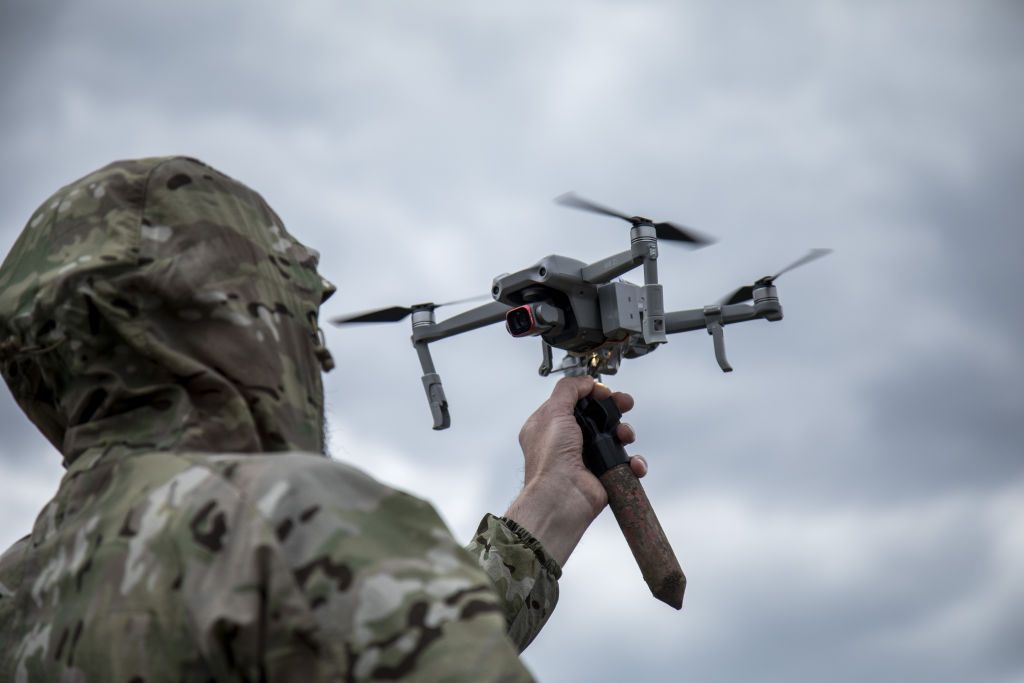 But bureaucracy, which inventors say is still "very long and expensive," often discourages the process, according to Olena Babykina, head of Brave Inventors, a platform assisting war-time innovations, launched in December 2022 by the digital gambling company Cosmolot.
The reality faced by many inventors, Babykina said, is that there is "almost always a lack of financial resources in the team," and they can't afford to wait out the lengthy bureaucratic process.
Bendett from the Center for a New American Security said that resources are very limited on both the Ukrainian and Russian side to develop effective UGVs at the moment.
To support more than 75 inventions registered on the platform, Brave Inventors help to get financing from private businesses and other donors, according to Babykina.
Creating the prototype is always the most challenging step, and an idea without one is "almost doomed" because you have to sell something that doesn't exist, she added.
There is always a long process of testing and improving the model before trying to get permission from defense authorities to deliver the product to the front line, which, if lucky, takes months, Babykina said.
And that is why there is usually a more practical procedure in which inventors ask some military units to test the prototype and ask for feedback to improve the model, according to Babykina.
She added that most Ukrainian tech products available on the front line are "no names" that have become popular thanks to "word of mouth."
When that product is brought to a near-perfect level, inventors hand it over to the military, according to the head of Brave Inventors.
"Ukrainians are extremely talented, hardworking, and selfless people, therefore this extraordinary potential must be developed and protected," Babykina said.
"Our country is much smaller in terms of human resources, so we need to be stronger in terms of technology."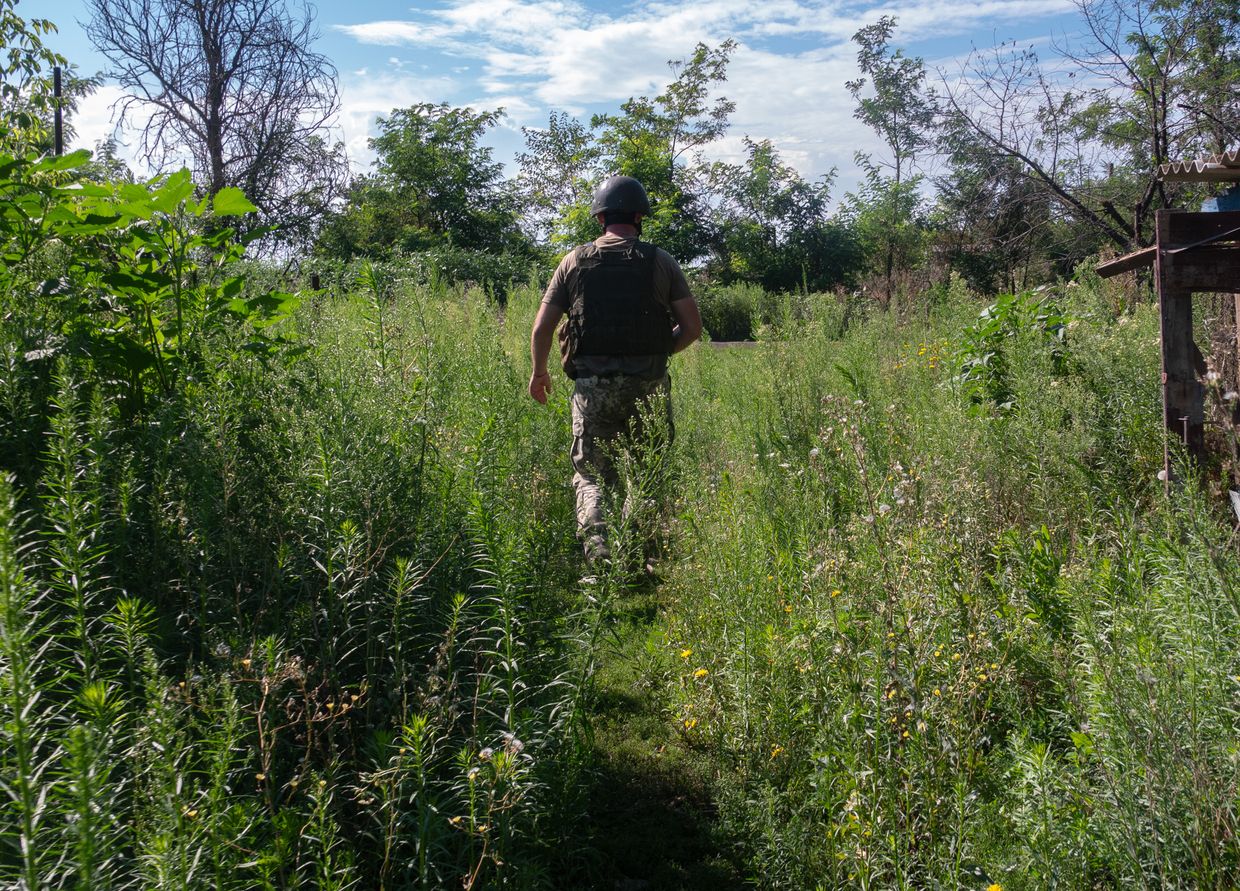 ______________________________________________________
Note from the author:
Hi, this is Asami Terajima, the author of this article.
Thank you for reading our story. While reporting for this story, I was amazed to see the work of Ukrainian innovators on and off the battlefield. I am aware of the sacrificade made for each assault operation as the counteroffensive rages on, so I hope that effective UGVs that would help soldiers reach the front line as quick as possible.
To help the Kyiv Independent continue reporting on the ground, please consider becoming our supporter.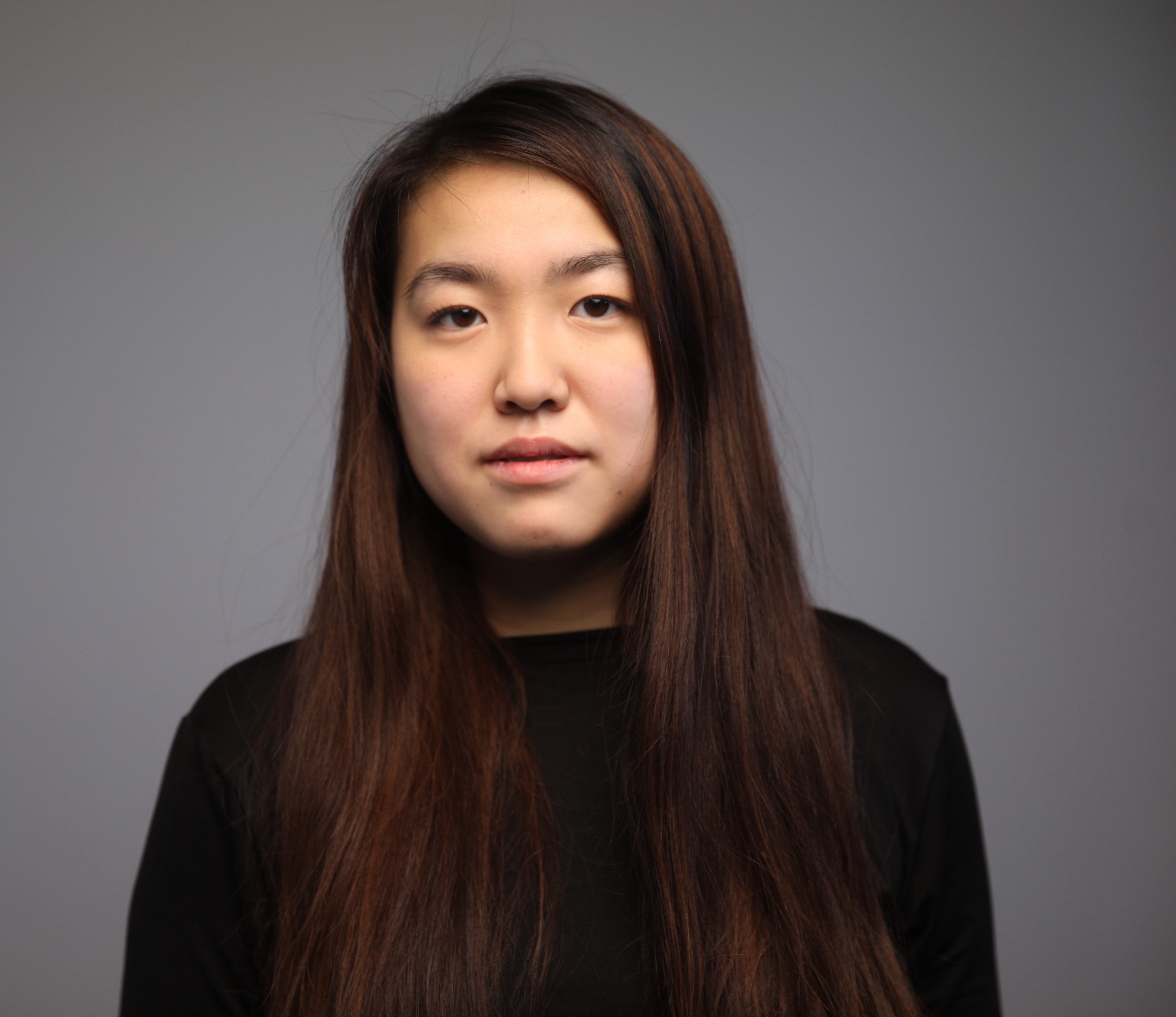 Asami Terajima
Reporter
Asami Terajima is a reporter at the Kyiv Independent. She previously worked as a business reporter for the Kyiv Post focusing on international trade, infrastructure, investment and energy. Originally from Japan, Terajima moved to Ukraine during childhood and completed her bachelor's degree in Business Administration at William Woods University in Missouri, U.S.A. She is the winner of the 2023 George Weidenfeld Prize, awarded for "excellent investigative and courageous research activities" as part of Germany's prestigious Axel Springer Prize.