This audio is created with AI assistance
Key developments on Feb. 2:
Ukrainian intelligence warns Russia building up troops to launch 'massive offensive' to capture Donbas by March
Zelensky: Russia concentrating troops to seek revenge on 'free world'
Governor: At least 3 killed, 8 wounded in Feb. 1 Russian missile strike of Kramatorsk, Donetsk Oblast
Top EU officials arrive in Kyiv, pledge new $546 million military assistance package for Ukraine
Ukraine's intelligence warned on Feb. 2 that Russia was redeploying additional assault groups and military equipment ahead of "a massive offensive" to capture Donbas, an industrial heartland comprising Donetsk and Luhansk oblasts, by March.
The stark warning comes as Russian forces claimed to be advancing toward the embattled city of Bakhmut in the northern part of Donetsk Oblast and toward the town of Vuhledar, near the Russian-occupied Donetsk city, over the past few days.
Defense Minister Oleksii Reznikov and the General Staff of Ukraine's Armed Forces issued similar warnings on Feb. 1, each saying that Russia appeared to be preparing for a major offensive.
In an interview with French media BFMTV, Reznikov said that "we must be ready" since Russian forces may launch an offensive in either the Donbas or in Ukraine's south.
Reznikov also claimed that Russia had mobilized 500,000 troops, citing the abnormally high number of Russian troops at the borders. Reznikov's estimate is nearly twice as many as the 300,000 claimed by the Kremlin after its fall mobilization campaign.
"We do not underestimate our enemy," Reznikov told BFMTV.
While many Russian conscripts reportedly lack military experience, Ukraine's Chief Commander Valerii Zaluzhnyi acknowledged in December that they still caused a problem on the battlefield, and Russia's mobilization campaign has worked.
Moscow claimed to have ended its fall draft in October, but Estonia's intelligence said Russia appeared to be still mobilizing troops covertly. The Institute for the Study of War (ISW), a Washington D.C.-based think-tank analyzing the war in Ukraine, said that Russia likely was still conscripting "a limited number" of troops as of November.
Top Ukrainian defense officials have warned that Russia could be preparing a second wave of mobilization in early 2023, but such an announcement has not been made by Moscow yet.
Modern Western tanks that Ukraine is set to receive from NATO allies would help Ukrainian forces fight against hundreds of thousands of Russian conscripts. But it's expected to be months before they finally arrive in the country.
President Volodymyr Zelensky said on Feb. 2 that Russia appeared to be regrouping troops to seek revenge against not only Ukraine, but also "the free Europe, the free world."
As NATO allies vow more heavy weapons for Ukraine, Russian President Vladimir Putin claimed that Russia has what it needs to respond with if it feels "threatened."
Moscow has repeatedly threatened Western nations against supplying tanks to Ukraine, saying that they would "regret" making such a move.
High-profile visit
Nearly the entire College of the European Commission arrived in Kyiv early on Feb. 2, promising further military aid and restoration assistance for Ukraine.
More than a dozen senior officials from the European Union's executive branch held a meeting with the Ukrainian government, sending a strong message to Moscow that the bloc would continue helping Ukraine defend itself.
The highly symbolic visit comes nearly a year after Russia launched its full-scale invasion of Ukraine. The delegation of top EU officials arrived on the eve of the EU–Ukraine Summit to be held in Kyiv on Feb. 3 – the first of its kind since the 2022 invasion.
At a joint press conference with European Commission President Ursula von der Leyen, Zelensky called upon the bloc to speed up with sanctions against Russia. He stressed that the EU's pace had "slightly" slowed, while Russia began adapting to them better.
"It is a common European task to reduce Russia's ability to circumvent sanctions, and the faster and better this task is carried out, the closer we will be to defeating Russian aggression," Zelensky said.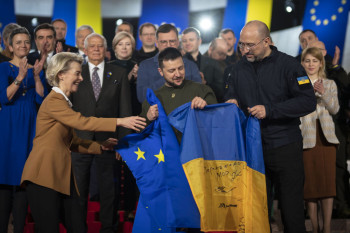 Von der Leyen said that the EU was aiming to prepare the next round of sanctions by Feb. 24, which she said would include an increased cap on Russian petroleum products. She reassured Kyiv that the EU sanctions against Russia were "throwing it back by a generation," with the bloc's oil price gap costing Moscow about $176 million daily.
"Europe has been by Ukraine's side since day one because we know the future of our continent is being written here," von der Leyen said. "This is a fight of democracies against authoritarian regimes."
The EU council also announced that it would provide Ukraine with another $542 million for the seventh tranche of military aid, along with an additional $49 million for the training of Ukrainian troops.
EU's top diplomat Josep Borrell, who visited the Ukrainian capital with von der Leyen and Council President Charles Michel, announced that the bloc would double this year's number of Ukrainian servicemen to be trained to 30,000.
Borrell also said the EU would provide $27.5 million to help Ukraine demine liberated areas. Ukraine is said to be the most mined country in the world.
"Europe stood united with Ukraine from day one. And will still stand with you to win and rebuild," Borrell said.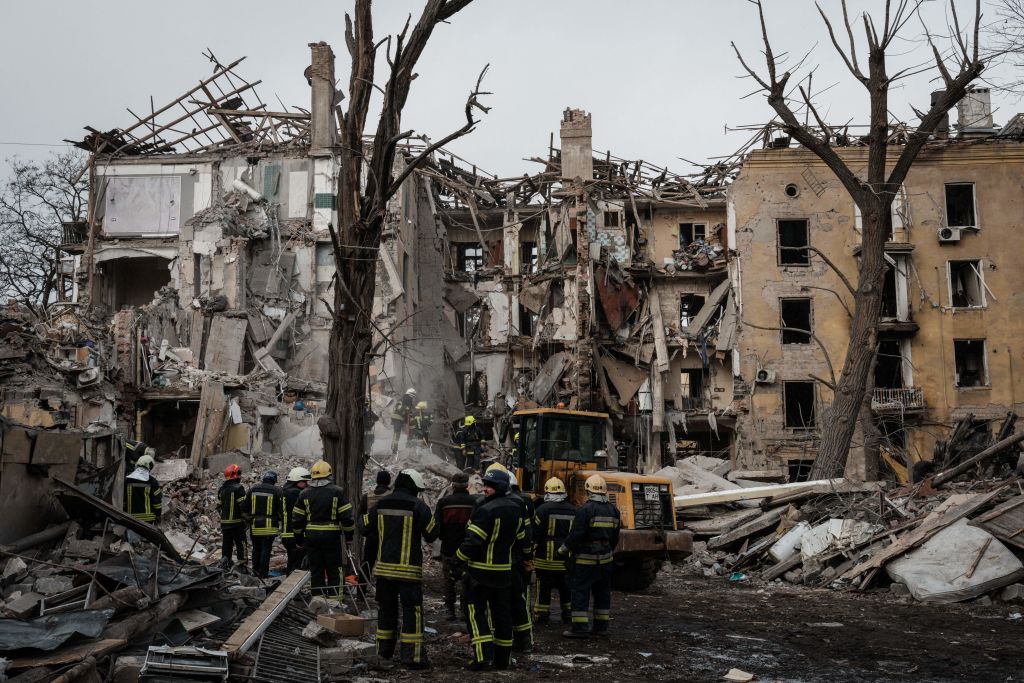 Intensifying attacks against civilians
Russian forces launched a missile strike on a residential building in the eastern city of Kramatorsk late on Feb. 1. Donetsk Oblast Governor Pavlo Kyrylenko condemned Russian troops for "completely destroying" the building several dozen kilometers away from the front line.
As of Feb. 2, the casualties rose to at least three killed and eight wounded, according to Kyrylenko.
On the afternoon of Feb. 2, another round of Russian missile strike hit the center of Kramatorsk, wounding at least five people, Kyrylenko reported. He added among the infrastructure damaged were 16 buildings, a children's clinic, a school, garages, and cars.
"Russians confirm their status as terrorists every day," the governor said.
Meanwhile, Russian shellings continue in the south of Ukraine.
Kherson Oblast Military Administration said on Feb. 2 that a Russian artillery attack "seriously damaged" a kindergarten in one of the oblast's villages. No casualties were reported.
By continuing to shell the liberated parts of Kherson Oblast on the western bank of the Dnipro River, the Russian military likely aims to degrade civilian morale and deter potential Ukrainain counterattacks across the Dnipro River, the U.K. Defense Ministry said on Feb. 1.