This audio is created with AI assistance
Key developments on March 16:
ISW: Wagner Group's offensive on Bakhmut appears to be nearing culmination
UK military advisor: 20,000-30,000 regular Russian soldiers, Wagner fighters have been killed, wounded in Bakhmut since May
Poland to send 4 MiG-29 fighter jets to Ukraine in coming days
Politico: China sends rifles, body armor to Russian entities
The Russian state-backed mercenary company Wagner Group's offensive on Bakhmut "appears to be nearing culmination," the Institute for the Study of War said in its latest assessment on March 16.
Wagner's founder Yevgeny Prigozhin has recently criticized the Russian Defense Ministry for not providing his fighters with enough ammunition, which has taken a toll on Wagner's ability to pursue offensives on Bakhmut. Prigozhin claimed on March 15 that Wagner has had to expand its encirclement of Bakhmut, an embattled city in Ukraine's eastern Donetsk Oblast.
Meanwhile, Prigozhin claimed that Wagner captured Zaliznianske, a small village about nine kilometers north of Bakhmut. Ukraine hasn't confirmed the village's capture.
However, the ISW, a U.S. think-tank analyzing the war in Ukraine, emphasized that "the capture of Zaliznianske and other similarly small towns north of Bakhmut is unlikely to enhance Wagner's ability to capture Bakhmut itself or make other operationally significant gains."
"Recent Wagner gains north of Bakhmut suggest that manpower, artillery, and equipment losses in fights for Bakhmut will likely constrain Wagner's ability to complete a close encirclement of Bakhmut or gain substantial territory in battles for urban areas."
According to the ISW, the Wagner offensive "will not be sufficient enough" to seize Bakhmut.

"Russian forces are not pursuing active or successful offensive operations elsewhere in theater, and as the pace of operations slows along critical sectors of the front, Ukrainian forces likely have an increased opportunity to regain the initiative," the think-tank said.
At the same time, U.K. military advisor, Ian Stubbs, during his March 15 speech in Vienna, said that "Russia is suffering extremely heavy casualty rates."
"Since May last year, between 20,000–30,000 Wagner and regular Russian forces have been killed and wounded in the area around Bakhmut alone," Stubbs said.
The U.K. estimated that the vast majority of casualties are suffered by Wagner.
Meanwhile, Russia's Defense Ministry continues to insist on capturing Vuhledar, another city in Donetsk Oblast, partially due to its competition with Wagner Group, which achieved tactical success in the Bakhmut sector, the U.K. Defense Ministry reported on March 16.
According to the ministry's daily intelligence report, Russian attempts to storm Vuhledar "almost certainly" slowed in the past week, following recurrent, extremely expensive failed attacks.
The General Staff of Ukraine's Armed Forces said on March 17 that Russian troops are preparing to resume their offensive on Vuhledar.
Earlier on March 1, the New York Times reported that the Ukrainian forces have destroyed at least 130 Russian tanks and armored personnel carriers over a three-week "epic" fight in Vuhledar.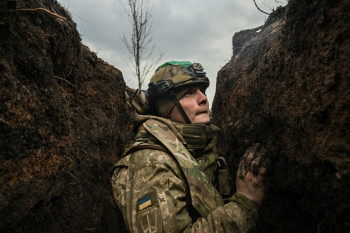 Ukraine's spring counteroffensive
As Ukraine prepares for a massive counteroffensive in spring, the U.S. military is fast-tracking the supply of weapons and training of Ukrainian troopse, Politico reported.
After a virtual meeting with the Ukraine Defense Contact Group on March 15, U.S. Defense Secretary Lloyd Austin said that "Ukraine doesn't have any time to waste."
"We have to deliver swiftly and fully on our promised commitments," Austin said, as quoted by Politico.
"That includes delivering our armored capabilities to the battlefield and ensuring that Ukrainian soldiers get the training, spare parts, and maintenance support they need to use these new systems as soon as possible."
Meanwhile, according to Vadym Skibitskyi, deputy chief of Ukraine's military intelligence, Russian forces are building fortifications and preparing for defense in Russian-occupied Crimea. Nearly 90 combat aircraft and 60 attack helicopters are currently stationed in Crimea, Skibitskyi said.
Russian troops reportedly set up a special group on the peninsula, now assembling fortifications and defense lines as Moscow maintains its military infrastructure in Crimea in combat readiness.
Russian occupying forces concentrated their efforts on the north of the Crimean Peninsula and the neighboring partially occupied Kherson Oblast's south, according to the statement.
Skibitskyi also added that Russian troops were digging trenches on the beaches in the potentially most dangerous areas, where a Ukrainian amphibious naval operation could take place.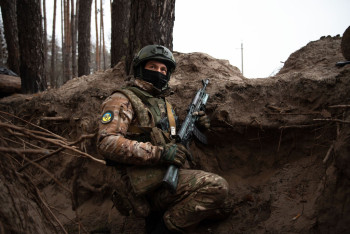 Poland, Canada, Spain, Sweden announce new military aid
As reported by Rzeczpospolita newspaper, Polish President Andrzej Duda said on March 16 that Poland will hand over the first four MiG-29 fighter jets to Ukraine within the coming days.
Poland will be the first NATO country to provide long-sought warplanes to Ukraine since the beginning of Russia's full-scale invasion on Feb. 24, 2022.
"The remaining aircraft are being serviced and prepared," Duda added, without mentioning the total number of MiG-29 jets that Poland plans to send to Ukraine.
The Polish government also said on March 15 that Warsaw had received "clear declarations" from several unnamed countries willing to supply Ukraine with MiG-29 jets.
On March 15, Canadian Defense Minister Anita Anand announced that Canada would provide Ukraine with more ammunition and anti-aircraft defense following the 10th Ramstein format meeting.
Ottawa's latest aid package includes 8,000 rounds of 155 mm ammunition, 1,800 rounds of 105 mm tank training ammunition, and 12 air defense missiles. Canada has pledged a total of 8 Leopard 2 tanks to Ukraine, with four of them already in Poland for training exercises.
As reported by El Espanol on March 15, Spain will transfer an additional 4 Leopard 2 tanks to Ukraine, bringing the total number of pledged Leopards to 10.
The first batch of 6 tanks will be sent to Ukraine "in the near future," according to Spanish Defense Minister Margarita Robles, as cited by El Espanol.
Additionally, according to a March 16 announcement on the Swedish government's website, Sweden will provide Ukraine with eight Archer self-propelled artillery systems.
Meanwhile, Politico reported that trade and customs data from between June and December 2022 showed that Chinese companies have exported 1,000 assault rifles and other equipment, such as drone parts and body armor, to Russian entities.
The U.S. earlier said it believes that China had already provided Russia with non-lethal military assistance and was considering sending lethal aid.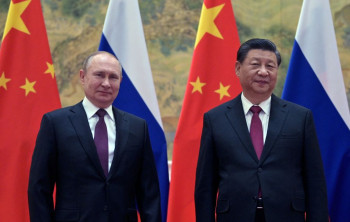 Russian attacks
Russian attacks were reported in Donetsk, Kherson, Kharkiv, Chernihiv, Sumy, Zaporizhzhia, and Luhansk oblasts in the east, south, and north of Ukraine over the past 24 hours.
According to local authorities, one person was killed, and 14 were wounded.
Russian shelling took the life of one civilian in Bakhmut and injured 11 more in Donetsk Oblast, Governor Pavlo Kyrylenko reported in his morning update on March 16.
Kherson Oblast was struck 88 times, firing 413 projectiles on the oblast's settlements, according to Kherson Oblast Military Administration.
The attacks reportedly wounded three people.
Russian troops launched an S-300 missile at Ukraine's eastern city of Kharkiv on March 15, damaging an educational institution, a high-rise building, and cars, said Kharkiv Oblast Governor Oleh Syniehubov.
On the morning of March 16, Russian forces hit the community of Bilopillia with artillery and grenade launchers in Sumy Oblast, bordering Russia, according to the regional administration.
Zaporizhia, Chernihiv and Luhansk oblasts were also shelled by Russian forces, causing damage to civilian infrastructure and households. No casualties were reported.