This audio is created with AI assistance
The good-humored Ukrainian fighter pilot Danylo Murashko was in low spirits on Jan. 27. He hadn't gone out on a sortie in several days, which always put him in a bad mood.
Noticing Murashko's state of mind, his commander, lieutenant colonel Rostyslav Lazarenko, decided to allow 24-year-old Murashko to join him on a combat mission.
As the two were up in the sky somewhere above Donetsk Oblast, a rocket launched from a Russian fighter hit Murashko's aircraft. The town of Shabelkivka, with a pre-war population of over 4,000 residents, was just ahead of him.
According to his brigade, Murashko tried to divert his plane so that it wouldn't fall on residential buildings. The effort, however, made him fly lower and cost him precious time.
Murashko stopped the plane from killing civilians, but he could not eject safely.
"I turned (the aircraft) away," were the last words Lazarenko heard from Murashko, he said in an interview with the Defense Ministry's news agency Army Inform.
"He would never forgive himself if someone died because of him when he could have saved them," Murashko's wife, 20-year-old Daria Murashko, told the Kyiv Independent.
Following the pilot's death, the 299th tactical aviation brigade, named after Lieutenant General Vasyl Nikiforov, said Murashko was one of its best officers and that he had "died like a hero."
According to the brigade, Murashko had gone on 141 sorties since the beginning of Russia's full-scale war on Feb. 24, 2022. His missions killed nearly 600 Russian soldiers and destroyed more than 80 military cars, about 70 Russian armored vehicles, and 30 fuel tanks.
But he could have done so much more, his friends and wife say.
"He was a hero," says Murashko's close friend Vladyslav Ovramenko. "A true patriot of his country."
Since the government does not disclose Ukraine's military losses, it is still unknown how many soldiers have been killed over the year of Russia's all-out war.
But given the bits of information available, the casualty numbers are expected to be high. In September, President Volodymyr Zelensky said around 50 Ukrainian soldiers were killed in action every day. In December, an advisor to the head of Ukraine's Presidential Office, Mykhailo Podolyak, said, citing Ukraine's military, that the country had lost from 10,000 to 13,000 soldiers.
These figures don't include the 4,619 Ukrainian soldiers killed in Russia's war in eastern Ukraine in 2014-2022.

The sky is calling
Growing up in the city of Nizhyn, Chernihiv Oblast, Murashko was fond of soccer, just like many of his peers. He and Ovramenko met at a local soccer club when they were both kids.
Ovramenko says Murashko knew he wanted to become a pilot since early childhood.
Murashko's parents had a kindergarten class photo with him dressed as a pilot on their kitchen refrigerator, Ovramenko remembers.
"Every time his mother asked Danylo who he wanted to become, he would point his finger at that photo," he says.
"He always said: 'I will study, get on a plane, and wave my wings at you.'"
So it was no surprise when in 2013 Murashko entered a military lyceum in Chernihiv and proceeded to learn how to operate aircrafts at the Ivan Kozhedub University of Air Force in Kharkiv.
Ovramenko recalls 15-year-old Murashko being affected by one of the most crucial events in Ukraine's history, the EuroMaidan Revolution, when downtown Kyiv was ablaze with massive protests against then pro-Russian President Viktor Yanukovych.
"He craved to be there," Ovramenko says. "We were kids back then, very young," he continues. "But he was already a patriot of Ukraine."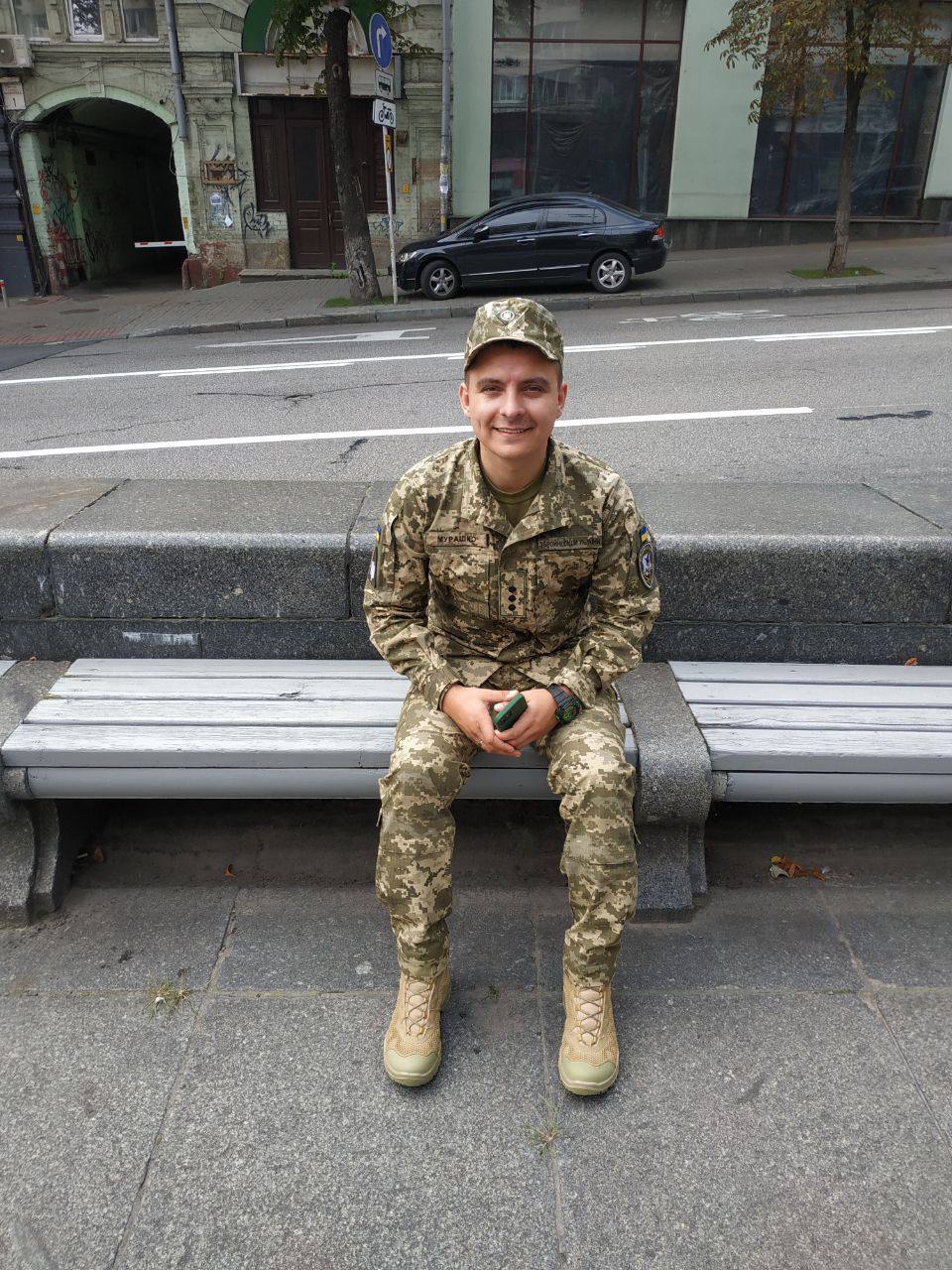 Another friend of Murashko's, Daryna Zinchenko, agrees, saying that even though Chernihiv Oblast borders Belarus and Russia, people in their hometown of Nizhyn never wanted to be part of the "Russian world" and were "brought up as sincere patriots."
Murashko has always cherished his Ukrainian identity, according to her.
Ovramenko says Murashko was "the most reliable and loyal friend" who always tried to protect his loved ones from troubles and worries. He even did not tell his mother he went to Kharkiv to apply for the military lyceum there, although it's not clear why exactly he thought she would be worried about it.
"He said he went for a soccer tournament," Ovramenko recalls. "When the letter from the university arrived, his mother asked what it was. He said: 'Do you remember the soccer tournament I went to?'"
"They opened the envelope, and it said that he had been admitted," Ovramenko continues. Murashko soon moved to Kharkiv.
Ovramenko says their friendship only strengthened throughout the years, despite the distance. The two called each other brothers, and Murashko even became the godfather for Ovramenko's son in 2020.
"He was part of the family, not just a friend but part of me," Ovramenko says.
Last moments of happiness
In his final year of studying in Kharkiv in 2020, Murashko was sent to the southern city of Mykolaiv to practice operating planes at a local airfield.
There, he met his future wife.
"My husband had the charisma of a lion," Daria says. "He was always a group leader, entertaining everyone and joking."
They dated for two months when Murashko was in Mykolaiv and moved in together a couple of months later when he returned to the city after graduation. He was deployed to serve at the Mykolaiv-based 299th Tactical Aviation Brigade.
Daria says she and Murashko were "true soulmates," profoundly caring for one another. She knew Murashko was looking for the right moment to propose to her.
But their happy life together was cut short on Feb. 24 when Russia launched its full-scale invasion of Ukraine.
"He called me, asking to pack a bag for him," she recalls. "He left Mykolaiv on the first day of the war."
Daria says Murashko did not disclose details about the fighting and the location he was in. However, one day in late March, he called her, saying he could return home for two days.
"He asked me what I thought of him coming with the rings," Daria says, adding that she agreed.
"My mother made a dress for me in three days," Daria continues. "We met near my house, and he kneeled, and began asking the question."
"I said: 'You didn't even have to ask,'" she recalls. "We went to the registry office and got married the next day."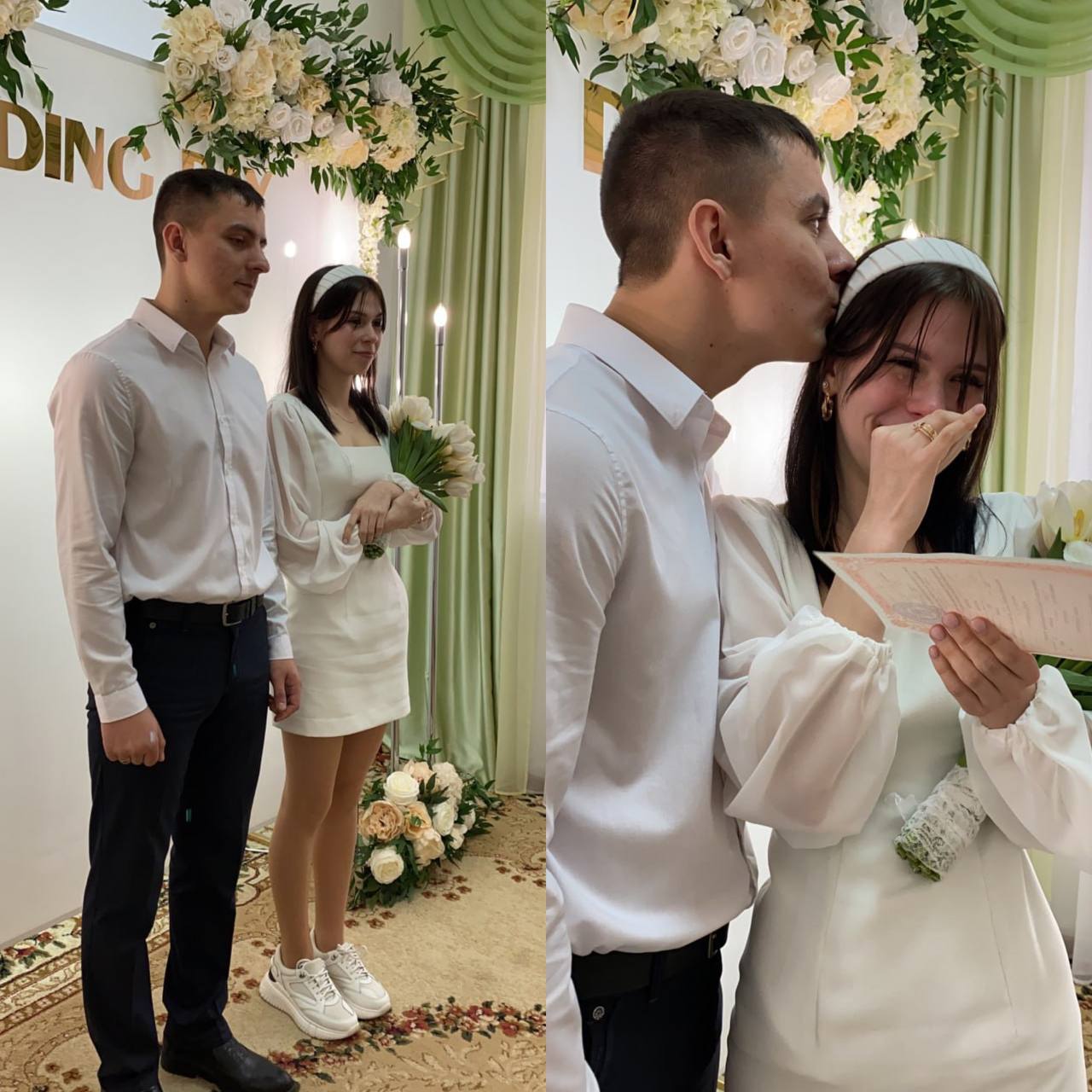 Though it was a small celebration, with only Daria's mother and her friend present, she says she was "beyond happy." And so was Murashko, according to her.
But it was a short moment of happiness that they managed to enjoy: In the early morning on the next day, Murashko returned to the front line to continue defending Ukraine.
Next time Daria saw her husband was in August when he returned to Nizhyn to celebrate his 24th birthday. She currently lives together with Murashko's grandmother in his hometown.
"We usually celebrated (Murashko's) birthday with a small group of friends," Daria says.
"But on that birthday, he seemed to feel that it was the last one. He threw a huge celebration with so many people."
In late December, she would see her husband for the last time.
Until the last heartbeat
In an interview with Army Inform, commander Lazarenko said he was certain Murashko would be the first to operate the F-16 fighter jet Ukraine had been calling on its allies to provide once they are supplied.
Lazarenko even urged Murashko to begin studying English to operate the Western aircraft and was shocked at how good he got at it shortly.
"Danylo fought non-stop and at the same time studied as intensively as anyone," Lazarenko said, as quoted by the media.
Ovramenko says his friend Murashko was also very humble. For his service, Murashko received a "Steel Cross," an honorary badge awarded by Ukraine's Armed Forces Commander-in-Chief Valeriy Zaluzhnyi, and the Bohdan Khmelnytsky Order from President Volodymyr Zelensky. He never bragged about his accolades, Ovramenko says.
About some of his awards, Ovrameko found out only after Murashko's death.
"He always said that it would be better if there weren't all these awards, but everyone was alive," says Daria.
Losing his fellow soldiers was the hardest part for Murashko. Daria recalls when he once returned to Nizhyn for his fellow soldier's funeral, "he just sat at his grave and cried." "He was never ashamed of crying."
Ovramenko says seeing how many civilians have been killed was also tough for Murashko. Once, he recalls, when Murashko learned that numerous Ukrainian children were killed in one of Russia's attacks, he said he would continue destroying the Russian troops "as long as his heart beats."
He craved to go on as many sorties as possible and would get upset whenever the weather conditions or other reasons did not allow him to fly.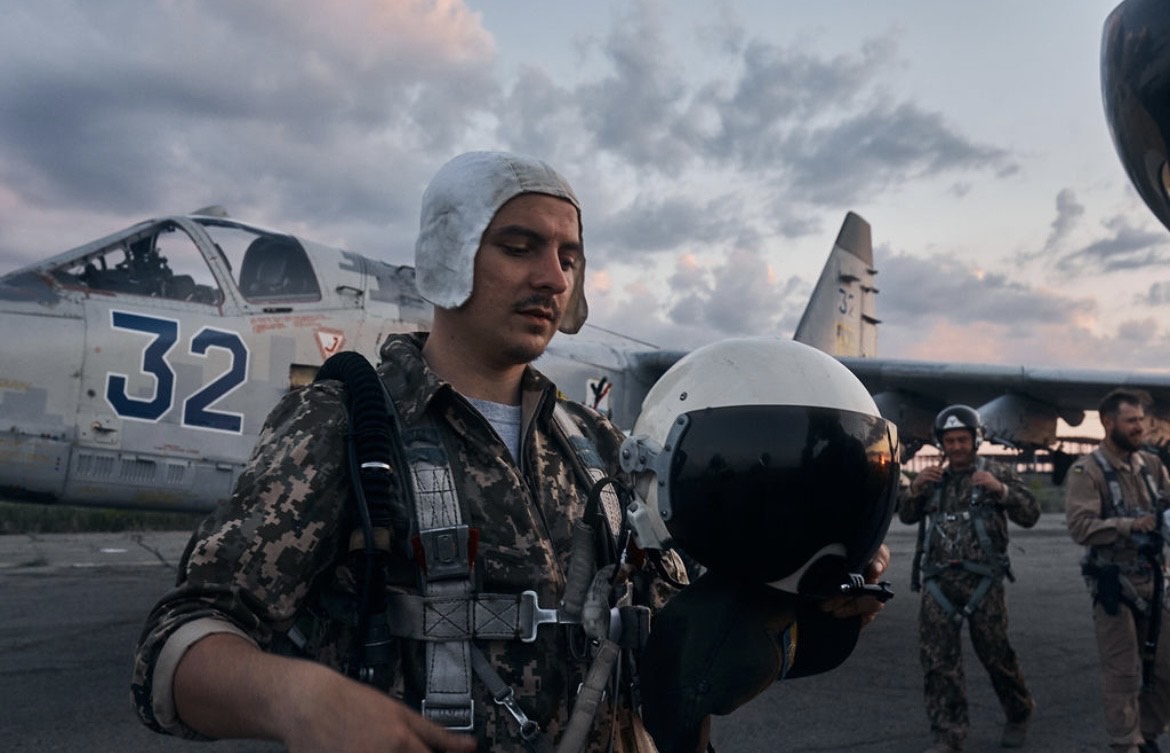 Daria says Murashko knew how risky his job was but was ready to sacrifice his life to save others.
"He said that his one life could save tens (of lives), and that's why his life is worth those ten," she says.
"He said he would easily give (his life) up so that the guys in the infantry were alive and could continue defending our country."
Daria says Murashko "might have survived" that day on Jan. 27 if only he had "ejected immediately." Murashko's loved ones later found out that numerous Shabelkivka residents gathered outside their houses to get some humanitarian aid on Jan. 27, just when Murashko's plane was shot.
"If he did not turn his plane away, the losses could have been very high," she says.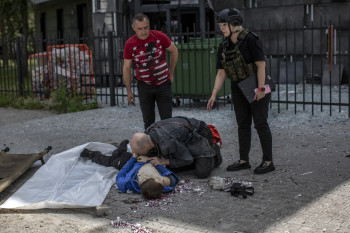 Posthumously, Murashko was promoted to major. He was buried in his native Nizhyn on Jan. 30.
"We don't need (the title of) hero, we need our boy, but no one will bring him back," Murashko's grandmother told Suspilne after the funeral.
"We wanted to see our boy here but not his coffin," she said, crying.
Daria says Murashko "dreamed of having children" and of a happy life together with her.
"He just dreamed of life, of peace. He dreamed of winning this war so that all the boys would be alive.." she says.
A petition to posthumously award Murashko with the Hero of Ukraine title can be found here.
Note from the author:
Hi! Daria Shulzhenko here. I wrote this piece for you. Since the first day of Russia's all-out war, I have been working almost non-stop to tell the stories of those affected by Russia's brutal aggression. By telling all those painful stories, we are helping to keep the world informed about the reality of Russia's war against Ukraine. By becoming the Kyiv Independent's patron, you can help us continue telling the world the truth about this war.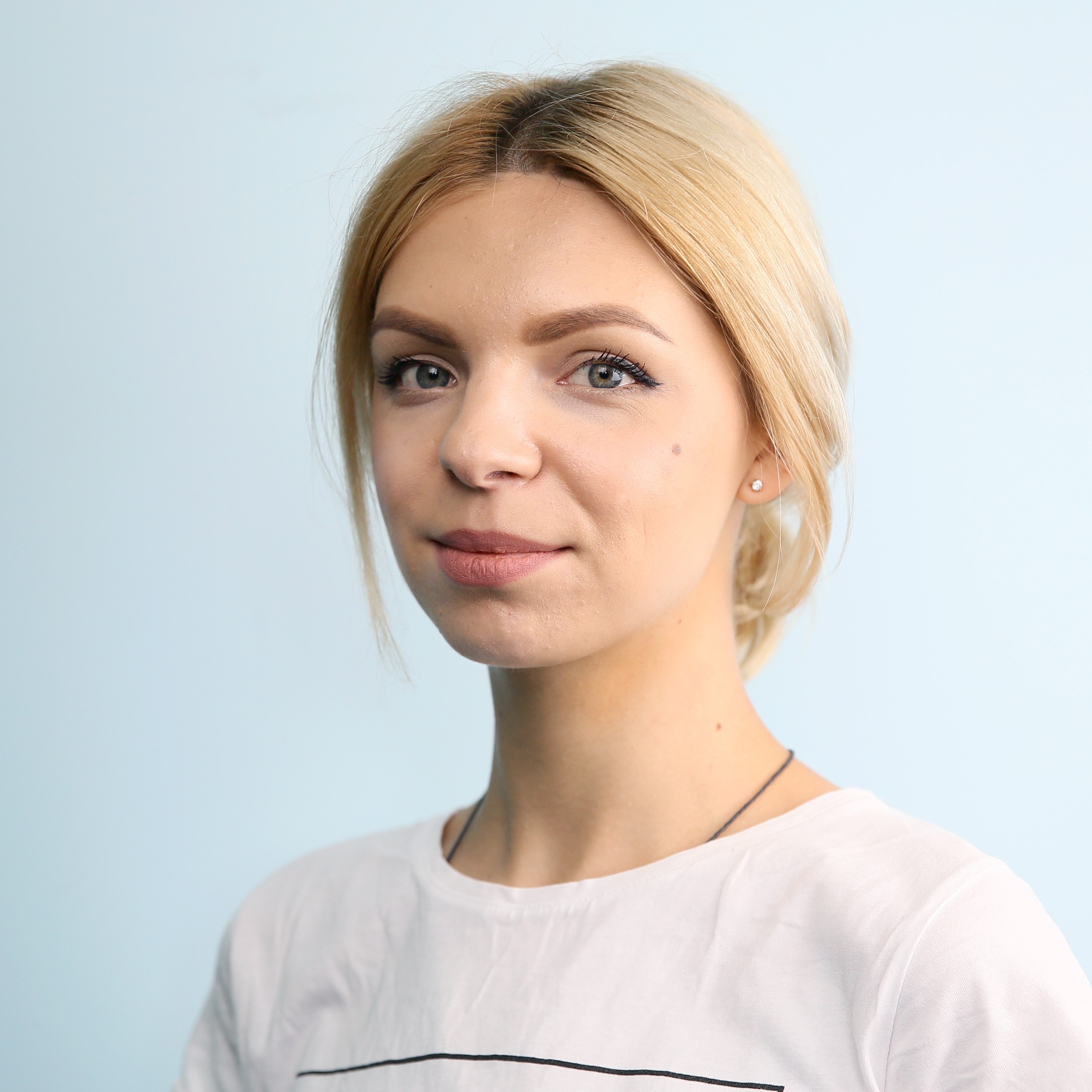 Daria Shulzhenko
Reporter
Daria Shulzhenko is a reporter at the Kyiv Independent. She has been a lifestyle reporter at the Kyiv Post until November 2021. She graduated from Kyiv International University with a bachelor's in linguistics, specializing in translation from English and German languages. She has previously worked as a freelance writer and researcher.