This audio is created with AI assistance
The Azerbaijani military has violated its ceasefire agreement and is continuing to attack Stepanakert (Khankendi in Azerbaijani), the capital of Nagorno-Karabakh, Armenian media claimed on Sept. 21, citing the breakaway region's Interior Ministry.
Following the launch of Azerbaijan's military offensive on Sept. 19, authorities in the Nagorno-Karabakh region accepted a Russian-mediated ceasefire agreement on Sept. 20.
However, local authorities in the region said gunfire can be heard in the city's center, urging the population to remain in shelters.
Independent Russian media outlet Meduza reported that the city's residents who have their own car are trying to reach the airport, where Russian forces are based.
The news comes as a delegation from Nagorno-Karabakh arrived in the Azerbaijani city of Yevlakh on the morning of Sept. 21 to participate in negotiations with Azerbaijan.
The delegation, which is reportedly accompanied by Russian forces, is set to discuss the reintegration of the region, as well as security, rights, and livelihoods of the population of Nagorno-Karabakh with representatives of Azerbaijan.
On Sept. 20, Azerbaijan's President Ilham Aliyev said that his country "restored its sovereignty" by conducting the military offensive in Nagorno-Karabakh.
Aliyev claimed that much of the Armenian military stationed in Karabakh had been "completely destroyed" and its equipment disabled. Yerevan previously denied any military presence in the region.
According to the terms of the ceasefire proposal, there must be a "dissolution and complete disarmament of the Armed Forces of Nagorno-Karabakh" and Armenian troops must leave Azerbaijan territory.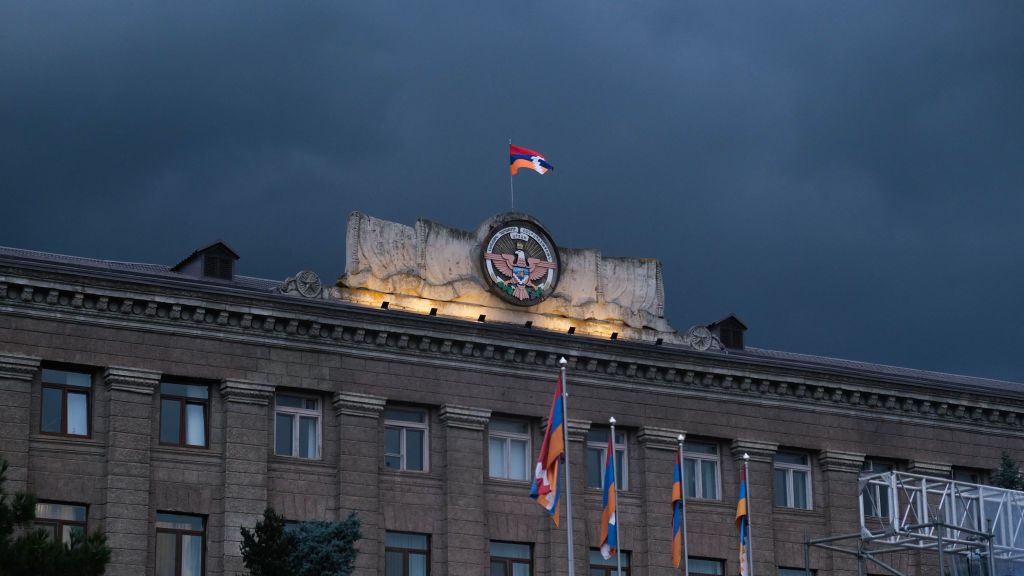 Armenian Prime Minister Nikol Pashinyan said that the document's references to his country's forces stationed in Karabakh are "absurd," reiterating that none of Yerevan's troops are present in the area.
Further issues relating to the integration of the territory and the status of the predominantly ethnic Armenian population that live there will be discussed in Yevlakh, RFE/RL's Armenian service reported.
President of the European Council Charles Michel called on Aliyev to ensure dignified treatment of Karabakh Armenians and provide them access to humanitarian assistance. The EU, as well as France and Germany, have previously denounced Baku's offensive.
Nagorno-Karabakh is recognized as Azerbaijan's territory under international law. Its population of 120,000 is predominantly Armenian.
The territory declared independence in 1991 with Yerevan's military support. Until 2020, Armenia de facto controlled Nagorno-Karabakh together with the surrounding regions.
In 2020, Azerbaijan launched a military operation establishing control over parts of Nagorno-Karabakh.
In November 2020, Russia brokered an armistice between Armenia and Azerbaijan. Moscow sent forces to patrol the Lachin corridor, the only road connecting Nagorno-Karabakh with Armenia.
In 2022, Yerevan accused Russia of failing its peacekeeping mission when Moscow began withdrawing its troops in 2022 and allowed Azerbaijan blockade Nagorno-Karabakh, preventing basic supplies from reaching the population.