This audio is created with AI assistance
Talks of dictator Alexander Lukashenko's Belarus becoming Russia's vassal gained ground in 2020 when the regime violently crushed all forms of descent, with Moscow's full backing.
Two years later, Lukashenko's Belarus is barely independent from the Kremlin.
The Belarusian economy is dependent on Russia's direct and indirect financial contributions, the Russian army is stationed all across the country, and its territory is used to launch missiles against Ukraine.
Russia trains Belarusian troops, the country's opposition is in prison or exile, while the country's official language, Belarusian, is being actively suppressed by the authorities in favor of Russian.
Belarus is also part of the Union State, a political union with Russia that used to slowly integrate Belarus into its warmongering neighbor.
The process gradually accelerated after Lukashenko unconditionally parted with the West in 2020 following the violent crackdown on participants of anti-government protests.
Subscribe to the Newsletter
Belarus Weekly
In late October of 2022, Ukraine's parliament was the first to deem Belarus as a "temporarily occupied territory," asking the international community to act accordingly.
Belarusian opposition leaders in exile supported Ukraine's resolution.
Yet many experts object to this designation.
According to international law, a territory is considered occupied if a foreign military effectively controls it.
While Russian troops are persistently present in Belarus, the reported numbers are far from those that would allow them to be effectively in control of the country.
Moreover, Lukashenko still has a firm grip over domestic issues in the country and is believed to be actively opposed to further integration with Russia.
The notion that Belarus is occupied also erodes the responsibility of local authorities, military, and law enforcement.
"Belarus is not occupied. But its dependence on Russia is enormous now in terms of military, foreign policy, ideology, and information policy," says Belarusian political scientist Valer Karbalevich.
"I'm not convinced we will come to the point of the formal liquidation of Belarus," Karbalevich suggests, adding that this doesn't mean Belarusians have a say in how their formally independent country will be run.
De jure independence
Сalls to recognize Belarus as an "occupied territory" were voiced by the leaders of the Belarus opposition as soon as Russian troops launched a full-scale assault on Ukraine in February, including from Belarus.
Since then, the leader of the Belarusian democratic movement, Sviatlana Tsikhanouskaya, and Pavel Latushko, a key member of Tsikhanouskaya's shadow cabinet, said that Russia is effectively in control of the situation in their country.
However, according to international law and political theory, Belarus is an independent dictatorship still run by a local strongman – Lukashenko.
The legal basis for considering a territory to be occupied lies within Article 42 of the Hague Convention (IV) from 1907, which stipulates that a territory is occupied when it is placed under the effective control of a hostile army.
The proponents of occupation designation argue that the presence of Russian troops on Belarusian soil signifies the loss of Belarusian control over its own territory.
But Ekaterina Deikalo, an expert in international law from the Belarusian Helsinki Committee, says that "according to international law, the main criteria for effective control is the ability to pass laws and ensure compliance with them."
"Whether we like it or not, Lukashenko effectively controls Belarusian territory. To prove occupation, we would have to search for evidence of Russian forces controlling certain parts of territories. But we don't see that."
The closest Belarus came to formal occupation was in early 2022, when a massive Russian military force was stationed in Belarus for over a month and later crossed into Ukraine, launching a full-scale invasion.
The official number of Russian troops in Belarus was never published.
According to NATO estimates, the attack force that entered into Ukraine from Belarus had up to 30,000 Russian troops.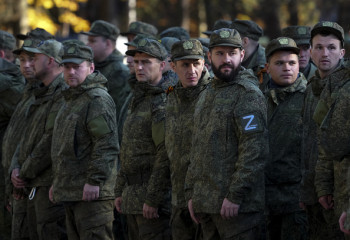 After the blitzkrieg was thwarted and the northern border sealed, most Russian troops withdrew from Belarus. According to Ukraine's Defense Ministry, up to 10,000 Russian soldiers still remain in Belarus, a country of 9.5 million.
Latushko alleges that although Lukashenko allowed Russian troops into Belarus, he has no right to authorize the presence of a foreign army since he had lost the elections in 2020 and is thus not the country's lawful leader.
Therefore, the presence of Russian forces should be considered an act of aggression – the use of armed forces within another state's territory without the receiving state's agreement. Based on this resolution, Latushko argues that Belarus is under non-belligerent occupation.
However, Deikalo, the international law expert, says that "in this regard, legitimacy is secondary to the ability to effectively control the territory."
Lukashenko has confirmed his participation in Russia's war against Ukraine and personally announced the deployment of the joint command in October 2022.
"If we absolutely have to find an equivalent to the Russian presence in Belarus, I suggest a quasi-colony," Deikalo suggests.
The Russian colonization of Belarus didn't start in February 2022, or even in 2020.
It stretches back over 300 years to the imperialistic aspirations of tsarist Russia and later – to the Soviet Union.
"For years, Moscow has demonstrated a colonial approach to influencing Belarus's economy and policies, installing Russian culture and language, and squeezing out all Belarusian national heritage," Deikalo adds.
Erosion of sovereignty
Everlasting joint military drills, alliance pledges, the presence of Russian troops, and the transformation of the Belarusian territory into a launchpad for Russian missiles suggest that little military sovereignty remains in Lukashenko's hands.
He might be in control of his army, but not the use of his territory.
The country's information policy has also been ceded to Russian propagandists.
Three weeks into the civil unrest in the aftermath of the fraudulent 2020 presidential elections, journalists from Belarus's state-owned media were striking and resigning.
Propagandists from Russia were rushed in to replace them.
"Nov. 4, 2022, should be considered at least a precursor, if not the formal end of Belarusian sovereignty in domestic affairs," says Andrey Yelisieev, a political analyst with the EAST Center and iSANS think tanks. On this day, Lukashenko signed a Union State integration pact with Russia.
The Union State aims to create a supranational entity that would align Russian and Belarusian legislation, tax codes, courts, and customs.
In its boldest edition, it had provisioned the unification of currencies to be under the control of Russia's Central Bank in Moscow.
Despite Lukashenko's yearslong reluctance to integrate, 28 programs of integration in various fields were signed, marking the large-scale transition of Belarus to Russian legal norms and strengthened institutional attachment.
Karbalevich suggests that the roadmaps on their own carry a somewhat declarative (rather than conclusive) meaning and could easily be dragged on for a while in the implementation process.
"But the direction of their implementation is disturbing. The readiness to align tax legislation is one step toward the most pessimistic scenario," Karbalevich says.
The recently-introduced agreement on indirect taxation is indicative of the losses that Belarus is facing.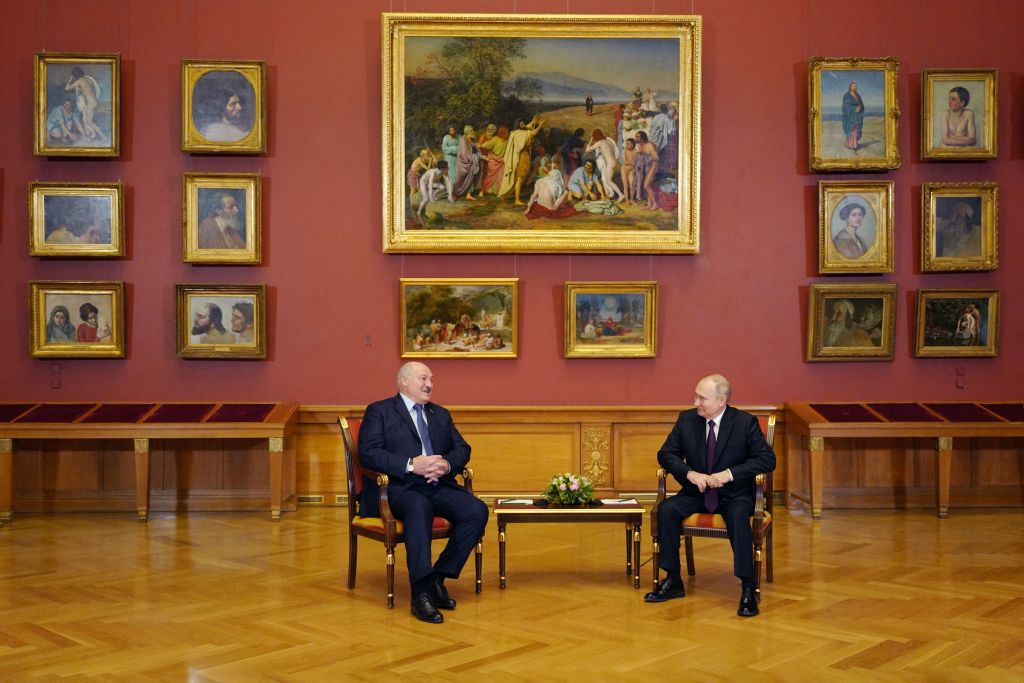 Russia's President Vladimir Putin (R) speaks with his Belarus counterpart Alexander Lukashenko (L) during their meeting on the sidelines of an informal summit of the heads of the Commonwealth of Independent States (CIS) at the State Russian Museum in Saint Petersburg on Dec. 27, 2022. (Getty Images)
It calls for the unification of Belarusian VAT and excise tax standards with that of Russia and prohibits Minsk from having an independent tax policy.
It also stipulates that the countries must operate an integrated system for administering indirect taxes. Hence, Russia receives access to information on every legal entity and the state of its business in Belarus.
"Belarus is losing the ability to manually manage the economy, the tool that Lukashenko is using right now," Karbalevich says.
According to Yelisieev, Belarus' leadership trapped itself in a growing dependency on Russia that Moscow is now set to exploit.
"Bargaining (Belarus's) sovereignty with the Kremlin for financial subsidies and political support for Lukashenko has been ongoing since the mid-1990s," Yelisieev said.
Expert Karbalevich shares a similar opinion.
"Around 60% of Belarusian trade turnover happens with Russia; Belarusian goods are routed through Russian ports. The country is extremely dependent yet preserves control over internal policies," says Karbalevich.
Despite the many concessions Belarus has already made, Karbalevich argues that Russia isn't satisfied with today's status quo.
"It would like to define and influence the selection of Belarus's leadership and privatize the most profitable Belarusian enterprises (Belaruskali, oil-processing, food industry plants)," Karbalevich says.
Internally occupied
The September edition of the Belarus Change Tracker, a quarterly report by political analysts, sociologists, and economists, suggests that Belarus is under "internal occupation."
Belarusians also use this term to explain why they can't openly protest against the country's complicity in the war against Ukraine.
Henadz Korshunau, a co-author of the report and senior expert of the Center for New Ideas, believes that Lukashenko's regime is able to hold power solely with brute force and assistance from Russia.
From a sociological and philosophical standpoint, Belarus' current regime and its loyal law enforcement are "an occupying force," Korshunau argues.
"The regime is using concepts that are more suited to an occupation administration juxtaposing themselves against a hostile population," he adds.
When speaking about protests, Lukashenko also uses military terms saying that "we take no prisoners" and adding that "we invade their territory" when talking about the closure of yet another media outlet, nonprofit, or institution hostile to the regime.
After the massive civil unrest in 2020, Lukashenko waged war on civil society.
Independent media were the first victims, with over 30 journalists imprisoned and many outlets designated "extremist." Over 850 nonprofits were then liquidated.
Attacks on Belarusian history and language began in 2022.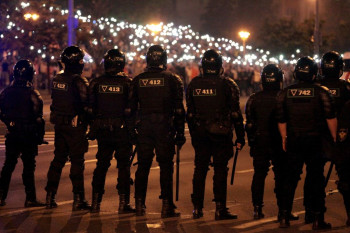 Belarusian law enforcement has raided and shut down independent publishers.
The Tavarystva Belaruskai Movy (Partnership for the Belarusian Language), an NGO promoting the Belarusian language, was shut down.
Belarus has long been the most Russified of the former Soviet republics. During his first presidential term, Lukashenko held a referendum to designate Russian as the second official state language.
The published results showed voters in favor, but the vote itself was marked with controversy with lawmakers and judges deeming it unconstitutional.
Campaigning before the referendum, Lukashenko stated, "nothing great can be expressed in Belarusian. It's a poor language".
According to the 2019 census data, while 56% of Belarusians claim Belarusian as their native language, only 26% reported speaking it in their daily lives.
The actual number of people speaking Belarusian daily is believed to be much lower. However, a Belarusian cultural revival was among the key features of the nationwide 2020 protests.
"The accelerated loss of sovereignty and Russification is a reaction to the Belarusification of society," Korshunau argues.
Speaking Belarusian after 2020 is associated with being opposed to Lukashenko's regime and can lead to fines or imprisonment.
Using the country's original official language has become a risk many are afraid to take.
"Polls show that a great portion of the population doesn't feel safe. People live in a state of permanent stress and threat," Korshunau says.
Although the presence of Russian troops on Belarusian soil doesn't make it technically occupied, the country is undergoing a more extensive and disturbing process of ceding its sovereignty to Russia.
"Occupation can't last long, but colonization very much can," expert in international law Deikalo says.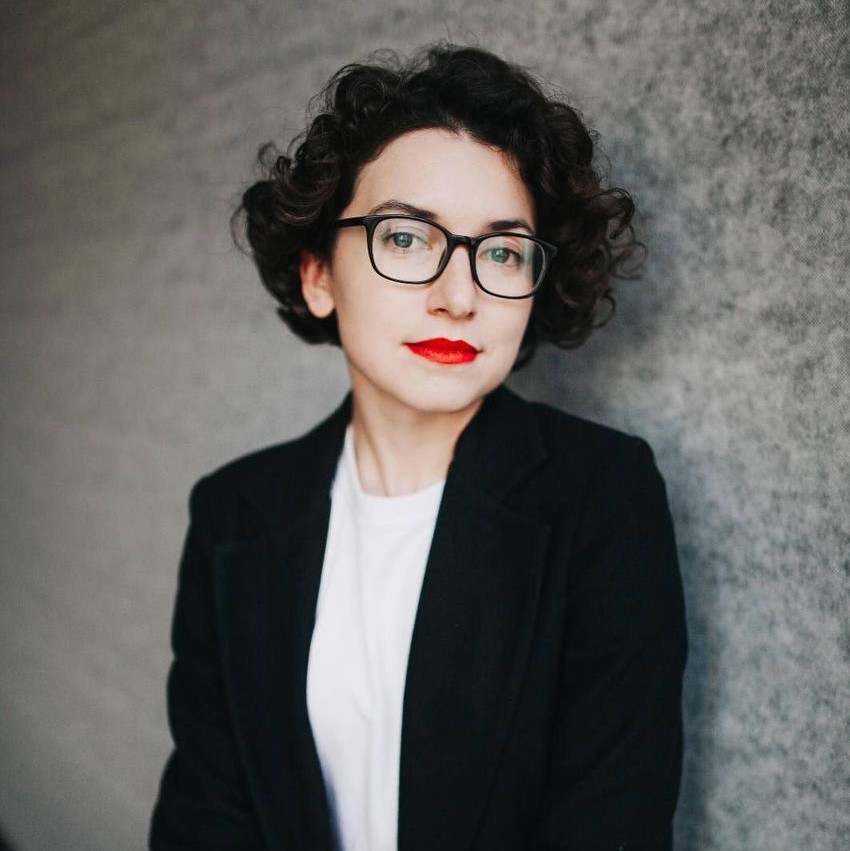 Maria Yeryoma
contributing author
Maria Yeryoma is a Belarusian media manager and a contributing author at the Kyiv Independent. She recently led the commercial "special projects" at TUT.BY — the biggest independent online media in the country. In May 2021, TUT.BY was raided by Belarus authorities leaving 15 employees in custody and forcing the team to leave the country to continue their work. Maria moved to Kyiv and helped establishing a new media outlet — Zerkalo.