This audio is created with AI assistance
Editor's Note: This story is based on an investigation by Trap Aggressor, a project by Ukrainian NGO StateWatch, that advocates for principles of good governance. The investigation's author, Roman Steblivskyi, is a researcher at StateWatch. This story has been translated from Ukrainian and edited by the Kyiv Independent.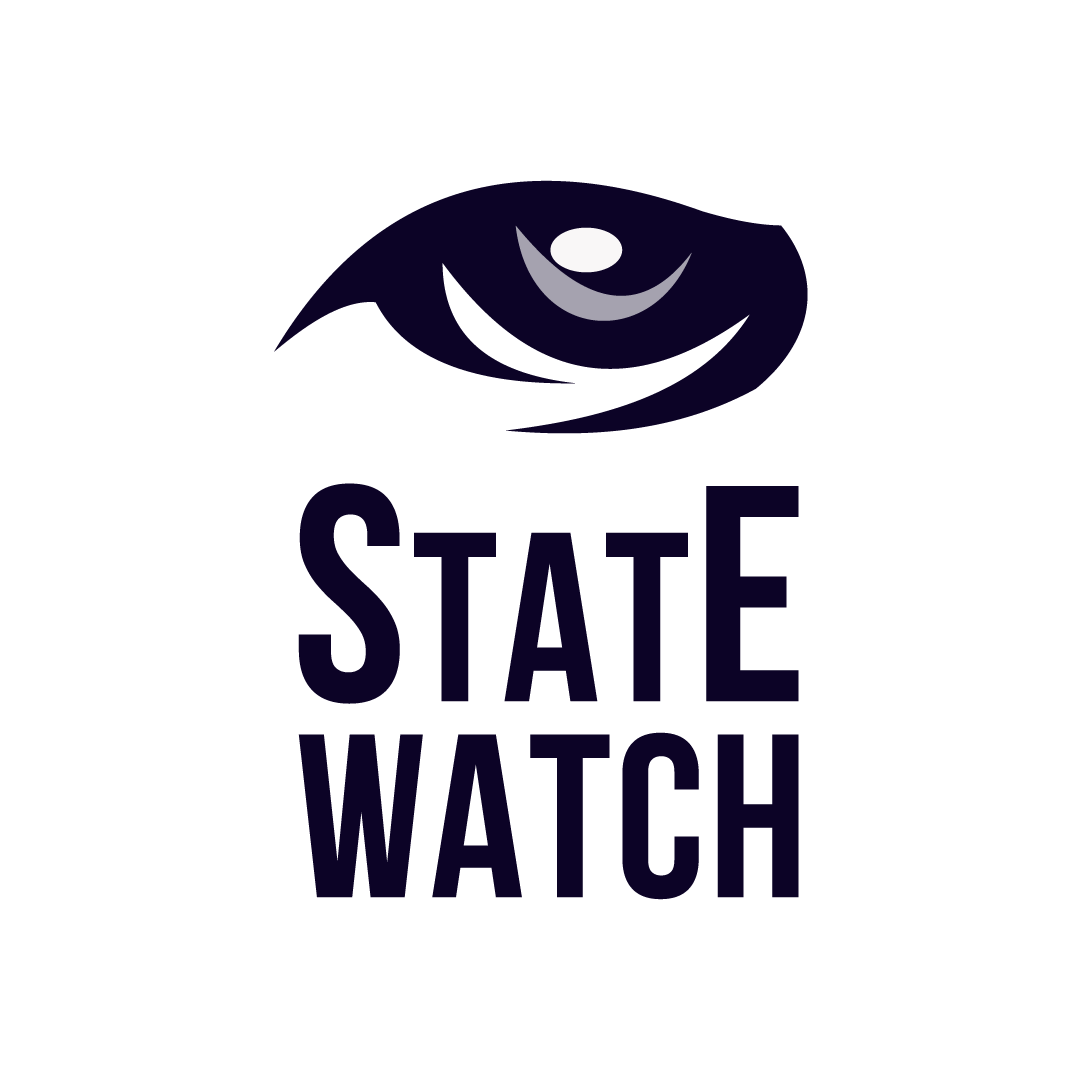 ---
Key findings:
Russian-run Indian companies have supplied, and are likely still supplying, Czech-made Mi-8 power units to a Russian helicopter factory after the start of the full-scale invasion of Ukraine, bypassing sanctions
Mi-8s produced by the Russian helicopter factory were used by Russia in its war, including for the attempted capture of Ukraine's Hostomel airfield near Kyiv in February 2022
Indian and Kazakh companies that bought the Czech power units have long-standing relationships with the Russian military-industrial complex and may have re-sold Czech parts to Russia. The Czech manufacturer may have been made aware of these connections during the EU-required due diligence check and should have perceived this as a red flag
The Czech manufacturing company said it has launched an internal investigation into the re-export of its power units to Russia in response to a journalist inquiry
---
At the start of the invasion in February 2022, the Antonov airfield in Hostomel – a city located around 30 kilometers from Ukraine's capital, Kyiv – was Russia's primary target. The seizure of Hostomel's airfield was going to open the way to Kyiv.
At the center of this crucial attack were Mi-8 transport helicopters. After the failed attempt to take Kyiv, Russia proceeded to use them for other battle missions.
Russia has lost at least 106 helicopters during its full-scale war, according to the Dutch open-source intelligence defense analysis website Oryx. Twenty-two of them, or one in five, is a Mi-8 transport helicopter.
To repair these helicopters and build new ones, Russia needs components. At least one of them, a crucial power unit required to start the helicopter's main engine, is not produced in Russia.
The necessary power unit is only produced in Czechia by First Brno Engineering Plant Velka Bites (PBS Velka Bites). In theory, international sanctions should make it impossible for Russians to get it.
Soon after the Russian invasion of Ukraine, the EU, the U.S., and Canada, among others, imposed sanctions against the Mi-8s producer, Kazan Helicopter Plant (KHP). As a result, PBS Velka Bites stopped deliveries to Russia after 20 years of uninterrupted supplies.
However, a Trap Aggressor investigation conducted exclusively for the Kyiv Independent revealed that Mi-8-specific power units made by PBS Velka Bites continue to reach Russia via intermediaries in Asia.
In response to Trap Aggressor's findings, PBS said that it had launched an internal investigation into the re-export of its power units to Russia by the company's Indian and Kazakh clients.
Long-term connections
The PBS Group produces components for the aircraft, energy, and transport industries. Providing parts for Mi-type helicopters, in particular those from Russia, is one of the company's priority directions.
The flagship product of one of PBS' subsidiaries, PBS Velka Bites, is the Safir auxiliary power unit, which essentially helps Mi-type helicopters take off.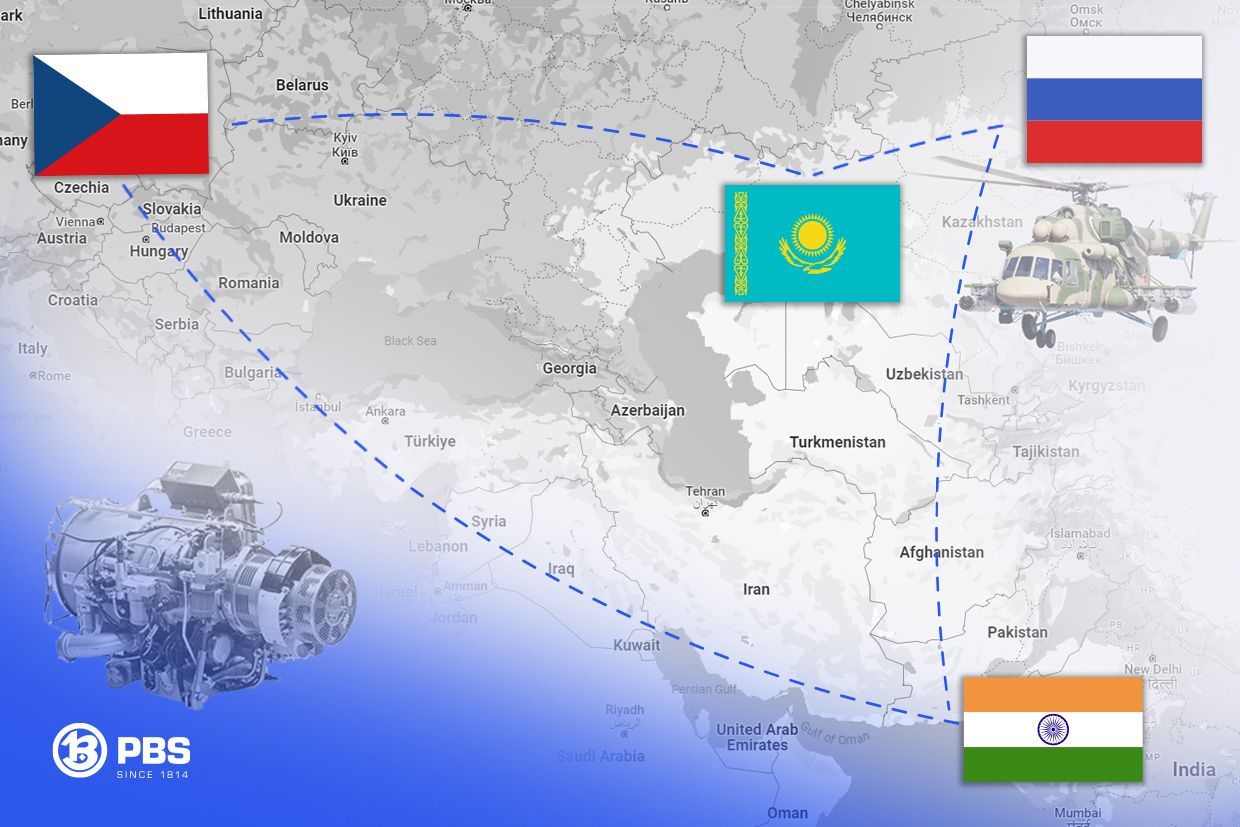 According to data on Russian imports by the trade database Export Genius, PBS Velka Bites supplied Russia with $122 million worth of products, including Safir power units, from Russia's initial invasion of Ukraine in 2014 to the full-scale invasion in 2022.
During the same period, the KHP reportedly purchased at least $20 million worth of products directly from PBS Velka Bites. The Ulan-Ude Aviation Plant, Simonov Design Bureau, and other Russian military aviation companies bought the rest.
But these are not the only factories that need Safirs in Russia.
Vladimir PutinRussian tenders up to 2022 showcase the purchase of Safir 5K/G Mi power units by Russia's Federal Security Service (FSB), Russia's National Guard (Rosgvardia),  and Rossiya Special Flight Squadron, which transports high-ranking Russian officials, likely including Russian President .
While the product's suppliers are hidden in the tenders, the Safir 5K/G Mi power units are a unique PBS product. PBS Velka Bites even had its office in Moscow until 2022 so it could sell its products directly to Russian customers.
After the start of Russia's full-scale invasion, the supply of power units continued, albeit through intermediaries in India and Kazakhstan.
Via India to Russia
Even after the start of the full-scale war, Safir power units and other PBS products could reach Russia in several ways. This included going through India to bypass the European Union's sanctions on Russia.
The Indian company Space Era Materials And Processes (Space Era) directly supplied the KHP in Russia with the power units via India.
In 2022-2023, Space Era delivered 20 Safir 5K/G MI units manufactured by PBS Velka Bites to the KHP for $8.5 million, according to the Indian export data from Export Genius.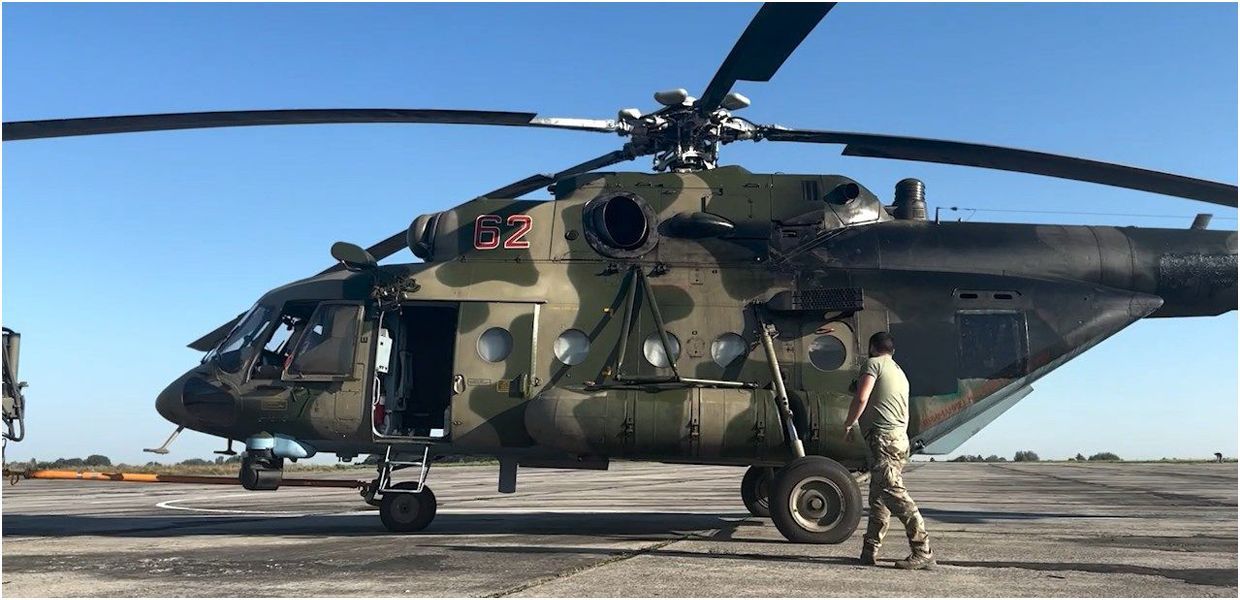 Trap Aggressor analysts discovered that Space Era's management has close connections with Russia, potentially indicating that Moscow is using the Indian company to supply helicopter parts to Russia.
India's Corporate Affairs Ministry lists Konstantin Bocharov as one of the Indian company's directors. An individual with the same name previously headed the Russian company Aerospace Equipment, which is under the sanctioned Russian company Concern Radio-Electronic Technologies (CRET).
Bocharov's biography indicates that he may have been delegated to represent CRET's interests in India as early as five years before the start of Russia's full-scale invasion of Ukraine.
Bocharov joined Space Era in 2017. Within a year, the Indian company signed a cooperation agreement with CRET, which provided for the creation of a service center for Russian-made airplanes and helicopters in India.
Achal SharmaSpace Era's general manager, , also worked with Russia before joining the company when he worked at the Indian Defense Ministry. Sharma indicates on his LinkedIn profile that, from 2014 to 2016, he was involved in the integration of the French gyroscope, a vehicle navigation tool, and the modernization of Israeli systems on Russian aircraft.
Another Indian company, Deep Engineering Industries, also sent components for Safirs to Russia after the start of the all-out war.
An authorized service center for Safirs produced by PBS in India, Deep Engineering focuses on maintaining aircraft and helicopters. In 2022, PBS Velka Bites and Deep Engineering signed a contract to maintain the Indian Air Force's helicopters.
After the start of Russia's full-scale invasion, the Czech company PBS Velka Bites made 65 deliveries totaling $14 million to Deep Engineering, according to Export Genius' data on Indian imports. Most of these deliveries were spare parts for Mi-series helicopters.
How many of these deliveries were intended for resale to Russian consumers is unknown.
Data on Indian exports by Export Genius indicates that, from 2022 to 2023, Deep Engineering supplied Russia with $151,000 worth of spare parts, $32,000 of which were for Safirs.
Deep Engineering's Russian clients include Heliexpress, a company that belongs to Russian Helicopter Systems, a partner of the KHP's.
Deep Engineering's management also has close ties with Russia.
Deep Engineering is headed by Aman Deep, according to the company's website and confirmed by Deep in a conversation with Trap Aggressor.
Aman Deep is also listed in the Indian corporate register as a director of other companies. In particular, he's listed among the directors of two firms located at the same address as Deep Engineering in the Indian city of Chandigarh.
One of these companies, Aviation Partners Group India, is part of Russian businessman Boris Nekrasov's Aviation Partners Group. Nekrasov's American company, under the same name of Aviation Partners Group, previously supplied goods to Deep Engineering.
In Russia, Nekrasov owns the Nebo-Service company, which provided services to the Russian FSB's aviation centers and presidential helicopters.
Czech producer denies allegations
Trap Aggressor analysts presented their findings to a representative of the PBS Group's management, who denied the company violated sanctions.
PBS claimed that the supply of Mi-8 spare parts that reached Russia from India was a fulfillment of an old contract from 2021 between Indian Deep Engineering and Russian Heliexpress. Deep Engineering Director Aman Deep told Trap Aggressor in a text that, after the introduction of EU sanctions, his company stopped selling goods to Russia. However, Deep refused to comment on specific deliveries to Russia.
Veroniсa Vella, a research associate at the University of Liège and an expert on the EU's export control regime, believes that the fulfillment of old contracts by foreign clients of a Czech company may violate sanctions on the re-export of products, for which the Czech company itself is responsible:
"Even if a contract involving sensitive items was executed before the Russian aggression, it remains unlawful to supply such items during the presence of sanctions, particularly when there is a clear awareness that these items will be put to inappropriate use."
PBS said they have never worked with Space Era Materials And Processes. Space Era did not respond to an emailed request for comment.
Trap Aggressor sent PBS the serial numbers of the power units that Space Era shipped to Russia, asking them to verify who the Czech manufacturer had previously sold these Safir power units to.
Upon request, a PBS representative provided information about the company's sale of 14 out of 20 power units with identical serial numbers to those of the power units that ended up in Russia. It turned out that PBS Velka Bites initially sold these units to customers in India and Kazakhstan.
PBS Velka Bites supplied nine of them to the Indian Air Force in 2021. Another four were sold to Aircraft Repair Plant No. 405 in Kazakhstan in 2023, and one to Deep Engineering. The buyers of the remaining six units could not be identified.
Using data on Czech imports by Export Genius, Trap Aggressor traced the supply of the PBS Velka Bites power units to the Kazakh Aircraft Repair Plant No. 405 and calculated that one PBS Velka Bites unit was sold for $219,000. Therefore, the sale of 20 units could amount to $4.4 million.
PBS' data indicates that it has produced power units for 50 years, amounting to around 6,500 units during the company's lifetime.
This means that the 14 power units PBS claimed to have supplied to India and Kazakhstan, and which later ended up in Russia, are a relatively small number for the company and couldn't greatly contribute to most of its profit.
The Indian Air Force and the Kazakh Aircraft Repair Plant No. 405 did not respond to Trap Aggressor's questions about whether they supplied Safir units to Russia. However, PBS said that the Kazakh plant sent them a letter certifying that the four units they purchased are located in Kazakhstan. PBS also told journalists that the only unit they sold to Deep Engineering is located in India.
It is unclear exactly how the power units PBS Velka Bites sold to the Indian Air Force and the Kazakh Aircraft Repair Plant No. 405 ended up in the hands of Space Era, which then delivered them to Russia.
Keen to lend Russia a hand
The Indian Air Force and the Kazakh Aircraft Repair Plant No. 405 have long-standing ties with the Russian military-industrial complex, which means they may have both been able to help Russia acquire the necessary Czech-made parts by acting as an intermediary to bypass sanctions.
The Indian Air Force and the Indian Defense Ministry both work with Space Era (which supplied the Czech Safir units to Russia), according to Space Era's website.
In 2022, Space Era participated in an Indian Air Force tender to modify Mi-17 helicopters, according to Palladium, India's tool for procurement analyses. There is no publicly available information about the tender's winner.
Meanwhile, the Russian state-owned defense conglomerate Rostec announced the creation of a military aviation service center in India together with Space Era back in 2018.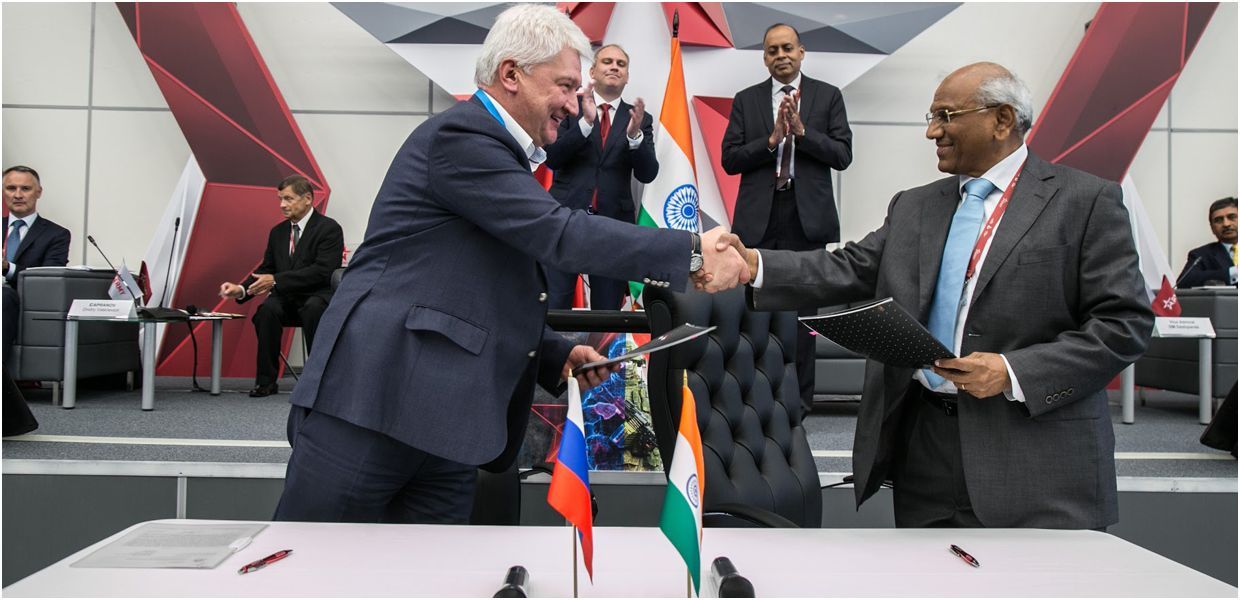 Aircraft Repair Plant No. 405 in Kazakhstan, which received Mi-8 power units from РВS that were then re-exported to Russia by Space Era, also has strong ties to the Russian military-industrial complex.
Kazakh President Kassym-Jomart Tokayev visited Russia in 2019, where he announced the creation of a helicopter assembly center in Kazakhstan during a press conference with Putin.
After that, the Russian Helicopters Holding and the Kazakh Aircraft Repair Plant No. 405 signed a contract to organize the Mi-8AMT/Mi-171 helicopter assembly center in Kazakhstan. In 2021, Russian Helicopters supplied the Kazakh Aircraft Repair Plant No. 405 with all components for the helicopters' assembly.
Kazakh Aircraft Repair Plant No. 405's July 2023 audit report said it could not directly pay its suppliers, most of whom are located in Russia, due to anti-Russian sanctions imposed after the start of a full-scale invasion.
"As of today, the company resolved this problem and concluded an agency agreement with a third party through which payments to Russian suppliers will be made," the audit says.
PBS stated that its trade with Kazakh Aircraft Repair Plant No. 405 in 2023 was carried out under existing active export licenses.
PBS Velka Bites has, therefore, supplied power units to buyers who officially and publicly claim to work with the Russian military complex.
According to trade databases, these units eventually ended up in Russia through the Indian intermediary Space Era.
PBS said it will check its customers for possible re-exportation of its products. However, PBS did not specify whether it would stop cooperating with buyers who resell to Russia.
According to the EU's sanctions regime, exporting companies must run "appropriate" and "adequate" due diligence checks to ensure their customers do not pass Europe-produced goods to Russia.
If a company "knowingly and intentionally" fails to run due diligence on its customer caught re-exporting to Russia, this may constitute a sanctions violation, according to the EU's sanctions regulations. However, a company can avoid liability if it proves that it was not aware or had no reason to suspect that it was breaking the rules.
The EU places responsibility for implementing sanctions on its member states, emphasizing that violating sanctions may be a criminal offense. However, the EU's stipulations on punishment are rather abstract: "The penalties provided for must be effective, proportionate and dissuasive." As long as discussions about the criminalization of sanctions violations continue in the EU, different member states may have different penalties for violating the sanctions regime.
PBS Velka Bites can, therefore, be held responsible for its products reaching Russia by bypassing sanctions if it knew about the sanctioned Russian end user.
Whether the consequences for PBS Velka Bites can be "effective, proportionate, and dissuasive" depends on the Czech legal system. According to Czech laws, violating the sanctions regime can lead to a criminal case, millions in fines, and imprisonment. For example, one of the Czech companies suspected by local law enforcement of illegally supplying machine tools to Russia is facing a fine of tens of millions of Czech crowns (or millions of dollars), and those responsible may receive up to eight years in prison.
Editor's note: PBS Velka Bites reacted to the findings of this journalist investigation with a statement that is featured in this digest in the Reactions section.