This audio is created with AI assistance
Editor's Note: This interview has been edited and condensed for clarity.
Russia's blockage of Ukrainian seaports triggered a global food crisis.
The global food crisis was partially resolved in July when an UN-backed grain deal was reached, forcing Russia to unblock three ports in Odesa Oblast for cargo ships carrying agriproducts.
The Black Sea Grain Initiative, as it's officially called, was extended in November for another 120 days and is subject to renewal in March.
Meanwhile, Russia has been allegedly derailing the previously successful initiative that allowed Ukraine to export over 6 million tons of agricultural products monthly, approaching 2021 numbers.
As part of the deal, ships entering and leaving Ukrainian ports are required to undergo an inspection by Ukrainian, Russian, Turkish, and UN observers in the Bosphorus Strait.
On Feb. 15, Foreign Minister Dmytro Kuleba and Infrastructure Minister Oleksandr Kubrakov accused Russia of sabotaging the initiative by deliberately slowing down inspections.
According to the joint statement, more than 140 vessels are waiting for inspections, with some in a queue for over a month.
Agriculture Minister Mykola Solskyi told the Kyiv Independent that Russia decreased the number of inspections by half.
As a result, in January, Ukraine only transported 5.5 million metric tons of agricultural products, instead of the 6.9 million tons reached in October, Solskyi adds.
Russian Deputy Foreign Minister Sergei Vershinin signaled Russia's unwillingness to renew the initiative unless it is exempt from sanctions affecting agriculture export.
Western sanctions don't target Russian grain and fertilizer exports, but previously Russia sought to ease sanctions on Rosselkhozbank, a state agricultural bank, including reconnecting it to SWIFT.
With the Black Sea Grain Initiative renewal in March being up in the air, the Kyiv Independent spoke with Solskyi about the export of agricultural products, the grain deal, damages and losses suffered by farmers due to Russia's all-out war, and Ukraine's current needs.
The Kyiv Independent: What were the dynamics of agricultural exports after the start of Russia's full-scale invasion, and how did they change compared to the year prior?
Mykola Solskyi: Our worst month was March when we exported about 330,000 metric tons of (agricultural) products. On average, before the war, we shipped 5-6 million metric tons (of grain) a month.
Starting in March, (export) was increasing every month. In April, the Danube River and the western corridors became more active.
In August, the Black Sea Grain Initiative, (brokered by) the Turks and the UN, was added.
In September-October, we reached large volumes — about 6.9 million metric tons per month (of all agricultural exports), which is normal for Ukraine.
But this is not an indicator because we were behind schedule for almost half a year and had large carryover stocks from last year. Of course, it started to put pressure on the market from the first month and continued to do so in the fall.
Then in the fall, there were interruptions because remember, there was an issue with the extension of the grain corridor.
In December, (exports) started to fall, and in January, they decreased because the grain corridor started working poorly. The Russians (started) inspecting only half of the needed ships in the Bosphorus (Strait).
In January, we transported 5.5 million tons of agricultural products.
The Kyiv Independent: You said that in January, two-three ships were leaving the Black Sea ports every day, while in September and October, this figure was six-seven.
Could you tell us how Ukraine plans to solve this problem and how this delay affects the global food crisis?
Mykola Solskyi: It has a direct effect because there is less supply of grain in the world. Blocking the grain corridor is one factor leading to an increase in prices (worldwide).
What can be done? First of all, the leaders of Ukraine, the ministry, and negotiators communicate with the UN, Turkey, and all other partners to try to resolve the situation.
It's constant work.
Meanwhile, the issue of extending the grain corridor for the second time is also under way, which means both issues have to be resolved simultaneously. We are working on it.
The Kyiv Independent: As you noted, in March, the grain agreement should be renewed once again to ensure the uninterrupted functioning of the grain corridor.
In your opinion, is it possible to reach an agreement on the continuation of this initiative?
Mykola Solskyi: I hope so, and think that it will be possible.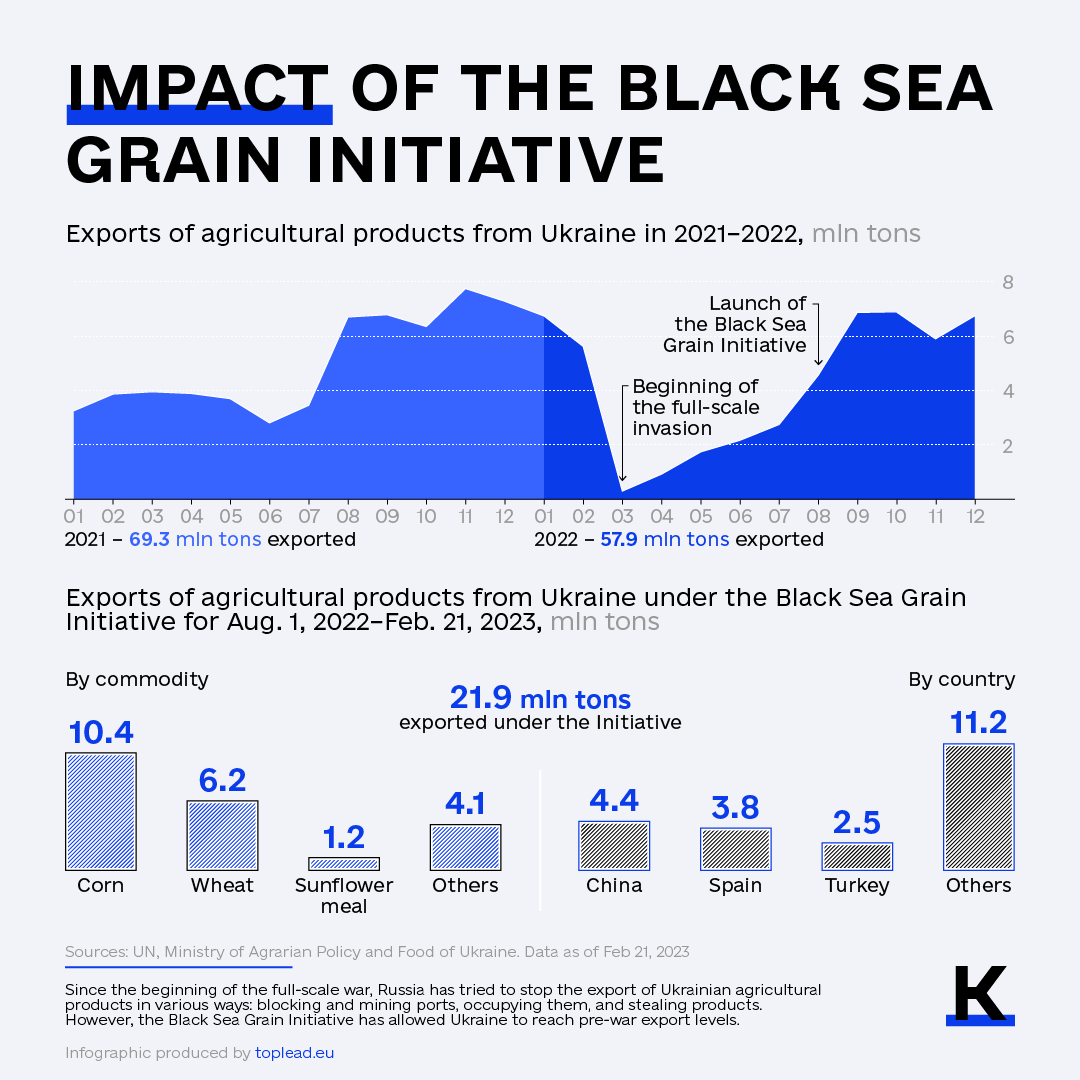 The Kyiv Independent: Recently, you spoke about the desire to expand the terms of the agreement by including Mykolaiv ports. Are there any other conditions that are currently being lobbied for by Ukraine?
Mykola Solskyi: There are three important issues. In order of priority: firstly, the extension of the grain deal. Secondly, an increase in the number of ships that are being inspected every day. Third, the addition of Mykolaiv ports into the deal.
The addition of Mykolaiv ports without an increase in the number of vessels being inspected daily will unfortunately not lead to anything.
The Kyiv Independent: On Nov. 26, Ukraine launched the Grain from Ukraine program. What is the essence of this initiative, which countries is it aimed at, and which international partners are involved in it?
Mykola Solskyi: Well, it has several aspects. First, an important symbolic and moral aspect is that (Ukraine) understands other countries that are in a difficult situation due to a lack of grain because (Ukraine itself experienced famine).
The second (aspect) is obviously political. We need to be more present in Africa.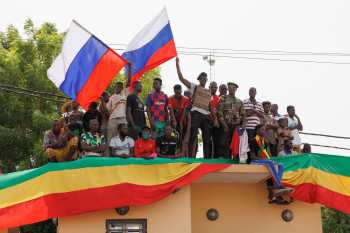 Many African countries are not ready to communicate with us very closely. Therefore, (communication) should be a daily task for the relevant government bodies and, accordingly, new opportunities will open up for business so that Africa and Ukraine become closer in terms of trade.
The third point, with which we have already more or less moved forward, is the economic aspect.
Africa is a large market with its own specificities that must be taken into account. It was necessary to increase our economic presence not only with grain but also with other agricultural products. And not only, let's say, the supply of these agricultural products, but also, presumably, some joint infrastructure projects and so on.
In addition, in the course of this work, it is important to explain to the leaders and people of African countries what is happening in Ukraine so that they understand who the aggressor is.
When the president announced (the Grain from Ukraine program) on the anniversary of Holodomor, many countries said that they would participate financially.
Practically all the countries that are democratic and that support us have joined this program. All declared aid from them for this program is about $200 million. About half (of this sum) is still only pledged.
The World Food Program (WFP) has to work out all these details together with us.
The Kyiv Independent: After Russia launched a full-scale invasion, Ukraine managed to liberate Kyiv, Kharkiv, Mykolaiv oblasts, other regions, and Kherson.
What area could potentially be used for growing agricultural products in the liberated territories?
Mykola Solskyi: It's actually difficult to calculate, but it will become clear by the end of spring.
It depends on how static the story will be. Why? Well, we are talking about these liberated territories as of today.
For example, the list of regions that were mentioned does not include Chernihiv and Sumy oblasts, but they were also occupied.
I remember this situation in March last year when most farmers from this region said that they wouldn't do anything given the occupation and all the circumstances of the war. But as soon as (Russian forces) were kicked out from there, (farmers) organized themselves literally in a week, cooperated as much as possible with the State Emergency Service, and sowed (the land) as much as possible.
Various private companies were established with the possibility of obtaining a license to provide demining services.
Moreover, there are various programs, one of which is agreed between the Ministry of Agriculture, WFP and the UN's Food and Agriculture Organization (FAO) and will take time.
And obviously, the level of demining and the level of contamination is very different from region to region.
So (demining) is definitely being done by farmers and businesses with the relevant services, and it will definitely be done for years to come.
I think we will be able to get some more specific figures for the land than those that have been heard from a distant approximation over the past two months by the end of May—before the end of the sowing season.
(The support) is needed both technically and financially because (farmers) want to demine the land they lease as soon as possible as they need to continue sowing. And this requires appropriate equipment and appropriate funds.
These two supports are clear. We have all applied for (this support). It is already there somewhere, and negotiations are underway elsewhere.
The Kyiv Independent: How would you assess the damage that Russia has caused to Ukrainian agriculture? What percentage of arable land was lost due to Russian occupation and hostilities?
Mykola Solskyi: There is direct and indirect damage.
The assessment carried out by the Kyiv School of Economics valued damages at $6.6 billion. The ministry agrees with this assessment.
The main damage is indirect, totaling $34.25 billion (according to the same report). It (includes) the loss (sustained by) agricultural businesses, farmers, and all other parties related to this sector due to interruptions in supply chains.
The damage also has a delayed effect because any materials imported for sowing have become more expensive due to the war.
As of today, over 20% of arable land was lost (due to the war).
The Kyiv Independent: How does the destruction of critical infrastructure facilities by Russia affect food security and the possibility of exporting agricultural products?
Mykola Solskyi: Well, clearly, as bad as possible. Grain elevators are connected to electricity, railways are connected to electricity. Interruptions make (exporting) longer, more expensive, and there may be losses in the quality (of the products).
The Kyiv Independent: What are Ukraine's biggest needs in the field of agriculture at the moment?
Mykola Solskyi: An increase in liquidity. Since farmers mostly worked at a loss the past year, they have less money to sow this year.
It is necessary to simplify the process of giving lines of credit, and to make this process quicker. This is now the number one issue — increasing liquidity for sowing. The second issue is again the issue of grain export.
Generators are definitely needed. In most cases, the businesses buy the generators themselves. The ministry agreed with the World Bank that in March, there would be a program to compensate the grain elevators for the purchase of generators that they bought half a year before.
Germany provided the most powerful generators, ranging from 400 to 1000 kilowatts.
Few enterprises need such generators. We first handed them over to bread and dairy factories in the zones that suffered the most. These are the (liberated territories) where there are the most issues with this.
The Kyiv Independent: In your opinion, what could help to develop the Ukrainian agricultural market during the war, and how could Western partners contribute to this?
Mykola Solskyi: We all understand that when we talk about the development during the war, it is a complex story.
We (instead) need to stop the fall and preserve this sector so that it has the opportunity to recover quickly from the war. Therefore, we have to be honest with ourselves and everyone else about it. To preserve this sector, we need an increase in liquidity and the opportunity to sell grain.
The Kyiv Independent: During one of the briefings, you mentioned signing a memorandum on constructing a pipeline to transport vegetable oil from Ukraine to Poland.
Could you tell us more about this project? How long will it take to implement it?
Mykola Solskyi: The Polish government has ordered a feasibility study for this project, which I hope will be calculated in the near future.
There is the possibility of exporting vegetable oil through a pipeline from Yahodyn (in western Ukraine) to Gdansk (in Poland). This (will help to ensure) that there is an alternative way of exporting oil, primarily sunflower oil, because we have a huge industry that affects many things.
The construction of the pipeline won't take long when there are permits. The main thing is to get all the necessary documents. I can't say when we will get them. We would like it to go faster, but it depends on the Polish side.
The Kyiv Independent: Are there any other projects that Ukraine is working on for alternative ways of exporting products?
Mykola Solskyi: I think one huge project is worth implementing — laying a railway track from Ukraine to Baltic (ports) via Poland.
We had negotiations with the Poles. It is still at the level of discussion. We traveled more than once, asked more than once, met with their ministers, there were proposals about this at the highest level.
In general, if we talk about western Ukrainian corridors, (multiple) opportunities (arose) compared to May last year.
There are allocated EU funds within the framework of the development of so-called "solidarity lanes," which provide for modernization, various projects for (Ukraine's state railway operator) Ukrzaliznytsia, and the development of these logistics routes on the border with Poland and other Western countries.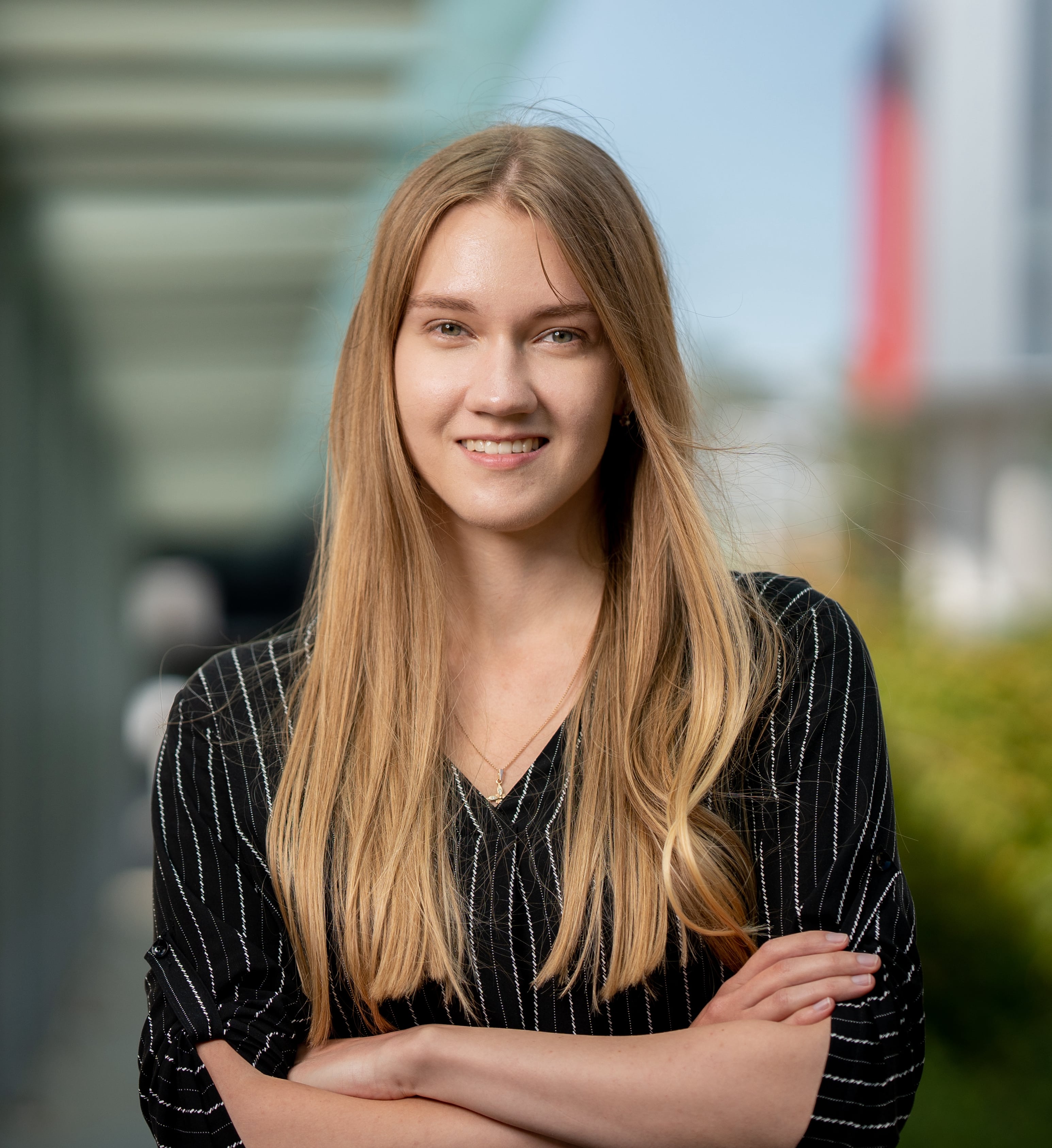 Anastasiya Gordiychuk
News reporter
Anastasiya Gordiychuk is a news reporter at the Kyiv Independent. She has previously worked as an associate business and labor editor at The Varsity, where she focused on business and finances. She holds a BA in journalism from the University of Toronto. Her work has also been published in Maclean's, Global Summitry Project, and the Toronto Observer.