This audio is created with AI assistance
In the bubble of pro-Ukraine communities on the Internet, the constant inflow of battlefield videos showing the destruction of Russian equipment regularly lifts the moods of hundreds of thousands of supporters of Ukraine's struggle around the world.
Wander over to the Russian side of the internet, whether it's state media or the murky world of milblogger Telegram channels, and the situation is quite the opposite. Spending time here, seeing video after video of destroyed expensive Western equipment is a sobering reminder that this war goes both ways, and the enemy is not sitting idle.
In many of the Russian videos, there is one culprit that stands out, responsible for dozens of confirmed hits on Ukrainian equipment: the Lancet kamikaze drone, manufactured by ZALA Aero Group, a subsidiary of Russian arms giant Kalashnikov Concern.
Since it started being used in larger numbers on the battlefield in late 2022, the Lancet has gained a reputation as Russia's most effective weapon against the higher-value targets, often located dozens of kilometers behind the zero line.
Open-source lists of Ukrainian equipment destroyed by the drones make for grim reading for supporters of Ukraine.
Targets eliminated by Lancets include everything from Leopard tanks, dozens of Western howitzers, S-300 air defense launchers and radars, and more.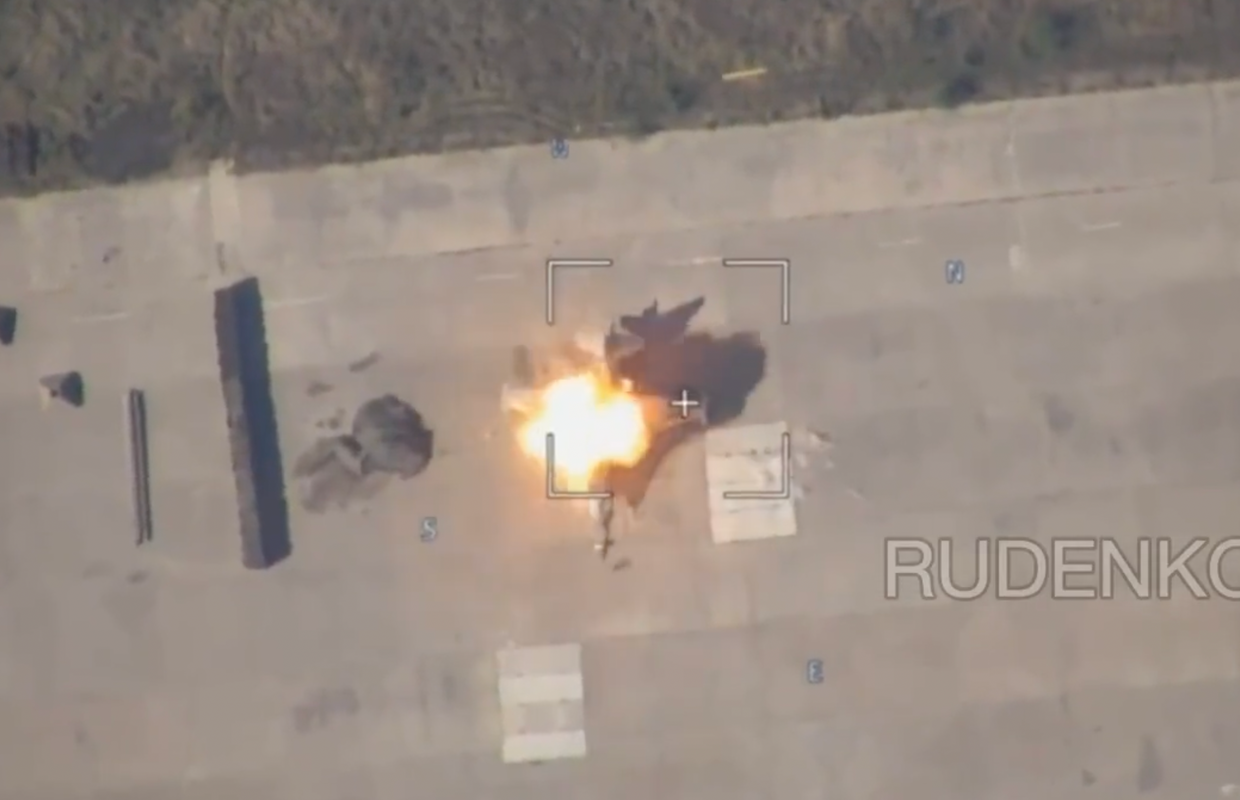 In a particularly painful pair of strikes in autumn this year, two Ukrainian combat jets, one MiG-29 and one Su-25 a few weeks later, were destroyed by Lancets at Dovhyntseve airbase near Kryvyi Rih, around 65 kiometers from the nearest Russian-controlled territory.
The strikes showed not only the increasing range capabilities of the drones, but Ukraine's struggle to better protect such priceless targets.
Ukrainian officials have been open about the danger posed by Lancet.
In his Nov. 1 essay published by the Economist on the technological challenges in the current state of positional warfare, Ukrainian Commander-in-Chief Valerii Zaluzhnyi made special mention of the Lancets, which, when aiming for targets illuminated by other Russian reconnaissance drones, create a challenge "countering which is quite difficult."
"The Russians have a specific model which addresses a lot of requirements in battle and that's a relatively capable system that keeps getting improved," robotics and UAV expert Samuel Bendett told the Kyiv Independent, "which is why the Ukrainians are now publicly saying that it's dangerous."
Seeing the success of this relatively new type of weapon, Moscow is now looking to take Lancet a step further, with a mysterious new Lancet-type drone claimed to be able to fly in swarms and find and engage targets autonomously.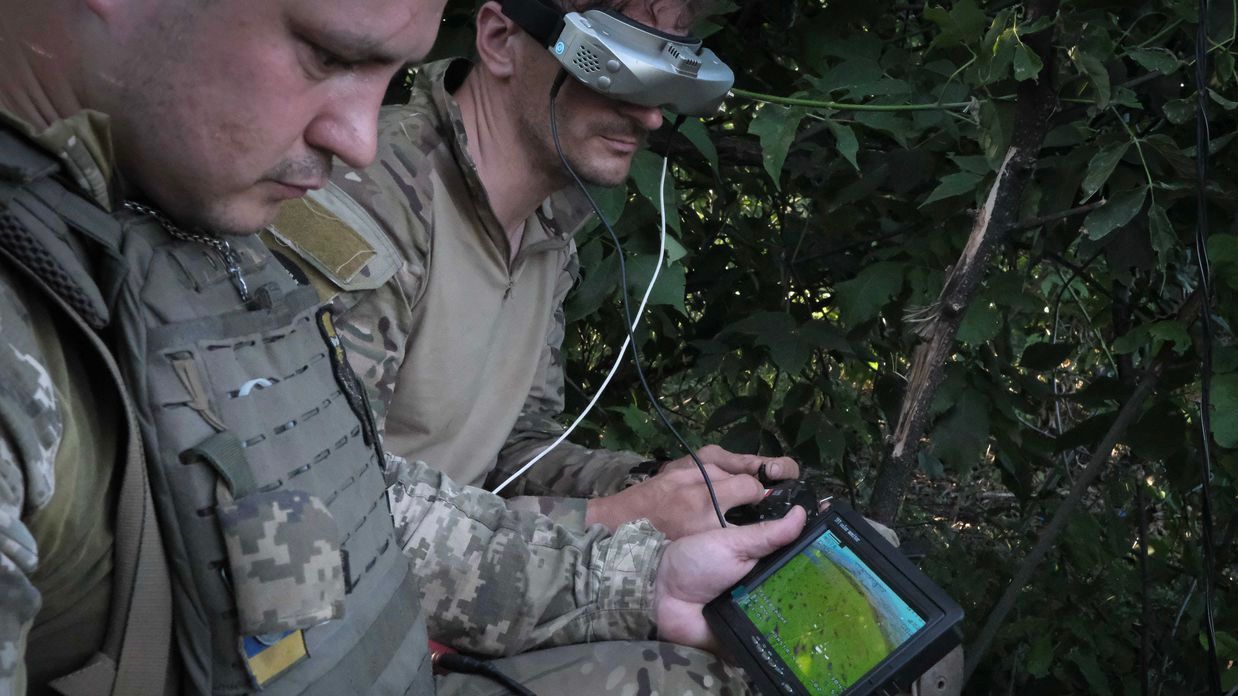 What is a Lancet?
The Lancet was first unveiled by ZALA at a military expo in Moscow in 2019, just before loitering munitions really started to make a name for themselves on the battlefield.
Two models were revealed straight away, the larger Lancet-3, with a stated maximum payload of three kilograms, and the smaller, foldable Lancet-1, with a one-kilogram payload. Closer to that of larger FPV (first-person view) drones, even the smaller payload is perfectly capable of disabling and destroying large pieces of military equipment with a precise-enough hit.
Both models feature a distinct double X-wing design, which some commentators have pointed out to be strikingly similar to the Israeli-built UVision Hero family of drones developed along a similar timeline.
Just a year later, the devastating effect of this new type of weapon against an unprepared enemy was demonstrated in the 2020 Nagorno-Karabakh war, where defending Armenian forces were largely helpless against Azerbaijan's use of Israeli Harop and Harpy loitering munitions.
"The Nagorno-Karabakh war confirmed the utility of these drones," said Bendett, "as well as Russia's own experience in Syria, where it found out such loitering munitions can actually be quite effective."
For a weapon that has tormented Ukrainian forces so much, the Lancets' work is deceptively simple. Targets are found by Russia's equally-competent line-up of longer-range reconnaissance drones such as the Orlan-10 and SuperCam, after which a Lancet is launched from a special purpose-built catapult to fly at a stated top speed of around 300 kilometers per hour.
Just as with Russian long-range missiles, the on-board electronics in Lancet drones are powered by Western-built microchips, which continue to flow into Russia through third-party countries despite sanctions. One shot-down Lancet displayed by Ukrainian authorities in March 2023 was seen to contain silicon made by U.S.-based semiconductor firms NVIDIA and Xilinx.
So-called kamikaze drones come in all shapes and sizes, from small, dirt-cheap FPV quadcopters with a usual range of around seven kilometers, to the long-range but slow Iranian Shahed-type drones which Russia uses to target civilian infrastructure all over Ukraine.
The Lancet fills an important gap for mid-range precision strikes and counter-battery fire, which Russia, lacking a system like the U.S.-built HIMARS, has otherwise struggled with in Ukraine due to the lower range and precision of their tubed and rocket artillery.
"Even when our equipment is hidden in the bushes, it (Lancet) sees the silhouette from far away, and just dives at it like a falcon," said Oleksandr "Hollywood," an air defense specialist in Ukraine's 47th Mechanized Brigade, to the Kyiv Independent.
Support independent journalism in Ukraine. Join us in this fight.
Support us
Battlefield dilemma
Seeing their effectiveness on the battlefield, Moscow quickly moved to greatly increase the scale of production of Lancets.
A television report released on state channel Rossiya-1 in July 2023 claimed that Russia has already upscaled its production of the drones, repurposing shopping center space abandoned by Western companies, including one in ZALA's home city of Izhevsk that was shown in the report.
The footage of the Lancet factory sparked a widespread reaction from Ukrainians on social media, with many raising the alarm about the danger of underestimating Russia's capacity for both innovation and production scale in its military-industrial complex.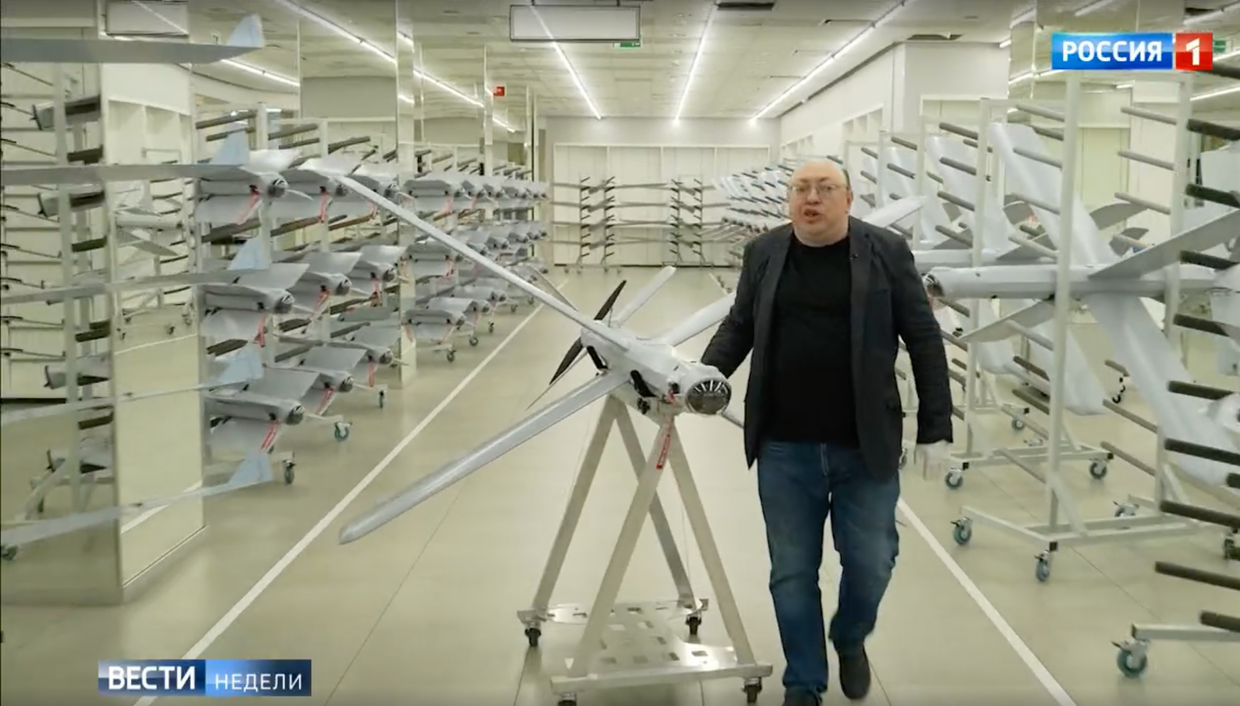 Just as with its other drones and equipment, the hardware and the software on the Lancet has also been constantly modified by ZALA to fly ever further and more accurately, as the strikes on the Ukrainian jets showed.
"There's obviously a lot of feedback from the front and there's a lot of pressure on domestic drone developers to actually manufacture the UAVs most needed," said Bendett.
"Those two factors combine to create conditions where there's a lot of testing and evaluation that's taking place."
Lacking any obvious counter to the Lancet, Ukrainian forces have scrambled to defend their targets with a mixed bag of countermeasures.
With their small physical size and low heat signature, the drones are very difficult to detect for traditional air defense radars, and their low cost makes using a guided anti-air missile against them unsustainable, just like with Shahed-type drones.
Often, the responsibility to at least attempt to shoot down a Lancet falls upon field air defense crews manning Soviet-era ZU-23 anti-air autocannons. Although Ukrainian crews manning this system do occasionally report successful hits on Lancets in interviews with media, the drone's small profile and difficulty to hear and detect means that such triumphs are rare.
"We had a case in the brigade when someone shot one down with an AK (rifle), but that was a complete fluke," said Oleksandr.
Another option is electronic warfare (EW). Although larger fixed-wing drones like the Lancet are usually constructed to be much more resistant to enemy EW than a quadcopter, both Ukraine and Russia are racing to deploy more and more powerful EW systems on the battlefield.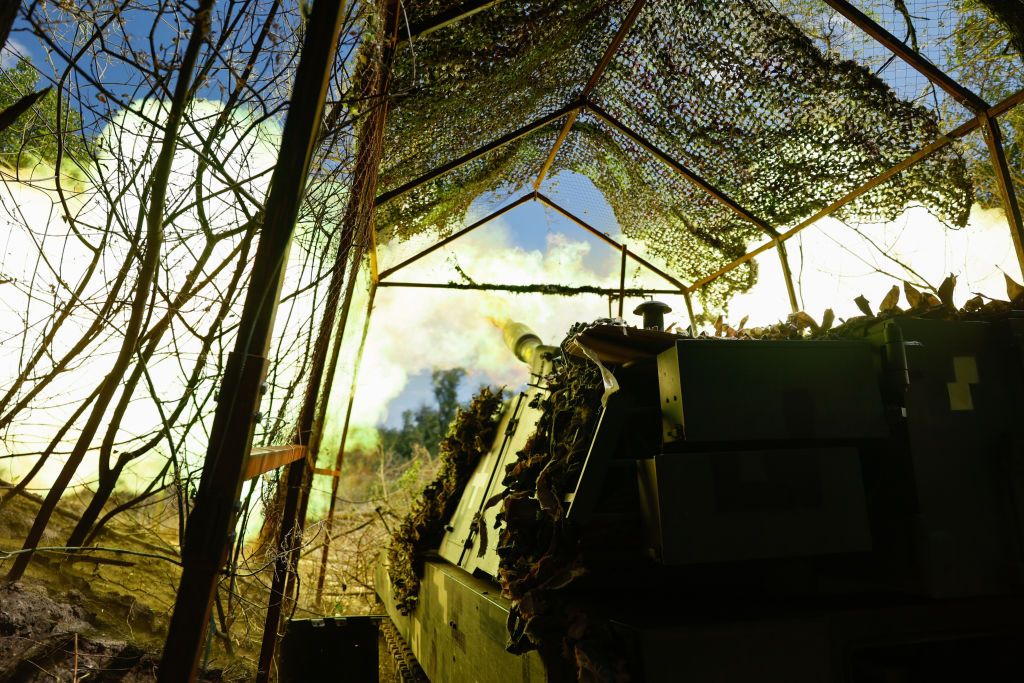 On Nov. 3, former Ukrainian President Petro Poroshenko announced a Hr 150 million ($4.2 million) crowdfunding campaign for the manufacturing of a new model of powerful EW station that claims to be able to hamper the work of Lancets.
"This EW can shut down Russian UAVs at a distance of up to 20 kilometers, blind Zala and Orlan so that they can no longer adjust their Lancets to our positions," Poroshenko's post read.
When all else fails, Ukrainian artillery crews have often taken to erecting wire netting around their howitzers to protect them from Lancet strikes. Crude as they are, this last resort is often the most effective defense: even if the net fails to ensnare the drone without it detonating, a warhead triggered by the net is unlikely to cause significant damage compared to a direct hit.
"No single countermeasure can be effective 100%," said Bendett. "So when they work together, that's when they can be most effective."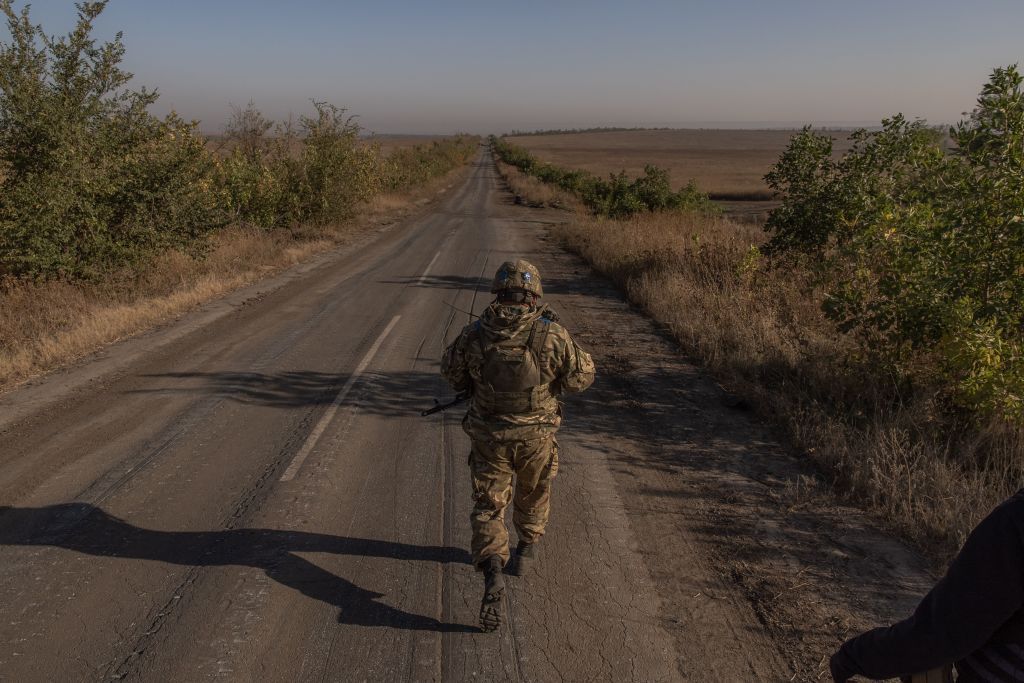 Frightening future
As effective as the current-model Lancets are, Russia claims to be working on a new version of the drone that could not only present a new threat to Ukraine, but could completely change the future of warfare in the 21st century.
On Oct. 21, Russian Telegram channels reported the first alleged use of "Izdelie-53," a new model of the Lancet with a unique single pinwheel X-wing design that can be stored and transported in collapsed form in tubes, which also allegedly serve as launchers.
The video posted shows the point of view of a loitering munition, purportedly an Izdelie-53 type drone, diving down at a Czech-made Vampire multiple rocket launcher. On the screen, a box marks the Vampire in its sights and the Russian text reading "Target locked" appears, implying that the target was found and engaged autonomously.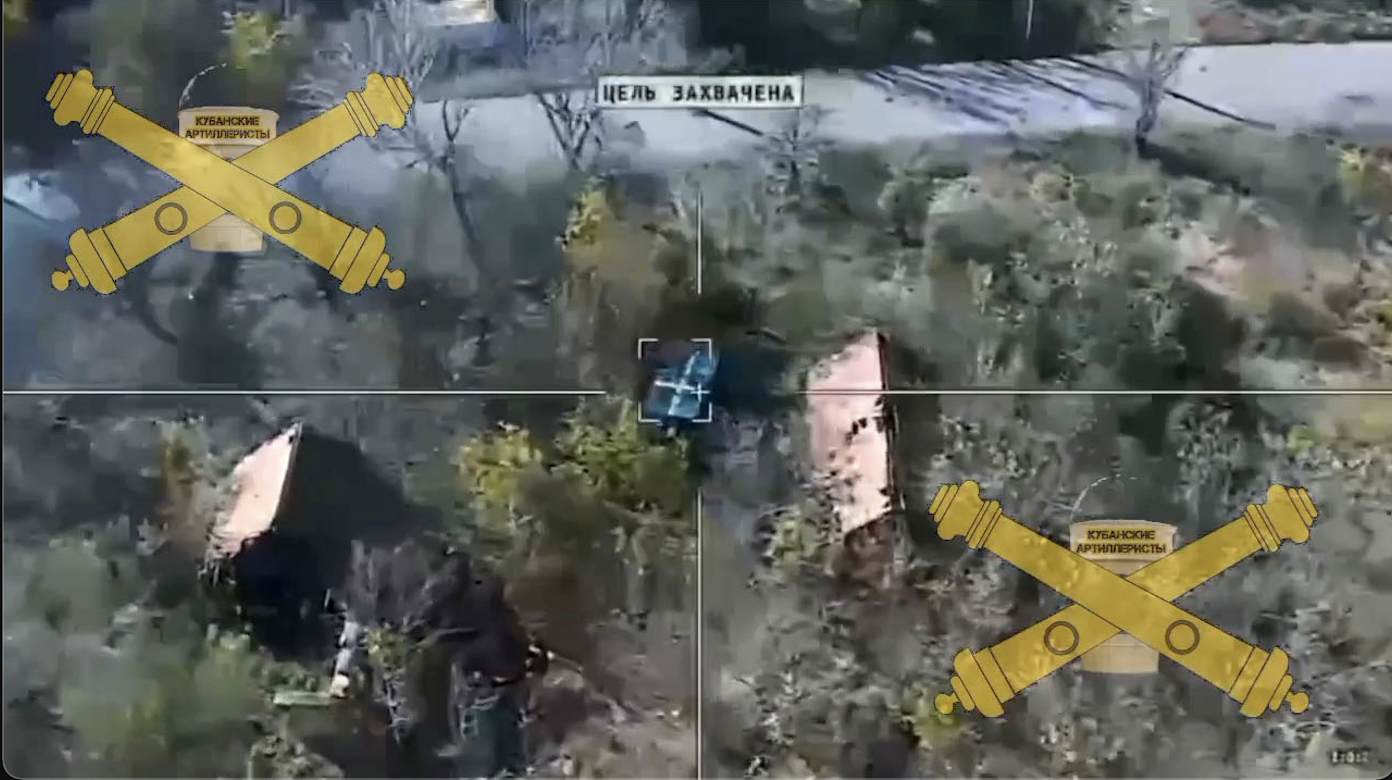 Izdelie-53 was first announced in July this year, in the same tour of ZALA's Lancet shopping center on Rossiya-1. The drones are shown folded up in their tubes, and apart from a suspiciously blurry shot of a launch, their flight is only shown in an animated graphic.
The deployment of autonomous or near-autonomous technology for military purposes has long been a popular topic of discussion in the realms both of serious military analysis and in science fiction. With the rapid worldwide development of artificial intelligence (AI) and the increased availability of drones for non-state actors and terrorist groups, the conversation has taken on a new urgency.
In Western countries, discussion of future autonomous lethal weapons comes with serious ethical challenges, with the common consensus that a human operator should always be involved in the final decision to engage a target.
According to ZALA Aero's chief constructor Aleksandr Zakharov, Russia has had no such qualms when developing Izdelie-53.
"We have already conducted battlefield tests (of Izdelie-53) in fully autonomous mode, without the involvement of humans," he said in the Rossiya-1 report.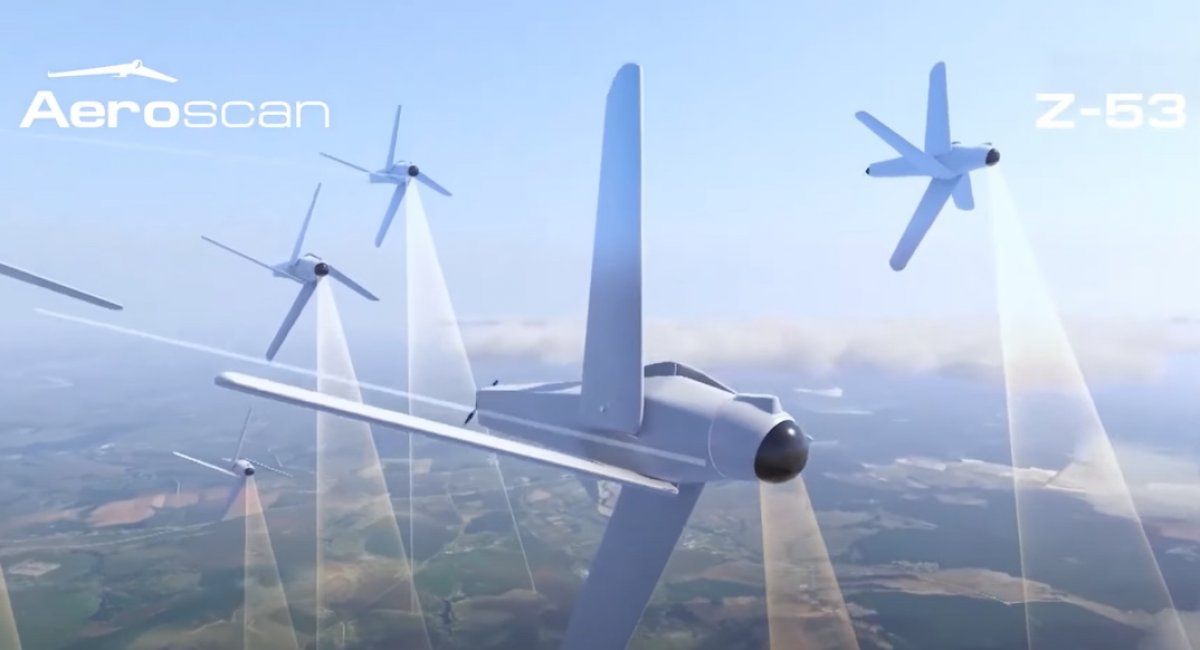 On top of their autonomous targeting capabilities, these new drones are also claimed to be able to fly in swarms of up to several dozen at once.
According to claims made by ZALA Aero, the drones in the swarm will communicate with each other autonomously through "neural networks," enabling them to locate, prioritize, and engage multiple targets on their own, overwhelming local air defenses that already face problems dealing with a single Lancet.
Whether or not they operate autonomously, the use of coordinated swarms of drones is the natural next step in the global drone arms race, and a major concern for Ukraine, which could struggle even more to defend its higher-value targets in the rear.
For now, there has been no independent verification of the use of Izdelie-53 either in the strike on the Vampire nor anywhere else in Ukraine.
In an interview to RBC-Ukraine on Nov. 3, Ukrainian military intelligence spokesperson Andrii Yusov said that there was no evidence of the mass use of Izdelie-53 on the battlefield, and that the claims made about the drones in Russian media can not be verified.
"Nevertheless, we can say that modified, improved Lancets are used by the aggressor," he added, "and this is always an additional risk factor."
---
Note from the author:
Hi, this is Francis Farrell, cheers for reading this article. We are entering a new phase of the war, which could potentially be stranger, tougher, and more uncertain than it has ever been so far. In a time when instability around the world is growing, and attention is fading when it is needed the most, please consider supporting our reporting.