This audio is created with AI assistance
In February 2015, the leaders of Ukraine, France, Germany, and Russia met in Minsk to hold talks following Russia's invasion of Ukraine in 2014.
Following the 15-hour-long talks, the second Minsk Agreement was reached, intended to stop Russia's war in Ukraine's east. The agreement envisioned a ceasefire, withdrawal of heavy weapons from the front line, release of prisoners of war, granting self-government to Russian-occupied regions, and restoring Ukrainian control of the occupied parts of Ukraine's state border.
The agreement was never implemented.
In 2022, Belarus supported Russia's full-scale war against Ukraine.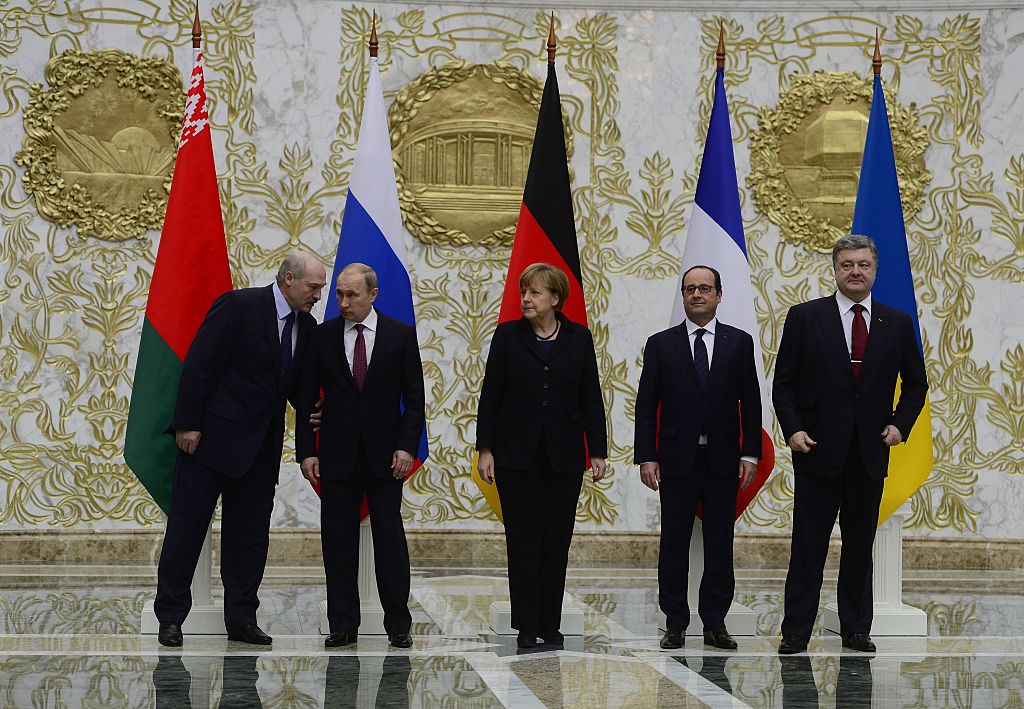 (L-R): Belarusian President Alexander Lukashenko, Russian President Vladimir Putin, German Chancellor Angela Merkel, French President Francois Hollande, and Ukrainian President Petro Poroshenko pose for a photo during the summit in Minsk, Belarus, on Feb. 11, 2015. (Sefa Karacan/Anadolu Agency/Getty Images)
Hungary's foreign minister makes a controversial visit to Minsk amid talks of fresh EU sanctions against Belarus.
Meanwhile, relations between Warsaw and Minsk continue to deteriorate as Belarus sentences a Polish-Belarusian journalist to eight years in prison.
Poland blocks one of its three remaining crossings into Belarus.
Belarusian authorities sentence more railway saboteurs who helped stall Russia's full-scale invasion of Ukraine.
Ukrainian official Mykhailo Podolyak says he sees "no reason to develop relations" with Belarus' opposition, sparking a response from Belarusian opposition leader Sviatlana Tsikhanouskaya.
A German lawmaker from the right-wing Alternative for Germany party visits Belarus on a secret trip.
Subscribe to the Newsletter
Belarus Weekly
Hungary's foreign minister visits Belarus
Hungarian Foreign Minister Peter Szijjarto arrived in Minsk on Feb. 13, making him the first EU member senior official to visit Belarus in the aftermath of the regime's brutal crackdown on civil society in 2020.
He said his meeting with Belarusian Foreign Minister Sergei Aleinik was aimed at promoting peace in Ukraine, adding that the "channels of communication must be kept open."
Szijjarto's visit took place a few days after European Commission President Ursula von der Leyen said the EU would impose additional sanctions on Minsk for its role in supporting Russia's full-scale war.
"Obviously, many will attack me for this visit, but our stance is clear: channels of communication must be kept open," Szijjarto said. "If we had not done this, I would not be able to convey the message of a call for peace."
Szijjarto's visit has sparked controversy, with critics saying the move goes against the EU's approach to Belarus and Russia's war.
The Hungarian government has repeatedly criticized EU sanctions against Russia over its full-scale invasion of Ukraine, citing their negative impact on the European economy.
Reporters: German MP from right-wing party discreetly visited Belarus in November
Petr Bystron, a German lawmaker representing the Alternative for Germany party, secretly visited Belarus on Nov. 16-19, 2022, the investigation by German media Correctiv and Lithuanian TV broadcaster LRT reveals.
According to the reports, Bystron was on an official visit to Lithuania on Nov. 14-16, after which he made a trip to Belarus.
Bystron admitted that he had met Belarus officials, including Foreign Minister Uladzimir Makei and Parliamentary Foreign Affairs Committee Head Andrey Savinykh.
In a comment to Bild, the AfD representative claimed that he wanted to explore the extent to which Belarus could be considered "a neutral peacemaker for Ukraine" and to develop "bilateral relations between the parliaments of Germany and Belarus."
Michael Roth, chairman of the Bundestag Foreign Affairs Committee, suggested in the comment for LRT that travel to Belarus is not in the interest of the Bundestag and that the trip has been concealed.
On Feb. 9, AfD presented a controversial "peace initiative," a pro-Russian motion demanding the federal government to work for the deployment of an international peace delegation led by a representative of the Organization for Security and Cooperation in Europe (OSCE) to establish a ceasefire for at least 90 days.
Podolyak: No reason for Ukraine to 'develop relations' with Belarus' opposition
Mykhailo Podolyak, an advisor to Ukraine's presidential office, said on Feb. 13 that he sees "no reason to develop relations" with Belarus' opposition, citing a lack of clear anti-war efforts on their part.
"Concerning a meeting with (Belarusian opposition leader Sviatlana) Tsikhanouskaya, with all due respect, what is the value of this meeting?" Podolyak said.
Podolyak said he would consider meeting with Belarus' opposition once they figure out "whom they can really influence in Belarusian society," implying that they have not rallied enough anti-war support in the country.
In response to his statement, Tsikhanouskaya said such assertions by state representatives "demotivate Belarusians."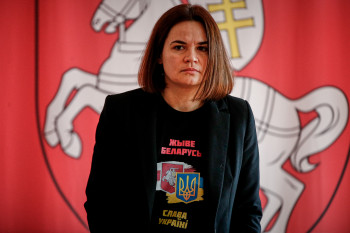 "We understand that the destinies of our countries are connected, and we would like to work together," she said. She vowed to continue supporting Ukraine in the countries' "common struggle against Russian aggression."
As the Russian war effort drags on, Ukrainians are split in their assessments of the responsibility Belarusians bear for Russia using their territory to wage war against Ukraine. Belarusians who support Ukraine, meanwhile, are increasingly downtrodden by both their own state and that of Ukraine.
Nobel Peace Prize laureate reiterates innocence as trial closes
Ales Bialiatski, a 2022 Nobel Peace Prize co-winner, said his trial was "unfair" and reiterated his innocence during his final statement on Feb. 13.
The trial against Bialiatski, the founder of human rights watchdog Viasna, and his three colleagues began on Jan. 5. The four defendants face up to 12 years in prison for various politically motivated charges.
The trial's verdict will be revealed on March 3.
Belarus "needs a wide civil dialogue directed at national reconciliation," Bialiatski said, denouncing the crackdown on Belarusian civil society by Lukashenko's regime and calling on authorities to declare amnesty for political prisoners.
He also insisted that Belarusian authorities intend to destroy Viasna.
On Feb. 2, a Minsk court sentenced Bialiatski's former attorney, Vital Brahinets, to eight years in prison on politically motivated charges.
"This unprecedented pressure imposed on the lawyers indicates in what kind of dangerous circumstances they have to defend their clients," Bialiatski said.
Minsk court sentences Polish-Belarusian journalist to 8 years in prison
A Belarusian court sentenced Andrzej Poczobut, a Polish-Belarusian journalist, and activist, to eight years in prison on Feb. 8.
He was convicted of allegedly "inciting hatred" and threatening Belarus' national security.
Poczobut, who worked for the Polish newspaper Gazeta Wyborcza, was arrested in March 2021 alongside other members of the Union of Poles.
"The politically motivated show trial and today's verdict are a clear testimony to the anti-Polish actions of the Belarusian authorities," Poland's Foreign Ministry responded. "We denounce the unjust sentence handed down by the court of an authoritarian state."
Poland-Belarus relations have deteriorated amid the Belarusian-engineered migrant crisis, which saw thousands of asylum seekers attempt to cross into the EU from Belarus through Poland.
On Feb. 10, Warsaw said it could close all remaining border crossing into Belarus.
"We are not excluding closing other border crossings with Belarus," Polish Prime Minister Mateusz Morawiecki said, citing "growing tensions" and Minsk's role in Russia's war against Ukraine.
Belarusian railway 'guerillas' receive lengthy prison sentences
Belarusian authorities sentenced five railway saboteurs to prison, with the longest sentence totaling 22 years.
On Feb. 8, Siarhei Pliashkun and Yuryi Selvich were sentenced to 16 and 14 years in prison, respectively, for attempting to disrupt the advance of Russian forces toward Ukraine via Belarusian railways.
On Feb. 10, Belarusian authorities sentenced Dzmitryi Klimau and Uladzimir Auramtsau to 22 years in prison for treason, terrorism, and sabotage of the country's railway system.
Yauhen Minkevich was sentenced to 18 months for not reporting a potential crime.
At the start of Russia's full-scale war, Belarusian activists, known as "railroad saboteurs," attempted to disrupt the transit of Russian supplies and personnel toward Ukraine. The activists' actions are said to have somewhat thwarted the Russian attack through Belarusian territory.
BYPOL, the organization of exiled Belarusian law enforcement, kick-started the Railways War campaign and was labeled a "terrorist organization" by Belarus in August 2022.
Belarusian opposition leader Sviatlana Tsikhanouskaya said that railway saboteurs had undertaken over 80 attempts to sabotage Belarusian railways.
The defendants are among the 60-some activists arrested for their alleged participation in stalling Russian attempts to transport arms and personnel via Belarusian railroads. The first trials held for railway saboteurs took place in June 2022.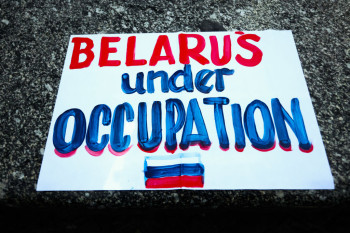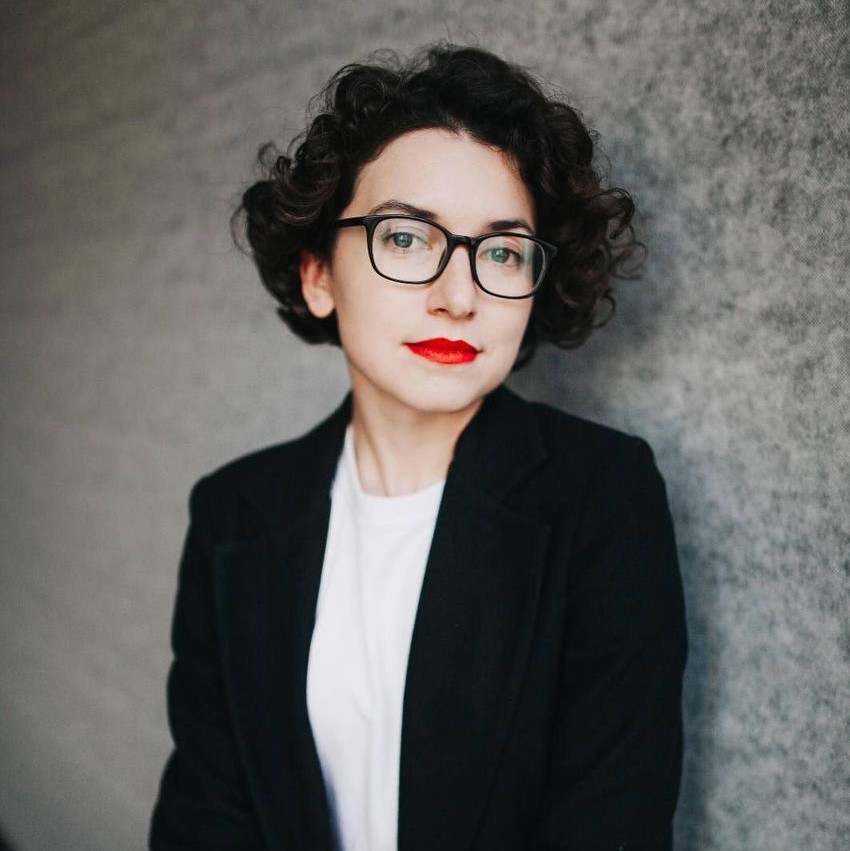 Maria Yeryoma
contributing author
Maria Yeryoma is a Belarusian media manager and a contributing author at the Kyiv Independent. She recently led the commercial "special projects" at TUT.BY — the biggest independent online media in the country. In May 2021, TUT.BY was raided by Belarus authorities leaving 15 employees in custody and forcing the team to leave the country to continue their work. Maria moved to Kyiv and helped establishing a new media outlet — Zerkalo.