This audio is created with AI assistance
On Nov. 26, amid Russia's war, Ukraine commemorated the victims of another tragedy: Holodomor, a man-made famine that killed millions of Ukrainians in 1932-1933.
Holodomor was imposed on Ukrainians, primarily Ukrainian villagers, by the Moscow-based Soviet authorities led by dictator Joseph Stalin. Ukraine has been fighting to get Holodomor recognized globally as an act of genocide against Ukrainians.
"Ukraine has gone through one genocide," President Volodymyr Zelensky said in his address on Nov. 26. "And today we are doing everything possible and impossible to stop Russia's yet another genocidal policy – although a new one, it is so similar to the one that killed millions of people in the 20th century."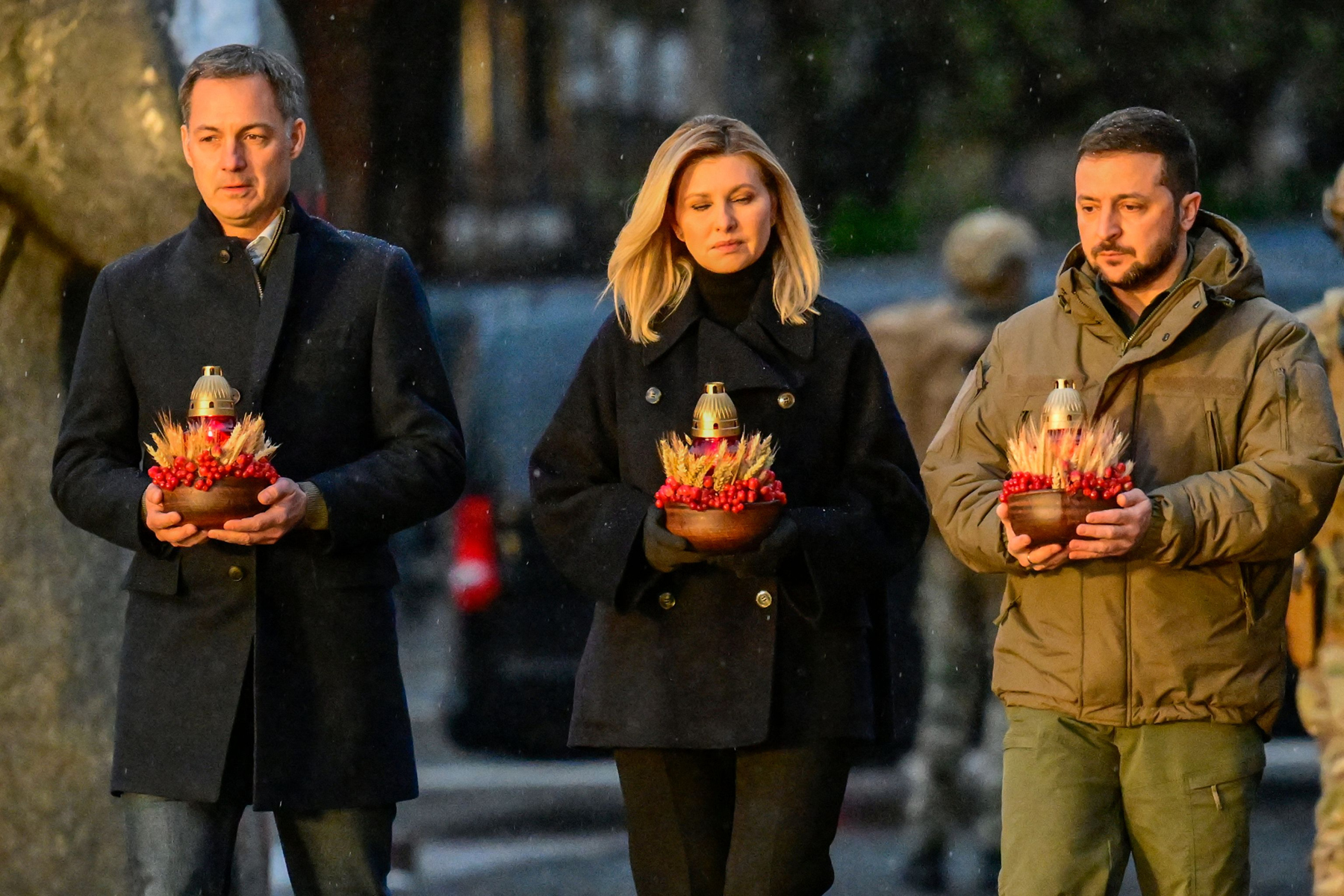 Belgian Prime Minister Alexander De Croo (L), Ukraine's first lady Olena Zelenska and President Volodymyr Zelensky take part in the ceremony of Holodomor anniversary in Kyiv on Nov. 26, 2022. (Philip Reynaers/AFP via Getty Images)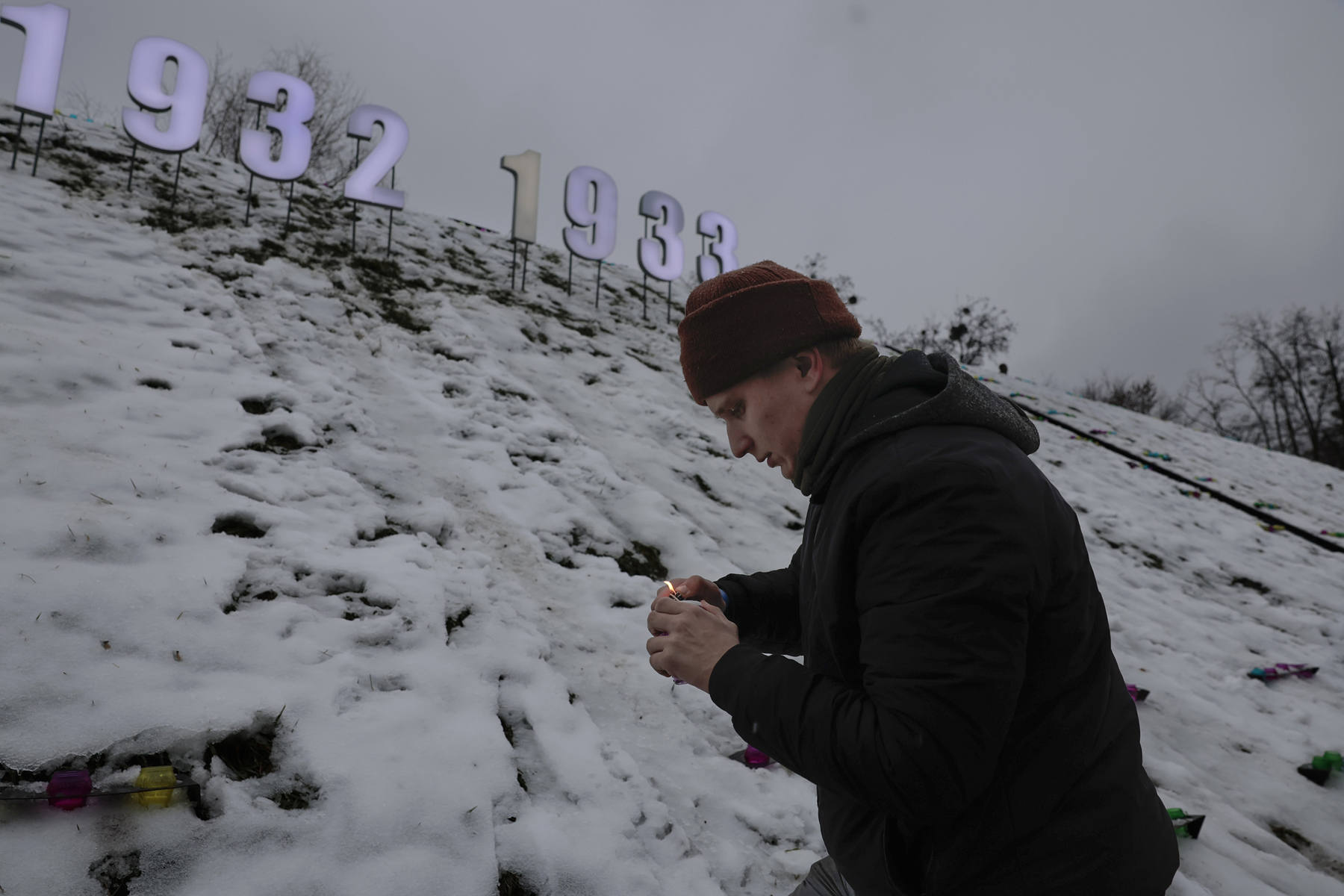 People pray, lay flowers and candles at Holodomor Genocide Museum also known as the Terror-Famine or the Great Famine, a man-made famine in Soviet Ukraine from 1932 to 1933 that killed millions of Ukrainian on November 26, 2022 in Kyiv, Ukraine. (Jeff J Mitchell/Getty Images)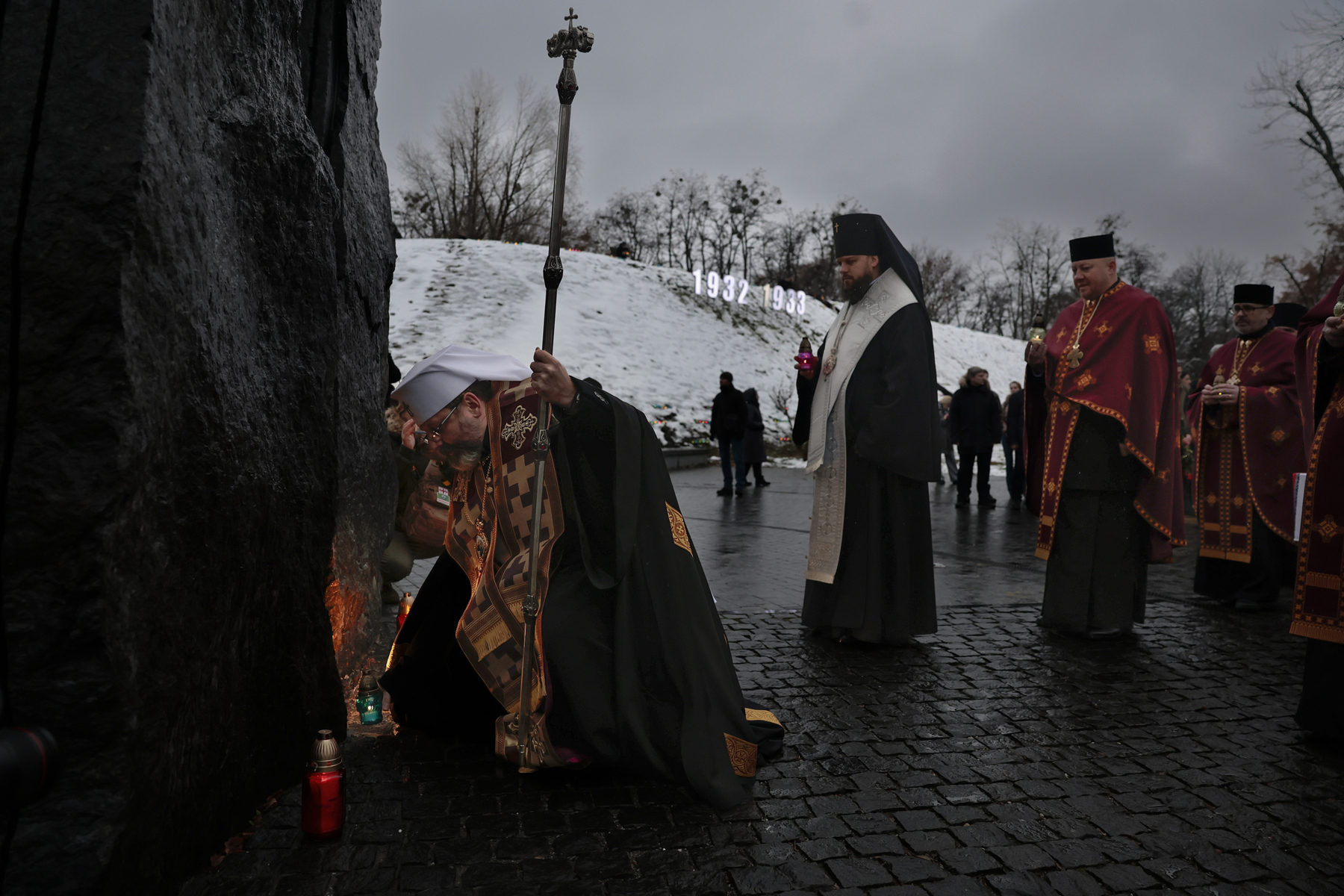 Ukrainian clergy lay candles at Holodomor Genocide Museum also known as the Terror-Famine or the Great Famine, a man-made famine in Soviet Ukraine from 1932 to 1933 that killed millions of Ukrainian on November 26, 2022 in Kyiv, Ukraine. ( Jeff J Mitchell/Getty Images)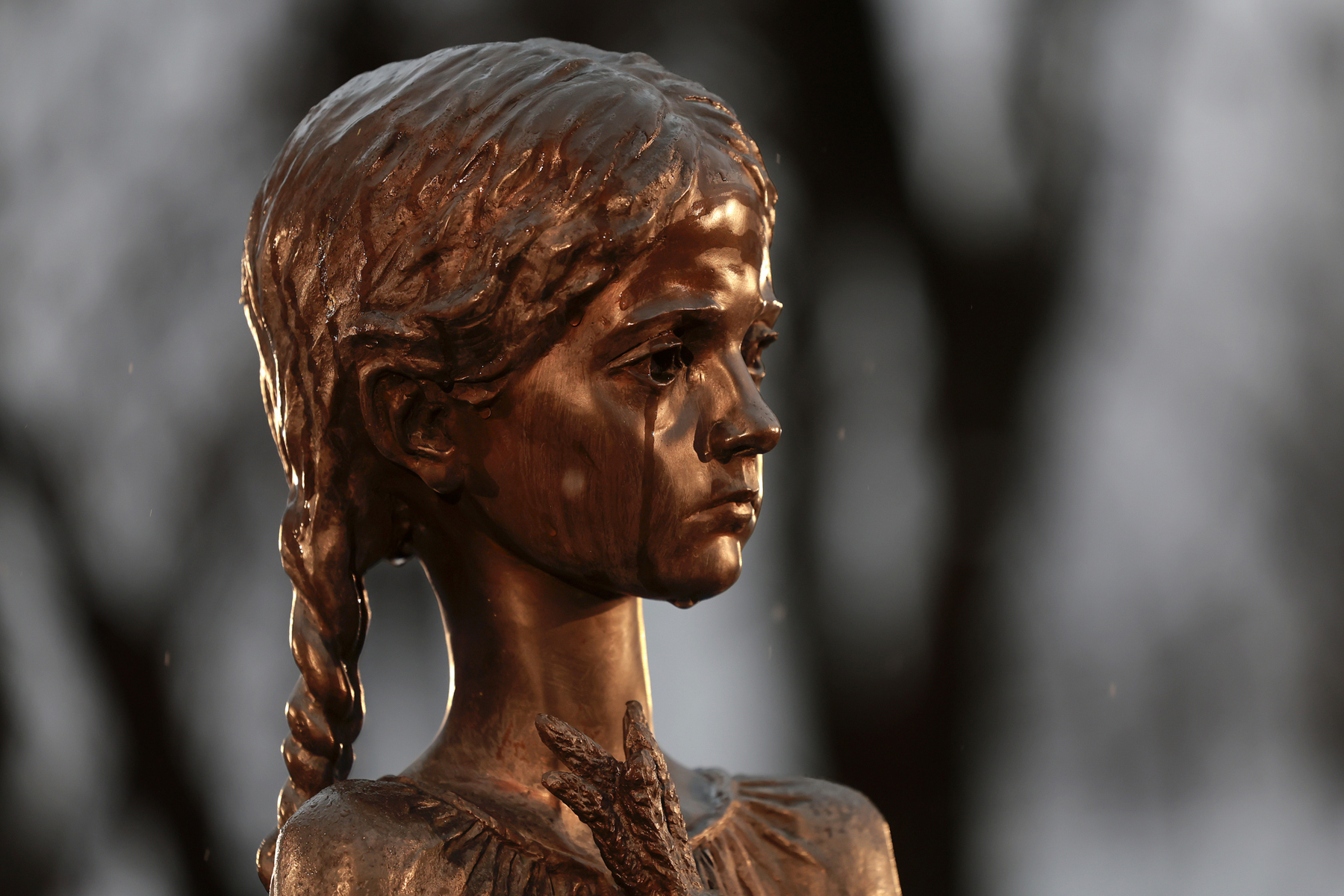 Detail of a statue named "The Bitter Memory of Childhood" is seen as people pray, lay flowers and candles at Holodomor Genocide Museum also known as the Terror-Famine or the Great Famine, a man-made famine in Soviet Ukraine from 1932 to 1933 that killed millions of Ukrainian on November 26, 2022 in Kyiv, Ukraine. Nine months into the war, Ukrainians will not be gathering in large numbers to mark The Holodomor due to the risk of Russian bombardment. The Great Famine of 1932-1933 resulted in the deaths of millions of people in the Ukrainian Soviet Socialist Republic. (Jeff J Mitchell/Getty Images)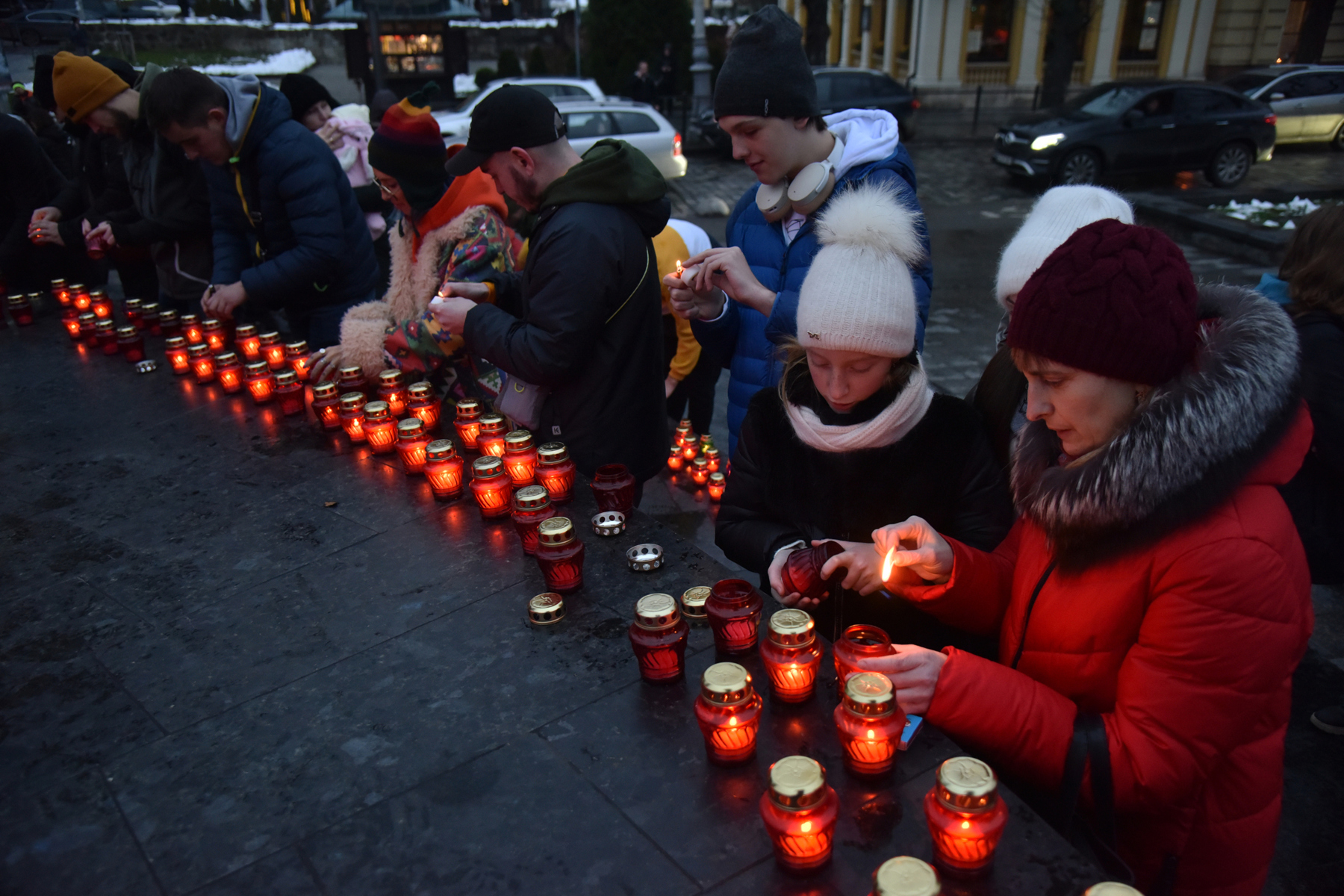 People light candles in memory of the victims of the Holodomor in Lviv, November 26, 2022. Every year on the fourth Saturday of November, Ukraine and the world commemorate the millions of victims of the Holodomor of 1932-1933 and the mass artificial famines of 1921-1923 and 1946 - 1947 years. (Pavlo Palamarchuk/Anadolu Agency via Getty Images)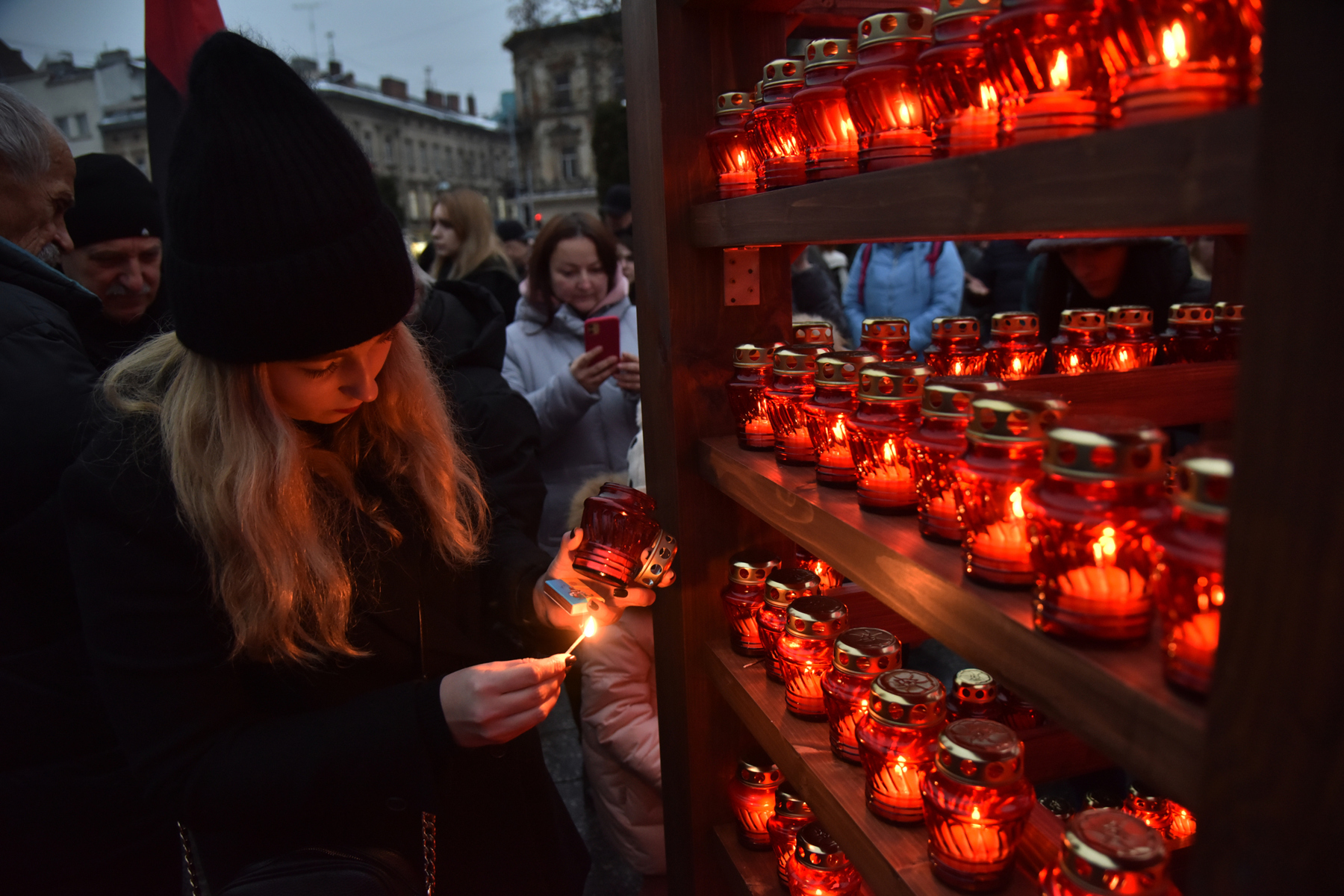 A girl lights a candle in memory of the victims of the Holodomor in Lviv, November 26, 2022. Every year on the fourth Saturday of November, Ukraine and the world commemorate the millions of victims of the Holodomor of 1932-1933 and the mass artificial famines of 1921-1923 and 1946 - 1947 years. (Pavlo Palamarchuk/Anadolu Agency via Getty Images)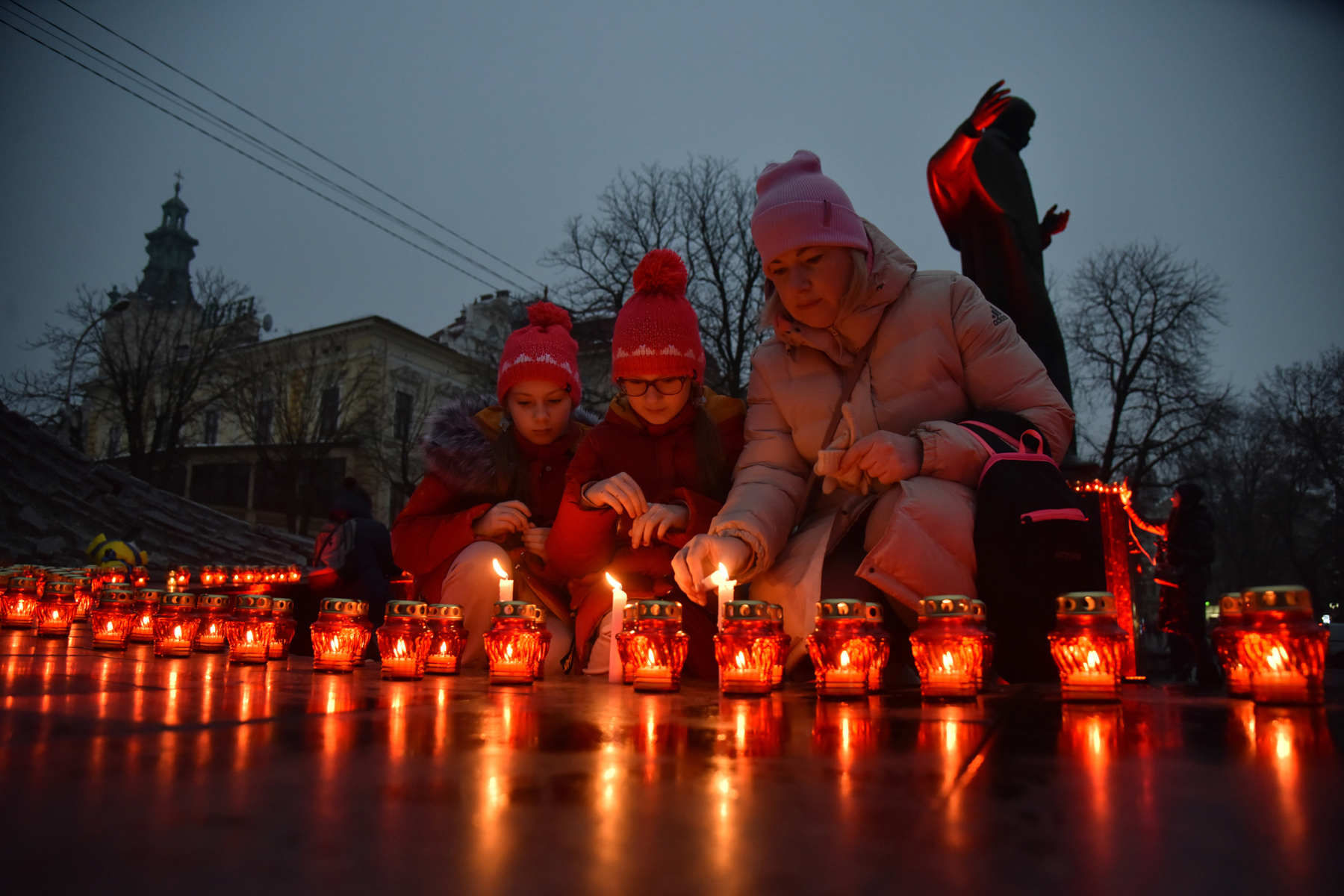 People light candles in memory of the victims of the Holodomor in Lviv, November 26, 2022. Every year on the fourth Saturday of November, Ukraine and the world commemorate the millions of victims of the Holodomor of 1932-1933 and the mass artificial famines of 1921-1923 and 1946 - 1947 years. (Pavlo Palamarchuk/Anadolu Agency via Getty Images)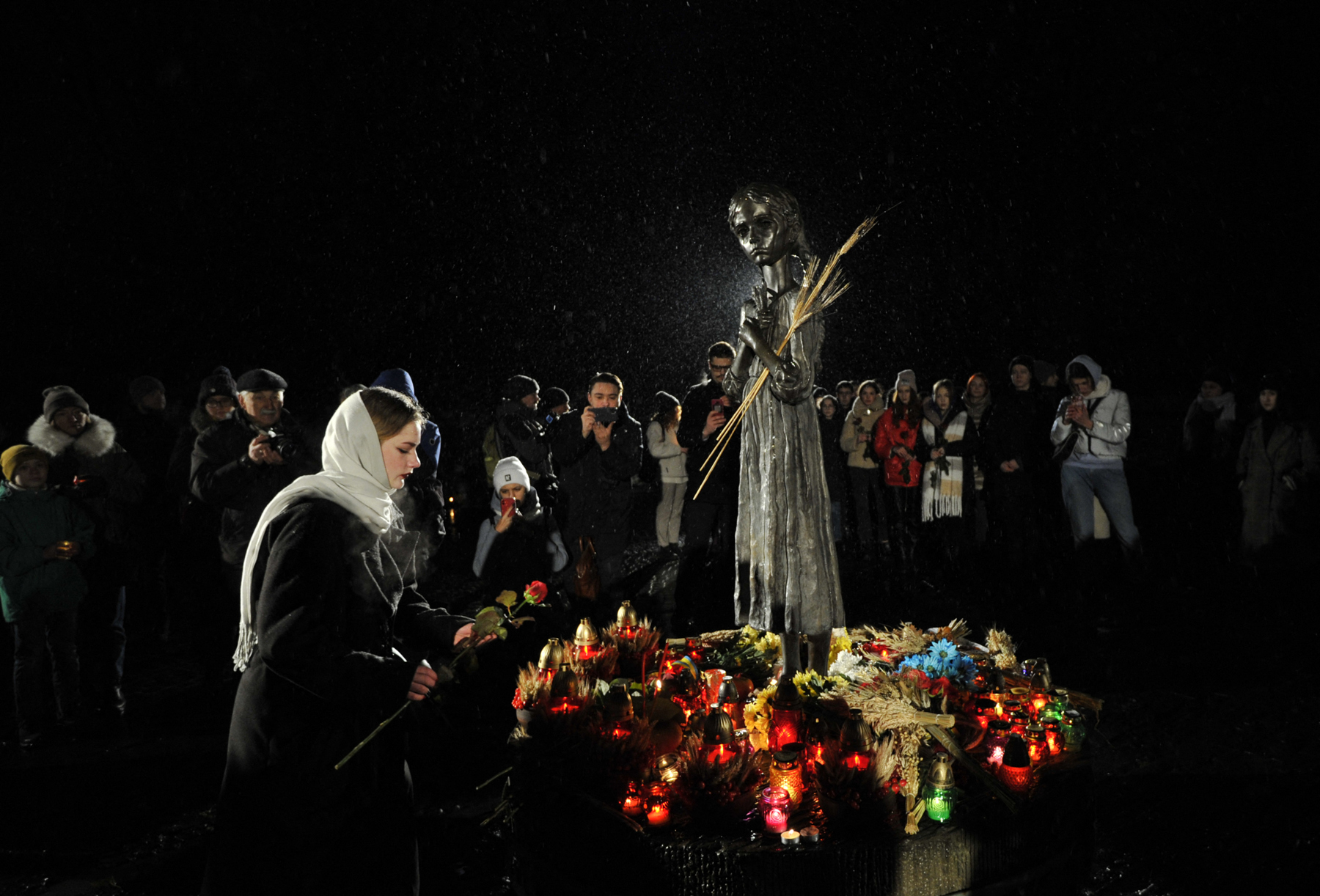 A local resident lays flowers during a ceremony at a monument of the victims of the Holodomor, Ukrainian for "death by starvation," in Kyiv on November 26, 2022, amid the Russian invasion of Ukraine. (Sergei CHUZAVKOV / AFP via Getty Images)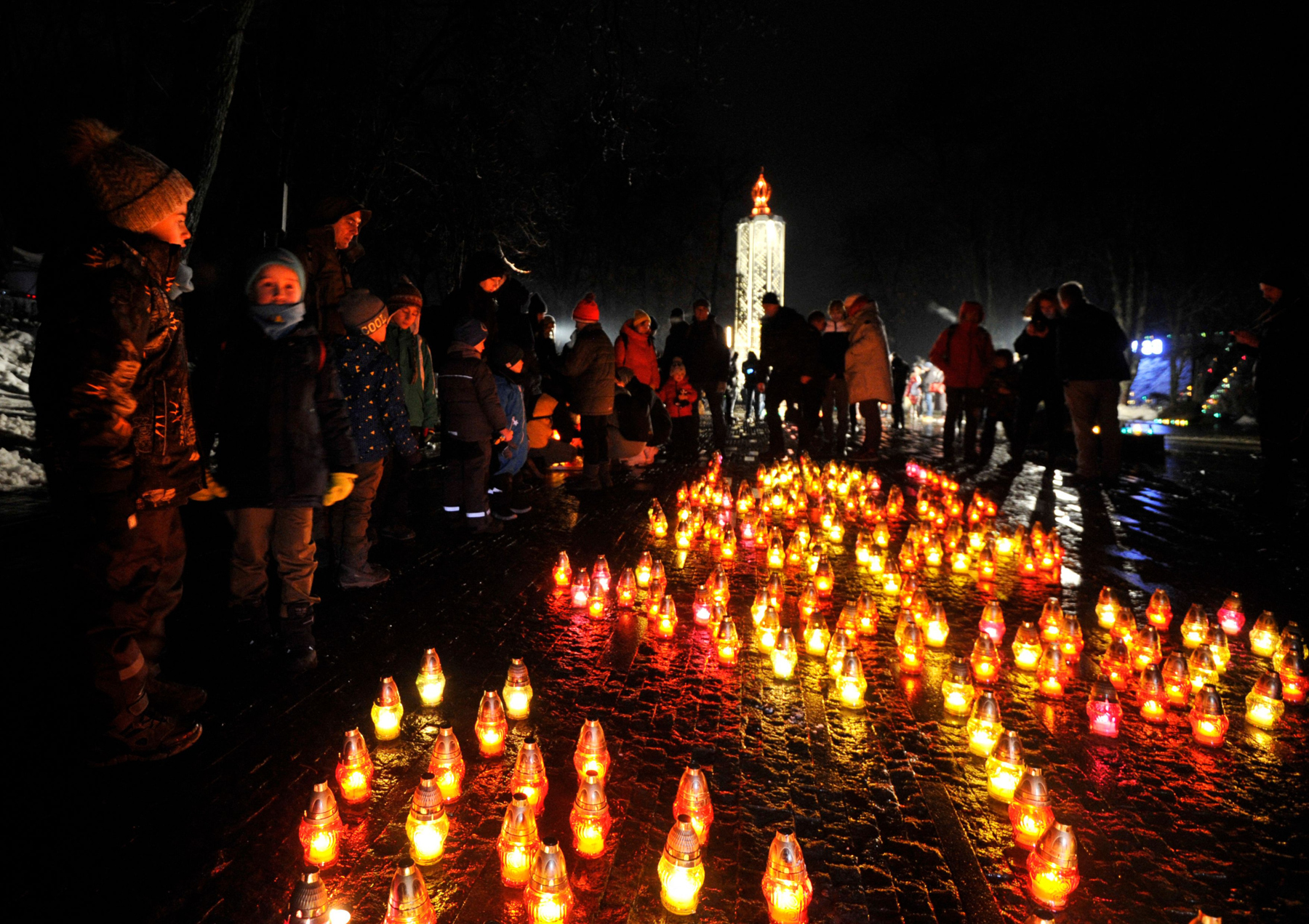 Local residents light candles during ceremony at a monument of the victims of the Holodomor, Ukrainian for "death by starvation," in Kyiv on November 26, 2022, amid the Russian invasion of Ukraine. (Sergei CHUZAVKOV / AFP via Getty Images)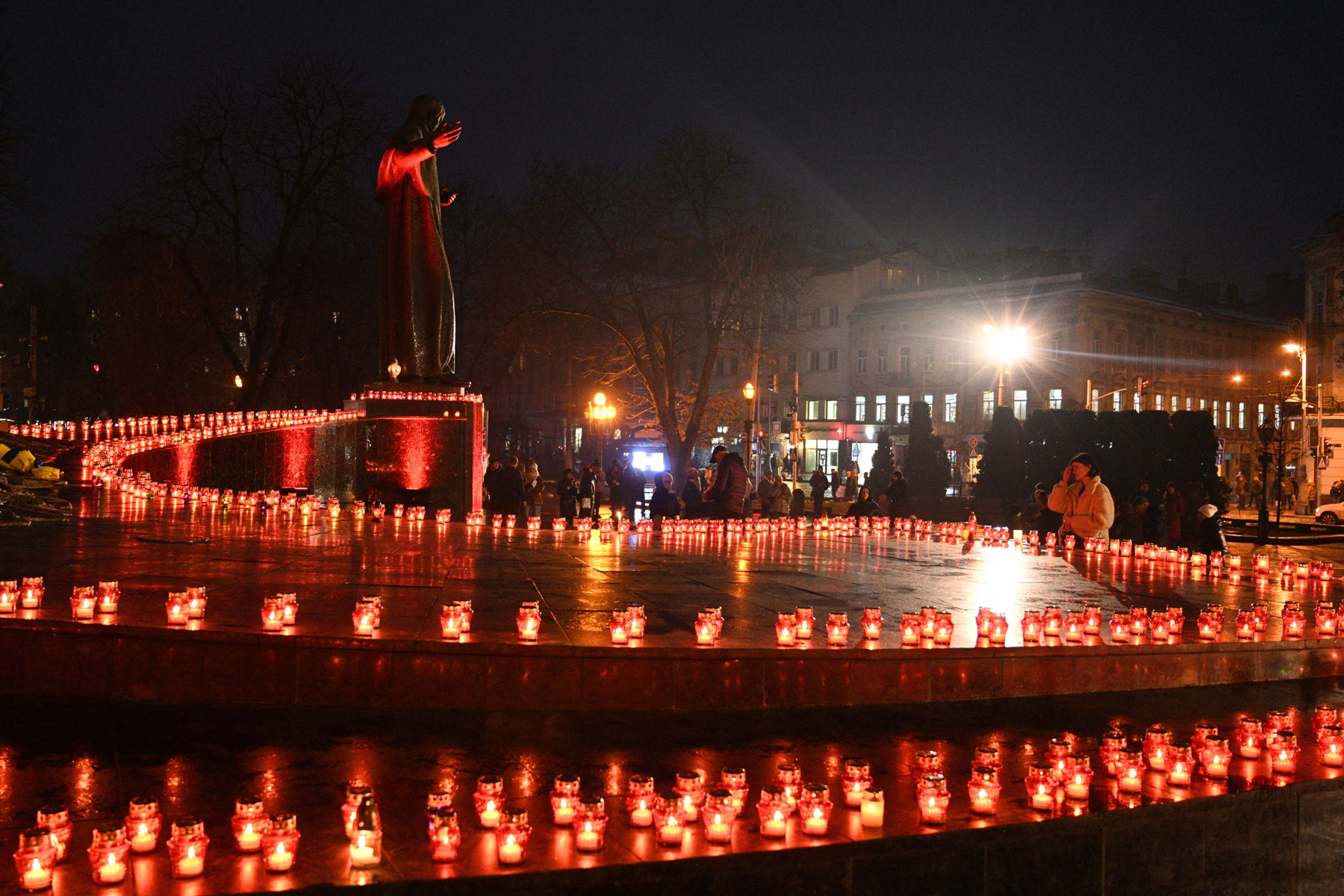 Local residents light candles to commemorate the victims of the 1932-33 Holodomor, Ukrainian for "death by starvation," in Lviv on November 26, 2022.(YURIY DYACHYSHYN / AFP via Getty Images)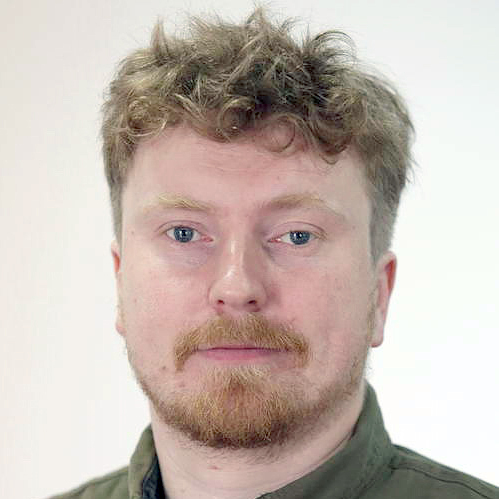 Kostyantyn Chernichkin
Photojournalist