This audio is created with AI assistance
KOSTIANTYNIVKA, Donetsk Oblast – Russia's relentless assault on Bakhmut is sacrificing waves and waves of unprepared men being sent to their deaths.
But multiple defenders of this embattled city in Donetsk Oblast feel that they are in a similar boat, according to interviews with more than a dozen soldiers currently fighting in or around Bakhmut.
During their brief visits to the nearby town of Kostiantynivka, Ukrainian infantrymen told the Kyiv Independent of unprepared, poorly-trained battalions being thrown into the front line meat grinder to survive as best they could with little support from armored vehicles, mortars, artillery, drones and tactical information.
"We don't get any support," says a soldier named Serhiy, who has been fighting on the front lines in Bakhmut, sitting down with his friend, also named Serhiy, for a conversation in a small cafe in the Kostiantynivka market. Both men are in their 40s but one of them is a bit older than the other.
All soldiers in this article have been identified only by first name or callsign because they spoke to a publication without authorization by a press officer.
They say that Russian artillery, infantry fighting vehicles and armored personnel carriers are often allowed to strike Ukrainian positions for hours or days without being shut down by Ukrainian heavy weapons. Some complained of poor coordination and situational awareness, allowing this to happen or making it even worse.
Mortarmen spoke of extreme ammunition scarcity and having to use weapons dating back to World War II. Drones that are supposed to provide critical reconnaissance information are also scarce and are being lost at very high rates in some parts of the battlefield.
All this leads to terrifying casualties of both dead and wounded. "The battalion came in in the middle of December… between all the different platoons, there were 500 of us," says Borys, a combat medic from Odesa Oblast fighting around Bakhmut. "A month ago, there were literally 150 of us."
"When you go out to the position, it's not even a 50/50 chance that you'll come out of there (alive)," says the older Serhiy. "It's more like 30/70."
The Office of the President of Ukraine has claimed that Russia may have lost tens of thousands of men during the Battle of Bakhmut as of mid-January. Fighting has since only intensified, with Ukraine repeatedly claiming close to a thousand Russians dead in its daily updates. As Bakhmut is seeing the heaviest fighting, most of these casualties are likely in that area. Authorities haven't revealed any information on Ukrainian losses in the Battle of Bakhmut.
Based on the soldiers' testimonies, Ukrainian losses appear to be high as well.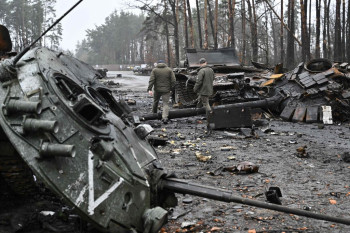 Worse by the day
Bakhmut has been the site of very heavy fighting for months, but in the past few weeks, Russian attacks have intensified to an insane degree according to most interviewees.
Multiple soldiers say that they are under massive assault from both Wagner Group mercenaries and regular Russian forces.
"There's Wagner and there's two brigades of airborne assault," says Oleksandr, an infantryman from Sumy, who is part of a Ukrainian assault battalion in Bakhmut. "It's rough. Constant waves, nonstop."
Some have characterized the Russian attacks as huge waves of cannon fodder, while others say that the invaders' tactics have evolved to keep up with the battlefield.
The older Serhiy says that the enemy likes to send a team of three or four expendable foot soldiers to attack and make the Ukrainians expose themselves by shooting at them. At that point, the more elite forces zero in on the defenders' position.
Once they begin exchanging fire, the Ukrainians are struck with heavier weapons like Russian mortars and rockets from Grad multiple launch rocket systems or BMP infantry fighting vehicles and armored personnel carriers with machine guns.
Join our community
Support Ukraine's independent journalism in its darkest hour
Support us
"They get the positions where we are, establish the coordinates, then they hit us from seven to nine kilometers out with mortars," as well as from closer by with grenade launchers, says the older Serhiy. "They wait for the house to fall so we have to jump out. The building catches fire and then they try to finish us off."
"Their birds come out and they chase us with fire," adds the younger Serhiy, referring to Russian UAVs, like quadcopters and Orlan-10 fixed wing drones that spot distant heavy weapons. "They hit accurately."
As Russians destroy more and more buildings, Ukrainians keep losing more places where they can reliably take cover. Borys the medic says people have been lost when their entrenched positions collapsed from heavy Russian fire, suffocating them.
"I'll put it like this, we should get our people out because if we don't take off, then in the next few weeks, it's going to be bad," says Oleksandr. A mortarman named Illia agrees that Bakhmut is "practically encircled."
On March 3, a key bridge connecting Bakhmut with the village of Khromove on its edge was destroyed. This was a vital artery for evacuating civilians and transporting supplies from the town of Chasiv Yar. CNN reported and soldiers confirmed that the bridge was destroyed by a Russian attack.
The Institute for the Study of War on March 3 said that it appeared that Ukrainian forces were preparing the battlefield for an orderly withdrawal from Bakhmut, but followed up with a March 4 evaluation that Russian forces are unlikely to surround the city soon.

Military leadership denied that Ukrainian forces are pulling out and said that Ukrainian forces will only withdraw from the city if they have to.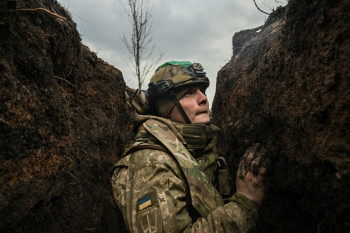 No support
Some infantrymen told the Kyiv Independent that they often can't rely on friendly artillery and mortar attacks against heavier Russian weapons.
"A mortar could be attacking us for three hours, we wait for support, there's no support," says the older Serhiy.
"They tell us hang on, you will get support in half an hour to an hour. We wait for seven hours, there's no support," the younger Serhiy chimes in.
Russian forces don't seem to have this problem, the two comrades say. Russian shelling and attacks with vehicle-mounted weapons are abundant. When Ukrainian forces do get mortar support, the mortars often miss by a wide margin, some soldiers claim.
Ukrainian troops also say they acutely feel the lack of infantry vehicles on the front lines. With the exception of light Territorial Defense forces, the Ukrainian infantry is supposed to be mechanized, per military policy.
"I heard that infantry (units) need to be mechanized," says the older Serhiy. "We, it seems, are following the old system, no one knows this. Where are our BMPs? Where is our artillery?"
Illia confirms that what is supposed to be mechanized infantry on paper, is often just infantry on foot in practice. He says Ukraine critically needs infantry vehicles, as the insufficiently few that it has are being expended in combat.
The two Serhiys questioned why they were seeing Ukrainian infantry fighting vehicles in the rear lines, while on the front they barely see them at all.
"Why are they here? They should be over there," says the older Serhiy. "Here, it's waiting for them (the Russians) to come. It could have been used to destroy them over there."
No ammo
Illia, a mortarman with the 3017th unit of Ukraine's National Guard offers a simple explanation for the lack of indirect support fire.
"When we get ammo, we get 10 shells per day, 120 millimeter shells," Illia says. "That's enough for one minute of work."
The mortars themselves date back to the years 1938-1943 and hitting something with them "takes a miracle." But Ukrainian mortars still manage to hit their targets despite all these challenges, he says."We need ammo, ammo, ammo," Illia adds. "If we keep getting 10 shells, Bakhmut will quickly be surrounded."
The younger Serhiy says the mortar shells are often old and useless, either failing to fly on target or failing to explode.
This is not the case everywhere. Mykola, a mortarman from Odesa Oblast, says that with Soviet ammo dwindling to critical levels, his unit now gets NATO mortar shells, even though their tubes are still from World War II.
But Mykola confirms that they don't get enough ammo. Mortar shells were more abundant when Ukraine defended the town of Soledar but since the battle moved to Bakhmut itself, there were shortages, he says.
Poor communication
Some say the disorganization goes beyond ammunition shortages.
The younger Serhiy says that logistics and signals are of very poor quality, adding that his battalion fails to make good use of its drone, which provides no help in the urban battlefield.
While units have access to radios to communicate, a lack of better communication equipment and specialists to operate it leads to some very difficult moments, the younger Serhiy adds.
A Russian BTR terrorized Ukrainian infantry around a part of Bakhmut for a month, without being shot by heavy weapons even once, even though it had been reported up the chain of command multiple times and multiple soldiers confirmed the casualties it was causing.
"That's why positions get given up," says the younger Serhiy. "They wouldn't be given up if you could transmit that a BTR's been riding around for a month (shooting people). If they took care of that BTR, the positions would have been secure."
Multiple soldiers say there aren't enough drones or people to use them properly, which is why they are often being lost, on top of being forced down by the Russians' electronic countermeasures.
Callsign Lawyer, an aerial reconnaissance specialist based in Kostyantinivka who goes on missions closer to the front with a drone team, says drones are in fewer numbers in Bakhmut than they are outside it and attrition rates are higher there. Russians have many directional electronic weapons that can force close-flying drones to land.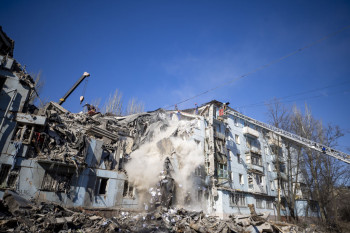 Poor preparation
Multiple soldiers say Bakhmut troops are barely given enough time to learn to shoot a rifle – sometimes their training is just 2 weeks, before they're dropped into the hottest parts of the most intense current battle of the war. They would have preferred for troops to get a minimum of two or three months of training before being deployed to such a hot spot.
"Two weeks' live training and they're sent here. You can't do that," says the older Serhiy. "Or it's a person who once served in the army, how long ago was that? Obviously they forgot everything."
"We were promised that we wouldn't be sent to the zero line right away, that at first we'd be sent to the second or third line," he continues. "And then we came here in the middle of the night and they immediately sent us to Bakhmut."
"Obviously a person starts freaking out. To tell you the truth, if they didn't fire at me first, I wouldn't have fired a shot. But I have bullets coming within 50 centimeters of me, that's when I started shooting."
According to both soldiers named Serhiy, most brigades are insufficiently trained and lack the experience for an environment as brutal as Bakhmut. People are taken at night to a place they'd never seen before and the battle starts in the morning.
"This is why positions are abandoned, people are there for the first time," says the younger Serhiy. "I went to a position three times and was given six people who hadn't fought at all before. We had a few dead and wounded that had to be evacuated… Our people are not being protected."
Oleksandr confirms that while some battalions fighting in Bakhmut are well-trained and ready, most of them aren't and many were thrown in at night without much preparation. "Yes, that's true, my battalion was not prepared," he says. After five months without a single break from the fighting, only half of Oleksandr's battalion is left, he says.
"They shouldn't have rushed to throw everyone in there," says the younger Serhiy. "Better to abandon those positions, who cares? It's better to properly train people."
____________________
Note from the author:
Hi, this is Igor Kossov, I hope you enjoyed reading my article.
I consider it a privilege to keep you informed about one of this century's greatest tragedies, Russia's ongoing invasion of Ukraine. With the help of my colleagues, I will continue to bring you in-depth insights into Ukraine's war effort, its international impacts, and the economic, social, and human cost of this war. But I cannot do it without your help. To support independent Ukrainian journalists, please consider becoming our patron. Thank you very much.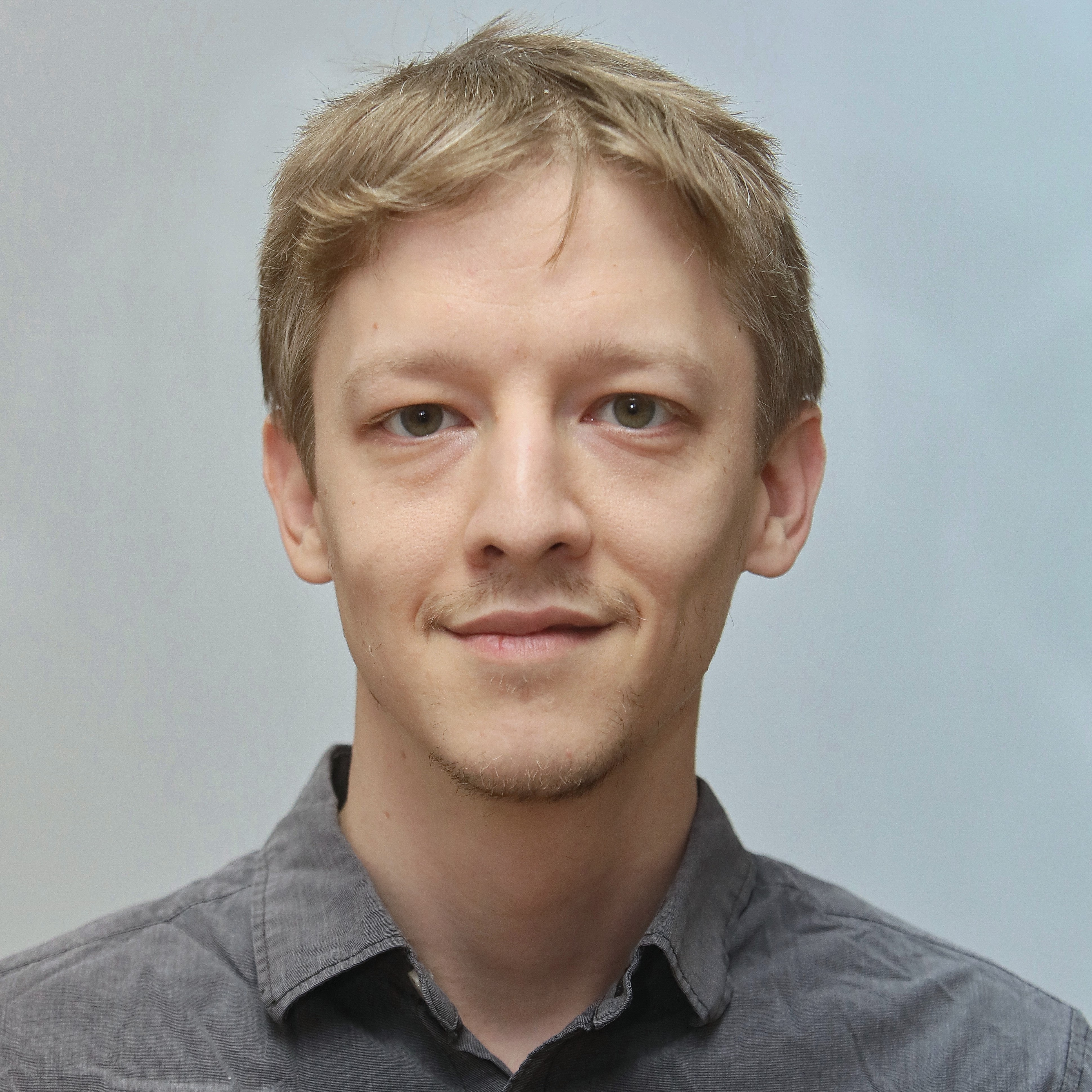 Igor Kossov
Reporter
Igor is a reporter at the Kyiv Independent. He has previously covered conflict in the Middle East, investigated corruption in Ukraine and man-made environmental damage in Southeast Asia. He has a Master's in Journalism from the CUNY Graduate School of Journalism and was published in the Kyiv Post, USA Today, The Atlantic, Daily Beast and Foreign Policy.