This audio is created with AI assistance
Key developments on Jan. 11:
Zelensky denies Russia captured Soledar, says fighting 'ongoing' and front line 'holding
'Moscow says Soledar blocked from north and south; Wagner Group founder boasts capturing the town
Poland to deliver Leopard tanks to Ukraine; Lithuania vows to send more air defense systems
Russia's Defense Ministry replaces military commander after 3 months
The small salt-mining town of Soledar is "almost completely destroyed," but the fighting continues, and the eastern front line is "holding," President Volodymyr Zelensky said on Jan. 11.
In his evening address, Zelensky claimed that Russia was lying about its victory over the town in Donetsk Oblast, hoping that presenting some results – even a minor one – would increase the public's support for mobilization.
Donetsk Oblast Governor Pavlo Kyrylenko, also denying that Russia captured Soledar, said that more than 80% of Soledar is "completely destroyed." He said Russia utilizes its siege tactics to capture the town, trapping some 550 residents in dire conditions.
"There is no clear front line, it is a broken curve, and the enemy is trying to advance in all positions, where it manages to advance, and there are fierce battles," Kyrylenko told the Kyiv Independent.
Kyrylenko claimed that Ukraine's military was "fighting for every centimeter" of Soledar, and that the fight was unfolding in the western and northern parts of the town, including inside the salt mine as of noon.
Ukrainian officials' comments come amid contradicting reports about which side holds Soledar, which sits 10 kilometers north of Bakhmut – a city Russia has tried to capture for more than five months.
Russian militants in eastern Ukraine and Kremlin-run mercenary Wagner Group said late on Jan. 10 that Russia had captured Soledar. Yevgeny Prigozhin, founder of Wagner Group and close ally of Russian President Vladimir Putin, has released photos and videos of what he said were his mercenaries in the salt mines of Soledar.
In the past months, Russia has faced a string of humiliating battlefield defeats across the front line. Capturing Soledar would be Moscow's biggest achievement since July. It is also crucial for Russia's long-sought goal of encircling Bakhmut.
However, the capture of Soledar does not guarantee Russia's success in Bakhmut, military experts said, since crucial roads west of the city are predominantly controlled by Ukrainian forces.
Despite mounting reports from Russian military bloggers that Soledar had fallen, Moscow has not claimed victory over the town yet.
Russia's Defense Ministry spokesman Igor Konashenkov said during the day that Russian forces blocked Soledar from the north and south with airborne units, who are striking Ukrainian strongholds in the town.
Konashenkov claimed that Russia captured the village of Pidhorodne, southwest of Soledar, but added that fighting is still raging in the contested town.
Fierce fighting continues as Russia concentrates its "main efforts" to completely capture partially occupied Donetsk Oblast, the General Staff of Ukraine's Armed Forces said in its evening briefing.
The General Staff claimed that Russian forces had not yet captured Soledar, and were suffering "heavy losses." The report also said that Russian forces were trying to disrupt the Ukrainian supply routes in the area.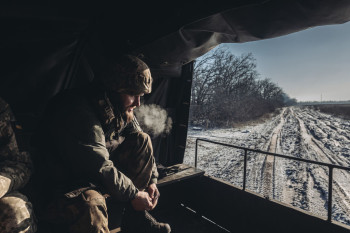 Meanwhile, Moscow appointed Chief of the General Staff Valery Gerasimov as a new military commander for the war in Ukraine, replacing Sergei Surovikin after three months in this role.
The Russian Defense Ministry said in a statement that Surovikin would become one of Gerasimov's deputies.
The latest reshuffle of Russia's most senior battlefield general position reveals that Russia clearly acknowledges that "the campaign is falling short of Russia's strategic goals," the U.K. Defense Ministry said in its latest intelligence briefing.
"This is a significant development in Russian President Vladimir Putin's approach to managing the war," the ministry added.
More weapon transfers
As the world's attention focused on the blood-spilling battle in Soledar, Zelensky visited the western city of Lviv to meet the presidents of Poland and Lithuania, Andrzej Duda and Gitanas Nauseda.
At a news conference following the "Lublin Triangle" regional forum's meeting, Duda announced that Poland was ready to provide Ukraine with "a company" of modern German-made Leopard 2 tanks.
A company typically implies 14 tanks.
The announcement comes after Kyiv's months-long pleas for heavy military vehicles to step up its counteroffensive capability to liberate all of its territories from Russian occupation.
While thanking Warsaw for the move, Zelensky reiterated that he was expecting "a common decision" from other Western allies as well since "one state alone cannot help us."
"I think today there will be a positive (decision) from another state to supply us with modern Western-style tanks," Zelensky said, without disclosing the country's name.
The U.K. appears to be ready to supply its Challenger 2 main battle tanks to Ukraine, according to the Financial Times. Downing Street has not confirmed the report yet.
UK Prime Minister Rishi Sunak asked Defense Secretary Ben Wallace to coordinate with "partners" over the next few weeks to go "further and faster with our support for Ukraine including the provision of tanks," the newspaper reported, citing the Downing Street.
Earlier, Sky News reported, citing a Western source familiar with the matter, that the U.K. was considering "for a few weeks" to provide Challenger 2 tanks to Ukraine.
Last week, France became the first country to vow to deliver Western light tanks to Ukraine, renewing pressure on Germany to make a similar move.
Germany has repeatedly said that it should remain careful not to escalate the conflict and make a move that would cause Russia to view Berlin as a party to the conflict.
But there appears to be a shift in Germany's Ukraine policy regarding weapon deliveries.
Speaking to German broadcaster ARD on Jan. 9, German Economy Minister Robert Habeck said that his country's delivery of Leopard tanks "can't be ruled out."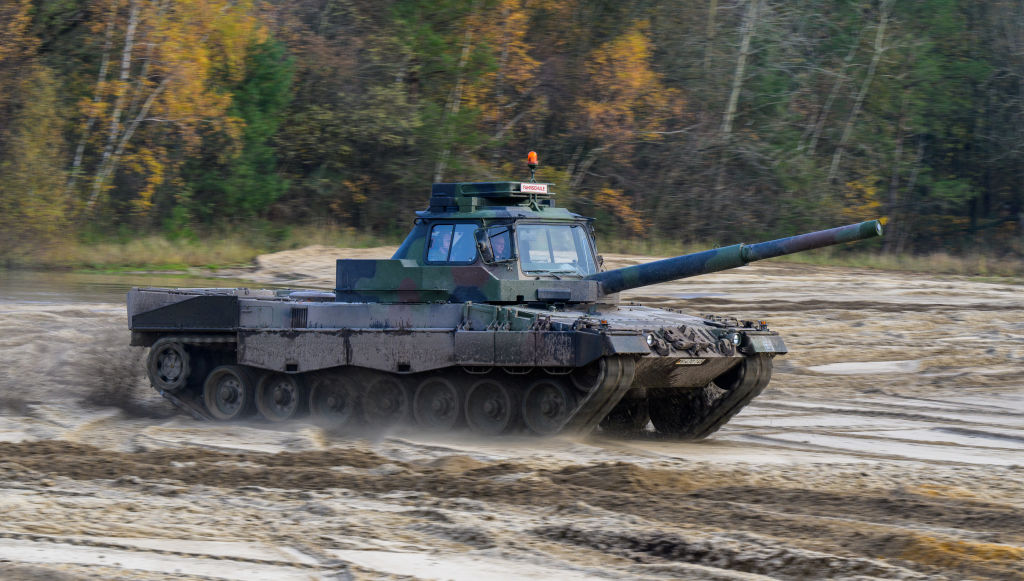 Later on Jan. 10, German Foreign Minister Annalena Baerbock made a surprise visit to Ukraine's eastern once heavily-bombarded city of Kharkiv, where she vowed that Berlin would provide more weapons to Ukraine – without labeling which ones.
Ukraine's Foreign Minister Dmytro Kuleba said after a three-hour-long meeting with Baerbock that he has "no doubts" that Ukraine would receive Leopard tanks, but did not indicate a timeframe.
Berlin had promised to provide Ukraine with infantry fighting vehicles last week, but has not mentioned tanks yet.
Amid Germany's reluctance, NATO Secretary General Jens Stoltenberg said on Jan. 11 that the alliance's members should step up their support for war-scarred Ukraine.
"In recent days, we have seen fierce fighting around Bakhmut and Soledar in the east of Ukraine," Stoltenberg said at a news conference.
"This shows once again the bravery of Ukrainian forces as they fight to defend their homeland. It also shows how vital it is that we step up our military support to Ukraine," he added.