This audio is created with AI assistance
Key developments on Feb. 3:
US announces new $2.17 billion security aid package for Ukraine, provides long-range GLSDB rockets
EU hails Ukraine's 'considerable efforts' over past few months, no timeframe for accession talks
Zelensky: Ukraine 'won't hand over Bakhmut, we will fight as long as we can'
UK Defense Ministry: 'Significant tensions' developing between Russian Defense Ministry and Wagner mercenary group
The EU announced on Feb. 3 that it was preparing to hit Moscow with more sanctions by the first anniversary of the all-out war as Ukrainian troops grappled for an expected Russian offensive in the country's east.
A delegation of top EU officials, who attended the Ukraine-EU Summit in central Kyiv, met with President Volodymyr Zelensky, who urged the bloc to speed up sanctions since the pace had "slightly" slowed down and Moscow began adapting to them better.
At the joint press conference after the summit, Zelensky warned that Russia was seeking "revenge" and preparing for a major offensive in the east and northeast, targeting cities like Bakhmut and Lyman.
"Russia wants revenge, and they want this revenge exactly where they really need it," Zelensky said. "Our task is not to give them this opportunity until our army is strengthened with appropriate weapons. I think we have a chance."
Russian forces appeared to be picking up pace in the northern part of Donetsk Oblast after capturing the salt-mining town of Soledar, which sits roughly 15 kilometers northeast of Bakhmut.
As the battle for Bakhmut intensifies, both sides have suffered heavy casualties in the months-long brutal trench warfare around the city.
Zelensky said that Ukraine "won't hand over Bakhmut," reiterating that "we will fight as long as we can" as he stood next to European Commission President Ursula von der Leyen and Council President Charles Michel.
The Ukraine-EU Summit, the first of a kind to be held in an active war zone, came nearly a year after Russia launched its full-scale invasion of Ukraine on Feb. 24. The EU leadership showed a defiant message against Moscow, which has for years threatened Kyiv against deepening ties with the West.
While Ukraine's hopes of a swift EU membership were dashed away, the bloc hailed Ukraine's "considerable efforts" in recent months toward a potential membership.
The Guardian reported, citing unnamed EU officials, that the language, used in the statement released after the summit, was changed from "considerable progress" after Germany, the Netherlands, and other EU member countries complained that there was "no official assessment to justify such rosy comments."
Ukraine officially applied for EU membership in February 2022, just days after Russia began bombarding Kyiv and other cities, and it got its candidacy status unexpectedly early in June.
But a candidacy status doesn't guarantee a quick path to accession. For instance, Turkey got its candidacy status in 1999, and it hasn't been granted a membership yet.
Ukraine's EU membership bid is also expected to take years. Ukraine has suffered from endemic corruption, and its lack of judicial reforms have raised questions in the EU even before Russia plunged the country into a full-scale war.
Zelensky said his country's goal was to start accession negotiations this year; von der Leyen said there is "no rigid timeliness" when Ukraine would get its long-dreamt membership.
Nevertheless, the summit was highly symbolic for Ukrainians.
The Ukraine-EU Summit is "proof that Russia can't break us," Zelensky said.
The EU also vowed to help Kyiv every step of the way and promised to unleash more heavy-hitting sanctions against Moscow, including an increased oil price cap.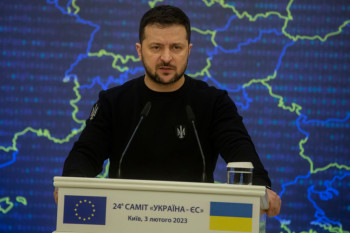 Further military assistance from US, Germany
The U.S. announced $2.17 billion worth of new military aid for Ukraine, which included a new weapon that would allow Ukrainian forces to double their shooting range on the battlefield.
The Ground Launched Small Diameter Bomb (GLSDB) rockets have a twice longer striking range than those that Ukraine currently uses to fire from U.S.-supplied High Mobility Artillery Rocket Systems (HIMARS).
Other weapons in the latest military aid also include Javelins, anti-tank missiles, and artillery munitions, Pentagon spokesman Patrick Ryder said at a news conference on Feb. 3.
So far, the U.S. has refused to supply Ukraine with long-range MGM-140 Army Tactical Missile Systems (ATACMS) over concerns that Kyiv would use them to strike targets inside Russia.
The new package comes nearly a week after Zelensky urged the West to supply longer-range weapons, including ATACMS, to stop "Russian terror."
On Feb. 2, Defense Minister Oleksii Reznikov said Ukraine could guarantee not to use long-range weapons against targets inside Russia.
The Kremlin immediately reacted to Washington's announcement, with spokesman Dmitry Peskov reminding about President Vladimir Putin's threat that Russia has the "means" to respond if it feels "threatened."
Also on Feb. 3, Germany said that it had approved the export of older Leopard 1 main battle tanks to Ukraine in addition to the already-promised Leopard 2 tanks, the government spokesman Steffen Hebestreit confirmed to Deutsche Welle.
According to the Süddeutsche Zeitung report, German arms manufacturers Rheinmetall and Flensburger Fahrzeugbau Gesellschaft (FFG) are ready to send "dozens" of Leopard 1 tanks to Ukraine after refurbishing them.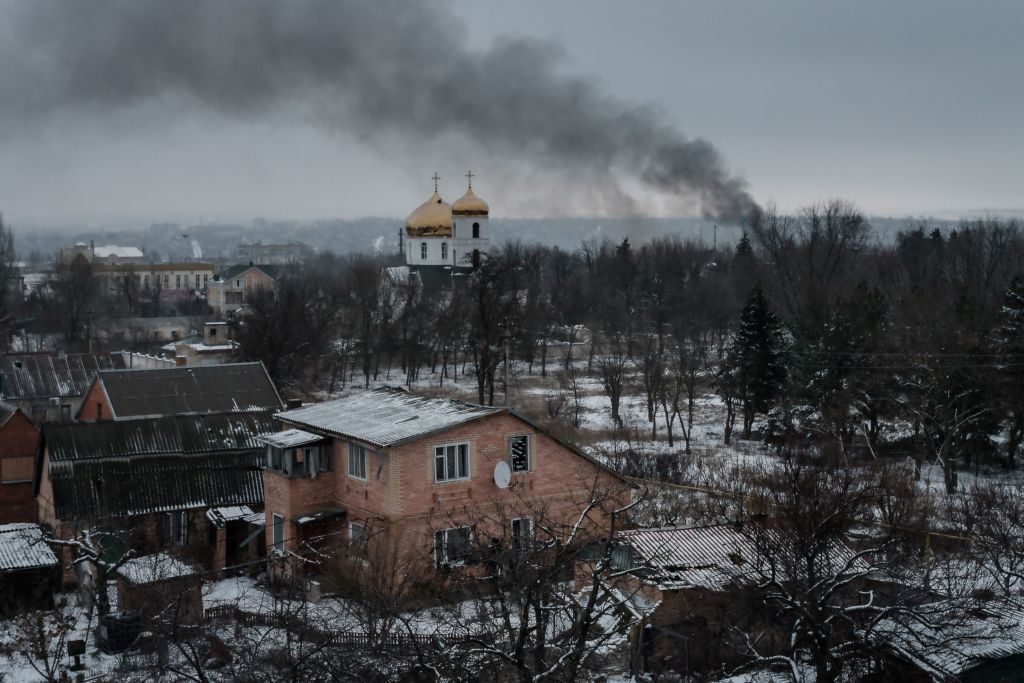 'Significant tensions' between Kremlin, Wagner
The Russian Defense Ministry and the Wagner mercenary group, fighting with Russian forces in Ukraine, are enwrapped in "significant tensions" as they claim more progress in Donetsk Oblast, a Western intelligence report said on Feb. 3.
The U.K. Defense Ministry's assessment comes amid rumors of a rivalry competition between the two entities. For instance, Wagner claimed to have explicitly captured Soledar in January, but the Russian Defense Ministry did not mention the mercenaries in its Jan. 13 report, where it claimed victory over the eastern town.
"The scale of Russian paramilitary Wagner Group's convict recruitment program has probably significantly reduced from its peak between summer and autumn 2022," the U.K. Defense Ministry said, adding that "competition between factions in the Russian elite" could be "partially responsible" for it.
The Wagner Group was designated by the U.S. as a "transnational criminal organization" in late January for its war crimes committed across the world.
On Feb. 3, Ukraine's Prosecutor General Andrii Kostin issued a suspicion notice against the Wagner founder Yevgeny Prigozhin, saying that he is "directly responsible for thousands of war crimes" in Ukraine. Prigozhin is accused of "encroaching territorial integrity and inviolability of Ukraine," with Kostin stressing that he needs to be held responsible for the bloodshed.
"It's time to stop the bloody tours of Russians, who cover themselves with the name of a famous composer," Kostin said in a Telegram post.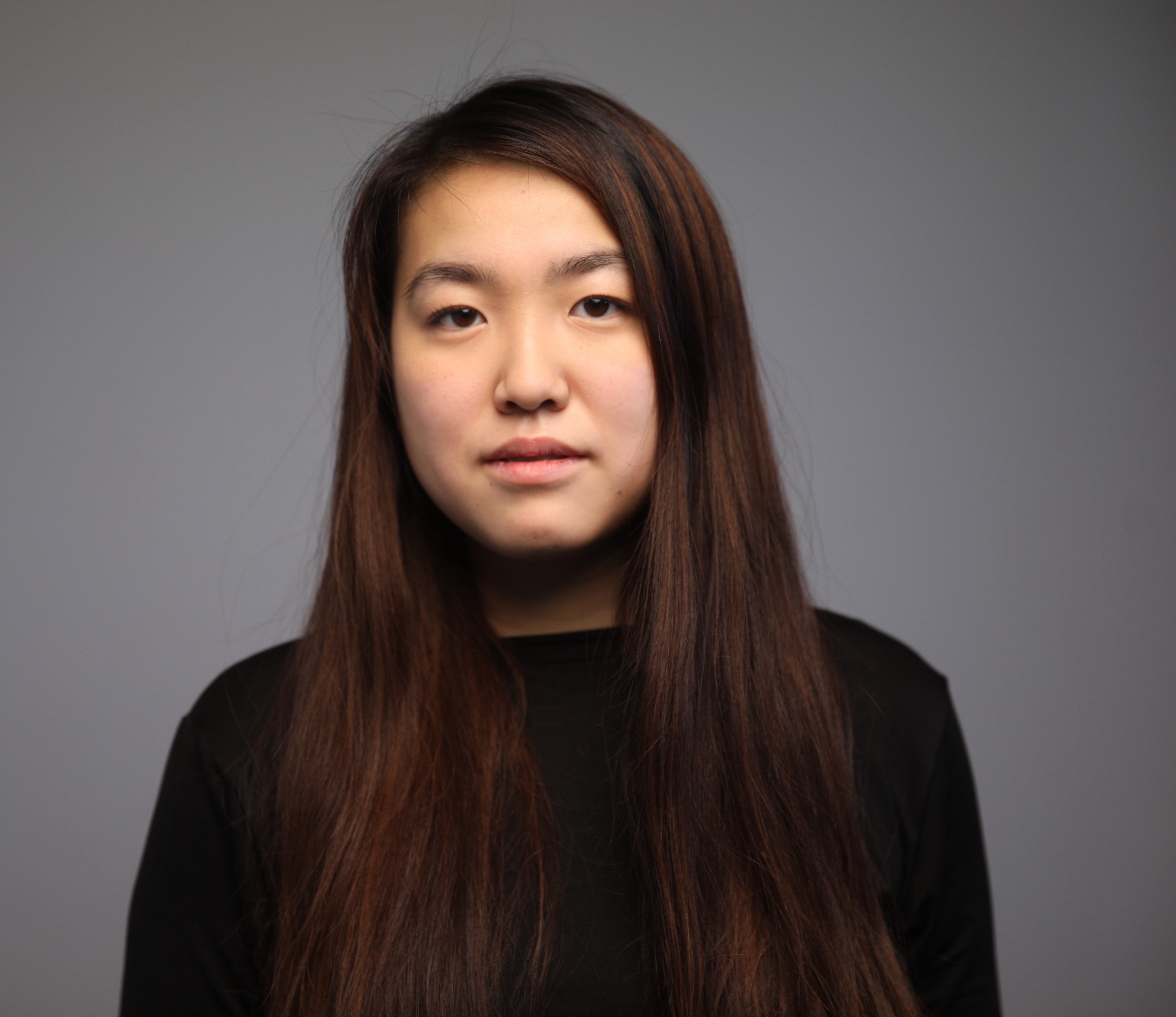 Asami Terajima
Reporter
Asami Terajima is a reporter at the Kyiv Independent. She previously worked as a business reporter for the Kyiv Post focusing on international trade, infrastructure, investment and energy. Originally from Japan, Terajima moved to Ukraine during childhood and completed her bachelor's degree in Business Administration at William Woods University in Missouri, U.S.A. She is the winner of the 2023 George Weidenfeld Prize, awarded for "excellent investigative and courageous research activities" as part of Germany's prestigious Axel Springer Prize.