This audio is created with AI assistance
Editor's note: We asked the patrons of the Kyiv Independent to share the questions they have about the war. Here's what they asked, and how we answered. Join our community of patrons to ask a question in the next round.  

Question: There is a lot of talk about the Russians preparing for a major offensive. What might be the Russians' objectives and how do you rate their prospects of success?
Answer: First of all, it's extremely unlikely Russia will attempt another offensive on Kyiv from the north as in February 2022. The terrain is difficult and well-defended, but more importantly, Moscow has learnt its lesson from its disastrous first attempt, and decapitating Ukraine by taking its capital is no longer seen as realistic.
The same can be largely said about another offensive on Kharkiv, a city of 1.4 million, though Kharkiv's proximity to the border makes it a little more possible that Russia has it in its sights. What is much more likely is a continuation and expansion of the current push on Donetsk Oblast, with the best-case scenario (in Russia's mind) being the capture of the oblast's entire administrative territory, including the large strategic cities of Sloviansk and Kramatorsk.
It is quite likely that the main thrust of the attack will continue to be around Bakhmut, building on the recent advances of Wagner Group mercenary troops, and hoping to push further towards Kramatorsk. In order to spread Ukrainian defenses thin, Russia will likely attack in several other areas simultaneously, including Vuhledar in the south of the Donbas front line, Mariinka and Avdiivka near occupied Donetsk, and in the north of Donetsk Oblast back towards Lyman, which was already occupied and liberated once.
On one hand, if well planned and executed, a large-scale Russian spring offensive in Donbas could threaten to take a significant amount of new territory and inflict painful damage on Ukrainian units already battered in the battles around Bakhmut. On the other, armored offensives against dug-in defensive lines are always extremely difficult and costly, and Ukraine is prepared. Even if they do make some gains, it is certainly very hard to imagine Russia successfully besieging and taking a city like Kramatorsk, over twice the size of Bakhmut. One thing to keep an eye out for will be the fighting performance in combined arms offensives of the hundreds of thousands of mobilized Russian troops, as recent Russian gains have all been made by Wagner forces, not the regular Russian army. – Francis Farrell, reporter
Question: What impact might fighter jets have on the prospects of a Ukrainian military victory? Would this escalate the stakes?
Answer: Air support and cover is very important for the success on the ground. That's why it became an absolutely integral part of modern Western doctrines. Right now, neither Ukraine nor Russia have air supremacy. Achieving it would give Ukraine an upper hand.
Ukraine needs more aircraft and more sophisticated fighters and multirole jets to also strip Russia of its presence in the air in territories retaken by Ukrainian ground forces. Without it, it's like fighting with one hand tied behind one's back, while the adversary has both hands ready. The escalation cliche must be dropped – there's nothing new Russia can realistically escalate things with. It's not enjoying air supremacy over Ukraine and not deploying myriads of aircraft, tanks, etc. etc. not because it doesn't want to, but because it can't. One escalates this war only by stripping Ukraine of weapons and thus giving a go to Russia. – Illia Ponomarenko, defense reporter
Question: What volunteer / humanitarian relief efforts on the ground do you see having the most impact and the highest integrity (aka who is doing the most good on the support lines)?
Answer: Since the earliest days of the invasion, when they received criticism for their slow response to the refugee crisis, big organizations like UNHCR, UNICEF, Save the Children etc. have not been present in the hardest-hit front-line areas.
Of the big-name international non-profits, the one famously doing the most valuable and no-nonsense work has been World Central Kitchen – they are on the ground helping people in any and all conditions, including cities that are actively being shelled. Though they are often distributing aid packages from larger organizations like the World Food Program, the majority of humanitarian aid work in the hairiest areas is being done by grassroots Ukrainian groups, sometimes without any brand or public face, just collections of friends and colleagues doing whatever they can. – Francis Farrell, reporter
Question: What is the military, if not symbolic, significance of Bakhmut in the current environment? What effect would a potential fall of Bakhmut have to Ukrainian morale, both in the military and in society? Obviously, I do hope it will remain under Ukrainian control.
Answer: Bakhmut is a very strong fortress. Because of the area's terrain (a river, lots of hills all around, several decent roads for communications) and also because it has been prepared for long defense since 2014. So since Russia enjoys superiority in all regards, the Ukrainian command is going to hold on to Bakhmut for as long as possible to exhaust Russian strength and keep making it suffer inadequate losses. Something similar happened to Lysychansk and Sievierodonetsk in summer – yes, Russians seized the ruins after months of fighting but they were so terribly degraded that Russia in general lost its offensive potential for over 6 months. Only now, following a sweeping mobilization, they try to go over the top again.
Bakhmut is absorbing enormous Russian resources and forces. Of course, this mission implies a terrible toll on the Ukrainian garrison. If Ukraine is to eventually withdraw (before the garrison is surrounded), it will roll back to yet another fortified area – Kostiantynivka and Chasiv Yar. And then, if necessary, to the most central and the strongest fortress – Sloviansk-Kramatrorsk. Given the Russian pace of advance, that would take a long time. – Illia Ponomarenko, defense reporter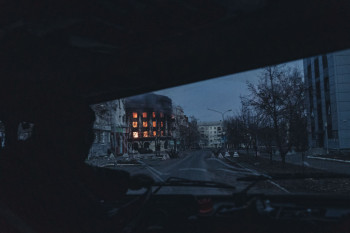 Question: What do you think about Western tanks? Could there be a real chance to further liberate occupied territories? Is the necessary logistics doable? Are those 100 to 150 tanks really enough to make a real difference?
Answer: The news about Western tanks is changing constantly as additional countries chime in with what they're going to contribute. The 120-140 tanks expected by the end of March is just the first wave. At this rate, Ukraine expects to get several hundred tanks over the course of the year, with the Abrams from the U.S. to arrive by the end of 2023. However, they will not all be the most modern advanced MBTs, (for example there will be a bunch of older Leopard 1s with thinner armor), and Poland will reportedly contribute even more Soviet T-72s with upgrades as well.
There will be enough modern MBTs to give Ukrainian forces a noticeable qualitative advantage over the Russians. For instance, Western MBTs can shoot farther and more accurately than many of the tanks Russia's using in Ukraine. This doesn't necessarily mean victory, breakthrough and reconquest. That will depend on how the tanks are utilized, organizationally and tactically, with proper use of combined arms to maximize their effectiveness. Fortunately, we've seen that Ukraine has been more innovative and clever with its resources than Russia's been. Western partners can help.
There is no doubt that logistics and maintenance will be an issue because of the big variety of tanks. By agreeing to provide their tanks, these countries are also committed to supplying parts, ammo and training expertise. However, Ukrainians are used to working with a huge number of different types of systems at once, experience developed over eight years of fighting Russia in Donbas and one year across all of Ukraine. They have shown that they are able to learn to use many different systems together.
Importantly, tanks will be most effective in combined arms operations, which will also draw upon the infantry vehicles and possible military jets that other countries are contributing or may contribute. – Igor Kossov, reporter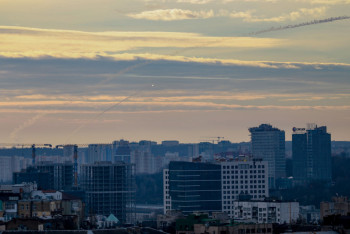 Question: How much of the donated heavy weaponry (tanks, fighting vehicles, armored personnel carriers, artillery, HIMARS etc) has been lost? How many ex-Soviet heavy weapons does Ukraine have left?
Answer: The Oryx database is the best resource for this information. They are also documenting Ukrainian losses, including the hardware provided by our friends. As for HIMARS, there is no credible evidence on any of the systems lost by Ukraine. – Illia Ponomarenko, defense reporter
Question: How worried are Ukrainians that Russia may use nuclear weapons?
Answer: In short, the majority of Ukrainians don't believe that Russia will use its nuclear arsenal against the country. A survey in October 2022 showed that 65% of Ukrainians think the Kremlin won't use nuclear weapons, an increasing trend compared to April 2022, when 52% of Ukrainians said they don't believe in such an attack.
The same survey showed that 2% of respondents said that Russia would definitely launch a nuclear strike, and 24% believed that it might go for it. But the overwhelming majority, 84% of respondents, do not believe in the possibility of a nuclear attack on NATO countries. – Alexander Query, reporter
Question: What proportion of the Ukraine Army is currently involved in fighting on the Donbas front in places like Bakhmut and Soledar?
Answer: It's very hard to say, but in general, the Ukrainian military normally deploys elements of nearly 15 or 16 different brigades and other large formations: battalions, companies. I'd speculate it's about 15,000 troops. Russians have the equivalent of nearly 40 BTGs (although they don't do BTG as a unit anymore) there, so it's up to 30,000-35,000 troops. – Illia Ponomarenko, defense reporter
Question: Ukraine's military has offered Russian soldiers fair treatment if they surrender. Are there any statistics on how many Russian soldiers have surrendered?
Answer: There's no exact data, but we can roughly speculate Ukraine has nearly 1,500-2,000 Russian POWs. – Illia Ponomarenko, defense reporter
Question: On social media (Facebook) there are many regular requests from sources for money to be transferred to personal accounts in order for them to buy supplies for the military or even aid. Could be vehicles; or protective clothing; aerial devices etc. I haven't transferred any money but I wondered how many of these are honest and legitimate. Have you investigated any of these or have a view?
Answer: Indeed, there have been a lot of fundraising calls for the military organized by individuals rather than big foundations. Most often they are done by civilians who are in close contact with a certain military formation and know their needs for specific equipment, such as aerial devices, cars, or warm clothing. It's very common. Virtually any Ukrainian either has raised funds for a cause like this or knows someone who's done it. For example, our reporter Illia Ponomarenko has been raising funds for rehabilitation of injured soldiers.
It's impossible to track and verify all of such fundraisers. It's recommended to donate to such causes when you know the person behind it, or when someone you know can vouch for the fundraiser.
Even if there are fraud operations masking as fundraising initiatives, don't let it discourage you from supporting Ukrainians in general. Donate to big foundations if you prefer to be on the safe side, such as the Come Back Alive foundation. – Olga Rudenko, chief editor
Question: Why is the little city of Nikopol such a frequent target of shelling and rockets?
Answer: Even though it is separated from Russian-occupied territory by around five kilometers of water, Nikopol is effectively a frontline city, with Ukrainian troops in positions outside the urban area, and ongoing artillery skirmishes every day in both directions.
But this doesn't explain the shelling of residential areas, and here there is a simple reason – Russia is often shelling from inside the territory of the Zaporizhzhia Nuclear Power Plant just opposite, sometimes from right next to the reactor buildings, as residents told me in August. In addition to mindless terror, this looks to provoke Ukrainian retaliation, as a result of which Ukraine in turn could start being seen as more responsible for threatening the nuclear safety of the plant.
When I was there, local collaborators/agents had been spreading leaflets around Nikopol saying "the shelling of the Zaporizhzhia Nuclear Power Plant is ongoing." A lot of time has passed since then, and the attempt to create panic in the city clearly failed, but Russia has clearly decided to just keep up the daily shelling nonetheless. – Francis Farrell, reporter
Question: Reconstruction after Ukraine wins the war will be a massive endeavor. Has planning for reconstruction started?
Answer: Ukraine has unveiled a reconstruction plan, but rather than a massive centralized Marshall plan, the country has chosen a path of multiple partnerships with countries per region. For example, Denmark agreed to help the restoration of Mykolaiv, the Baltic countries of the Zhytomyr Oblast, and Portugal to rebuild Ukrainian schools.
Such an initiative allows direct supervision of funds by countries donating to Ukraine, which is supposed to thwart potential corruption.
It also testifies to a successful decentralization reform, leading to mayors and governors being able to deal directly with countries helping.
Ukraine will need a lot of help, as Prime Minister Denys Shmyhal evaluated the reconstruction cost at $750 billion as of July last year, but the cost could reach over $1 trillion, according to the European Bank of Investment. – Alexander Query, reporter
Question: How are Ukrainian businesses and private sector employers coping? What does the job market look like now and how do Ukrainians manage to either find/keep employment or continue without?
Answer: As of August 2022, the unemployment rate reached up to 35%, and roughly 5 million people lost their jobs. Ukraine's economy shrank by more than 30% in 2022.
Rural communities are hurt the most, especially in territories that were occupied and then liberated, and they rely heavily on humanitarian aid to deal with the lack of jobs.
It's also hard to properly assess the situation because one shouldn't underestimate the size of the shadow economy in Ukraine – some people find jobs they don't declare to avoid paying taxes or are paid in cash, which renders figures blurry.
In Kyiv, one notices that new businesses open all the time despite the war – cafes, pharmacies, stores. It doesn't mean they necessarily stay open long, but it shows that the war didn't completely destroy the dynamics of the economy, and Ukrainians adapt to the new situation. – Alexander Query, reporter
Question: I would like to learn more about the children of Ukraine. This war has devastated their lives and divided their families. Many of them left Ukraine and are going to school and forming lives in other countries in Europe. Do they want to return? How do they see the war? This is the next generation that will build and determine Ukraine's future.
Answer: According to the United Nations refugee agency, more than 8 million Ukrainians have fled their country since Russia launched its brutal all-out invasion on Feb. 24. Nearly 516,000 Ukrainian children of school age have stayed abroad as of late December, according to First Deputy Minister of Education and Science Andrii Vitrenko. These children have been forced to start their lives from scratch in foreign countries, facing difficulties in finding new friends and missing their homes and loved ones.
According to a poll by the Razumkov Center published in late August, the majority of Ukrainian refugees said they were planning to return after hostilities ended. Vitrenko said 100,000 schoolchildren have already come back to their homeland.
For others, the decision to return to Ukraine will likely depend on more factors than just the end of hostilities. For instance, Ukraine would need to guarantee them education and hence restore 437 educational facilities that have been destroyed, and thousands that have been damaged.
Among those who stayed in Ukraine, many children got inspired by the country's unity in helping its defenders and supported Ukrainian Armed Forces no worse than adults, using all of their creativity and talents to raise money.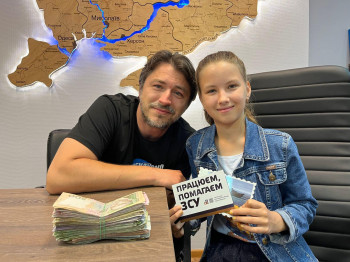 But it's still hard to predict the war's effect on their mental health in the future: Hiding from missile attacks in the bomb shelters, losing homes and loved ones – it is tough for any adult, let alone for a child.
Children's death toll, however, is the most terrifying part. As of Feb. 9, at least 461 Ukrainian children have been killed since the start of the invasion, according to the Prosecutor General's Office. The number is believed to be higher as it does not include casualties in Russian-occupied territories or where hostilities are ongoing. – Daria Shulzhenko, reporter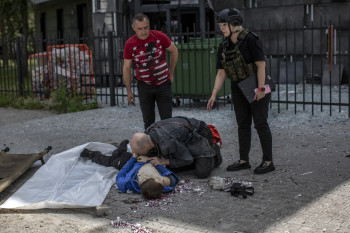 Question: I am pleased President Zelensky is removing allegedly corrupt officials within the government.  What action has been taken to remove the corruption in the International Legion as reported by the Kyiv Independent?
Answer: To the best of our knowledge (and our regret), little to nothing has changed. The commanders whom soldiers had accused of wrongdoings are still serving in the International Legion.
Following our request for comment in mid-November, military intelligence, which oversees the wing of the Legion where Polish commander Piotr Kapuściński (one of the accused commanders) serves, told us they had launched an internal investigation into the matter. In early February, we asked the agency to update us on their investigation's status, but we are yet to hear back.
Ukraine's Ground Forces, which oversees the other wing of the legion, has not reacted to allegations of their commanders' misconduct. Other official investigations into the matter have not yielded results yet. We have no information on the status of the State Security Service and State Bureau of Investigations' probes into Kapuściński. However, we know that Polish prosecutors are looking into Kapuściński's alleged wrongdoing in Ukraine. We will report back to our readers if we receive updates. – Anna Myroniuk, head of investigations
Question: I would like to know about how day-to-day corruption in Ukraine has been affected by the war. Are profiteers exploiting refugees and in what ways? Has the war promoted a greater sense of patriotism and unity that has reduced routine corruption? There's been recent news about high-level corruption, but I've seen nothing about petty corruption that would affect people individually.
Answer: There is no evidence indicating that either high-level or petty corruption has decreased because of the war.
The war can influence corruption in different ways. It can promote a greater sense of patriotism but it can also be used as an excuse by corrupt officials since the public's attention has shifted from corruption to the war.
For example, a deputy head of Ukraine's central military medical commission has been charged with corruption for allegedly helping conscription-age men evade military service.
Meanwhile, Kyrylo Tymoshenko, a deputy chief of staff for President Volodymyr Zelensky, has been using for his own purposes a Chevrolet Tahoe donated by General Motors for humanitarian needs and evacuating civilians from combat zones, according to the Bihus.info investigative journalism project. Tymoshenko was fired after the scandal.
In January and early February, the authorities carried out an anti-corruption crackdown by firing, raiding and charging former and incumbent top officials and an oligarch. But critics question the sincerity of the anti-corruption drive since some notorious top officials accused of corruption, including Zelensky's deputy chief of staff Oleh Tatarov, are missing from the list of those fired or investigated. Tatarov was charged with bribery in 2020.
Moreover, the most high-profile figures searched on Feb. 1 – ex-Interior Minister Arsen Avakov and oligarch Ihor Kolomoisky – have not faced any charges so far. Like many anti-corruption raids before, this one may also turn out to be a publicity stunt without any consequences.
Another problem is that, after Russia launched its full-scale invasion in February 2022, the Ukrainian authorities allowed officials not to file electronic asset declarations in the future and shut down public access to all previous declarations, arguing that keeping them public is a security risk.
Civic watchdogs say that Ukraine's asset declaration system, a key pillar of the anti-corruption infrastructure, has been effectively destroyed, with martial law used as a pretext by corrupt officials. This will make all future contests for government jobs meaningless, the watchdogs argue. – Oleg Sukhov, reporter
Question: How is the mobilization of Ukrainian soldiers organized? In addition to volunteers, are enrollments done by age group? Or by job? How is the departure to the army apprehended by the people concerned?
Answer: Well, things are very different in this regard, depending on who does that and where. In general, it's a mess. Some recruitment offices do the idiotic thing and hand out draft notes in the streets, because they don't care about the quality, they care about numbers.
Men aged between 18 and 60 are supposed to be called up (or not called up) depending on their health status, profession, the need for certain specialists in the military etc. In reality, in many instances, it's a complete mess. You're a skilled technician, or an engineer, but your recruitment officer can assign you as a rifleman in the trenches. So it's generally recommended for those joining the military to be proactive and seek contacts with good, reputable combat formations, where one has a good chance to apply his or her real skills and talents from civilian life. If a formation has openings, it can address the draft office and request a specific person to join them. – Illia Ponomarenko, defense reporter
Question: Who is in charge and pushing for justice for war crimes (in Ukraine)?
Answer: Two bodies are doing it inside and outside Ukraine. The Prosecutor General's Office of Ukraine investigates war crimes and crimes of aggression in Ukraine. Over 50,000 investigations have been opened in 2022, bringing the total number of cases opened since the Russian invasion of Ukraine started in 2014 to 100,000.
Meanwhile, the Foreign Ministry is pushing for the establishment of a special international tribunal for the crime of aggression to bring Russian top leadership, including Putin, to justice. Although there is a gap among partners and organizations as to what such a tribunal should look like, no one doubts that Putin and his circle should be punished for Russia's aggression against Ukraine, as well as the military perpetrating the crimes. – Alexander Khrebet, reporter
Question: When you look out at the world from Ukraine, what are things that you see that the world doesn't understand – about the war, about Ukraine? What is the world missing?
Answer: The Western world tends to see it as a regional conflict that doesn't affect Westerners, or underestimate the imperialistic ambitions of Russia, thinking NATO protects them. This war is the latest avatar of Russia's imperialistic ambition, and it should be seen as a colonization war rather than a local conflict over territory, a war that won't stop until Russia is stopped.
More than that, it's a genocide. Westerners have a hard time accepting that word, but Russians' rhetoric, intent and means for killing Ukrainian people points to a genocide.
It's also important to put fear aside when talking about Russia. Every "red line" declared by the Kremlin has been transgressed, and except outrageous statements on TV, nothing changed – because the Kremlin didn't wait for these red lines to be crossed to massacre Ukrainians. The escalation is already there, so it doesn't make much sense to fear it. – Alexander Query, reporter
Question: Please recommend a good book about the history and making of Ukraine. Here in Germany historical literature on Eastern Europe is often Russia biased. Thanks!
Answer: A number of contemporary historians have done a great job in explaining Ukraine's history. Among them are Serhii Plokhy, Yaroslav Hrytsak, Timothy Snyder and Anne Applebaum.
Plokhy's bestseller, "Gates of Europe: A History of Ukraine" is one of the best books on the subject. Snyder's lecture course "The Making of Modern Ukraine," available online, is also great. — Oleksiy Sorokin, senior editor
Question: Are there any books (new or old, war-related or with no link to war) that have become particularly popular in Ukraine since the conflict began?
Answer: George Orwell's dystopia "1984" and Sun Tzu's "Art of War" are always among the bestsellers since Russia invaded Ukraine in 2014. In 2022, history books were leading in the non-fiction section. The war also boosted interest in the books about Ukraine's history (see the answer above). – Alexander Khrebet, reporter
Question: Does the Kyiv Independent accept volunteer journalists?
Answer: We can accept volunteer help from experienced journalists and native speaker editors, yes. We are also hiring. Applications and offers to volunteer can be sent to [email protected] and job openings can be found here. – Olga Rudenko, chief editor
––––––––––––––––––––––––––
Do you want to ask us a question and have it answered in this section? Join our community on Patreon and ask your question in the next round.