This audio is created with AI assistance
Feb. 24, 2022, was supposed to bring the existence of a 40-million European nation to an end.
Long before the dawn of light, Ukrainian cities were set alight in blazes of burning airfields and the scattering of artillery impacts.
Endless armored convoys broke into highways, and helicopters roared over the woods of north Ukraine.
Every hour, more towns and cities across the country were being captured by advancing Russian armies. CNN was showing Russian paratroopers, their elbows marked with white stripes, at the Antonov Airport just outside Kyiv.
Russian dictator Vladimir Putin declared the end of Ukraine as it was.
Fast forward one year, and on Feb. 20, 2023, U.S. President Joe Biden pays a surprise visit to Kyiv – a triumphant nod at Russia's failed plans to conquer the Ukrainian capital.
"One year later, Kyiv stands. And Ukraine stands. Democracy stands," Biden said in Kyiv.
How did something that was supposed to be Putin's several-day-long "special military operation" turn into a staggering defeat and a subsequent grinding war that the Kremlin's propaganda now calls Russia's "fight for survival"?
Here's how.
The failed blitzkrieg
Several key factors ensured Russia's failure.
The first was its failure to destroy Ukraine's military cohesion, social stability and system of governance in the decisive opening days of the invasion.
Next, from the very beginning, Russia completely failed to assess Ukraine as a nation; to understand its morale and its military's readiness to fight. This understanding would be critical to execute the beheading strike needed for victory.
Furthermore, Russia did not have enough forces when it invaded Ukraine, a country the size of France. And these insufficient forces were dispersed into several axes of attack all along the Ukrainian border, which made them even weaker.
Finally, failure to maintain an adequate line of supply to Russia's inadequate forces, dealt the deathblow to its hopes of reaching the capital.
As the attacking force, Russia could choose the date and time of invasion. It could postpone the attack until the circumstances were the most favorable. As the defender, Ukraine was very limited in its capacity to mobilize its forces and go on military footing while avoiding a social and economic collapse due to the war threat.
But thanks to Western intelligence, the Ukrainian military was prepared and survived as a centralized system fully in control of itself. Ukraine saved its air force and air defense, and retained its full military power, even as the torrent of Russian missiles rained down on Ukraine's defense infrastructure.
Both the military and civilians resisted being demoralized and did not falter. When large Russian forces penetrated the state border from all directions, the nation was ready to fight back.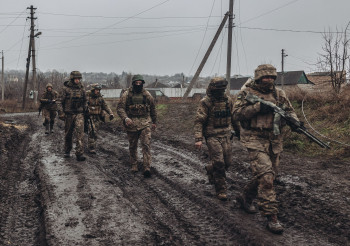 The Ukrainian military, although large, could not count on covering the country's entire giant border, from Belarus, to the Donbas, to the Black Sea coastline. So it opted to switch tactics — letting Russian forces go deep into its home turf, then hitting them where Russian convoys were the most vulnerable: woods, highways, and dense urban terrain.
The Ukrainian military made good use of Russia's startling overconfidence. Russia never expected to fight a full-scale war against a large and motivated adversary in hostile territory. From the very beginning, the Kremlin expected the Ukraine war to resemble a mixture between the 1968 invasion of Czechoslovakia and the 1979 attack that had dethroned and killed the president of Afghanistan in Kabul.
Russia's bold plan was initially meant to quickly gain a foothold at the Hostomel Airport outside of Kyiv, then ensure the arrival of more elite rapid response forces. They would follow up with the quick seizure or assassination of Ukraine's leadership in Kyiv, leaving the country in the throes of chaos. That's why it was called a "special military operation."
After the Russian paratroopers and special operations forces were done, the large, combined force concentrated along the Ukrainian border was to complete the plan — to overrun and occupy the disorganized nation, facing little to no fight from a demoralized Ukrainian military.
That's why we now have stories of Russian combat formations having their parade uniforms packed, ready for triumphant marches in downtown Kyiv. We have stories of Russia's Rosgvardia militarized police units carrying basically nothing but sticks and shields to beat protesters.
But the quick jump at Hostomel completely failed due to totally unexpected organized resistance. In fact, this sudden failure undermined the whole Russian plan from the beginning.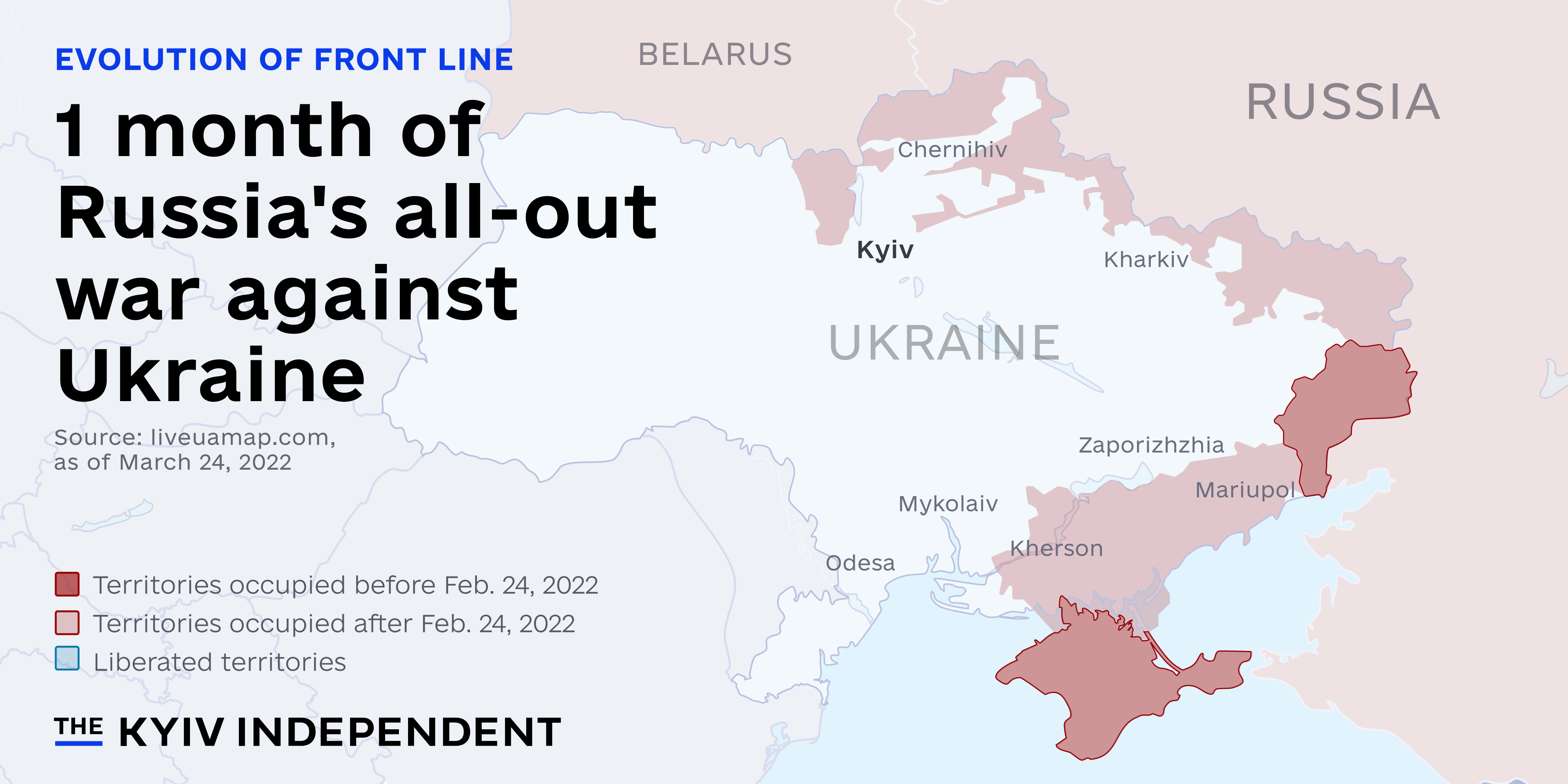 The giant Russian convoys rushed deep into Ukrainian territory, barely protected and poorly organized. Along highways running through dense woods of northern Ukraine, they met devastating ambushes by small, highly-mobile Ukrainian squads armed with advanced anti-tank weapons. The large concentrations of Russian military power also became easy targets for the masterful and precise Ukrainian artillery.
Poor logistics and constant Ukrainian hit-and-run attacks deteriorated the situation. Ukrainian formations wiped out Russian fuel trucks headed for the convoys, dooming the Russian armored vehicles to run out of fuel and be abandoned, at Ukraine's mercy.
As a result, according to United States intelligence, Russia lost well over 1,000 tanks and other military vehicles in its failed blitzkrieg in north Ukraine. That roughly corresponds to the tank arsenals of Britain, France, Germany and Italy combined.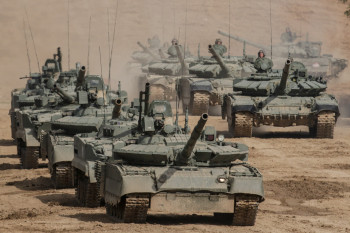 Eventually, Russian forces became bogged down in heavy fighting in the suburbs of Ukrainian cities like Sumy, Kharkiv, Chernihiv and Kyiv.
Russia completely failed to penetrate Kyiv's defenses or even lay siege to the Ukrainian capital. Its dismal combined arms advances in northern Ukraine halted by mid-March. The writing was on the wall — facing a Ukrainian counter-strike, Russia opted to leave the Kyiv area before it was too late, by the end of the first month of the full-scale war.
With the Battle of Kyiv lost, it made no sense trying to capture Sumy and Chernihiv, which Russia also failed to achieve.
In the first of what it called "goodwill gestures," Russia withdrew from north Ukraine by April.
The first major victory gave Ukraine the most important thing — the Russian blitzkrieg plan was completely derailed, and Russia lost a giant bulk of its initial fighting power. This can be roughly compared to stupidly losing some $600,000 an instant before one has to pay at least $1 million.
By contrast, many things went wrong in Ukraine's south. Ukrainian failures helped Russia quickly seize Kherson, and then Berdyansk and Melitopol without much of a fight. This paved the way to the tragic destruction of Mariupol.
But at the same time, Russian advances in the south were stopped by the brutal resistance at Mykolaiv. Russia never came to seize Odesa and enter Moldova's Transnistria.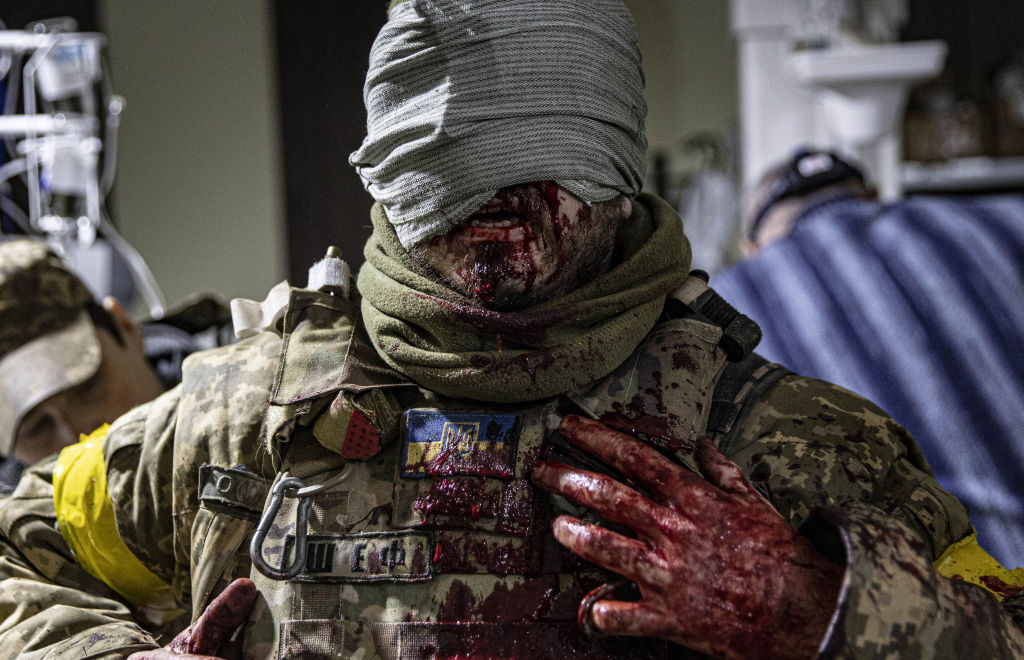 The Battle of Donbas
With the failure of the blitzkrieg aimed at Kyiv, the Kremlin had to do something to get away with what had happened without admitting a general defeat.
The Kremlin had to turn on the dime and greatly narrow its war goals. Russian war propaganda swiftly forgot all about Kyiv. It pretended the whole thing was about nothing but Donbas from the very beginning.
Russia regrouped and concentrated the rest of its combat-capable force in the embattled Donetsk and Luhansk oblasts. The Russians revised their tactics and prepared their bottomless artillery power that could devastate everything in front of it.
Ukraine also has considerable military power in the country's east. It has much more motivated and competent infantry, along with heavily fortified positions developed through the eight-year static war in the region.
A new stage started here — attrition.
Ukraine, which could not match the devastating Russian artillery power, opted to bog Russia down in brutal, slow, and extremely costly fighting for each and every strongpoint. In these grueling battles, Russia pounds Ukrainian cities to dust and the Ukrainian military defends them in close combat until it can't hold them and withdraws to another line. This has repeated again and again.
As a result, with the capture of what was left of the twin cities of Lysychansk and Sievierodonetsk in July, Russia was so exhausted that it couldn't gather a comprehensive offensive capability for more than half a year.
But the blood of Ukrainian soldiers helped Ukraine complete a full-scale mobilization and call up to 1 million men and women to its ranks, preparing the nation for a longer war. Also, it helped buy time and persuade the West into truly believing the Ukrainian cause — and finally providing Ukraine with heavy weapons.
Amid the Battle of Sievierodonetsk in late spring and early summer, a human-made miracle occurred.
After months of intense war with Russia, Ukraine was running out of artillery and munitions. But it managed to quickly switch to Western pieces, such as the now-legendary M777 howitzers.
Thanks to this, Ukraine managed to fight on — and avoid an inevitable defeat to Russia in the long run, had it been stripped of its heavy weaponry. And in many ways thanks to Ukraine's saturation of Western anti-aircraft weaponry, Russia never managed to gain air supremacy over Ukraine.
That's where the war moved to a new stage.
Advanced rocket weapons, like M270 MLRS and M142 HIMARS came to the battlefield just as Russia was too exhausted to go on. These weapons wiped out Russian logistics and munition supplies, greatly undermining Russia's greatest advantage in this war — its artillery.
So it's no wonder that Ukraine managed to meanwhile build up offensive capability by September and launch a two-pronged strike. First, Ukrainian forces attacked near Kherson, in a bid to exhaust what's left of Russian elite forces on the Dnipro's west bank and retake the only regional capital lost after Feb. 24, 2022.
At the same time, Ukraine exploited the chaos and Russia's lack of available manpower, delivering a sudden and devastating strike in Kharkiv Oblast in September.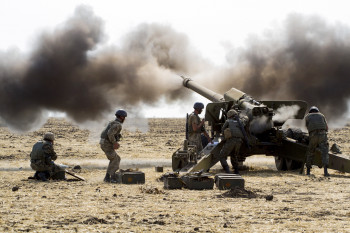 The startling success of the Kharkiv Operation didn't just help Ukraine deliver intense pressure from northern Donbas by severing key Russian supply lines running through the cities of Kupyansk and Izium.
It stripped Russia of any realistic chance to surround and destroy the Ukrainian military grouping in the country's east, via Barvinkove.
But it also made the Kremlin take some of its most extreme domestic measures — such as the so-called "general mobilization" in Russia, which hadn't been seen since 1941 and 1914, just because Russia's grinding campaign in Ukraine had no hope of success with so little manpower spread across the 2,000-kilometer front line.
It's only thanks to the very politically risky mobilization did Russia manage to hold on to what it captured in Ukraine and even finally launch a general offensive in the east — for the first time since the summer of 2022.
The new Russian offensive is showing very limited results. In areas like Vuhledar, it brings back to memories of early 2022, with advancing Russian convoys devastated by Ukrainian artillery.
But, according to the art of war, once this new advance culminates and wears down again, Ukraine will have to go over the top and counter-attack.
That's why Kyiv is so insistent on getting as many Western weapons as possible, especially vehicles. When the time comes, the Ukrainian counteroffensive force needs to have an armored fist prepared.
---
Note from the author:
Hello! My name is Illia Ponomarenko, the guy who wrote this piece for you.
I hope you found it useful and interesting. I work day and night to bring you quality stories from Ukraine, where Russia is waging the biggest war in Europe since WWII. My little homeland, Donbas, is now the site of the worst fighting. We are helping to keep the world informed about Russian aggression. But I also need help from every one of you — to support Ukrainian wartime journalism by donating to the Kyiv Independent and becoming our patron. Together, we can help bring peace to Ukraine.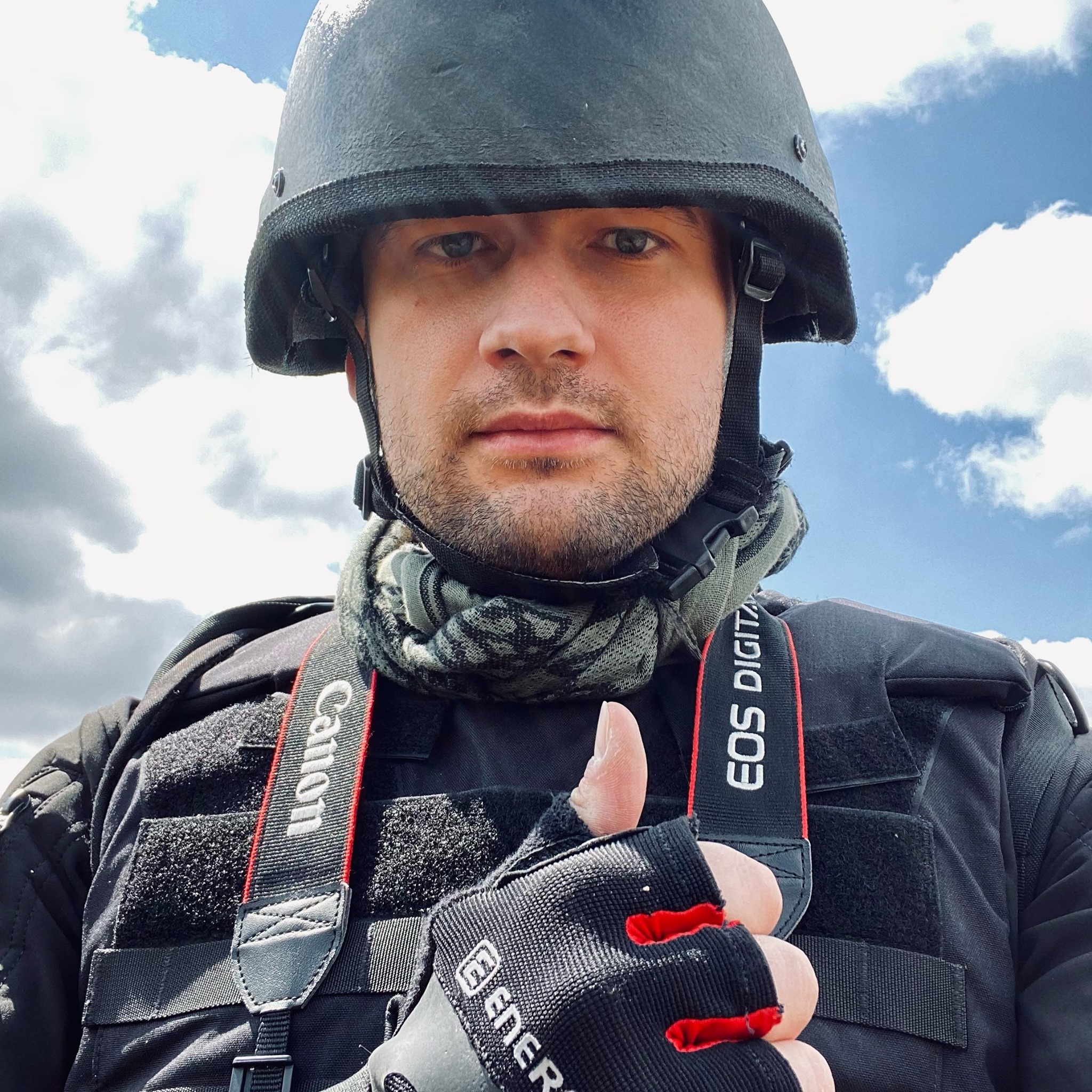 Illia Ponomarenko
Former Defense reporter
Illia Ponomarenko was a defense and security reporter at the Kyiv Independent in 2021-2023. He has reported about the war in eastern Ukraine since the conflict's earliest days. He covers national security issues, as well as military technologies, production, and defense reforms in Ukraine. Besides, he gets deployed to the war zone of Donbas with Ukrainian combat formations. He has also had deployments to Palestine and the Democratic Republic of the Congo as an embedded reporter with UN peacekeeping forces. Illia won the Alfred Friendly Press Partners fellowship and was selected to work as USA Today's guest reporter at the U.S. Department of Defense.