This audio is created with AI assistance
Editor's note: This story is a collaboration between the Kyiv Independent and media partners, including Delfi Meedia (Estonia), Expressen (Sweden), Dossier Center (U.K.), Rise Moldova, Frontstory, VSquare (Poland), Süddeutsche Zeitung, Westdeutscher Rundfunk, Rundfunk WDR, Norddeutscher Rundfunk (Germany), and Yahoo News (U.S.).
As Russia is waging war in Ukraine, it also seeks to increase its already strong influence in Moldova, a nation of 2.6 million people that borders Ukraine and the EU.
According to a leaked document obtained by an international consortium of media outlets, including the Kyiv Independent, Moscow is planning to gain vast control over the country by 2030.
A Western intelligence source, who spoke on condition of anonymity, said the Kremlin's Directorate for Cross-Border Cooperation had allegedly created the document, titled "Strategic goals of the Russian Federation in the Republic of Moldova," in 2021.
According to the document, Russia's key goals are to ensure that Moldovan policymakers and society, in general, have a negative attitude toward NATO and that the country has a strong presence of pro-Russian influence groups in politics and the economy.
The document envisions Transnistria remaining a breakaway region with Russian troops still stationed there. Russian media should have a wide presence in Moldova, while the Russian language in the country must have an official status.
Subscribe to newsletter
Belarus Weekly
One of the so-called "realistic 10-year goals" is to "counter the attempts of external actors" – like neighboring Romania, other EU member states, or the U.S. – "to interfere in the internal affairs of Moldova, strengthen the influence of NATO, and weaken the positions of Russia."
As a counterweight, the document envisions Moldova's deeper involvement in the Collective Security Treaty Organization, Moscow's version of NATO, and the Russian-led Eurasian Economic Union.
"The document treats Moldova as a pliable satellite over which (Russia) can exercise control and influence while seeking to block Western influence," David Kramer, former United States Assistant Secretary of State for Democracy, Human Rights, and Labor, said.
The Kyiv Independent doesn't publish the leaked document itself to prevent it from being traced to the source.
Most of Russia's short-term goals that were to be achieved by 2022 were derailed by Russia's full-scale invasion of neighboring Ukraine in February, which brought Moldova closer to the European Union. In June 2022, the European Council granted candidate status to Moldova and Ukraine.
Moldovan Prime Minister Dorin Recean said his country is aware of Russia's attempts to subvert his country, adding that Russia's military aims are not the biggest threat.
"Militarily, Russia can't advance," he said, adding that it's Russia's economic and political pressure that remains a major threat to Moldova's statehood.
Russia's plan
Historically, Moldova was highly vulnerable to Russian influence.
Russian-friendly political projects had strong support among Moldova's population. Politicians from pro-Russian Communist and Socialist parties were in power for most of the past two decades.
In 2020, Moldova elected pro-Western Maia Sandu as president. Pro-Western Party of Action and Solidarity (PAS), led by Sandu, won an overwhelming parliamentary majority in 2021.
The same year, Russia allegedly comprised the document obtained by the Kyiv Independent on how to increase its influence in Moldova.
Who could be behind the strategy document
The Directorate for Cross-Border Cooperation was established in 2018. Its actual task is to exert control over neighboring countries that Russia sees as part of its sphere of influence.
Since August 2021, this department has overseen so-called "cooperation" with Estonia, Latvia, Lithuania, Belarus, Moldova, and Ukraine. The Directorate is led by Alexey Filatov, who reports directly to Dmitri Kozak, the deputy chief of President Vladimir Putin's administration.

According to representatives of western intelligence, both documents, the one on Moldova and the one on Belarus, were allegedly created in 2021 in a joint effort of several Russian agencies, including Russia's domestic, foreign, and military intelligence.
When the journalists showed him the leaked document in early March, Moldovan Prime Minister Recean said the most worrying part of it is the so-called "humanitarian" section, where Russia lays out its goals to influence the country's education and culture.
"They want to increase the number of Russian non-profit organizations here, they want to increase the number of students, they want more (Russian) language presence here. They want to increase the capacity of their media here," he said.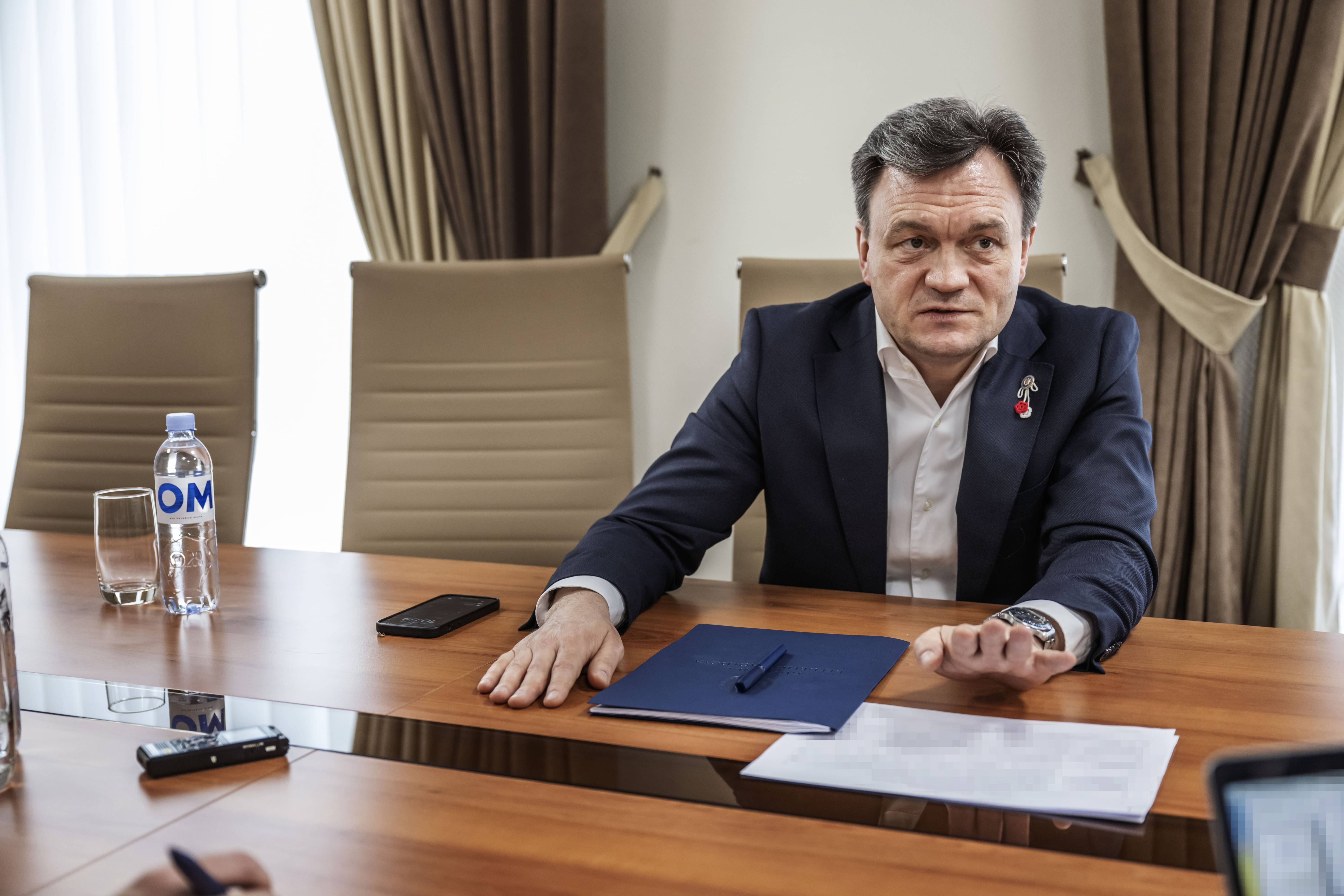 According to the document, Russia attempted to create stable pro-Russian groups of influence among Moldovan political and economic elites, maintain Transnistria as a region heavily influenced by Russia, have a Moldovan economy dependent on Russia's market and gas, and reduce the share of third-party currencies in trade settlements, implying the increased role of the Russian ruble.
According to the plan in the leaked document, Moldovans would have a strong presence of Russian television in the country, the Russian language would be "the language of interethnic communication," while Russian cultural presence in the country would be widespread, maintained by Russian-led non-government organizations.
Most of Russia's plans stumbled when it launched its full-scale war against Ukraine, casting a shadow on pro-Russian political projects in Moldova.
Among the short-term goals set for 2022 that Russia failed to achieve was to "neutralize attempts to restrict the activities of Russian and pro-Russian media in Moldova." In late 2022, the Moldovan government blocked six TV channels for spreading misinformation about Russia's war against Ukraine.
Still, tackling Russian disinformation is problematic since "the propaganda moved to Telegram, Facebook, VK (a Russian social media network), and TikTok," Recean said.
The Kremlin also failed to open a Consulate General in Comrat, the capital of the Autonomous Territory of Gagauzia, where pro-Russian parties receive strong support during elections.
The Gagauz leadership requested it to be opened back in 2014, but no action followed. Russia planned it to be opened by 2022, according to the document.
Russia's goal of exerting greater influence over Moldova was seen as a gradual project.
By 2025, Russia was aiming to expand the reach of Russian-friendly political projects, form strong pro-Russian sentiment, substantially increase popular opposition to Moldova's cooperation with NATO, and intensify bilateral contacts through military and law enforcement.
Most notably, the alleged plan envisions Russian-language education in Moldova being preserved, while companies from Russian-friendly regions of Gagauzia and Transnistria have more power in Moldova.
According to several latest opinion polls, the Russian-friendly Bloc of Communists and Socialists can obtain around 30% of the popular vote, with the governing pro-Western Party of Action and Solidarity polls at around 40%.
Before the start of the full-scale invasion of Ukraine, the Russian-friendly bloc was leading in the polls.
The next presidential elections are scheduled for late 2024, while parliamentary elections are to take place in 2025.
Latest in Moldova
In 2022, as the war brought Moldova closer to the EU, Russia tried to maintain its sway over the nation – and allegedly, it's ready to go to great lengths to achieve it.
In February, Moldovan President Sandu accused Moscow of orchestrating a coup.
"The plan included militarily trained people disguised as civilians to carry out violent actions, attacks on government buildings, and taking hostages," she said.
And on March 10, John Kirby, the spokesperson for the U.S. National Security Council, said during a White House press briefing that the Kremlin was working to stage anti-government protests and foment an insurrection in Moldova.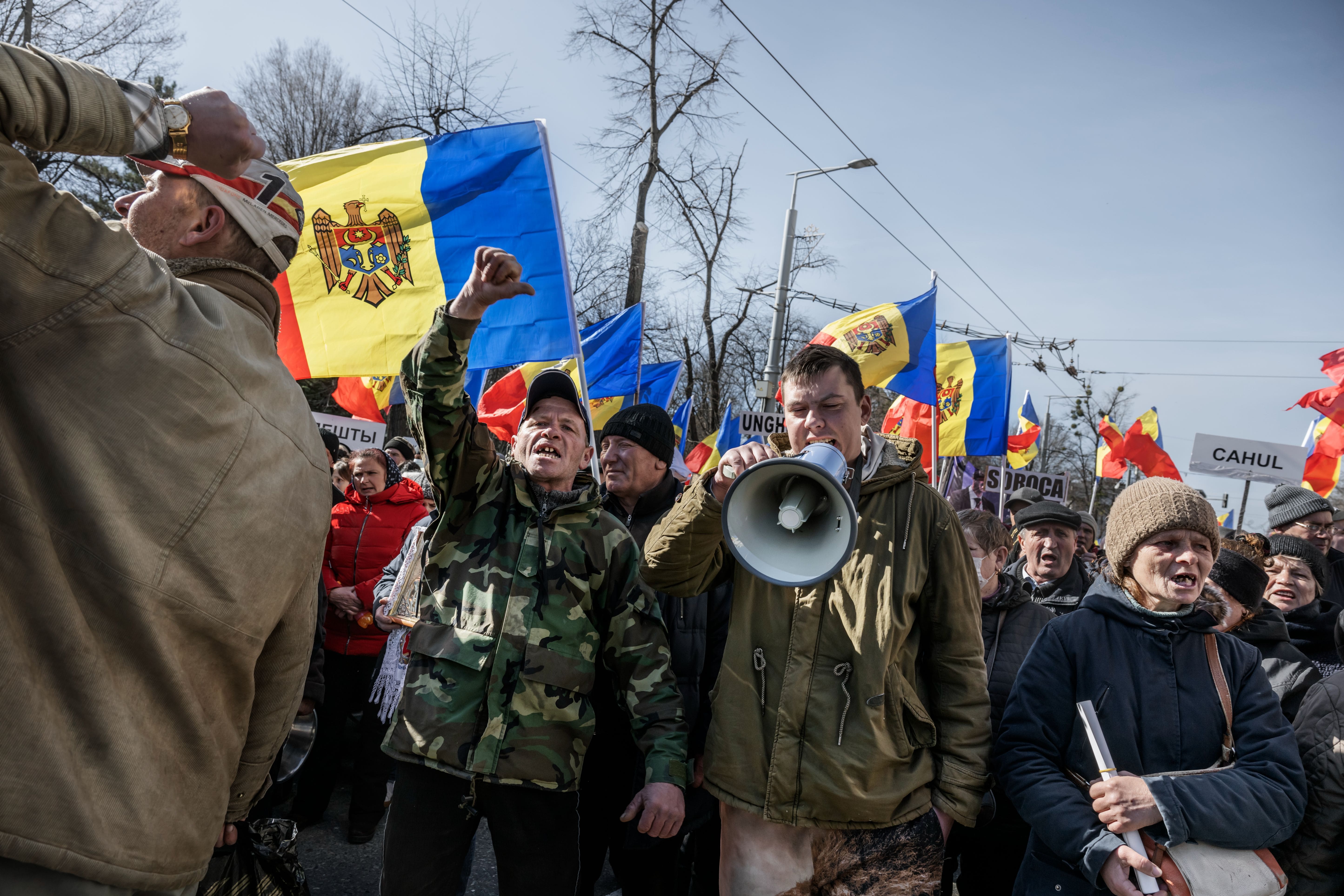 Lately, Moldova has seen an increase in anti-government and anti-Western protests. On March 12, thousands of people marched through the streets of downtown Chisinau, shouting anti-government chants.
"Obviously, Russia is co-financing (anti-government) protests and attempts to destabilize the country," said Prime Minister Recean.
He admitted that his own party has been sluggish in countering Russian political warfare amid the coup threat.
Russia is using the worsening economic situation in Moldova to fuel the protests. The country's inflation is around 30%, energy prices have increased seven times, and Russia's war in Ukraine serves as a reminder of what can befall a country that refuses the Kremlin's demands.
"This is obviously inducing anxiety into the society, and on the background of the anxiety, you can promote a lot of false narratives," Recean said.
---
Note from the author:
Hi! It's Anna Myroniuk, a journalist with the Kyiv Independent.
As Russia intensifies attempts to destabilize neighboring countries like Georgia, Belarus, and Moldova, we at the Kyiv Independent closely watch and report on these efforts.
Help us break more stories like this. Consider becoming a patron of the Kyiv Independent.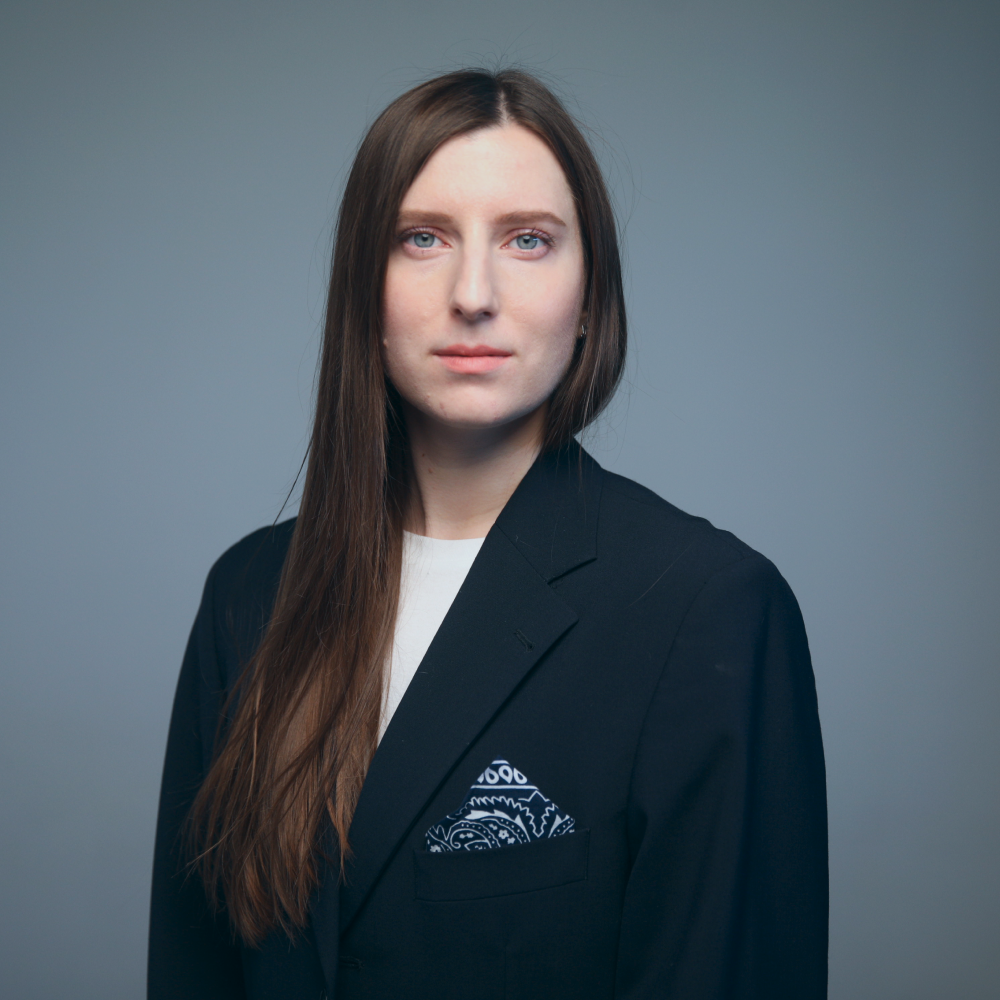 Anna Myroniuk
Head of Investigations
Anna Myroniuk is the head of investigations at the Kyiv Independent. Anna has run investigative projects on human rights, healthcare and illicit trade. She also investigated political and corporate misconduct and alleged wrongdoings in the Ukraine army's leadership. Anna holds a Masters in Investigative Journalism from the City University of London. She is a Chevening Scholar, the European Press Prize 2023 winner, the winner of the #AllForJan Award 2023, an honoree of the 2022 Forbes 30 Under 30 Europe Media & Marketing list, the runner-up in the investigative reporting category of the 2022 European Press Prize, and a finalist of the 2022 Ukraine's National Investigative Journalism Award and the 2020 Thomson Foundation Young Journalist Award.