This audio is created with AI assistance
Welcome to Investigative Stories from Ukraine, a newsletter by the Kyiv Independent.
This edition will walk you through the most prominent Ukraine-focused investigative stories over the past two weeks.
If you are fond of in-depth journalism that exposes war crimes, corruption and abuse of power across state organizations in Ukraine and beyond, subscribe to our investigative newsletter.
To support our journalism, please become a patron of the Kyiv Independent, starting from just $5 a month.
Top investigative stories
______________________________________________
Ukrainian journalists identify 4 Russian kamikaze drone operators
Russian servicemen Sergey Sozinov, Gleb Pivkin, Russian Air Force captain Andrey Stepovoy and Russian Air Force lieutenant Evgeny Glukhov are allegedly responsible for manning some of the Iranian-made kamikaze drones launched to attack Ukraine, according to a joint investigation by Slidstvo.Info and Nashi Groshi Lviv.
The four reportedly belong to the 294th State Center for Unmanned Aviation of the Russian Defense Ministry.
All four were part of a Russian unit that visited Iran in August before Russia launched its first attack using Iranian Shahed-136 loitering munition, the journalists reported. The investigation alleged that the Russian unit could have visited Iran to get trained in operating the drones.
Journalists identified them through videos and photos from a training ground in Iran, posted on Russian social media and Iranian websites.
Russia has been using Iranian drones to attack Ukrainian military and civilian targets, as well as critical infrastructure, since September to compensate for its reportedly depleting missile stock.
Watch the investigation with English subtitles here.
RFE/RL locates alleged training ground for Russian drone operators
Russian soldiers piloting the Iranian-made kamikaze drones are allegedly being trained near Kolomna, Moscow Oblast, according to an investigative report by Donbas Realities, a project by Radio Free Europe/Radio Liberty.
The training ground is located 8 kilometers southeast of the State Center for Unmanned Aviation of the Russian Defense Ministry. Four Russian servicemen, who were allegedly trained in Iran, are stationed at this military facility.
The aviation center in Kolomna is the only one under Russia's Defense Ministry that trains drone operators, according to the report.
The journalists identified the training ground using the pictures the Russian Defense Ministry published between 2019 and 2021 from the military competition for drone operators held there.
Read the full story in Ukrainian here.
Russian media: Russian Deputy Defense Minister profits from construction in occupied, destroyed Mariupol
Timur Ivanov, Russian Deputy Defence Minister, has allegedly profited from construction in Mariupol, a Ukrainian city occupied and destroyed by Russia.
The Anti-Corruption Foundation, led by jailed Russian opposition leader Alexei Navalny, writes that Ivanov is among the most influential people in the Russian Defense Ministry.
He is reportedly responsible for building military barracks, cadet corps, military airfields, and hospitals.
The journalists analyzed 8,000 leaked emails of Ivanov's then-spouse Svetlana Ivanova, and found that a group of Defense Ministry contractors paid the couple's bills to marble their villa. The ministry hired the same companies to build houses in destroyed Russian-controlled Mariupol.
Olimpcitystroy and Oboronspetsstroy, two companies mentioned in the investigation, have received 17 billion rubles ($243 million) from Russia's Defense Ministry.
According to the Anti-Corruption Foundation, Ivanov and his wife used proxies to pay for rented yachts and villas on the French Riviera and purchase their Saint-Tropez-parked Rolls Royce.
The European Union imposed sanctions on Ivanov in October, while his wife was spared.
She divorced Ivanov in June, which journalists believe was a trick to place family assets out of sanctions' reach. Svetlana's emails show no evidence of the couple's separation.
Svetlana was spotted in Paris and London, while her husband was taking an active part in Russia's full-scale war against Ukraine, the Anti-Corruption Foundation showed.
Watch the full story with English subtitles here.
The Guardian: Roman Abramovich's billion-dollar trusts transferred to his kids before sanctions hit
Offshore trusts holding Russian oligarch Roman Abramovich's billions in assets were amended to transfer the beneficial ownership to his children right before the European Union sanctioned him in light of Russia's war against Ukraine.
The files documenting the change of ownership were leaked through a hack of a Cyprus-based offshore service provider that administers the Abramovich trusts. According to the documents, seven of the oligarch's kids became beneficiaries of 10 trusts holding assets for at least $4 billion in early February 2022, three weeks before the start of Russia's invasion of Ukraine.
The Guardian alleges that the timing of the sudden reorganization could have been Abramovich's attempt to circumvent the sanctions.
According to the Guardian, the changes made Abramovich's children the ultimate beneficial owners of trophy assets long-linked to their father, including luxury properties and a fleet of superyachts, helicopters and private jets.
Read the full story in English here.
Reuters identifies pro-Kremlin operatives in Germany working to turn Berlin against Ukraine
The key figures campaigning for Germany to reconcile with Russia and weaken support for Ukraine have links to either the Russian government or far-right, a Reuters investigation found.
Reuters identified some of the significant Russia advocates in Germany who promote pro-Kremlin narratives both online and on the streets. Among them are Max Schlund, an ex-officer of the Russian Air Force, who changed his name from Rostislav Teslyuk after moving to Germany 10 years ago, and his partner Olena Kolbasnikova, a native of Ukraine, and a Russia supporter.
The couple reportedly organizes and leads rallies and cultural events in support of the Kremlin in Germany. In 2022, they traveled to the Russia-occupied part of Donbas to deliver aid to the Russia-backed forces there. Some of the supplies they claimed were provided by the People's Front, a pro-Putin coalition of Russian civil society groups.
Recently, Rossotrudnichestvo, a Russian government agency that is under EU sanctions for spreading Kremlin narratives, paid for Schlund's plane ticket to Moscow to attend a conference where Putin was the keynote speaker. Another organization affiliated with Rossotrudnichestvo, Russky Dom, allegedly obtained plane tickets for Russia supporters led by Schlund and Kolbasnikova to visit Moscow for an event co-organized by the Russian government.
Reuters identified other promoters of Russian narratives in Germany, including one running a German-language social media group called the "Putin Fanclub."
Read the full story in English here.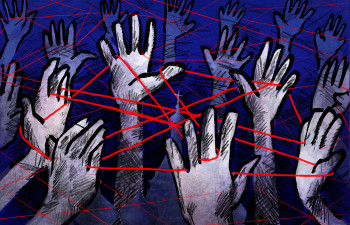 OCCRP selects villain of the year
______________________________________________
Organized Crime and Corruption Reporting Project (OCCRP) names Yevgeny Prigozhin as a person of the year for being "a corrupt individual capable of instigating terrorism and massive human rights violations in diverse conflicts around the world."
Prigozhin is a Russian oligarch and mercenary leader, close to Russian President Vladimir Putin.
He is the founder of Wagner Group paramilitary organization that recruits mercenaries across Russian jails and is a key unit in the ongoing Russian offensive in Bakhmut in eastern Ukraine.
Wagner Group has taken an active part in Russia's war against Ukraine since 2014 and was spotted in military conflicts in Syria, the Central African Republic, and Libya.
Putin himself was selected a person of the year in organized crime and corruption in 2014, while Belarusian dictator Alexander Lukashenko was named "person of the year" in 2021.
Read more about OCCRP's choice in English via this link.