This audio is created with AI assistance
Editor's note: The Kyiv Independent is not revealing the soldiers' full names or the exact location of their deployment due to security concerns amid the ongoing war.
DONETSK OBLAST – At a cottage-turned-base some two kilometers from the front lines in Donetsk Oblast, soldiers from Ukraine's 24th Mechanized Brigade lay in sleeping bags or armchair sofa beds, hoping to get some rest in between rotations.
Loud radio communications constantly sound throughout the night.
Every 30 minutes or so, a raspy male voice is heard over the radio, sometimes notifying the soldiers that the front line is under control, sometimes that backup is needed.
"We've gotten used to sleeping this way," 54-year-old soldier Mykhailo told the Kyiv Independent the following day. "'Four – five – zero' means everything is fine," he said. "But if there is an offensive from (the Russian) side, we get up."
When the soldiers return to their two-day shifts in the trenches, they are tasked with detecting Russian aerial targets, mostly drones, and downing them before they can hit Ukrainian infantry units.
The 24th Mechanized Brigade took part in the Kherson counteroffensive, battles in Luhansk Oblast, and spent over two months in Bakhmut in Donetsk Oblast, the hottest spot of Russia's war.
The platoon, part of the 24th, was deployed to Bakhmut with barely any break. The Kyiv Independent spent five days with the platoon after it was withdrawn from the city.
For several weeks, now out of Bakhmut, the soldiers say their front line south of the city has been rather stable. But with the Russian forces advancing in the Bakhmut area, they say the dynamic of the war could shift at any moment.
Platoon commander Oleh, 57, says it's vital not to underestimate the enemy.
"This direction is more or less calm for now, but I don't think for long," Oleh said. "I think the Russians will attack further and further."
Russia has amassed troops for months to capture Bakhmut, a city nearly emptied of its 70,000 residents.
Despite heavy casualties, Russian forces, aided by the Kremlin-backed private mercenary Wagner Group, are inching toward encircling the city, posing threats to the surrounding areas – like the one where Oleh's platoon is deployed – in Donetsk Oblast.
"I wouldn't say that Russia is seeing the results it claims, but its tactics are still working," Oleh said.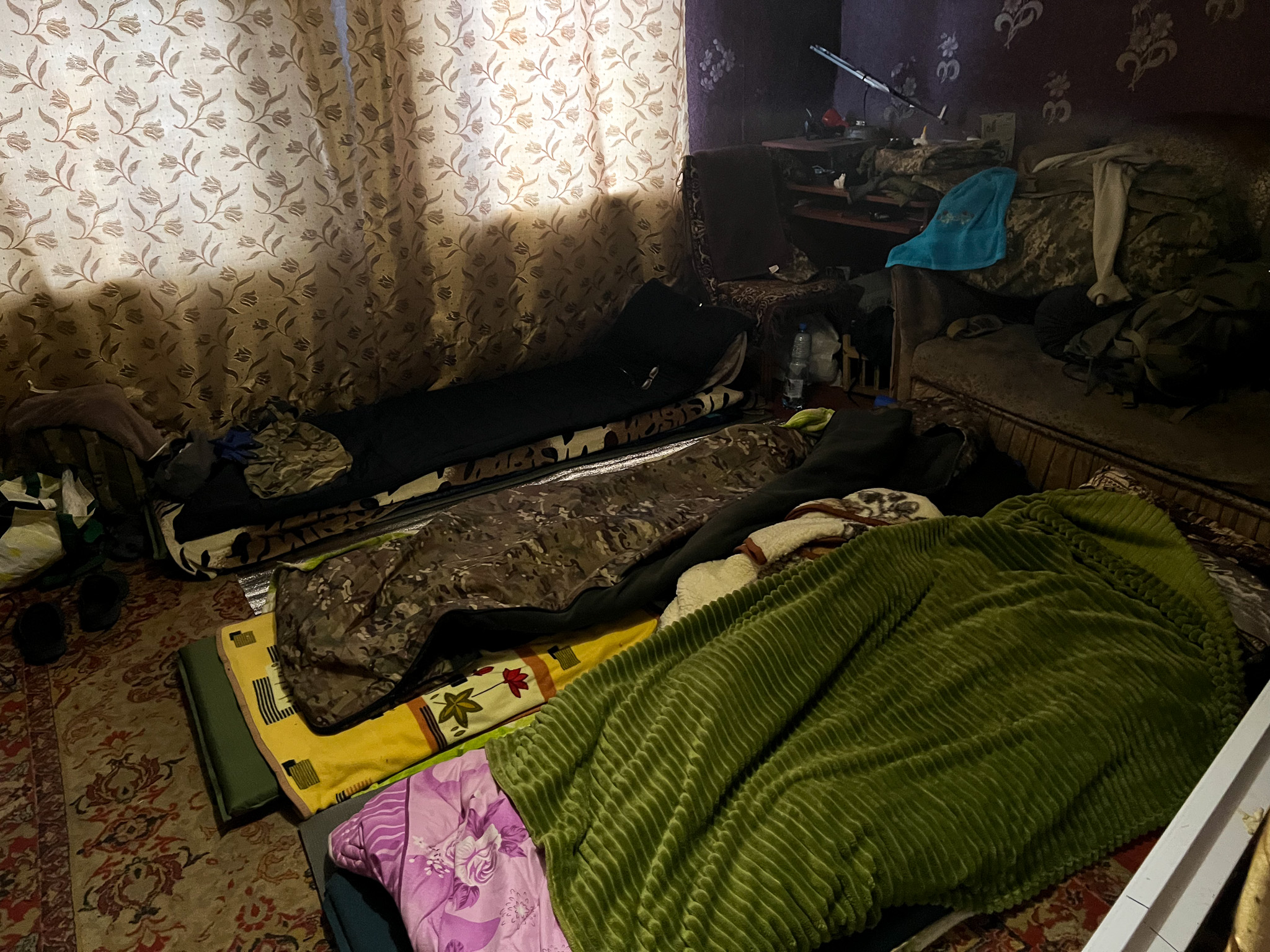 Inside Bakhmut
The two and a half months in Bakhmut seemed like a survival challenge for the platoon.
Oleh says he barely slept while in Bakhmut.
"I slept there without undressing at all, I just took off my shoes," Oleh said, explaining that he slept in his helmet and bulletproof vest because he could be called up at any moment.
He says his platoon had less work at night because Russia unleashed fewer drones in the dark – likely because it was harder to conduct air reconnaissance. But they were always on alert, with soldiers on duty observing the screen with thermal surveillance cameras to detect aerial targets.
Russian forces attacked in small groups again and again, composed of some 10 people, Ukrainian soldiers said, adding that their tactics have changed from attacking in larger groups twice or three times that size.
Oleh always thought something was off with the Russian soldiers assaulting the city. He said they stormed Ukrainian positions like "zombies," not afraid to die as if they had been drugged.
"It was very similar to what I saw in the Terminator," Oleh said, referring to an American film about a cyborg assassin sent on a mission to kill.
Ukrainian soldiers from a different platoon, currently fighting in Bakhmut, described a similar scene.
Oleh's soldiers used anti-drone guns to take down Russian drones. They release radio signals to down the drones without destroying them, allowing Ukraine to collect intelligence from them later.
Soldiers from Oleh's platoon said Russian drones would fly as high as two kilometers above the ground. They often don't know which ones carry grenades, so their task was to down as many of them as possible to protect infantry units from aerial targets.
"It became harder each week," Oleh said as he recalled his time in the city. "When drones fly into the city, it means that they are going to soon fire with long-range artillery."
"It was difficult to stay alive," he added.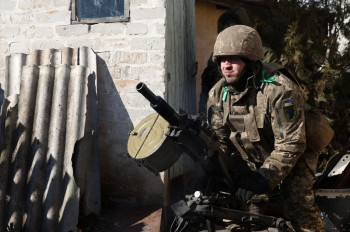 Last mission
Oleh remembers his last two days in Bakhmut particularly well.
The Russians had captured the nearby salt-mining town of Soledar, and "they began throwing more and more forces" and intensifying their attacks, Oleh said.
"I thought, just a little more, and that's it. I was already at my limit. By then, I was already morally and physically done," Oleh recalled. "When a person is in such a state, he stops caring."
Battling the Russians on the front line and fatigue in his head, Oleh had one mission: to ensure all 13 soldiers in his platoon got out of there alive.
Fortunately, the platoon rotated out of Bakhmut with just one injury. The wounded soldier is still being treated at the hospital, but his condition is stable. In general, however, the Ukrainian casualties are high in the Bakhmut area as Russia attacks across the entire front in its attempt to encircle the city.
Russian forces are pushing from the north and the south.
Their assault groups – made of about 10 people – attack Ukrainian positions daily. By holding onto Bakhmut, Ukrainian forces are inflicting casualties and destroying their equipment to reduce Russia's offensive capability in the area.
While Oleh and the rest are no longer deployed in the Bakhmut area, talks about the front-line situation in the city come up regularly in their conversations.
With the Russians slowly occupying small settlements around Bakhmut, Oleh thinks that the fall of Bakhmut is inevitable. "They will capture it," he said.
The Ukrainian military leadership said that withdrawal from Bakhmut is on the table, but such a decision will only be made if necessary.
Ukraine is likely already carrying out "a limited tactical withdrawal" in the embattled city, though it is too early to assess whether it is a complete retreat from the area, the Institute for the Study of War (ISW), a D.C.-based think-tank analyzing the war in Ukraine, said in its March 5 report.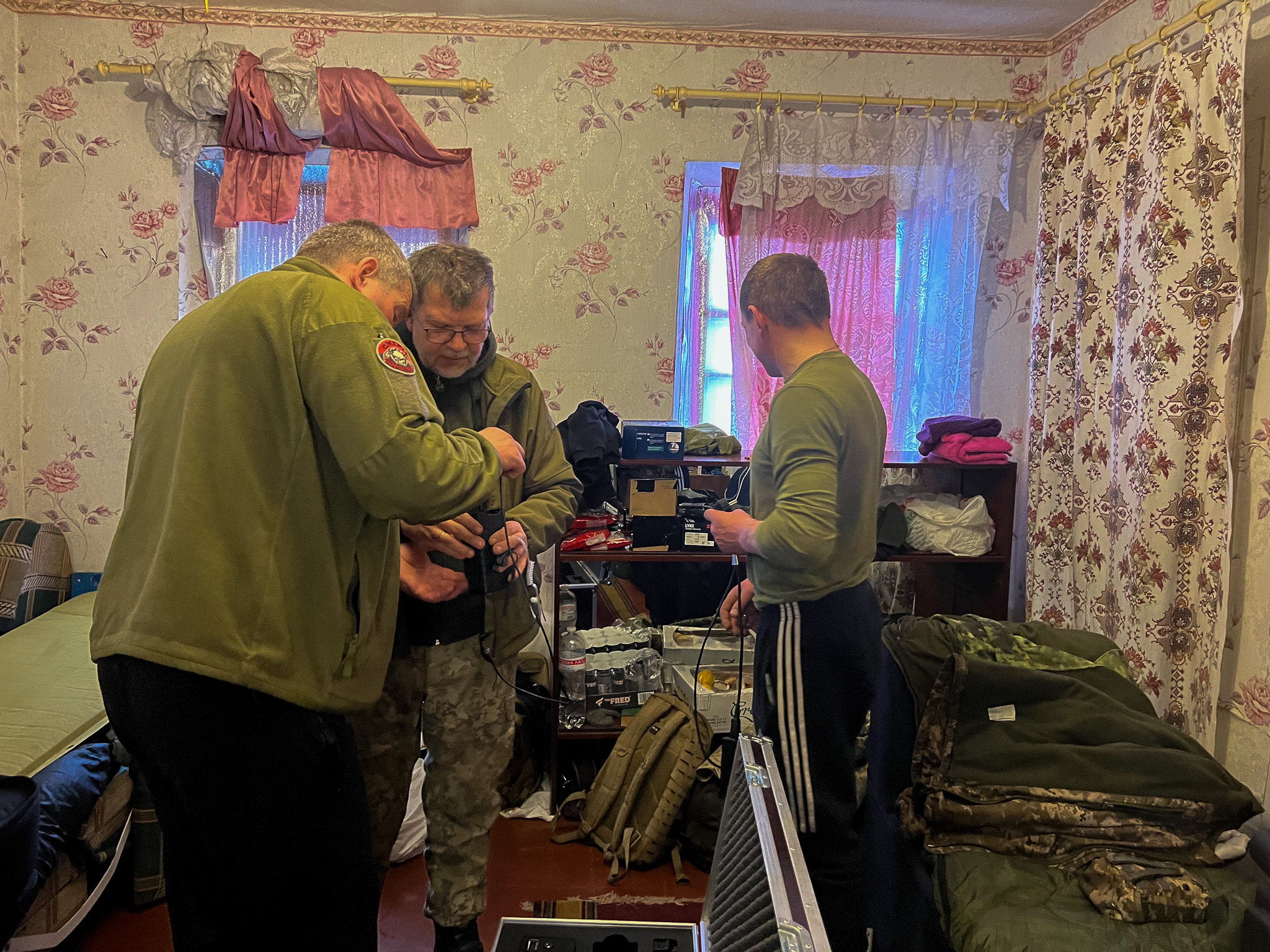 Grim days in the south
Before soldiers were deployed to Bakhmut in November, they took part in the long-anticipated southern counteroffensive in Kherson and Mykolaiv oblasts.
For many of them, including commander Oleh, it was their first time in an active war zone.
Defending the sky proved difficult because the soldiers didn't have anti-drone guns with radio waves back then, Oleh said. He added that they had to attempt shooting down the Russian drones using machine guns, which rarely worked.
Shooting down Russian aircraft, helicopters, or missiles, even with the American-made man-portable Stinger air-defense system, was also very difficult, according to Oleh.
During the counteroffensive, the soldiers were only given minimal information to complete the tasks assigned each day. They themselves found out about Ukraine's successes through media reports.
While Ukraine was eventually able to liberate swathes of land in the country's south, including the regional capital of Kherson, the campaign came with losses.
For Oleh's platoon, one of the grimmest days took place in the early days of the southern counteroffensive.
Yuriy, a 47-year-old soldier from the northeastern city of Sumy, said it began as an ordinary morning.
The soldiers were heading to a position, sitting on top of armored personnel carriers, when the Russian forces suddenly fired at them with artillery and mortars.
The blast wave threw the soldiers to the ground.
Yuriy said many soldiers were wounded. He remembers one of them with his leg torn off asking to be shot due to the pain.
That day, Zinovii was the only soldier from the platoon that was in the same armored personnel carrier as Yuriy – but he was nowhere to be found.
Under heavy fire, Yuriy could not find Zinovii. "I yelled 'Zinovii, Zinovii' – but he didn't answer," Yuriy said.
Zinovii's body was found months later after the area's liberation. Yuriy thinks that he could have attempted to escape the attack site and was killed by shrapnel.
That day, after they came under fire, Yuriy and two other soldiers began crawling in the direction that they came from – to get medical help. One was severely wounded, with shrapnel stabbing him in the stomach.
Adrenaline helped the three get back to Ukraine's position. Crawling was difficult, so they had to remove their bulletproof vests at the halfway point – as soon as the shelling abated.
The pain from their injuries was getting worse as they crawled. It took hours to get back.
Zinovii was 56-years-old and had two sons fighting in the war, and a daughter who died many years ago, Yuriy said.
"It was never boring with him because he would always tell jokes," Yuriy said of Zinovii.
Commander Oleh said the hardest part about his job is informing relatives about the death or injury of their loved ones. As a leader, he feels responsible for each death and injury in his platoon.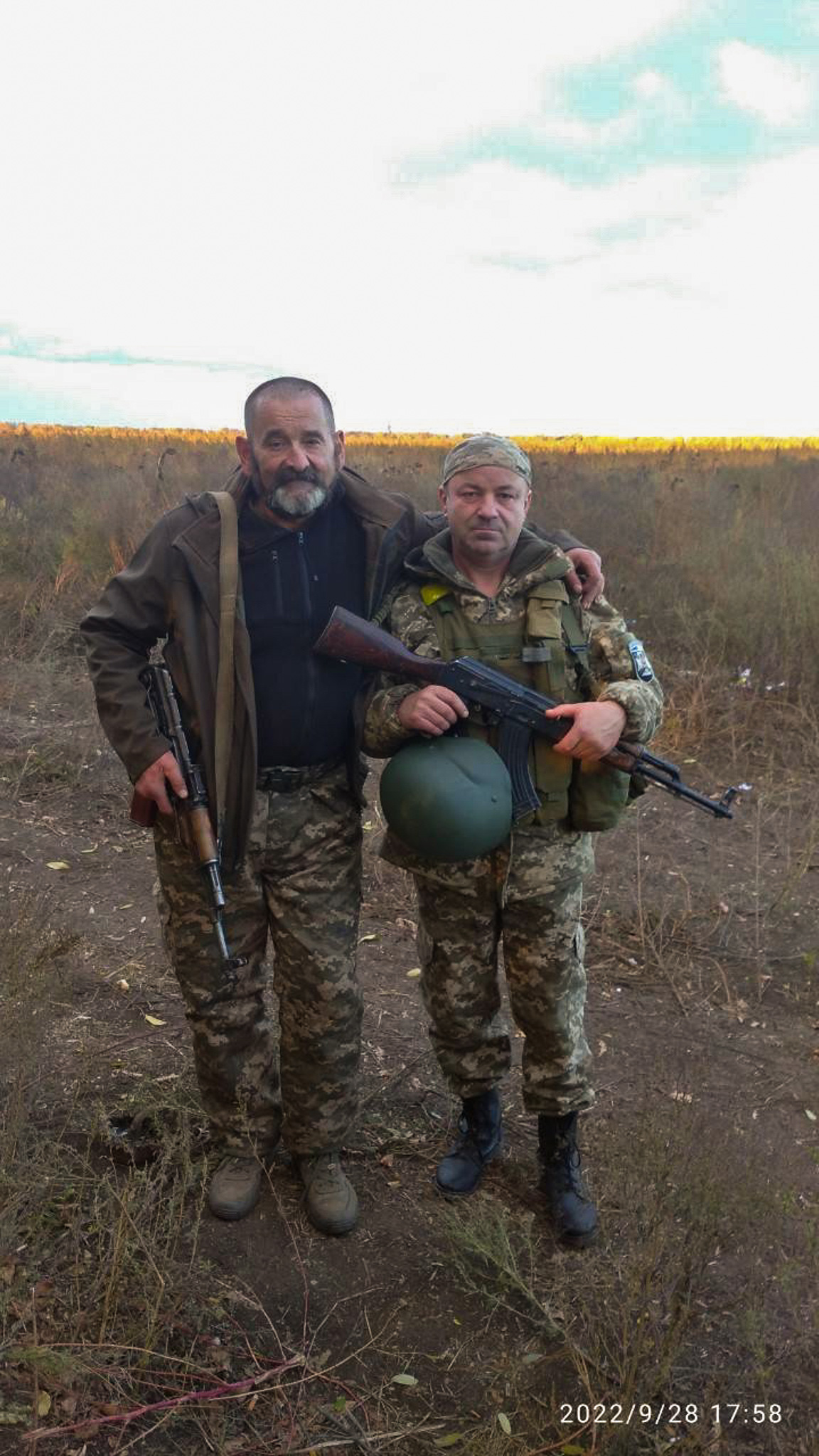 Staying together
The most terrifying thing to hear on the battlefield is "the screams of your fellow soldiers," Vasyl, a 50-year-old soldier from the western Rivne Oblast, said.
Even if they were soldiers from other platoons or brigades, it doesn't hurt less.
But even in the darkest hour, having his decades-long friend Mykhailo from the same hometown next to him has helped him in unimaginable ways, he said.
They worked together as truck drivers traveling across Europe for 20 years before joining the military in 2022.
The two were initially deployed in different platoons, but they asked to be transferred to the same one. They said fighting alongside each other has helped them cope with homesickness and the longing to see their kids and grandkids.
Even so, Vasyl said he sees how much he has aged in the past year. Pulling up a photo of him from early 2022 in Luhansk Oblast, he said, "Look what a soldier I was: beautiful and young. These are just the first days of the war."
Other soldiers from the platoon are also dealing with homesickness, each in their own way.
Some talk with their families daily over the phone, while others try to limit it, hoping that less contact will make things easier.
Though the soldiers say the platoon is "a family," they all said the hardest part about fighting in eastern Ukraine was missing their loved ones back home. Vasyl, who recently became a grandfather, says he especially misses the little ones.
Andriy, a soldier from Rivne Oblast, tries his best not to worry his daughters, aged nine and twelve.
Even in Bakhmut, Andriy would tell his daughters, "Don't worry girls, I love you and will come back soon," before they went to bed each day.
The soldiers from the platoon told the Kyiv Independent that they long for civilian life and wish for simple things, such as doing repairs at home, but that they are ready to fight for the country until the end.
None of the soldiers imagined fighting in a war, but they dropped everything at home – some nearly 1,000 kilometers away – to defend the country. Hundreds of thousands of civilians–turned-soldiers have been mobilized in the Ukrainian military.
"I don't know what will happen tomorrow or in a week, but I think a person is always ready to defend their country," Oleh said. "I am satisfied with what I do. Let it be small, but be it good."
In peace times, Oleh yearns to live with his wife and son in Lviv and go on walks with his dogs. "First, I need to survive till the end," he then says.
__________________________________________________________________________________________________________________________________________
Note from the author:
Hi, this is Asami Terajima, the author of this article.
Thank you for reading my story till the end. I met the platoon commander Oleh for the first time at a gas station, and he immediately welcomed me into his bases. His platoon was really like a family, and I never thought it would be so difficult to say goodbye to someone after spending five days together. The soldiers introduced in the article are all ordinary people who dropped everything at home to defend the country. They want nothing more than go back to their normal life – and do normal things like go to a grocery store, do house repairs, and play with their kids. They are looking forward to doing that after the war ends. To help the Kyiv Independent tell more stories like this one, please consider supporting us by becoming our patron.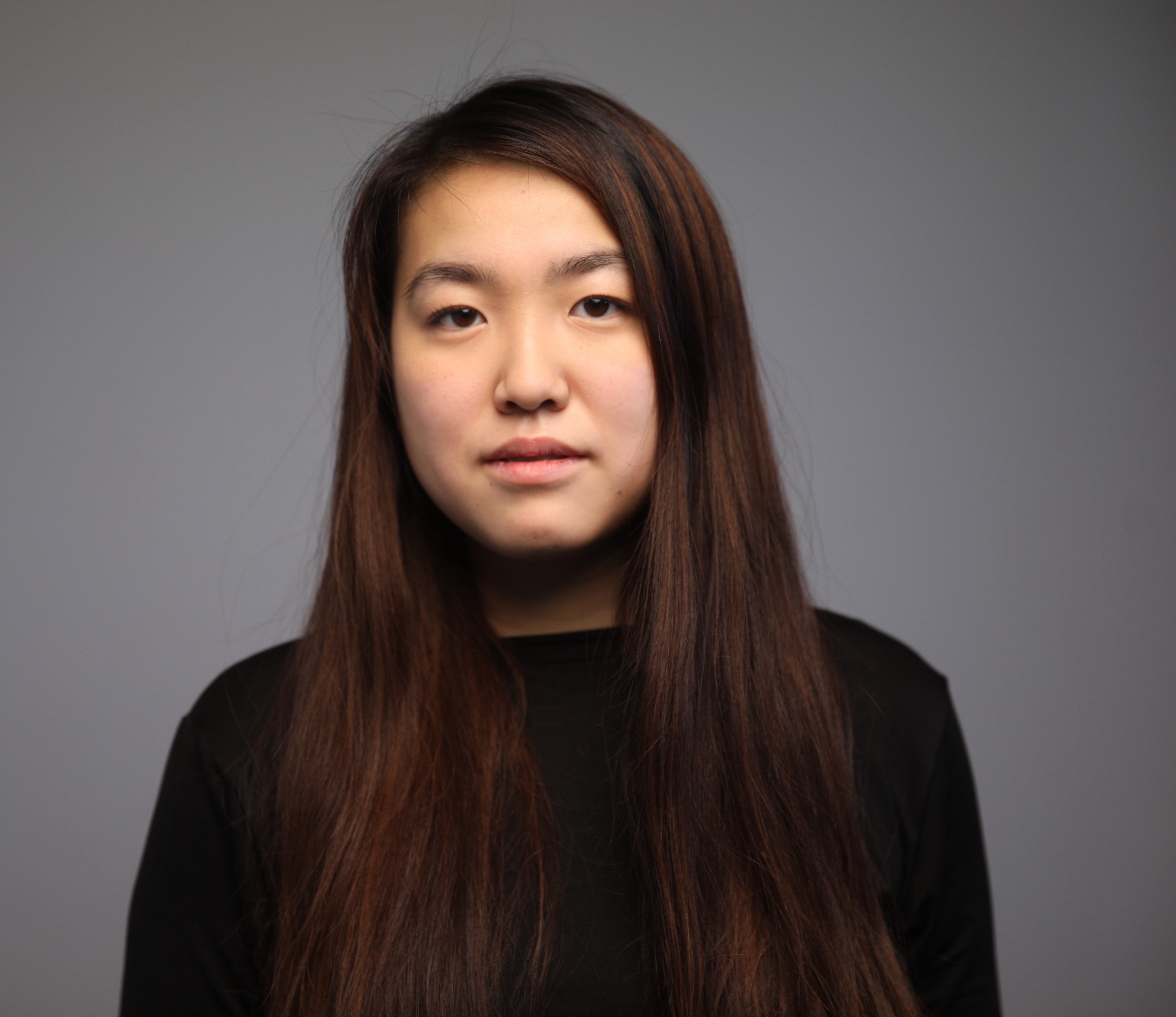 Asami Terajima
Reporter
Asami Terajima is a reporter at the Kyiv Independent. She previously worked as a business reporter for the Kyiv Post focusing on international trade, infrastructure, investment and energy. Originally from Japan, Terajima moved to Ukraine during childhood and completed her bachelor's degree in Business Administration at William Woods University in Missouri, U.S.A. She is the winner of the 2023 George Weidenfeld Prize, awarded for "excellent investigative and courageous research activities" as part of Germany's prestigious Axel Springer Prize.