This audio is created with AI assistance
Editor's note: The Kyiv Independent is not revealing the soldiers' full names or the exact location of their deployment due to security concerns amid the ongoing war.
Donetsk Oblast – Just a few dozen kilometers from Bakhmut, Ukrainian infantry train to ready themselves for brutal days ahead.
Nearly 20 soldiers from a platoon with the 80th Air Assault Brigade gathered at an undisclosed location in the eastern Donetsk Oblast on their day off to fire some shots.
They had just returned from a two-day shift on the Bakhmut front, the epicenter of the war in Ukraine, where bloody trench warfare had raged for many months.
"We practice regularly to avoid losing our combat skills and continue improving them," 27-year-old platoon commander Vladyslav said as he observed his soldiers shooting at cardboard targets in late February. "And then starting tomorrow, we'll go back (to the front line) and perform combat tasks again."
"The situation is not easy anywhere, but we are holding on, and we are ready for any scenario of this war," he added.
The lieutenant said that the focus of the training that day was tactical movement and shooting.
Vladyslav said five hours isn't enough time to learn a new skill, but it's nevertheless important for the soldiers to work as a team, even on their days off.
His platoon consists of soldiers with varying levels of experience and ages, Vladyslav said, so maintaining a cohesive team, where each person can rely on the other, is crucial.
"The first and the most important thing to gain from this training is cohesion," Vladyslav said.
Over the past weeks, Russia has intensified its offensive on Bakhmut and nearly encircled the apocalyptic-looking city where 70,000 residents once lived. The Russians are conducting "constant assaults" on the Ukrainian holdouts in the city from "all sides," according to Vladyslav.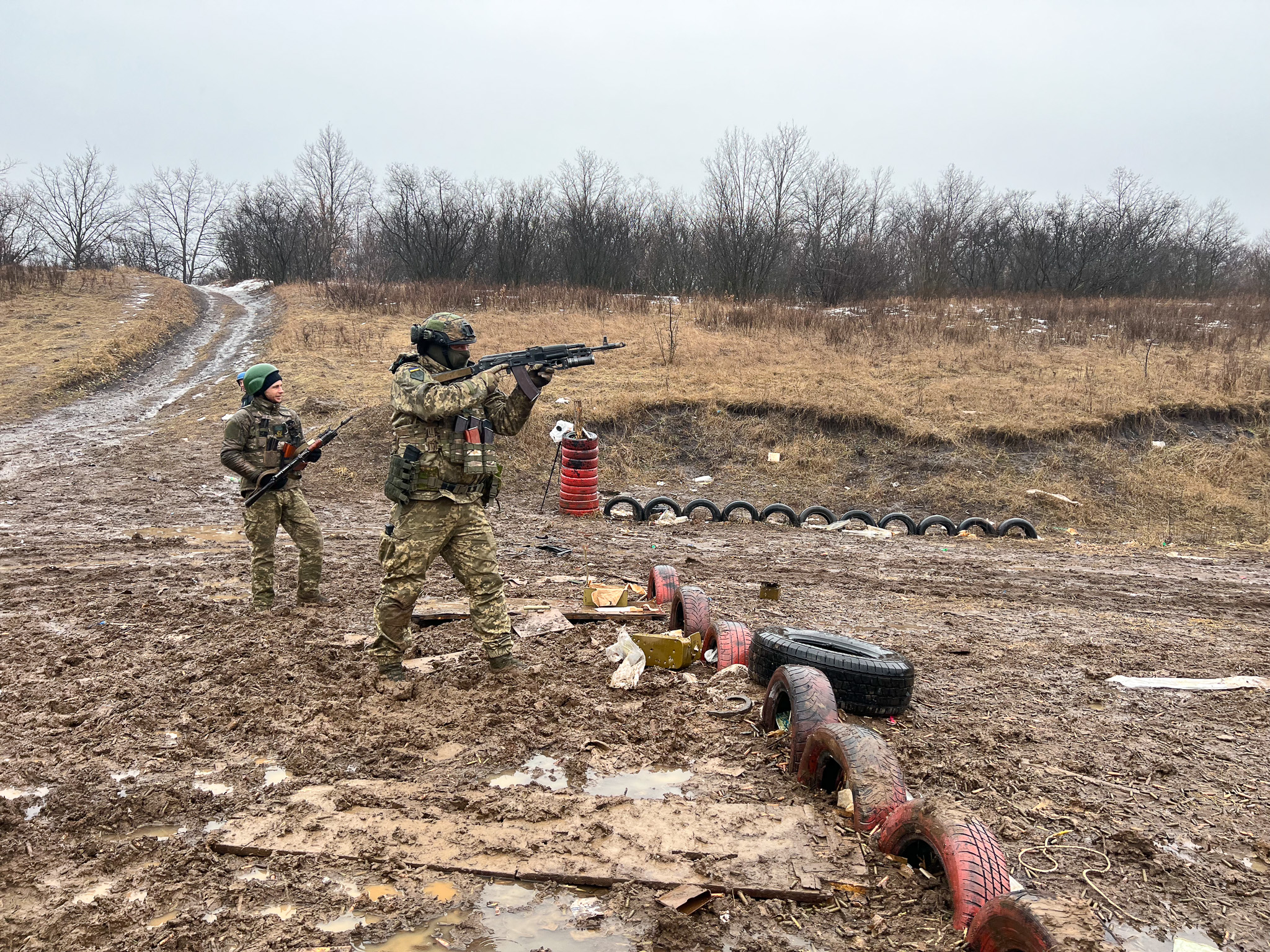 The soldiers training on the shooting range are normally deployed north of Bakhmut, conducting assaults whenever possible to liberate positions outside the city. They are called upon to storm the enemy, guns blazing.
Despite the risks, all possible precautions are taken to increase – if at all possible – the chances of the assault troops' survival, according to 37-year-old soldier Ruslan, a native of the western city of Khmelnytskyi.
He said that the attack plans are carefully laid out by commanders of various units. There are waves of groups attacking the Russian positions one after another, according to the soldier.
But no matter how much planning goes into tactic formation, Ruslan said that carrying out the tasks is always "hard" because there are always casualties – killed and wounded.
Ruslan and the rest of the infantry assault soldiers usually only stay two days on the Bakhmut front – then rest for a day at a relatively safe distance. While on duty, they barely sleep because they split into small groups in trenches at night and take turns monitoring Russian troops' movement.
According to Ruslan, during his time in Bakhmut, the Russians usually began assaults after 4 a.m. in small groups of about ten soldiers. The assaults could happen several times throughout the day.
The hours that Ruslan and the others spend on offensive or defensive tasks on the Bakhmut front depends on the day. When there are opportunities to stay on the offensive side, the Ukrainian assault troops could launch five to six attacks, he added.
When he returns from the Bakhmut front, Ruslan says he always tries to rest well and eat something tasty – and sometimes goes to a nearby open-air market.
"It's important to rest from all of this tension because there is a constant tension in the eyes and the head, and you get very tired physically and mentally," Ruslan explained.
But no matter how tired they are, the soldiers go to the shooting range at least once per day to avoid losing the feel for the gun.
"You have to practice so that you don't lose the skills you already have," Ruslan said.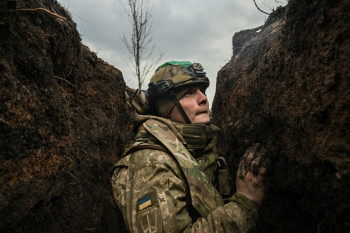 Coping
Ruslan has two girls, aged 11 and 17, waiting back home.
The father tries not to talk about the danger that comes with his job, but he says the kids are aware of it because they follow the war on television and the news.
Worried that showing any signs of concern might get in the way of their father's work, the kids have been hiding their agony of having a loved one fighting in the hottest spot of the war, Ruslan thinks.
"They try so hard to support me so that everything is alright, so that I don't think about any problems," Ruslan said of his girls.
Ruslan thinks his wife and the kids decide to conceal their anxiety because they know "it would be hard for me." But he admitted that it's nevertheless difficult when he begins thinking about it.
Ruslan, who used to work as a welder, never imagined becoming a soldier like his father. But that didn't stop him from voluntarily going to the draft office when Russia launched its full-scale invasion of Ukraine last February.
"Of course, it's scary, only idiots aren't afraid," Ruslan said. "But what can I do? Everything depends on fate."
The soldiers from the 80th brigade have been in the Bakhmut sector since early February.
Before that, they fought near the Russian-occupied town of Kreminna in Luhansk Oblast, taking part in Ukraine's successful Kharkiv Oblast counteroffensive in September.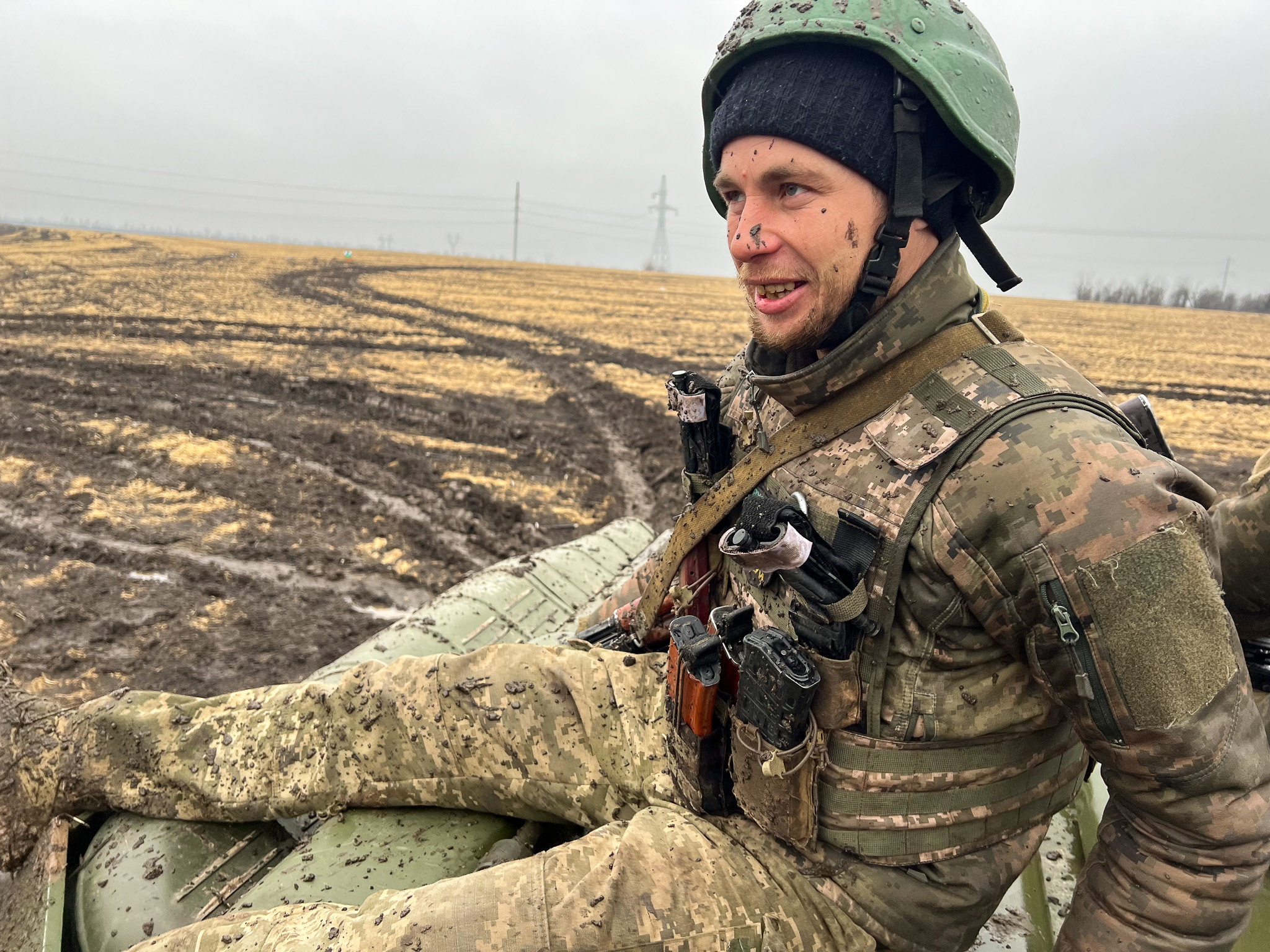 Physical struggle
Infantry assault troops' work is very physically demanding, according to 34-year-old soldier Fedir from the northern Chernihiv Oblast.
Fedir said it had been over ten years since he played any sport, so he was exhausted after his first rotations on the front line.
But fighting with his comrades was still better than staying alone in his village in Chernihiv Oblast, where his mother passed away a few months after the Russians withdrew from their hometown.
"I have nothing to lose," Fedir said, explaining how he went to the draft office after cremating his mother in July.
When Russian tanks rolled across the Ukraine-Belarus border early on Feb. 24, 2022, Chernihiv Oblast saw some of the fiercest fightings across Ukraine. The Russians besieged the city of Chernihiv and reached the outskirts of Kyiv through Chernihiv Oblast, destroying scores of towns and villages along the way.
Fedir's village of Tupychiv, located some 50 kilometers from the border with Belarus, was among the first to be occupied by the Russians. Fedir's 56-year-old mother had a severe case of diabetes and underwent limb amputation, so he decided to stay in the occupied village to take care of her.
But due to the lack of medicine during the weeks of Russian occupation, his mother's condition immediately deteriorated. She was paralyzed after a stroke and died a few months later.
Realizing he was alone, Fedir decided to serve in the army.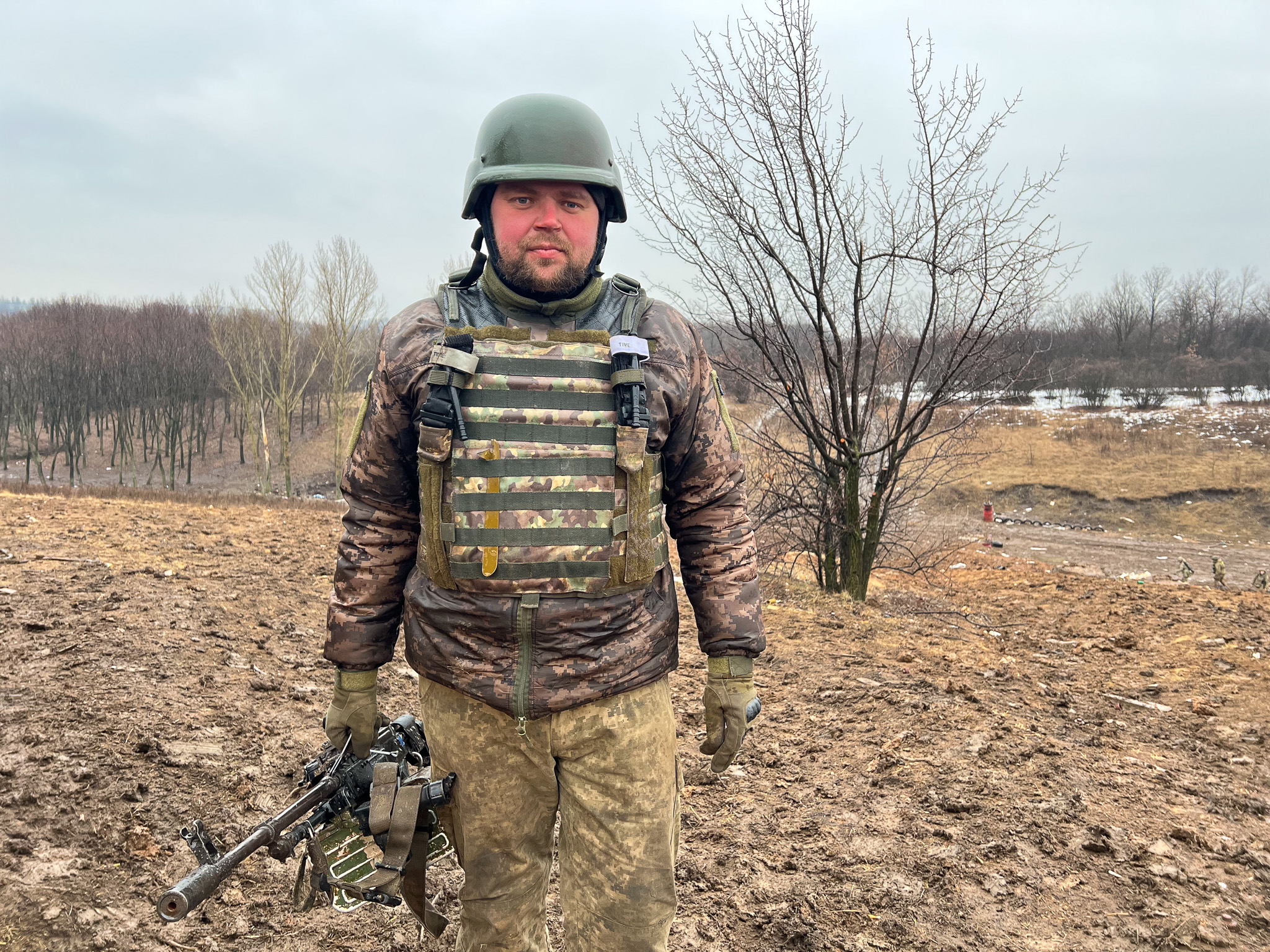 Fedir said it is still physically tough, but he is getting used to it.
Even though he had never considered joining the army before, Fedir thought, "maybe it's something for me," when he first held a rifle at a weeks-long training in Cherkasy Oblast in central Ukraine.
Fedir says his team is successfully holding the line and even winning back territory. The Ukrainian assault teams pushed back the Russians by 500 meters in their deployed area near Bakhmut in mid-February, he says.
But such counterattacks in the Bakhmut area are extremely difficult due to the worsening battlefield situation and the mud.
One fear that Fedir still holds is being wounded in close combat and nobody being able to help him.
Colonel General Oleksandr Syrskyi, commander of the Ground Forces of Ukraine, said on March 9 that Bakhmut is still not encircled, but the situation in the area remains "very difficult."
"Here, every move and decision can radically change (the situation). Every day has the highest value," Syrskyi said. "I appreciate the speed of thinking of the brigade commanders I am working with."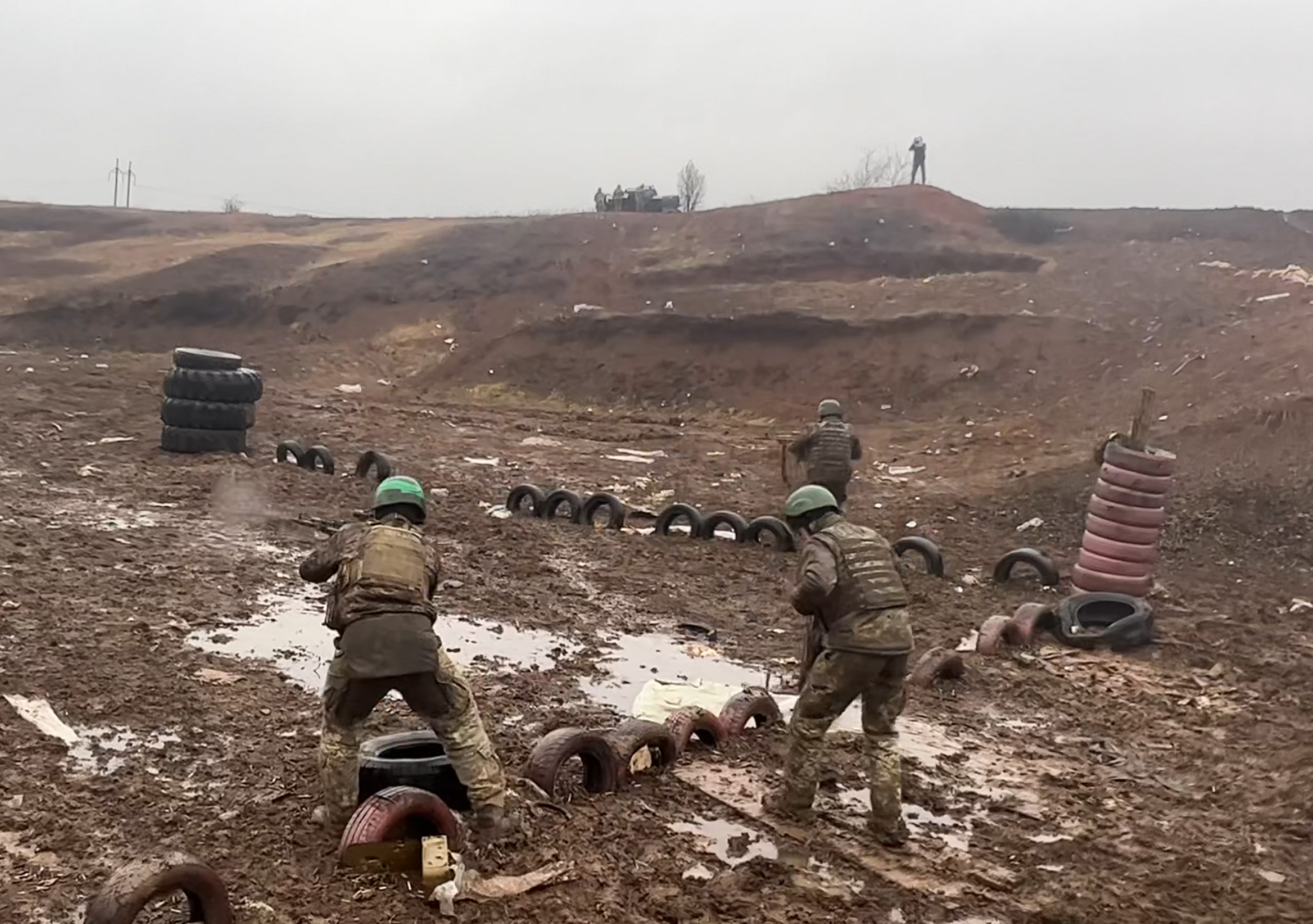 Fighting for the future generation
Standing next to the shooting range, platoon commander Vladyslav observed the soldiers practice on their own. He says they were given tasks and knew exactly what to do.
The soldiers are able to train on all weapons that they use on the battlefield, including rifles and grenade launchers.
"The sound of these shots is our music," the 27-year-old said.
Vladyslav said that "everyone" is tired, but looking ahead to the end of the war helps them keep going.
"(The soldiers) have only one motivation – to end this war, to return to a peaceful life," Vladyslav said, adding that they are "very motivated" right now, even over a year after Russia launched its full-scale invasion of Ukraine.
For Vladyslav, it's been a long ride. He joined the army in 2015 when he realized he would rather defend his country than study in Kyiv and do nothing.
"I didn't want to sit in some warm auditorium of a university and just wait for the result while my friends were fighting," Vladyslav recalled. "And history is being made here and now, and I want to be a part of this history."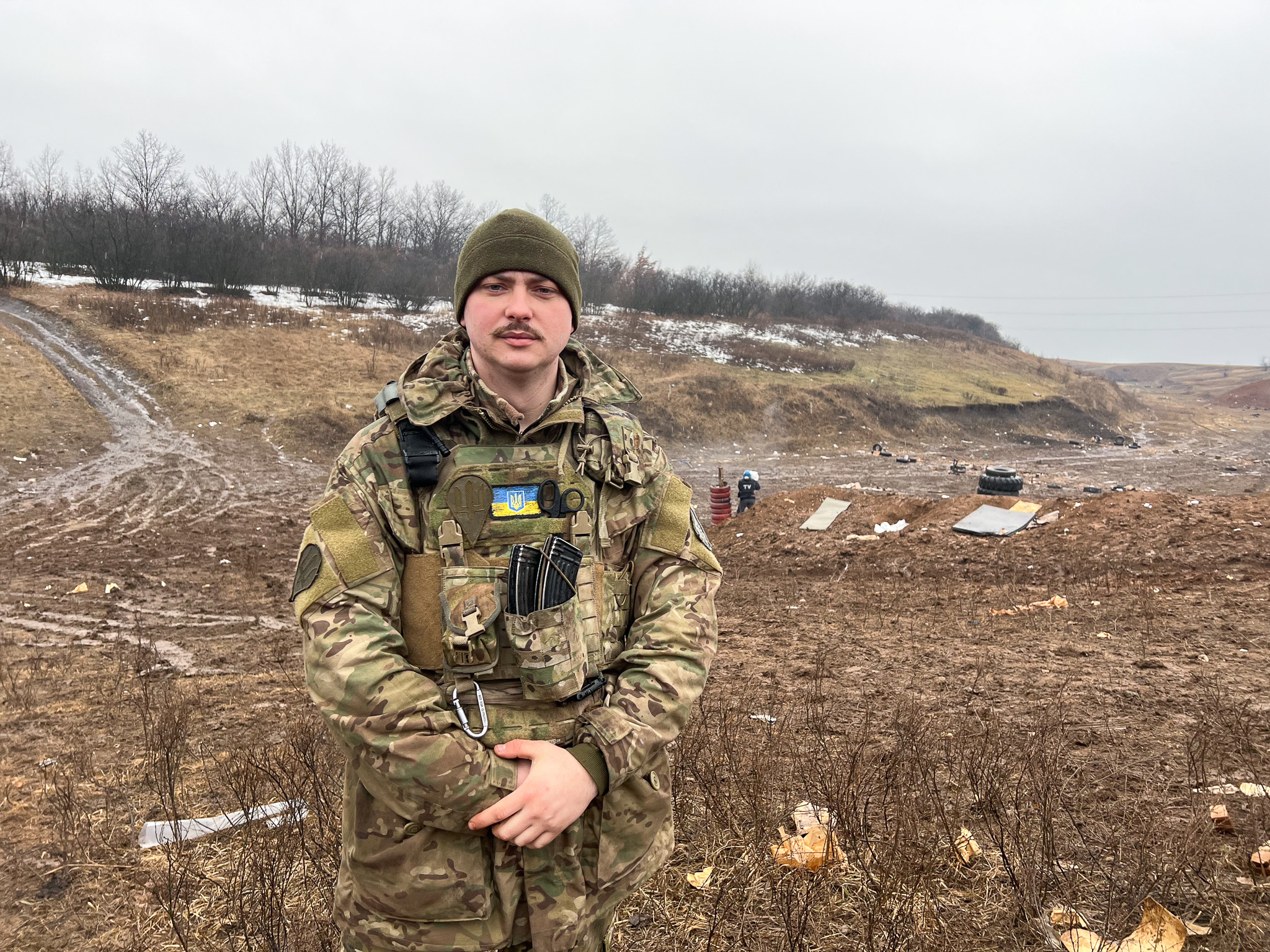 Eventually, Vladyslav paused his military career in 2019 – until the Russians came to the outskirts of Kyiv three years later.
When the full-scale invasion began, Vladyslav joined the Territorial Defense forces to defend the capital. But he felt unsatisfied when told he could remain in Kyiv months after the Russians were forced out of Kyiv Oblast.
Vladyslav said he did everything he could to join the 80th brigade and head to Donetsk Oblast, where the fiercest fighting has been raging for months. "It became cold in Kyiv, and I went there – much hotter," he joked.
Vladyslav's partner, whom he met on the barricades during the EuroMaidan Revolution in his hometown in central Ukraine, is now a medic in Vladyslav's brigade.
Being in a relationship with someone who has as much experience in war has helped him cope with what they are facing at the front, he says.
Now, both of them are focused on one thing – winning the war.
"Russia may be called by different names, but its essence is always the same – it hates everything Ukrainian," Vladyslav said. "The war in Ukraine did not start in 2014. Russia's war against Ukraine has lasted for 300 years."
"Past generations fought for us to have the right to live, to call ourselves Ukrainians," he said. "It is our turn to do everything so that the future generations can have a life to live."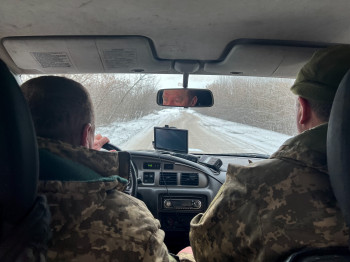 __________________________________________________________________________________________________________________________________________
Note from the author:
Hi, this is Asami Terajima, the author of this article.
Thank you for reading my story till the end. I spent a month in Donetsk Oblast to get to know Ukrainian soldiers and illustrate the situation on the front line through their eyes. Most soldiers I met in eastern Ukraine had never served in the military before the full-scale invasion began in 2022, but they dropped everything at home to defend their country. They are eager to go back to their families once the war is over and do normal things like play with their children outside. To help the Kyiv Independent tell more stories of Ukrainian soldiers and continue reporting on the ground, please consider supporting us by becoming our patron.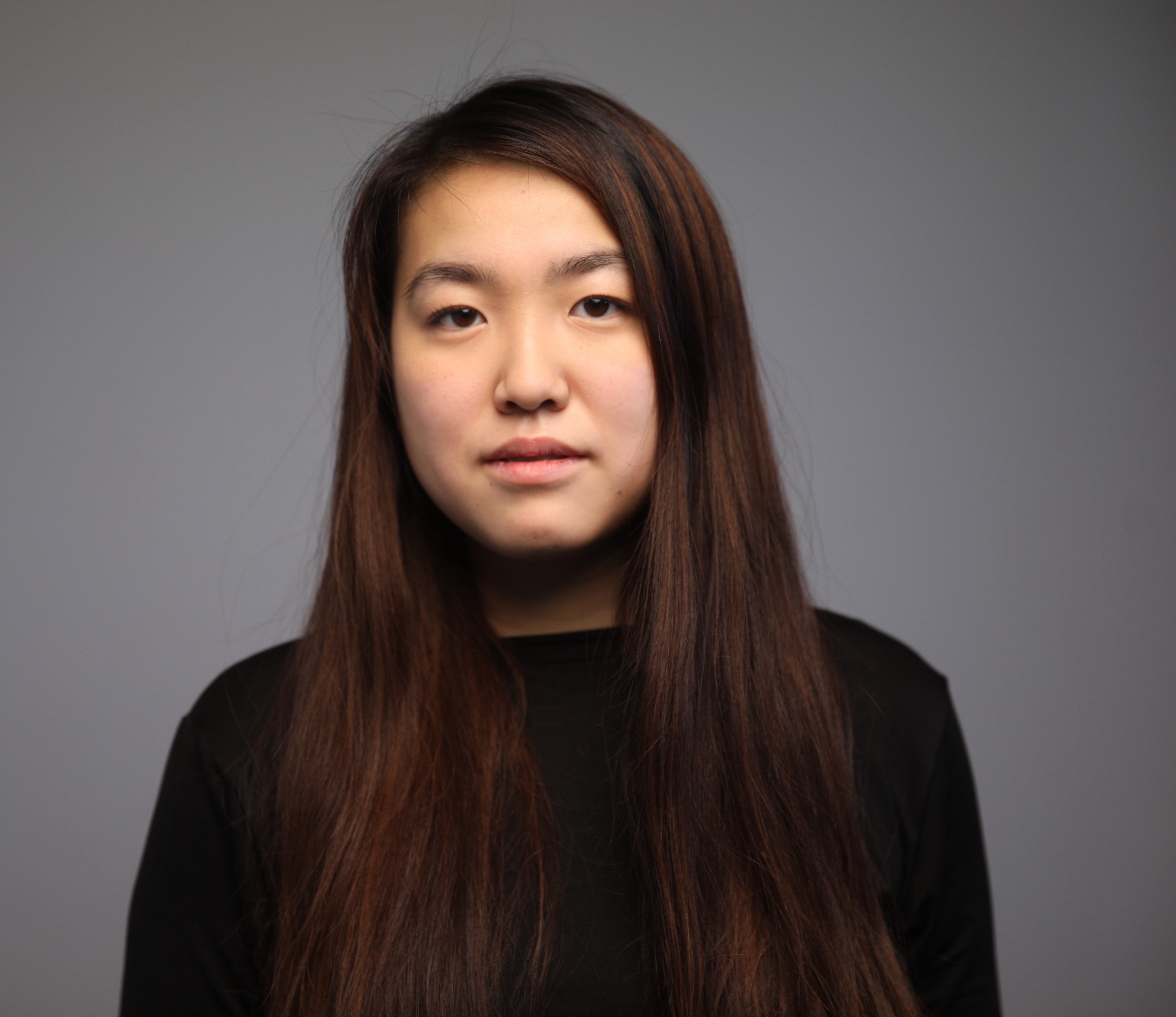 Asami Terajima
Reporter
Asami Terajima is a reporter at the Kyiv Independent. She previously worked as a business reporter for the Kyiv Post focusing on international trade, infrastructure, investment and energy. Originally from Japan, Terajima moved to Ukraine during childhood and completed her bachelor's degree in Business Administration at William Woods University in Missouri, U.S.A. She is the winner of the 2023 George Weidenfeld Prize, awarded for "excellent investigative and courageous research activities" as part of Germany's prestigious Axel Springer Prize.