This audio is created with AI assistance
Key developments on March 17:
ICC: arrest warrants issued against Vladimir Putin and Maria Lvova-Belova
Russia's Bakhmut offensives "lowest since January"
Slovakia to send 13 MIG-29 fighter jets
Governor: Landmine explosions injure 2
As Russia's crimes against Ukraine become more visible, on March 17, the International Criminal Court (ICC) issued arrest warrants for Russian President Vladimir Putin and Maria Lvova-Belova, the Russian official allegedly overseeing the forced deportations of Ukrainian children to Russia.
The statement reads, "Vladimir Putin, born on Oct. 7, 1952, President of the Russian Federation, is allegedly responsible for the war crime of unlawful deportation of population (children) and that of unlawful transfer of population (children) from occupied areas of Ukraine to the Russian Federation."
This decision means that Putin and Lvova-Belova can now be arrested in countries that have ratified the Rome Statute.
According to the ICC's statement, Putin "bears individual criminal responsibility" as the leader of Russia for the crimes committed against Ukrainian children.
Russia has allegedly deported almost 2,000 children from Ukraine since Jan. 1, according to the U.S. ambassador to OSCE Michael Carpenter.
Additionally, more than 16,000 children were forcibly removed from Ukraine since the start of the full-scale invasion, the National Information Bureau wrote.
Russian Foreign Ministry Spokesperson Maria Zakharova said, "decisions of the International Criminal Court have no meaning for our country, including from a legal standpoint," Russian independent media Meduza reported.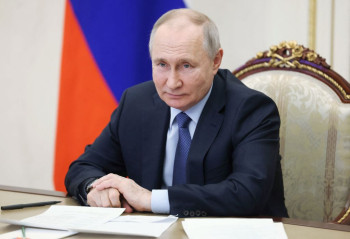 Update on Bakhmut
Russian regular army and Wagner mercenary group offenses are "lowest since January," reported the U.K. Defense Ministry on March 17.
Despite the Russian forces and Wagner Group mercenaries "obtaining footholds" west of the Bakhmutka River near downtown Bakhmut, where the Ukrainian military continues its defense, "more broadly across the front line, Russia is conducting some of the lowest rates of local offensive action seen since at least January 2023."
Russia's low pace of offensives is "most likely" linked to the Russian military temporarily exhausting the combat effectiveness of the deployed formations to an extent, which makes even local offensive actions unsustainable, reads the update.
The ministry added that Russian leadership would try to restore its forces' offensive potential after replenishing the personnel and ammunition reserves.
At the same time, the Commander of the Ukrainian Ground Forces Oleksandr Syrskyi stated on March 17 that Russia has used all its forces and is trying to completely surround the city of Bakhmut, keeping the overall situation tense.
Meanwhile, Wagner Group founder and financer Yevgeny Prigozhin claims Russian President Vladimir Putin and Russian Security Council Secretary are conspiring to undermine and "neutralize" the Wagner Group.
According to the Institute for the Study of War (ISW), Prigozhin's press service published a request for comment on March 16 from Russian outlet Nezavisimaya Gazeta asking if Prigozhin was aware of alleged discussions between Putin and Security Council Secretary Nikolai Patrushev regarding the future of the Wagner Group.
However, the ISW emphasized that they lacked any external confirmation on the matter and suggested that Prigozhin might have fabricated the alleged plot.
Russia's assault on Bakhmut has been heavily relying on the Wagner Group. However, according to the ISW, the Wagner offensive "will not be sufficient enough" to seize Bakhmut.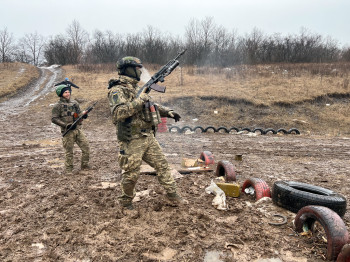 17 MiGs
Following the March 16 news stating that Poland will provide Ukraine with the first four MIG-29 fighter jets within the coming days, the Slovak government has approved supplying Ukraine with 13 MiG-29 fighter jets.
"Promises must be kept, and when (President Volodymyr) Zelensky asked for more weapons, including fighter jets, I said we'll do our best. Glad others (are) doing the same," Slovak Prime Minister Eduard Heger said on March 17.
In addition to jets, Slovakia will also send "part of the Kub anti-aircraft system," Heger said at a news conference, as cited by Slovak media outlet Aktuality.
At the same time, Ukraine's allies have so far declined to provide Western aircraft like the American-manufactured F-16.
Furthermore, on March 16, the White House stated that Poland's recent commitment to provide MiG-29s will not influence the U.S. to send F-16s.
"It doesn't change our calculus with respect to F-16s," said U.S. National Security Council communications coordinator John Kirby, as quoted by CNN.
On March 16, Belgian newspaper De Standaard reported that Belgium will hand over 240 Volvo military trucks to Ukraine, with the first batch to be sent as early as next week.
The trucks will be used to transport troops and equipment to the eastern front line.
Meanwhile, the European Union will provide Ukraine with 1.5 billion euros ($1.59 billion) as the second tranche of an 18 billion ($19 billion) euro macro-financial assistance package, European Commission Vice President Valdis Dombrovskis said on March 17.
The payment is expected to be made next week.
Russian attacks
Russian attacks were reported in eight Ukrainian regions over the past 24 hours.
Local authorities said that two people were killed and nine were wounded.
Governor Pavlo Kyrylenko reported in his morning update on March 17 that two civilians were killed and eight were injured in the Donetsk Oblast.
Russia hit 13 settlements and three communities in the region, damaging almost 30 houses, five high-rises, a school, an enterprise, and a penal institution, said Kyrylenko.
Kherson Oblast was struck 76 times, with Russia firing 413 projectiles on the oblast's settlements, according to the Kherson Oblast Military Administration.
The attacks reportedly injured one and caused damage to a medical facility, houses, and apartment buildings in the city of Kherson.
According to Kharkiv Oblast Governor Oleh Syniehubov, Russian troops hit Kupiansk, Chuhuiv, and Kharkiv, damaging houses and outbuildings.
Zaporizhia, Chernihiv, Sumy, Mykolaiv, and Luhansk oblasts were also shelled by Russian forces, causing damage to civilian infrastructure and households. No casualties were reported in those regions.